In House Training
——————————————-
Roof Top Session October 25th
——————–
Video Session Oct 17th
October 7 th
Ringsted Kongrescenter, 400 in the audience, Galashow, its so great to be back in Denmark!!!!
Venue in the afternoon
10 minutes before show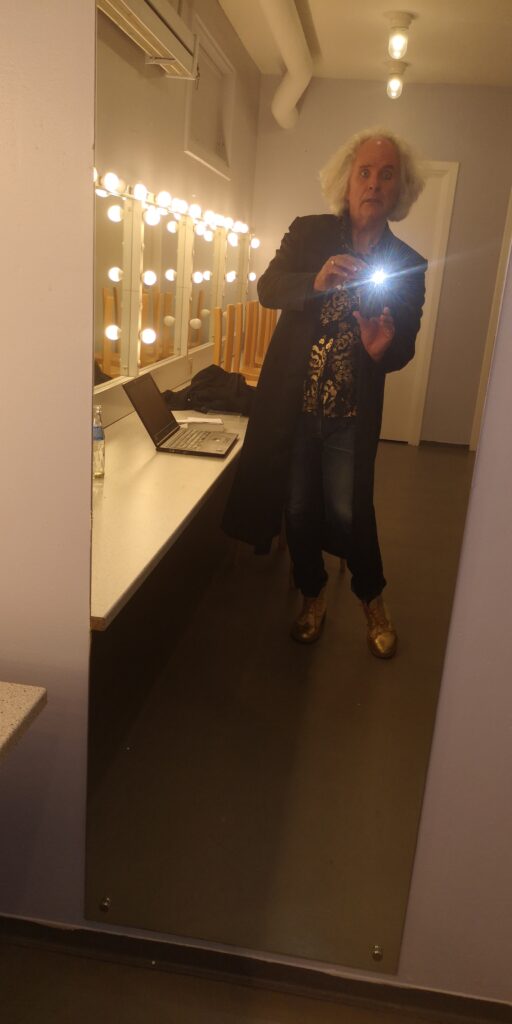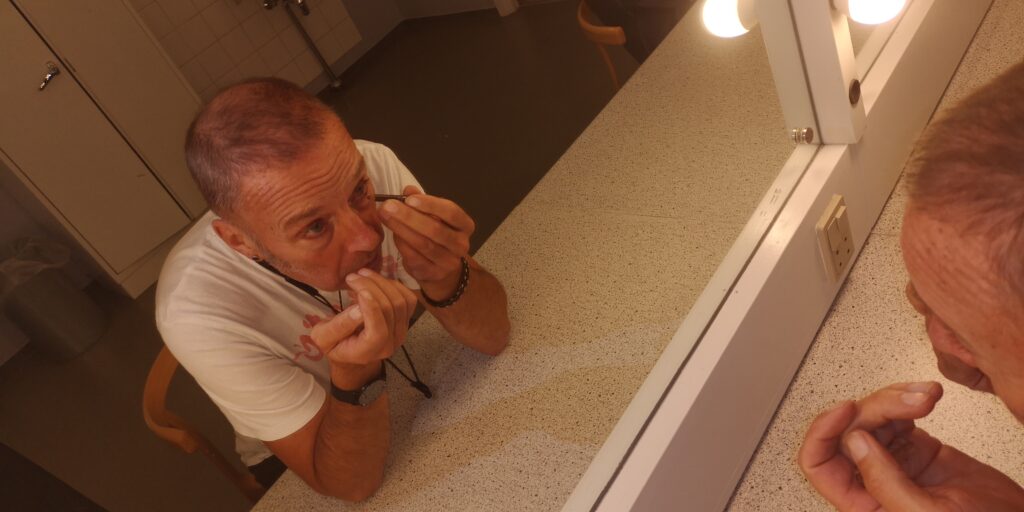 ———————-
Rehearsal in the sunshine for gig in DK tomorrow
———————————–
Malmö Live September 30th! Big show for invited guests. Collaboration with Kraftkällan evenemang och ICE Group and Malmö Live of course. Love it!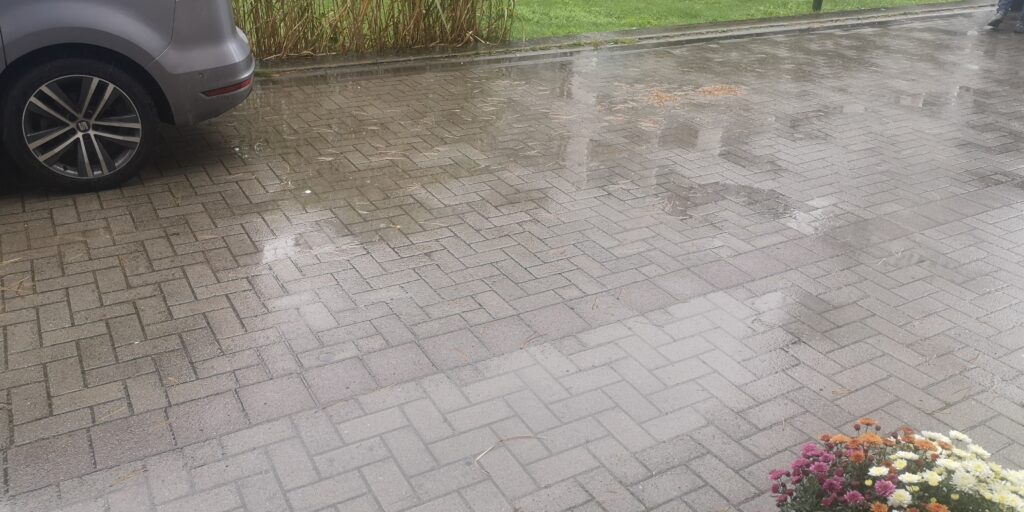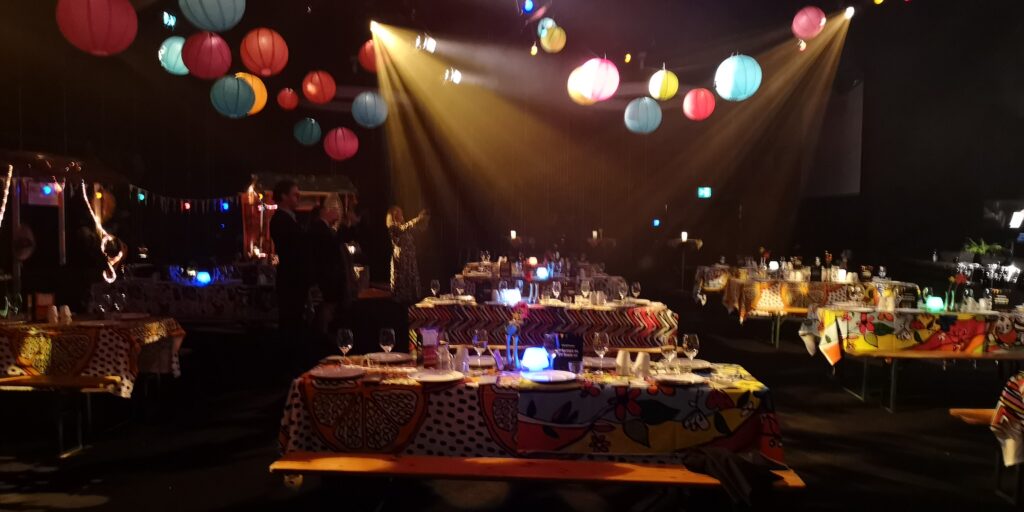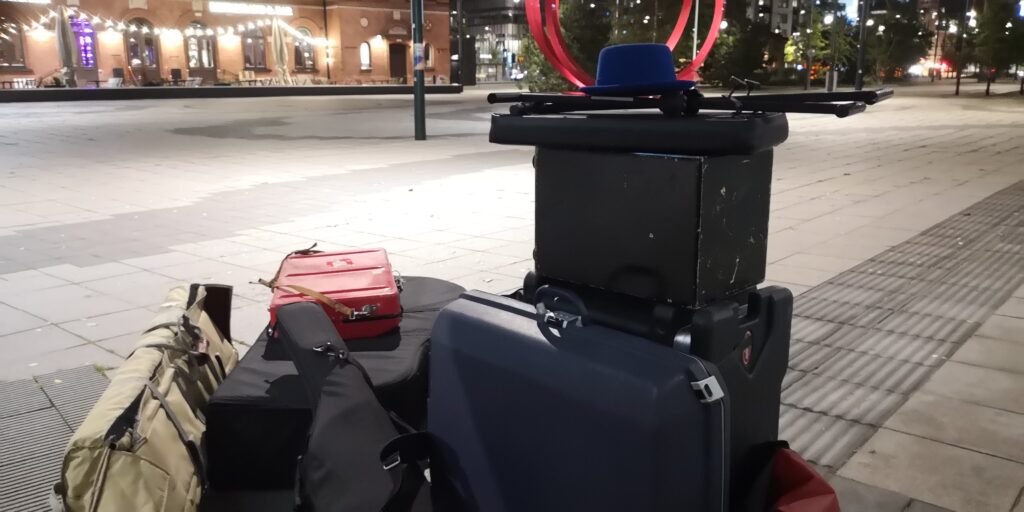 29 Sep
It was supposed to be gig…..
Rehearsal at 9
Rehearsal together with the incredible Oscar Pierrot at11
Production meeting at 12
Stow the car at 14
Rigg at the venue at 15
Soundcheck at 17
It was supposed to be gig at 18……but it was cancelled
One crazy day in life!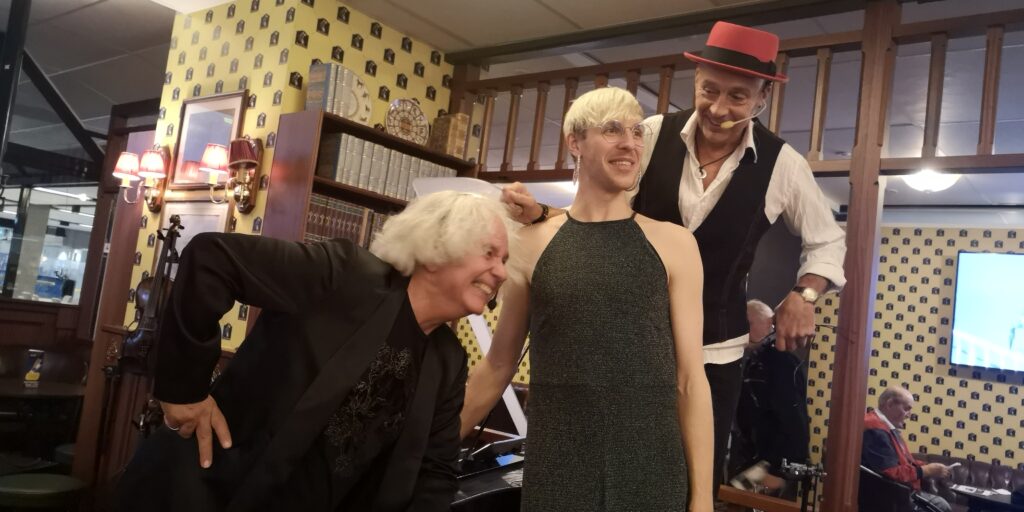 —————————————-
25 Sep So nice venue, so nice audience, and so nice artist by the way! Love it!!!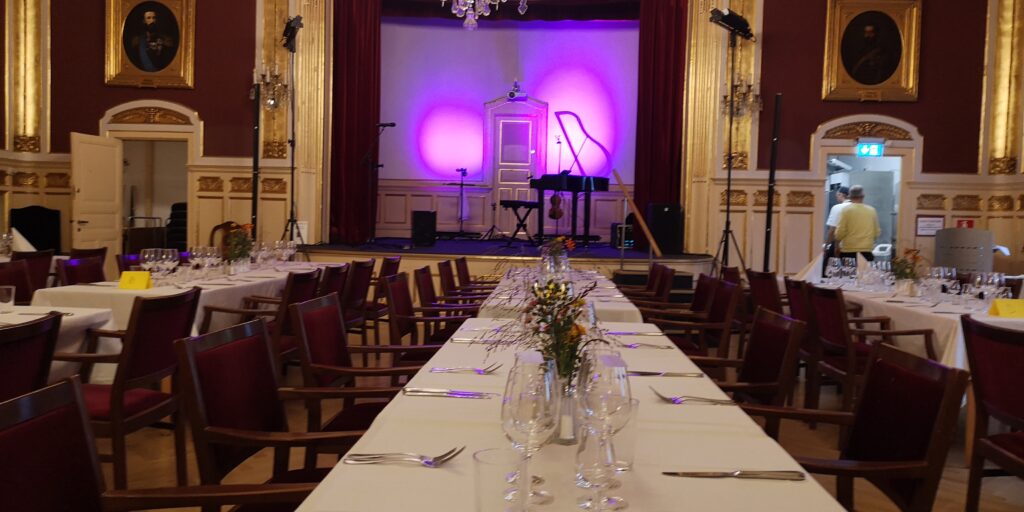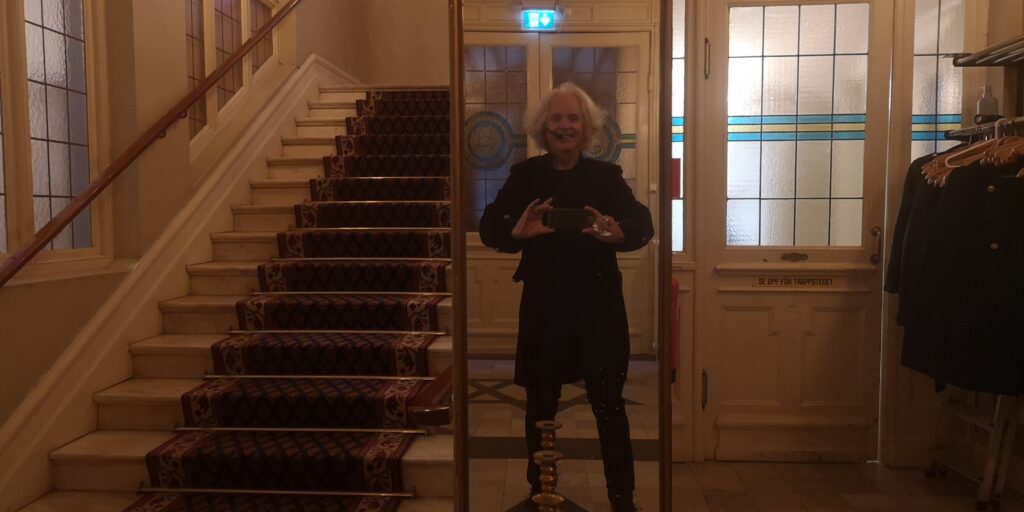 ——————————–
24 Sep Great show for 100 preschool teachers!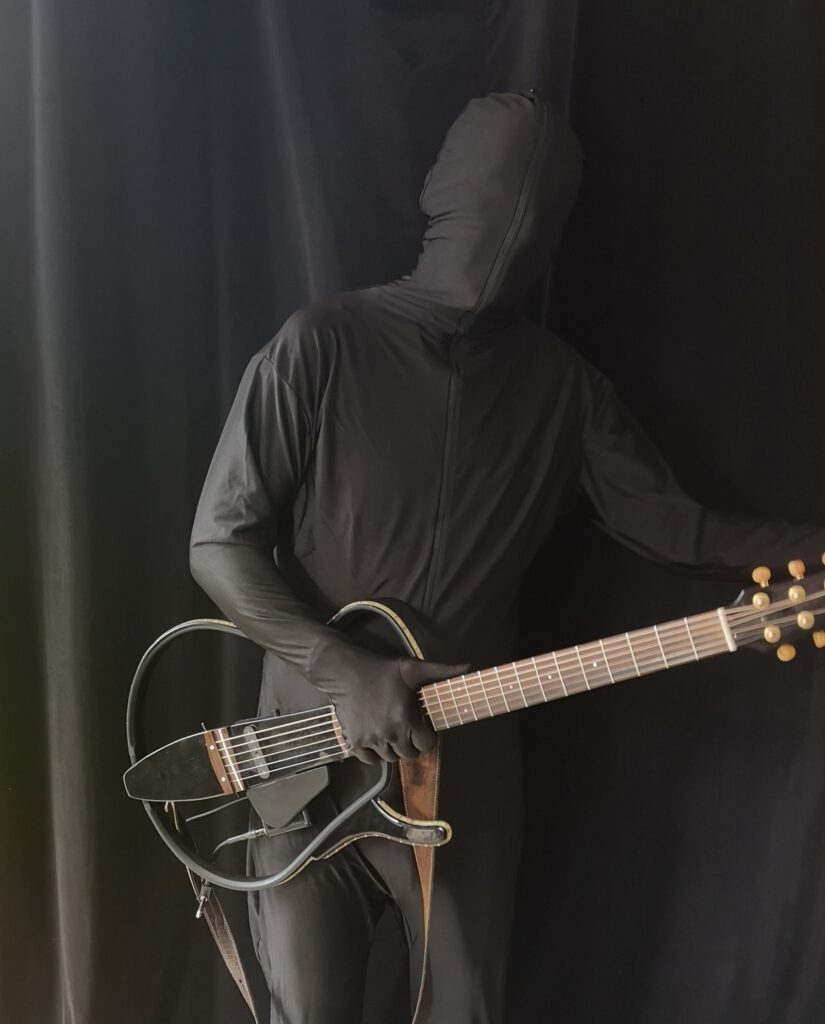 September 22th
Last outdoor gig this year?! Incredible nite in Eksjö Sweden!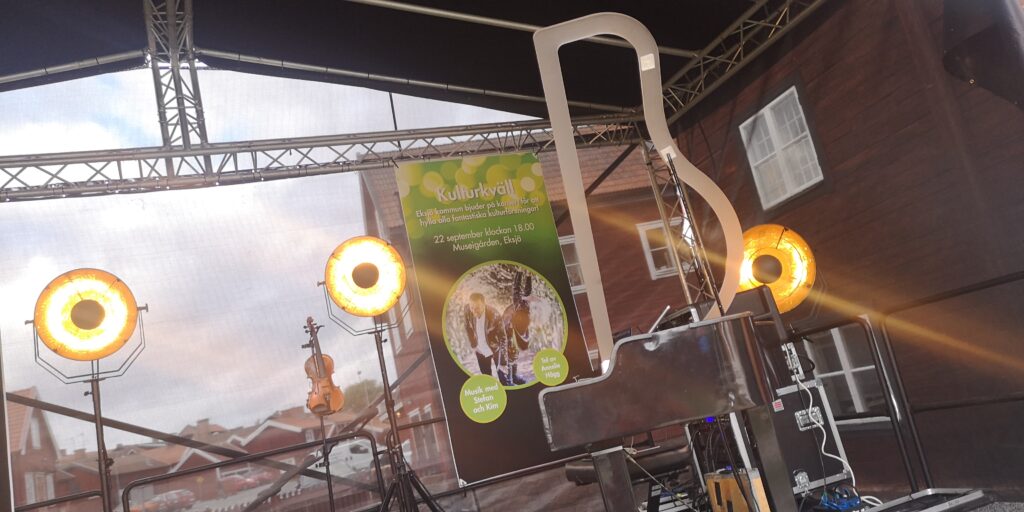 Soundcheck before gig!
A bit chilly before gig..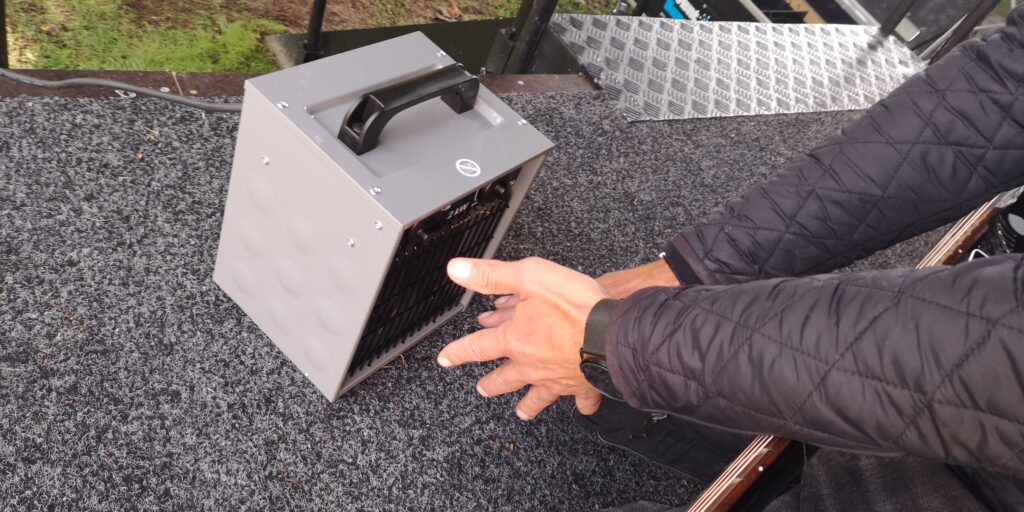 September 17th
Back at The University of Skövde for Doctoral PhD! Incredible Night! We started with Also Sprach Zaratustra and it ended up with standing ovation, on the tables!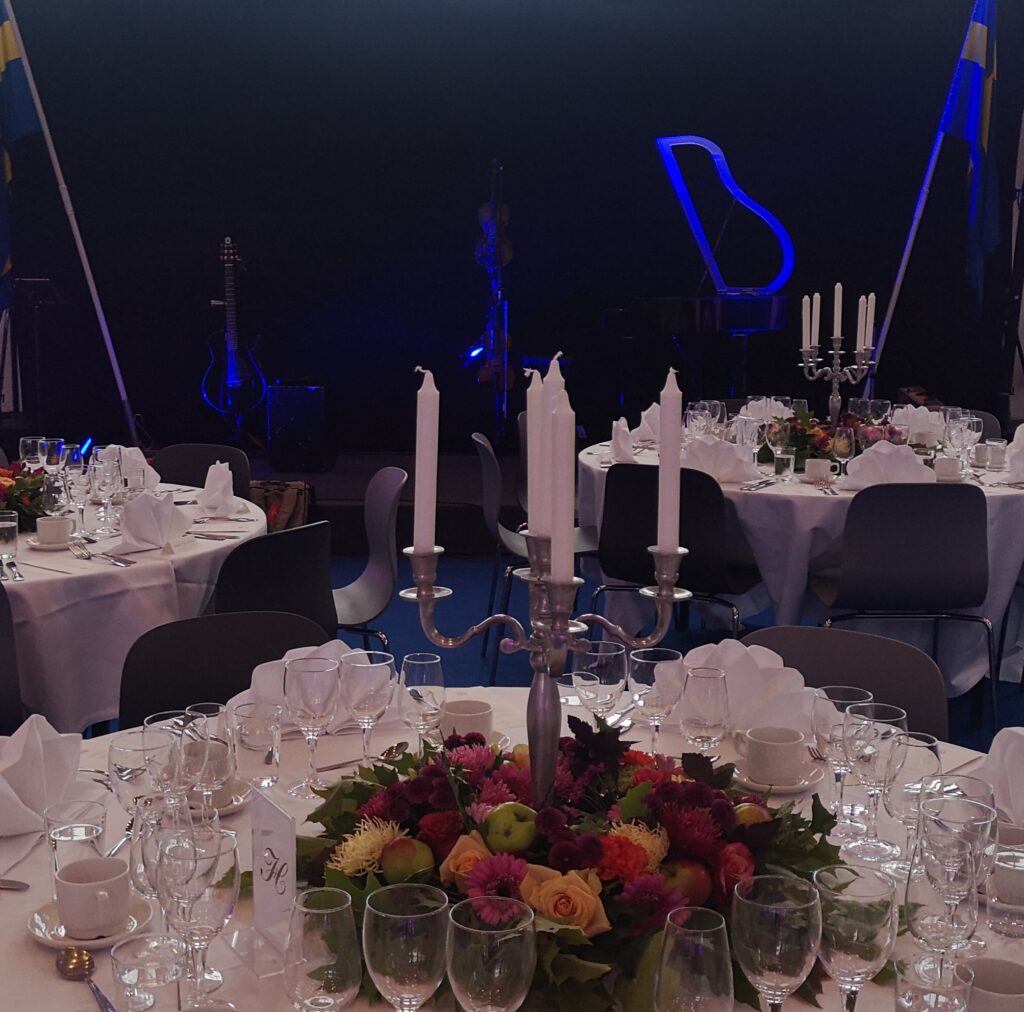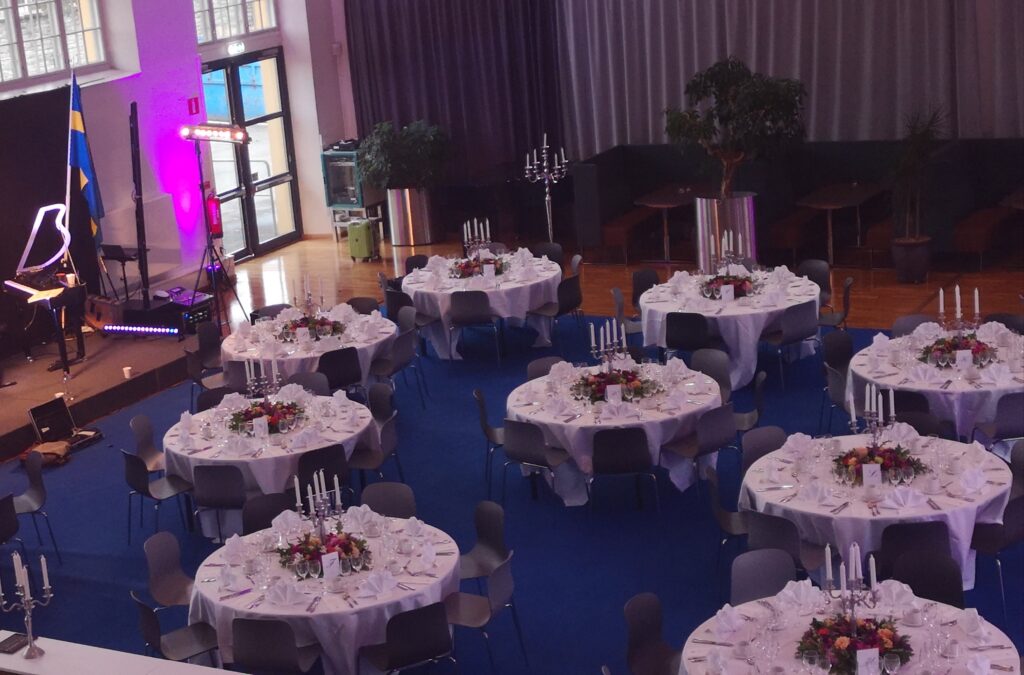 ————————————
Goodmorning!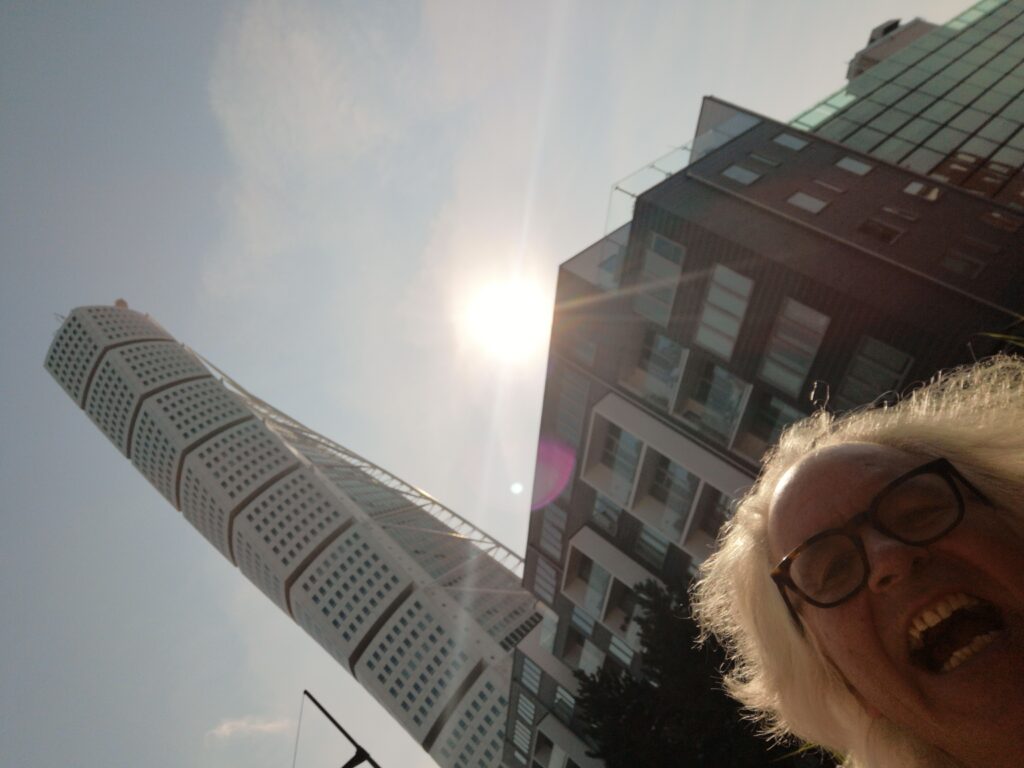 Honorable gig today!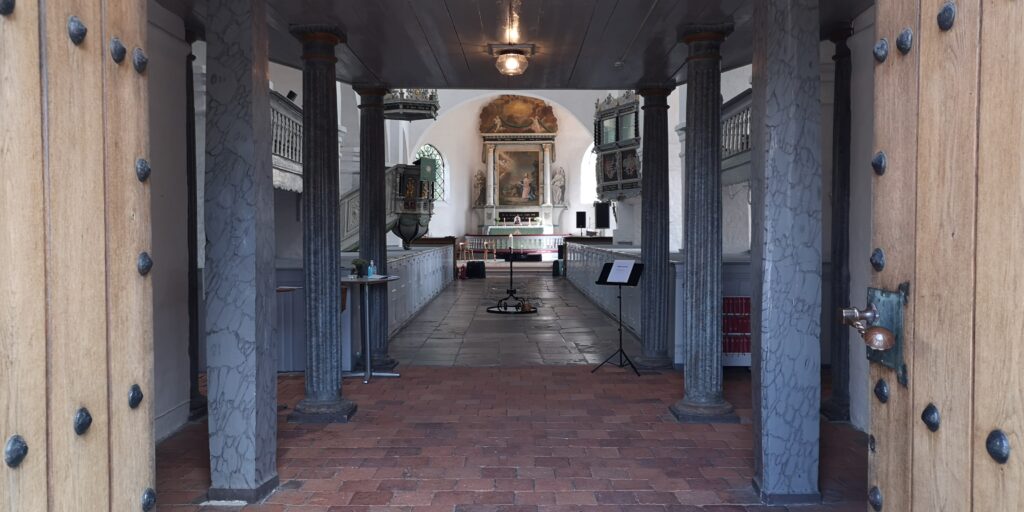 ---
———————–
OK 24th of Aug, Tylösand! Corporate event. Working together with Petra & Jörgen on ICE Group is a pleasure! 4 sets and the last set could have last forever!
Show with a view!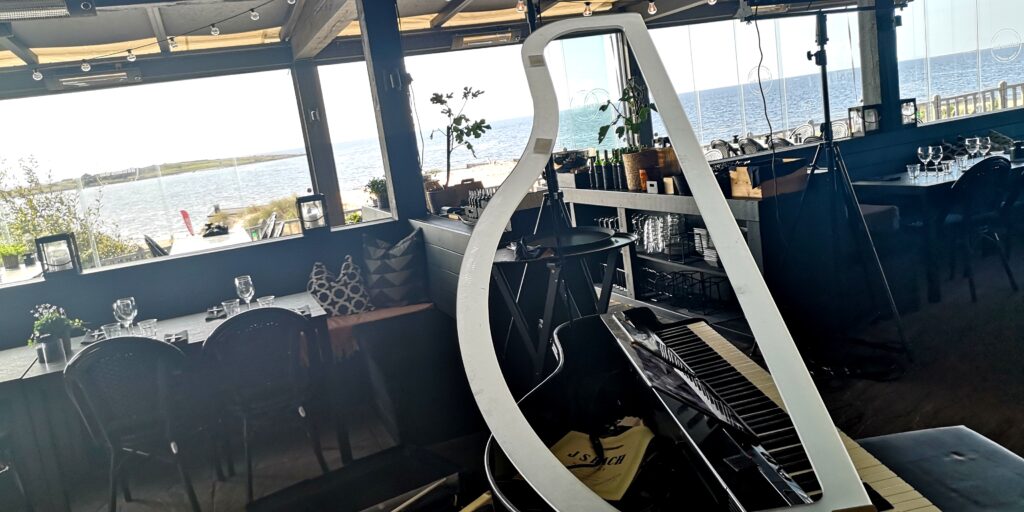 Before show!

Show!
---
---
Stehag, a nice little place in Sweden, is the place to be! Show igen och fiolen brinner!
—————————-
Haha! We´re back, 3 shows in a week, and much more to come! Short…no long movie from show in Löderup, this Saturday. What a nite!!
————————-
Todays video
————————-
Got another short clip from the shows at Sundspärlan last weekend.
———————-
Just love it! We can perform again! 2 days/shows at Sundspärlan in Helsingborg, Sweden!



——————————–
2 fantastic day of filming a new music video! You just Wait & See See Rider!
---
Mr & Mrs Violin!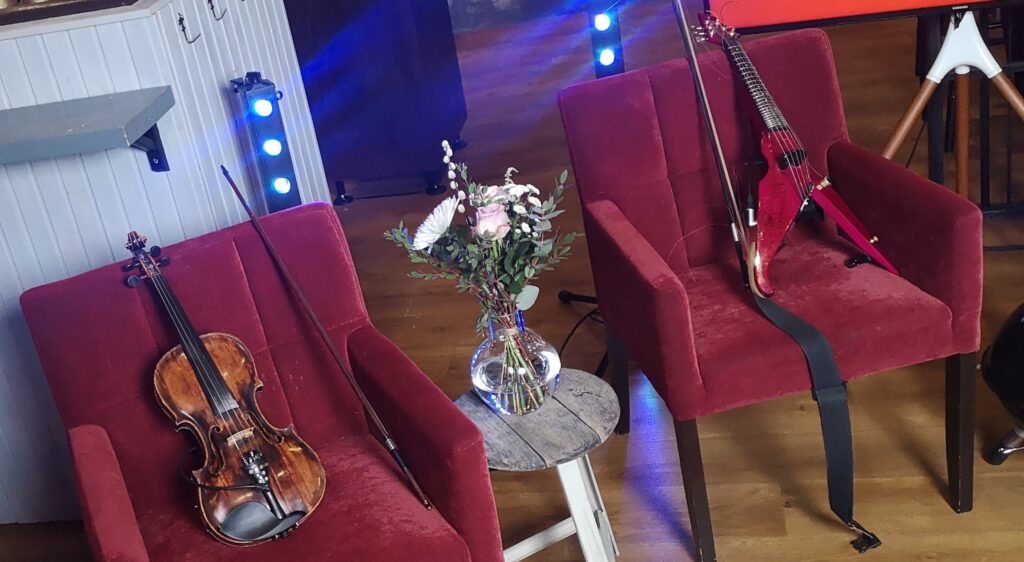 ———————
"Vårkänslor med Stefan & Kim"

---
—————————
Another one from Karlstad Live, this week!
"Thunderstruck" with a short story.
———————————-
Stefan & Kim på "Karlstad Live" 14 April
—————————
Just before stream!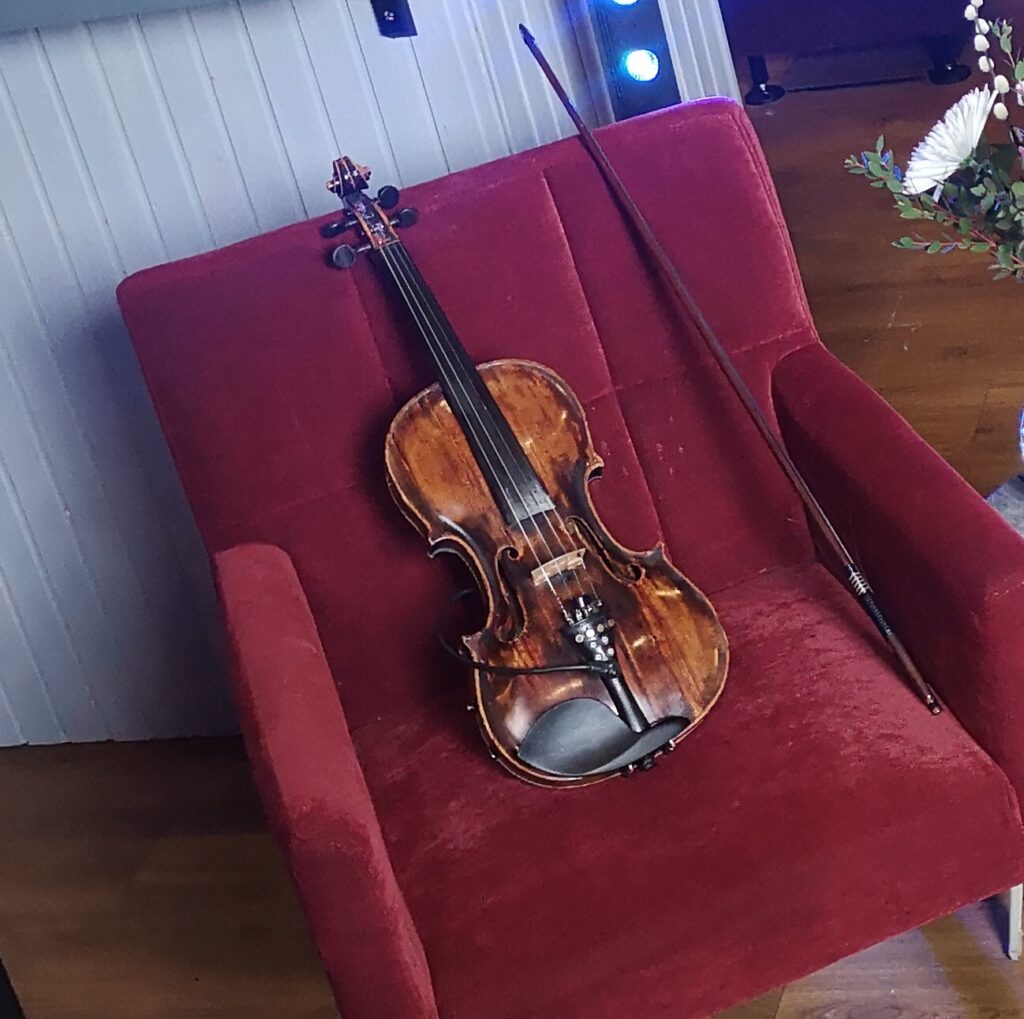 ——————-
14 April
Karlstad Live Tonite!
https://fb.me/e/4rSbcnYj8
---
Slowly, slowly, the light comes to us! Its The Spring!
---
The Wednesday Picture!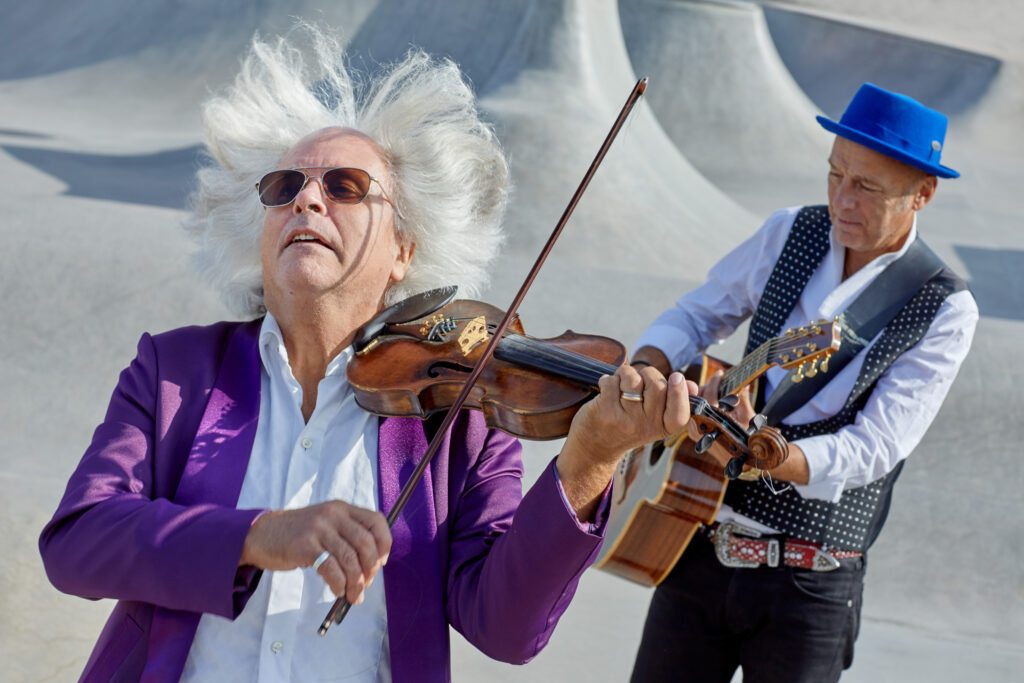 ———————
March The 6th
————————-
Saturday March the 6th is the day!!!
———————
Stefan & Kim World Pride Kick Off 2021!
Streamed live broadcast organized by the City of Malmö! Stefan & Kim were musical guests/artists and they performed many Pride songs in the program, some in original form, some completely remade.
———————-
So much fun, recording a new music video! This time at the famous Ystad teater!
———————
January 28th
Kick off for World Pride -21! On the air tonight from Eleda Stadium

---
Livestream "Stefan & Kim´s Christmas Balcony"
---
Short cut from gig at The Kronovalls Castle! December 10th. 8 people in the audience!
---
Show tonite at the Kronovalls Castle!
8 people in the audience!
What a lovely evening!
Pix from soundcheck.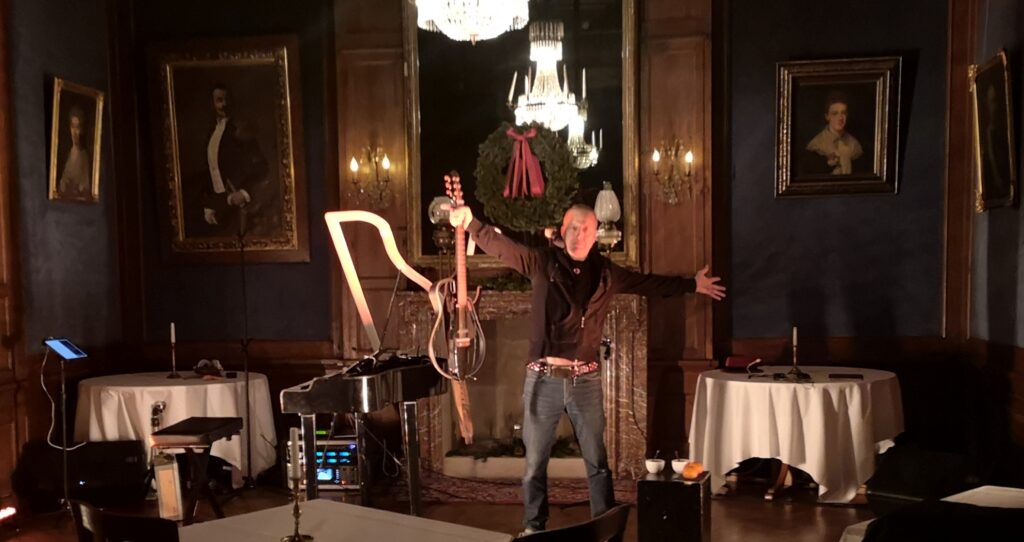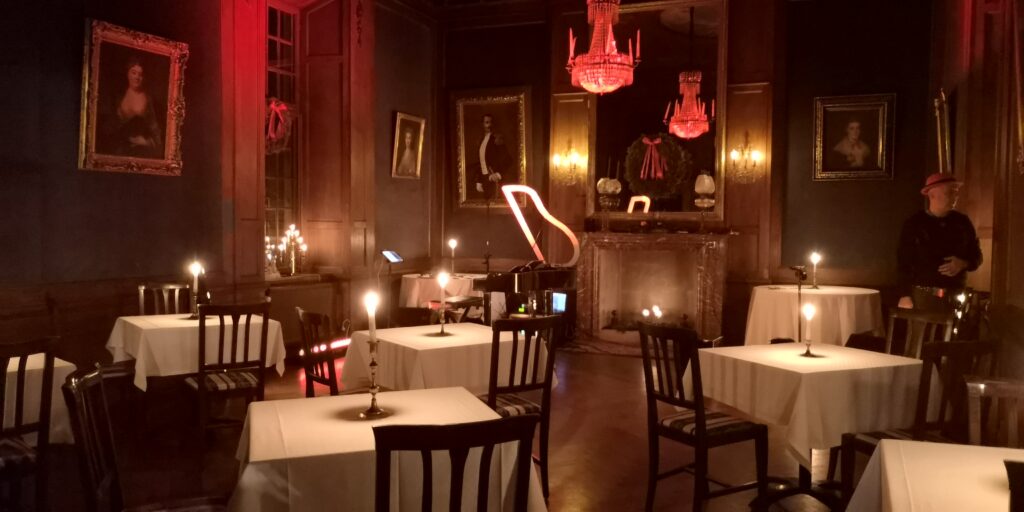 ---
Rehearsal today, gig tomorrow!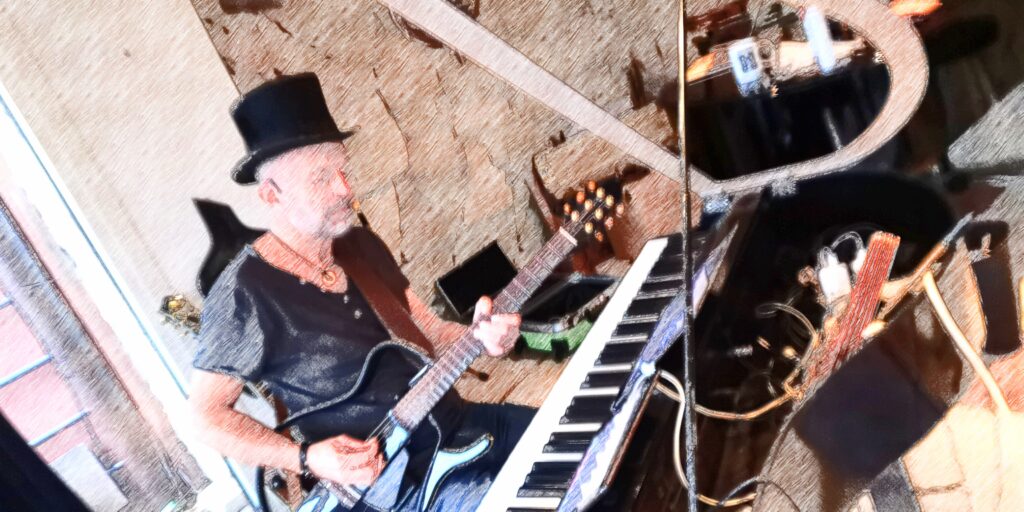 Exciting things are happening!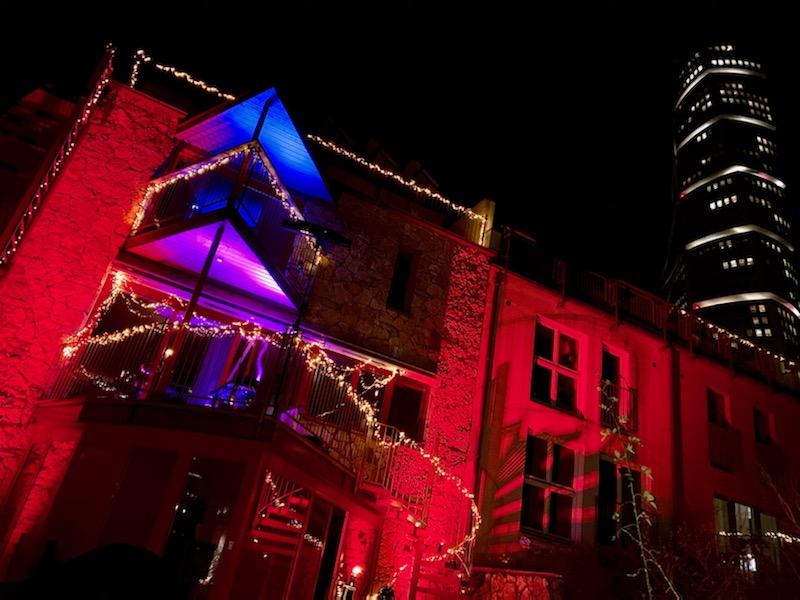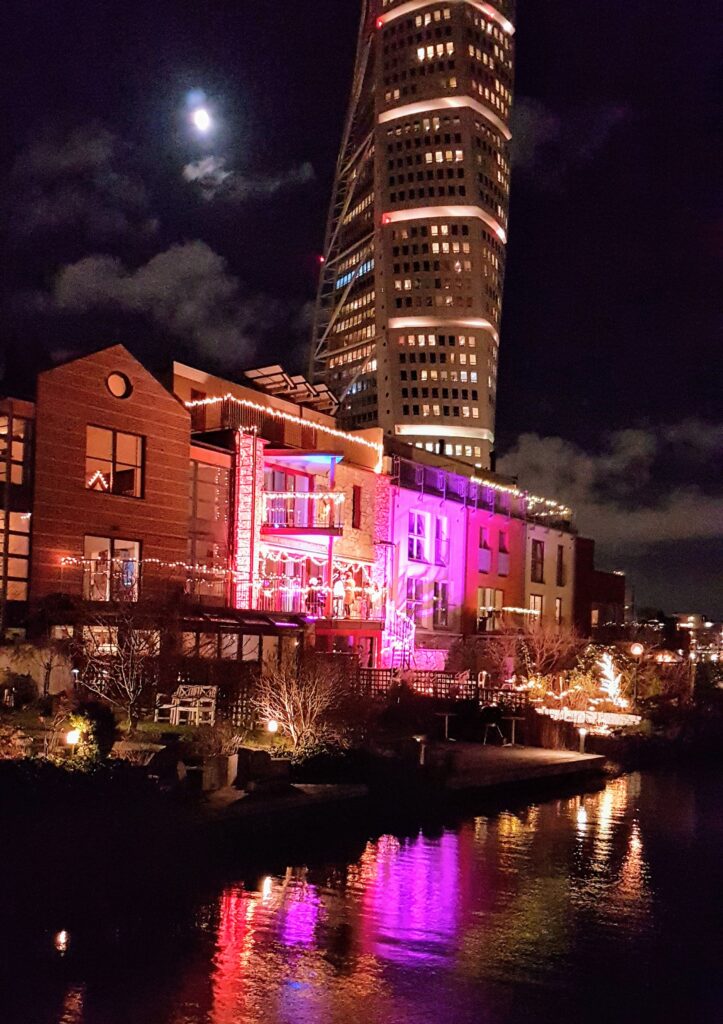 ---
Happinessssss!! From one of the Stream Concerts this summer!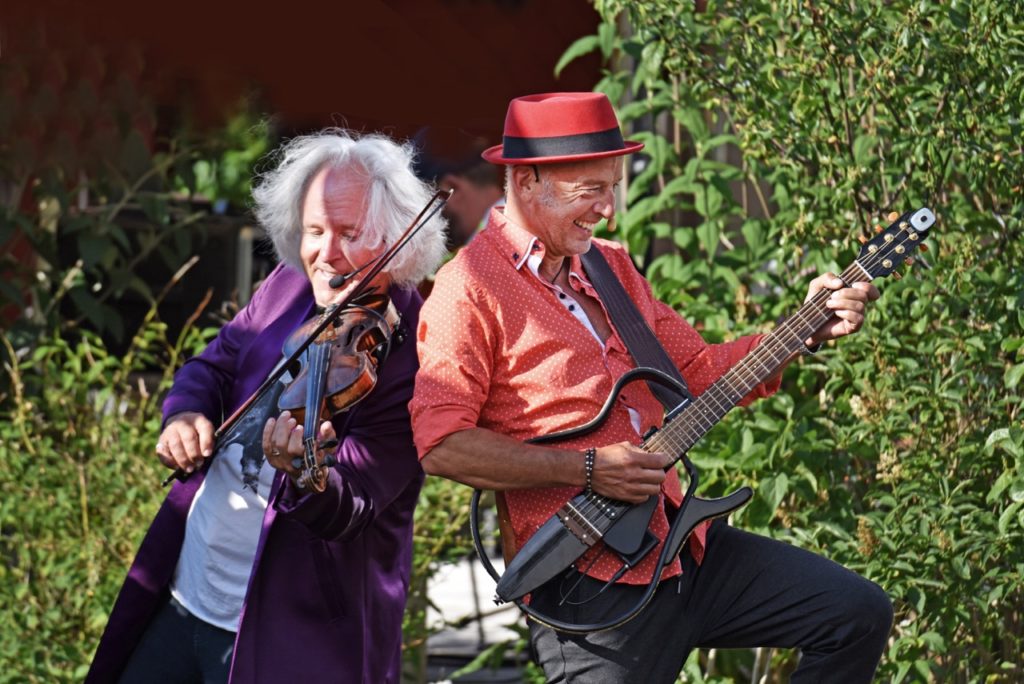 ---
2 magic nights at Victoriateatern in Malmö!
---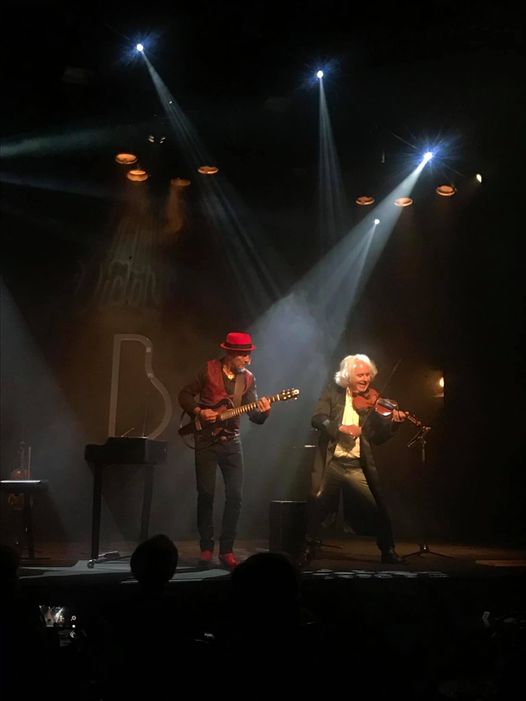 ---
Very special performance at the opening of Bio Methanol Factory!
Rehearsal today! 60 meters up in the air! Tomorrow in the air!
---
Photo session today!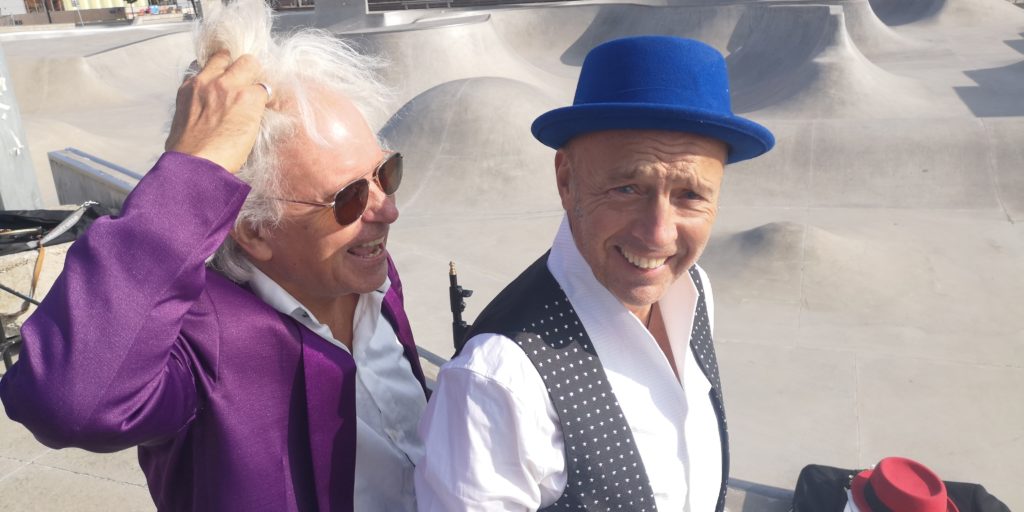 August 28th
500 Miles on a Friday Afternoon!
---
Just before special number at Tylösand, Sweden, August 19th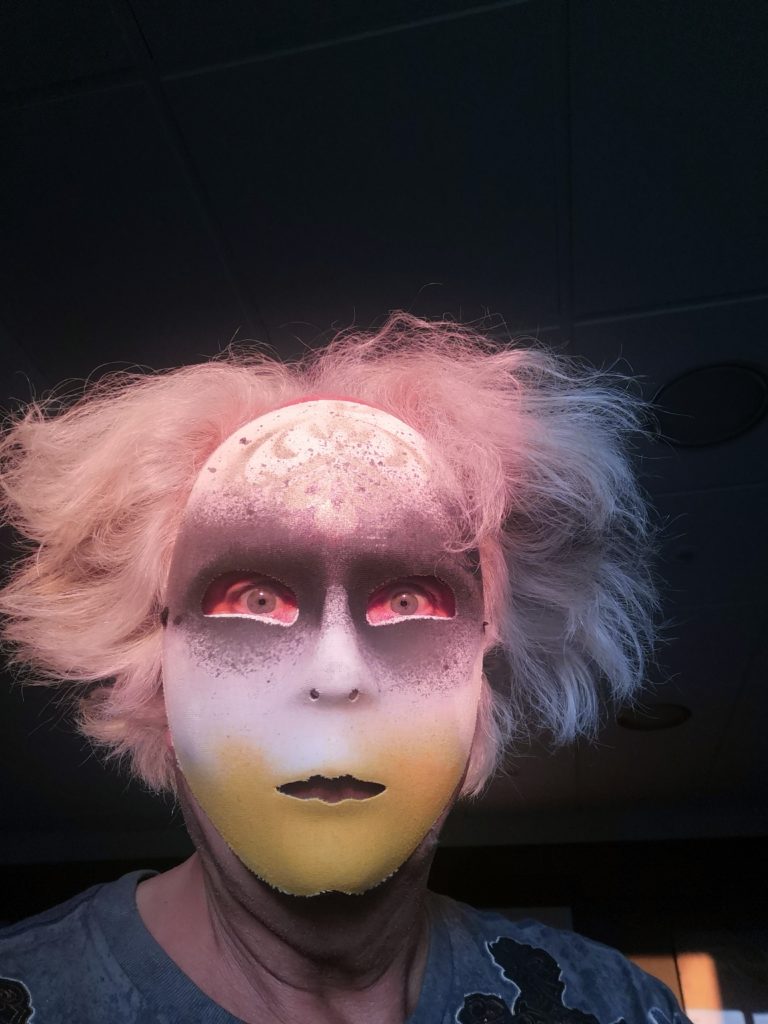 July 3rd
"Stefan & Kim Live Stream from the garden in Malmoe, Sweden"
————————————————————
Mother´s Day/Mors Dag!
"Mamma", our tribute to all mothers, around the world!
Produced by Amir Aly
Composed by Kim Strandberg & Stefan Arwidson
Arranged by Kim Strandberg & Stefan Arwidson
Horn Arrangement by Mattias Frisk
Stefan Arwidson, Lead Vocals, Guitars
Kim Strandberg, Backing Vocals, Piano, Violin
Mattias Frisk, Drums
Mats Ingvarsson, Bass
Fredrik Davidsson, Trumpet
Paul Suchanek, Sax
Christoffer Sjögren, Trombone
---
Stefan & Kim "All By Ourselves"
---
Barbie Girl on a Thursday afternoon!
---
The Spring, after all!
---
Smile on a Friday afternoon!
—————————————————————-
1 Sång från Balkong 23 Mars
---
Just a very unusual, ordinary Friday! The show for tonight was cancelled of course! We did some rehearsing instead of an old hit that we haven't played for years
—————————————————-
Just another Monday!
———————————————
Yesyesyes!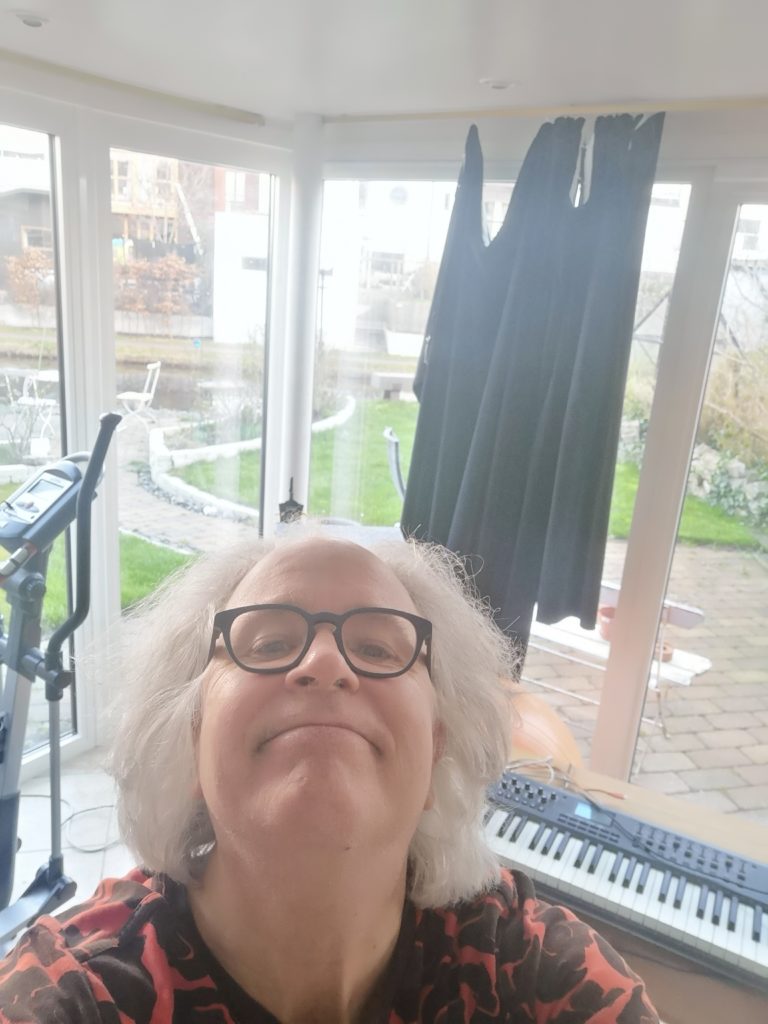 ———————————————————————
So intensive first week in Feb! To Denmark for a big international gig. Then direct home to an honorable, wonderful funeral for an old man! So incredible that Stefan & Kim can do this too!! I'm so proud over these artists!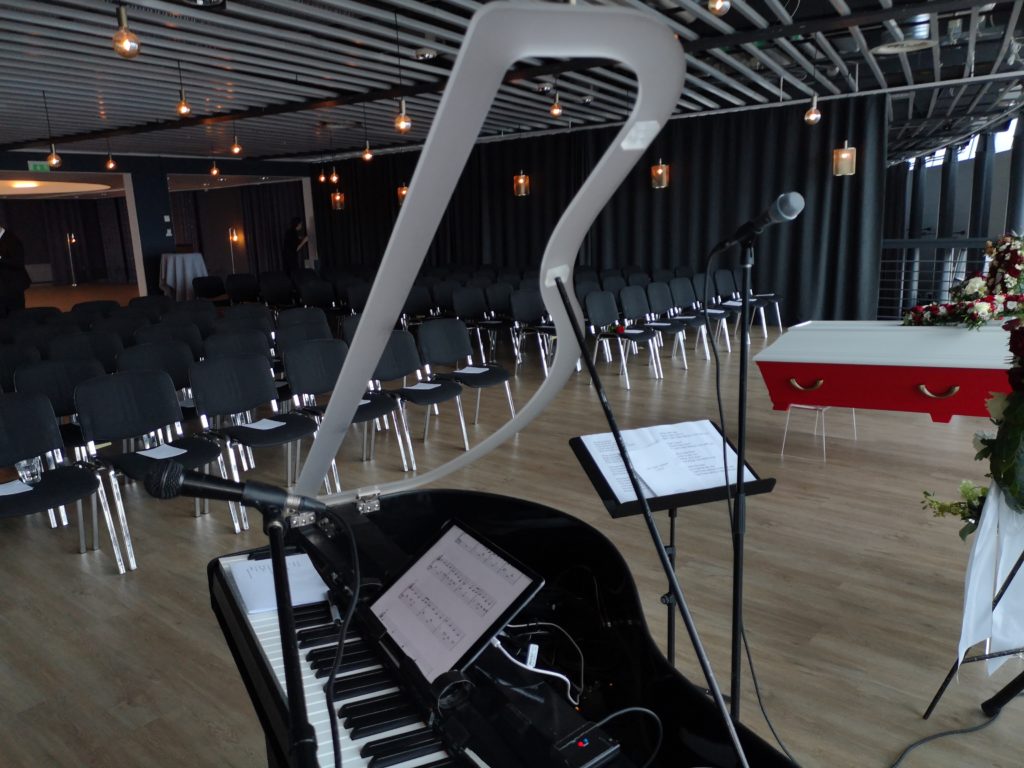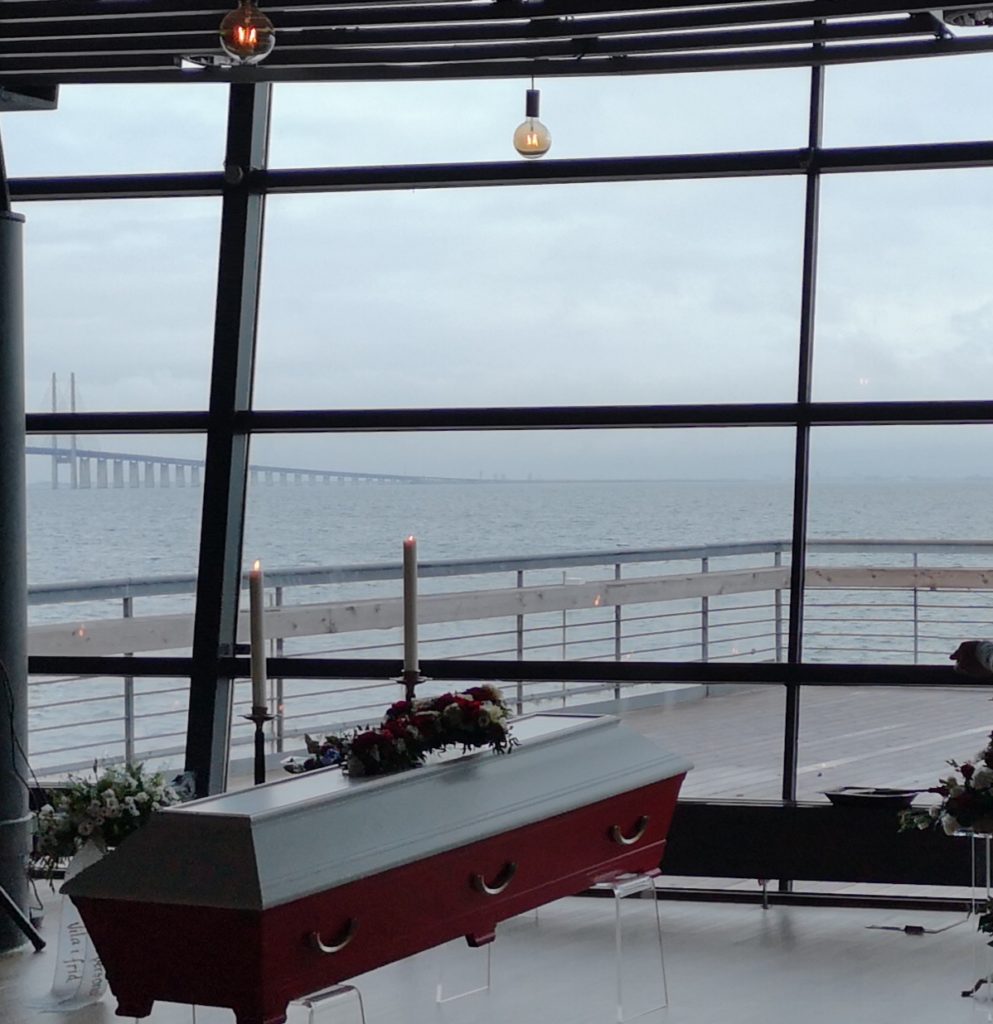 Today Stockholm, event for 250 pax at the Johannesberg Slott! Evening started att 19.20 with the incredible Stefan & Kim, percussion number, "Drums"! Such a good way to start an evening event! Stefan sings a wonderful vocal part in the end!
After 1 hour, the artist made a wonderful Swedish hymn, then an American country tune "Orange Blossom Special" played on the fiddle in the fastest tempo we ever heard!
After another hour Stefan & Kim came in for a very special show! They started with "Smooth Criminal", of course on the violin and the guitar to the beat of the bass drum, over to The "Toreador aria" by Bizet, then "Pirates of the Caribbean", where Stefan swallow the bow, just before he is singing "Air" by Bach. AC/DC´s "Thunderstruck" was the next number, then "You raise me up", over to "JaiHo", played on the same guitar. The Show was supposed to be over then!
The crowd went totally crazy and of course they yelled for more! The artist came in for encore.
"Hungarian Dance" by Brahms played with their LED instruments ON THE TABLES, then over to "I gotta feeling" by Black eyed peas, "Cotton Eye Joe", "We no speak Americano", with special lyrics just for tonite, "I Love it", by Icona Pop, sung by Kim not in the very nicest way, then of course "Music was my first love", with the groovie middle part where the crowd went totally nuts! Stefan & Kim ended up with "Caruso", the Pavarotti hit.
Stefan & Kim are totally unique!!!! Noone does a show like this!!! But they do! Every time!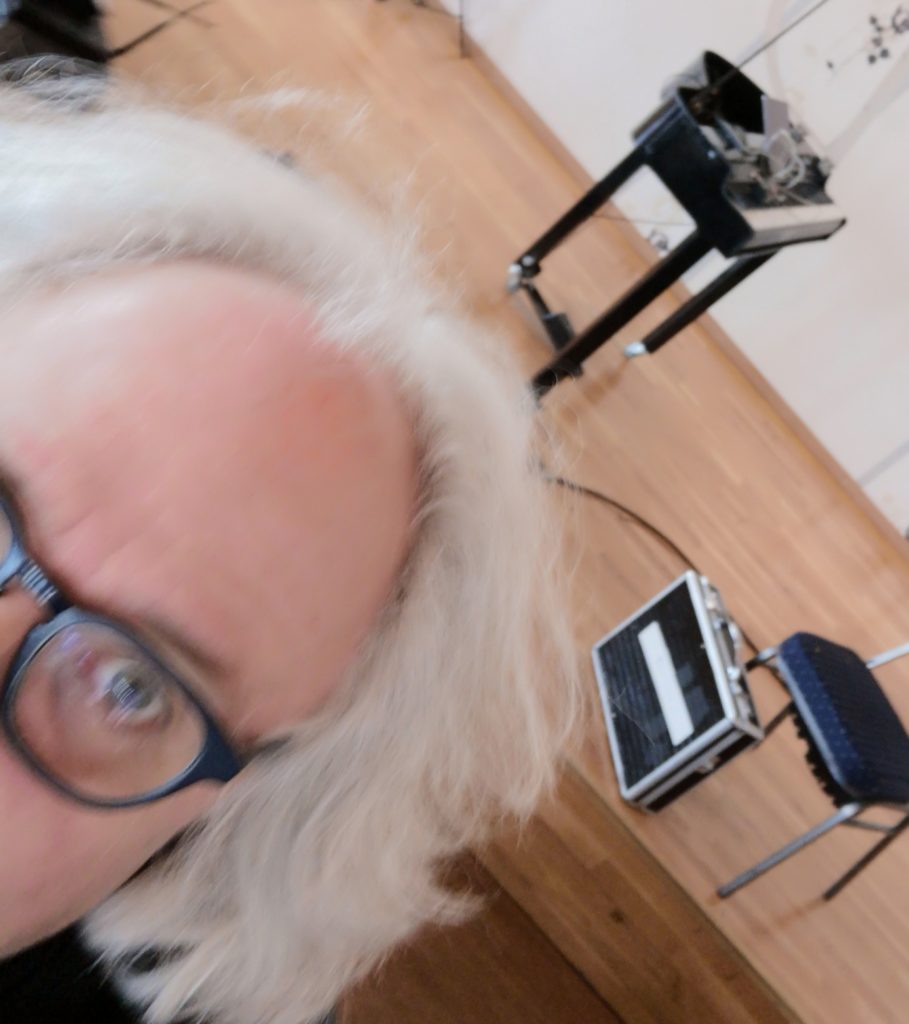 ———————————
Wine Mechanics I Gbg 18 Januari!
Läcker kväll/show/gig i Göteborg
——————————————–
Tranås 100 Years Anniversary 2020 0101 00.01
First gig this year! Together with the fantastic Anders Gustafsson and his drummers and the enthusiastic choir. And of course The Ljudbolaget in Tranås that made the extra extra ordinary light show!
—————————————————————-
Christmas Show is finished! Crowdy & Fun! But a real close up show, the audience was in front, at the sides and behind, Love it!!! Take a look at the clip from the last night. The two last encores!
---
Just a few pix from the last wknd at Eksjö Stadshotell!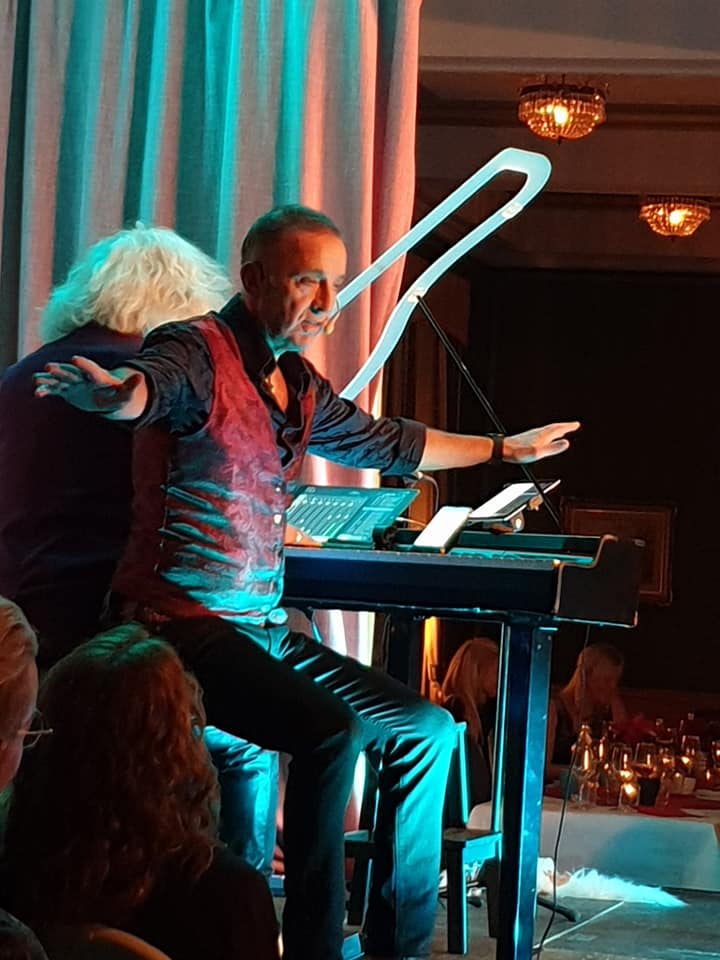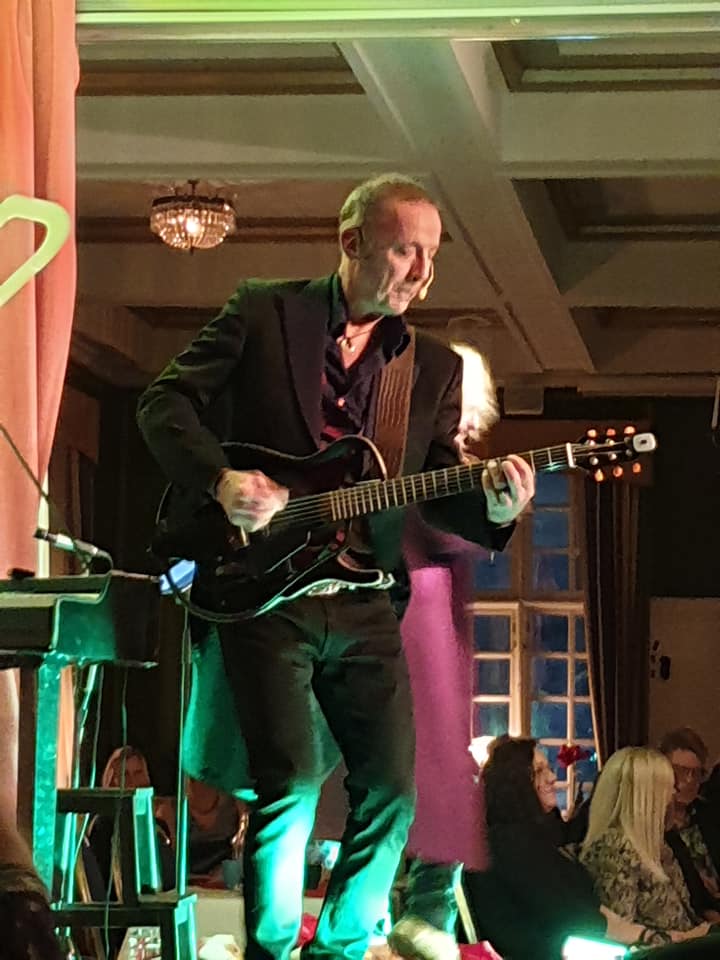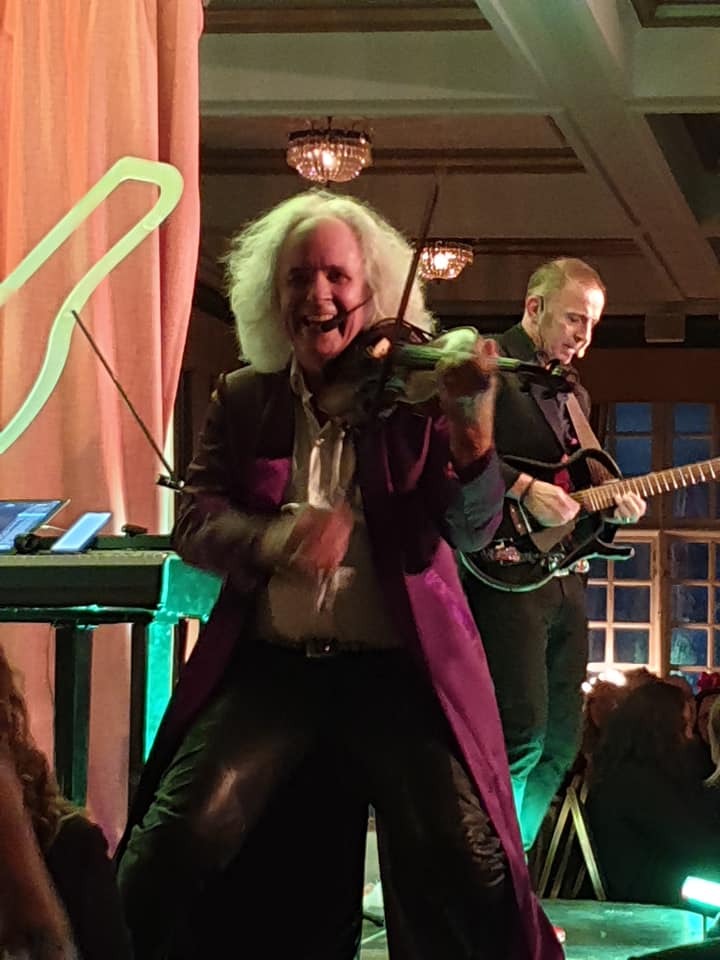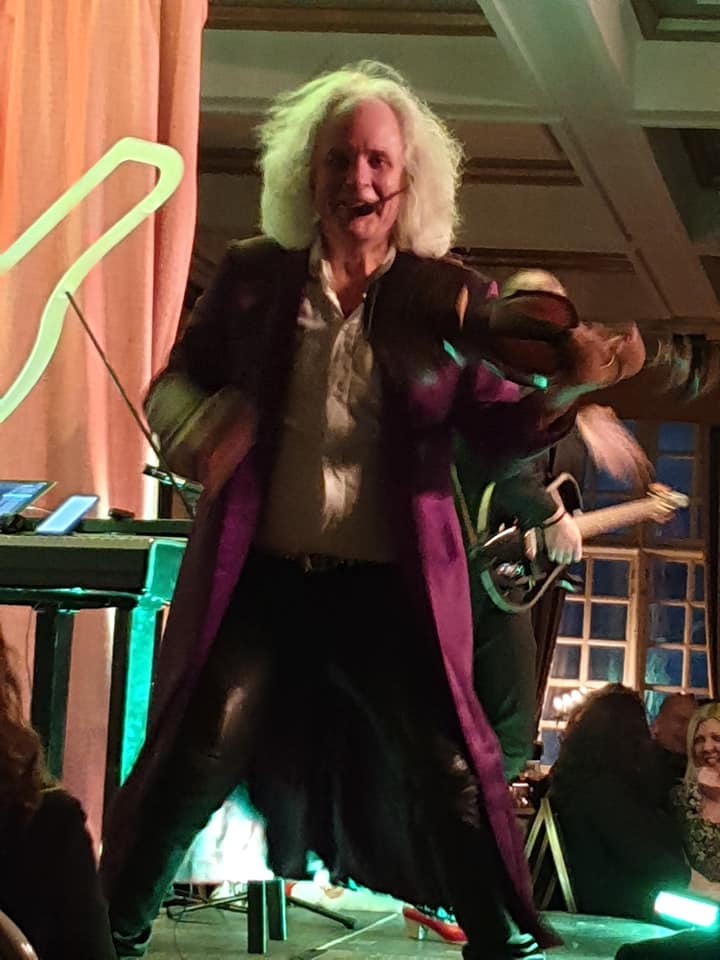 ---
---
Videosession for special event. You just wait & seee
---
December 6th
Tonight show in another part of Sweden! Just before doors. Exclusive show under the crystal chandeliers for 221 people!
---
December 4th
---
The greatest gig of all! Gothenborg! Nordic audience! Corporate event! Stefan & Kim was really, really good tonite! 15 round gala tables!

With all these people that we love to work with! Kevin & his tech guys!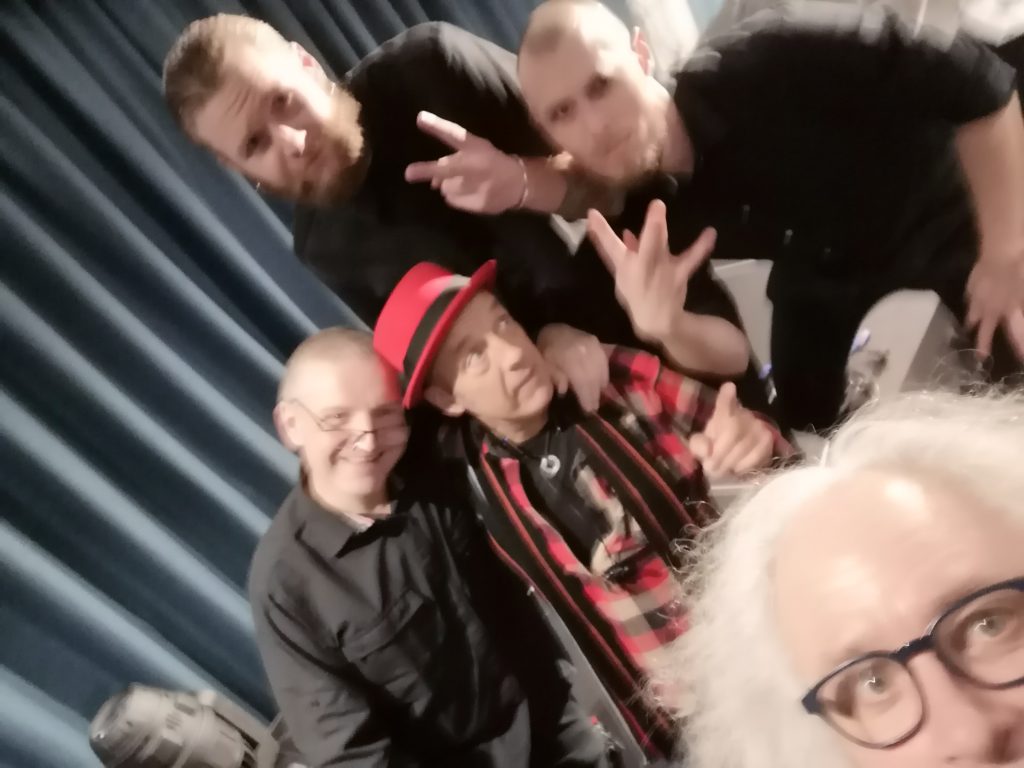 We always bring to many things!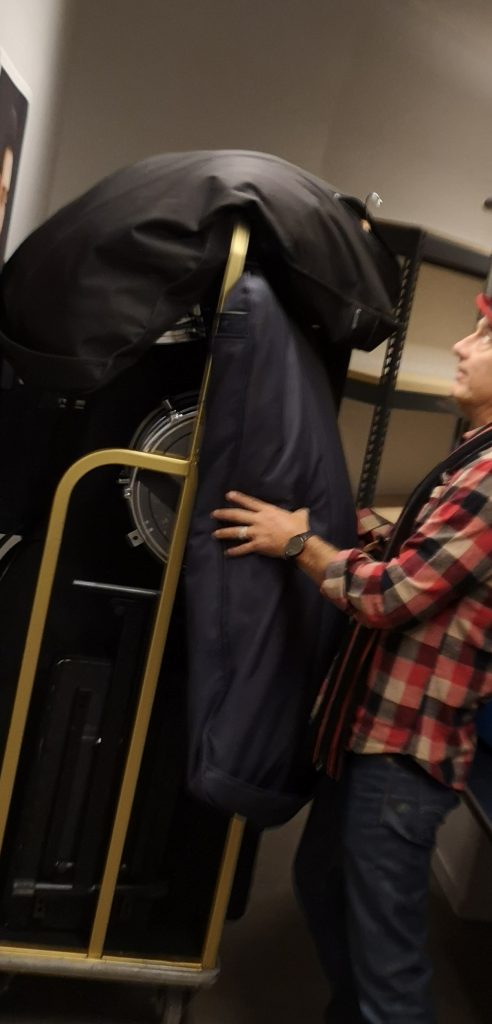 ---
Christmas Show, Nearly Sold Out!
Nov 5th in Sweden
On gig in Denmark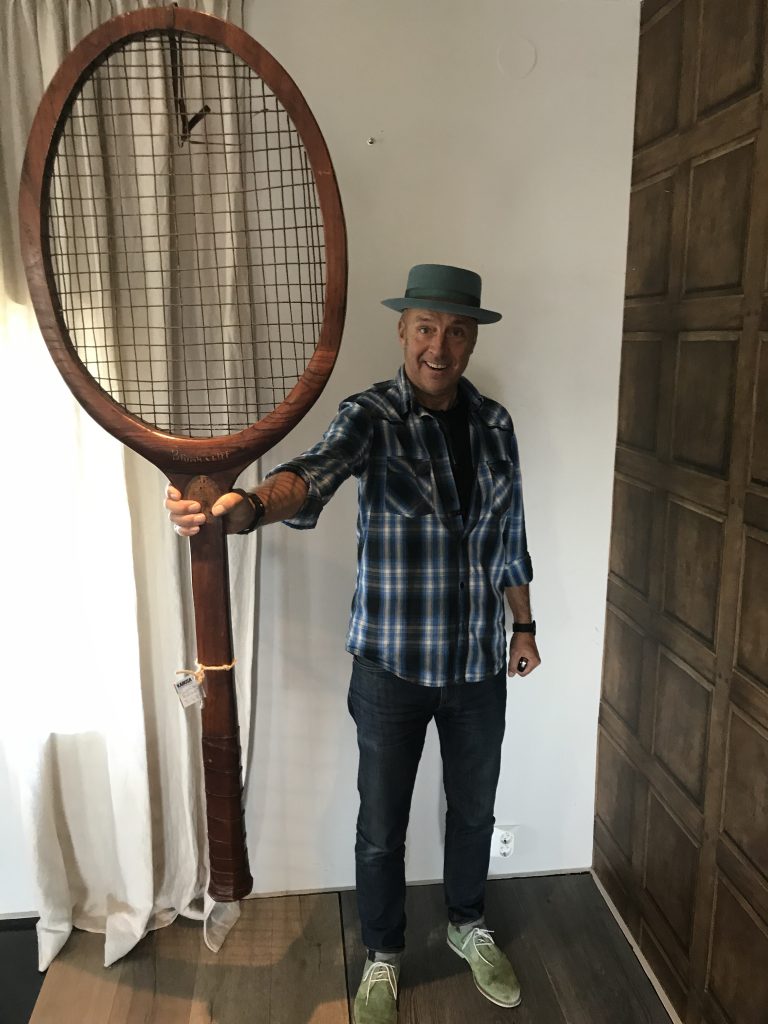 New day! New soundcheck!
"Stefan & Kim 2020"
Yesyes! Nice pic!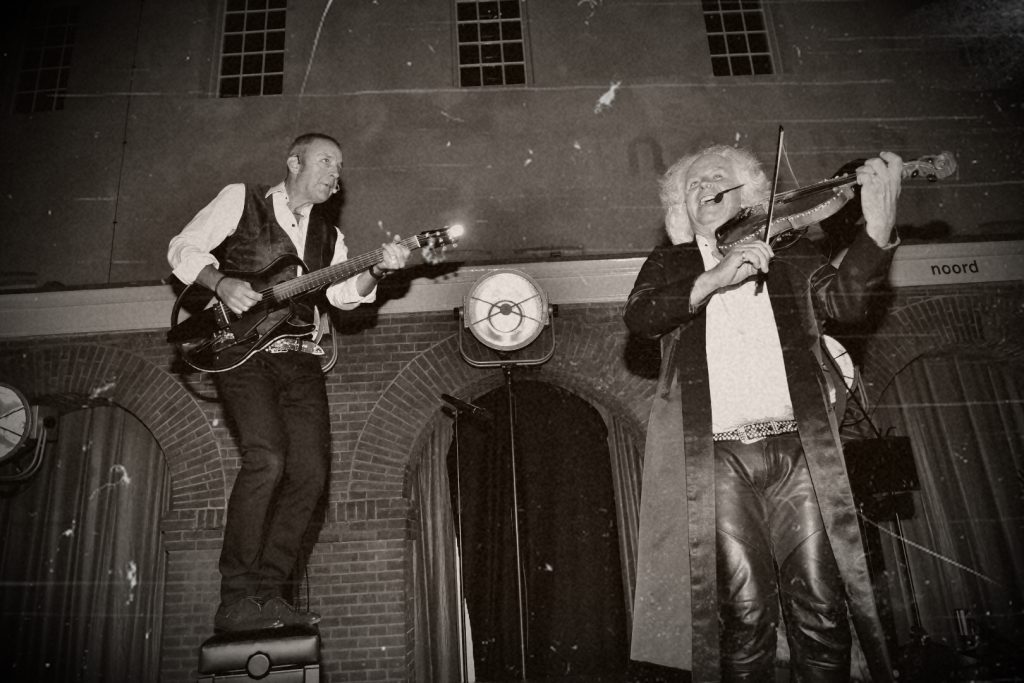 ---
September 23rd-24th
Amsterdam igen! 250 wonderful people from Brazil! 100 awards! Daycoval Bank! Fantastic venue! What a show with the 2 swedes…Lovely cooperation together with Flavia Riveira från Travel Idea från Sao Paolo! Look at the venue on the picture! The Maritime Museum in Amsterdam.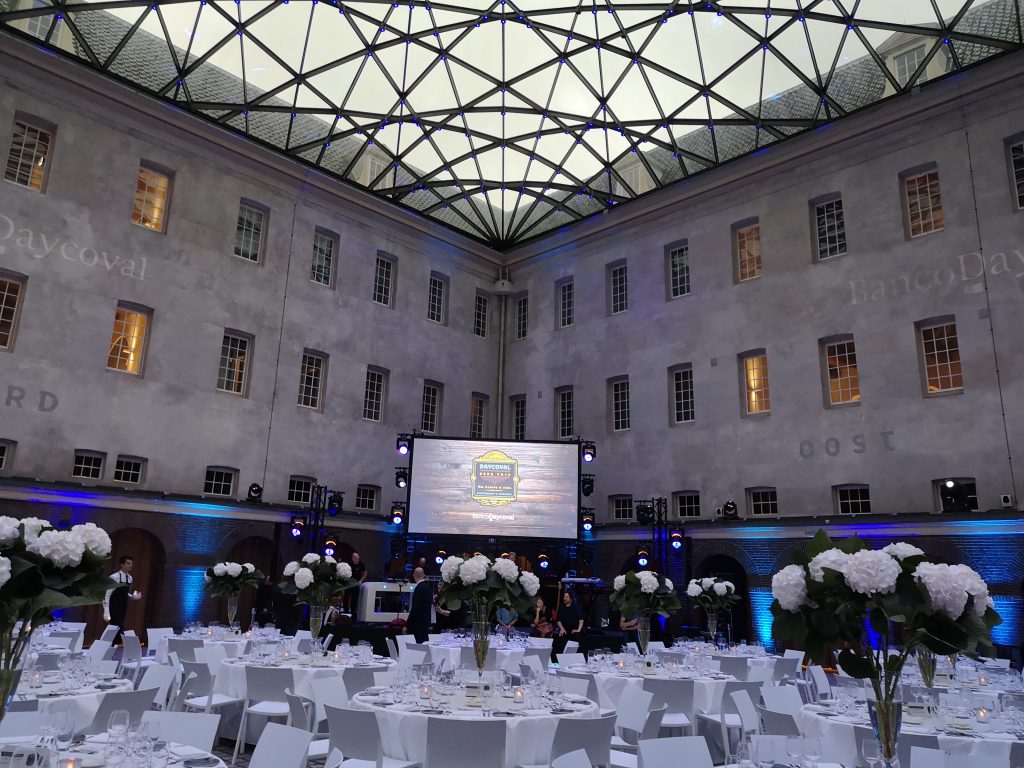 Soundcheck at 02.45 in Amsterdam
Stefan with the two ladies on stilts before Stefan & Kim Show!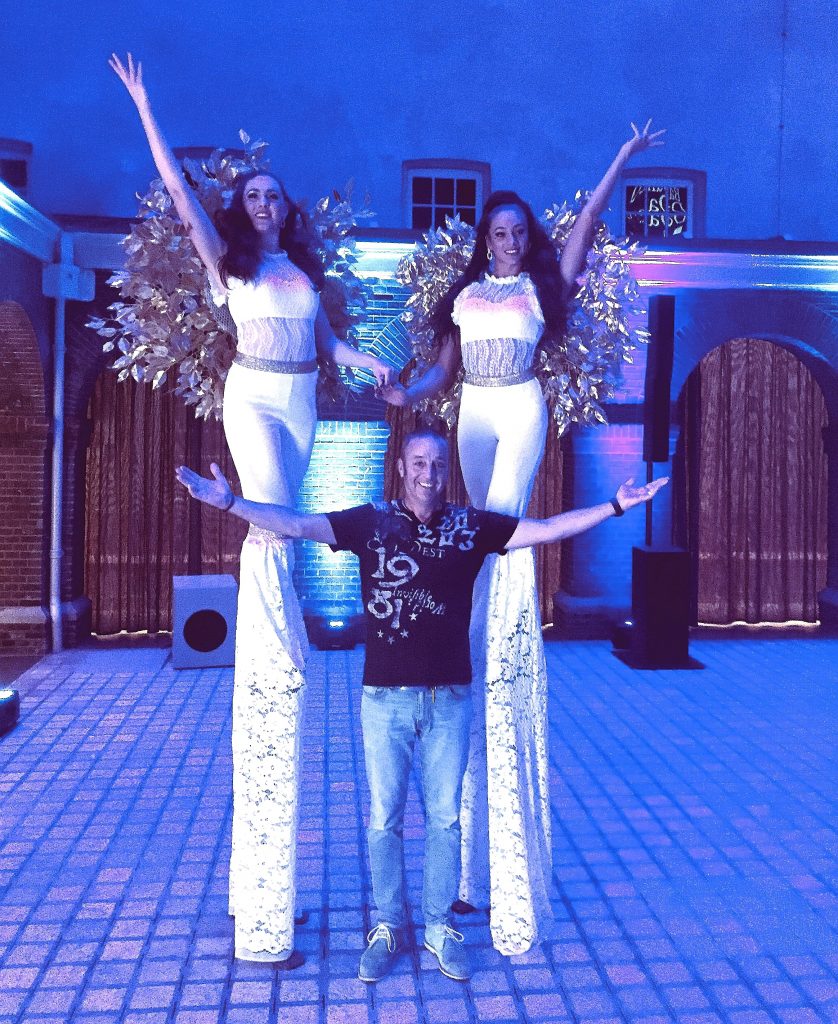 12 Sep, Jatke Oy 10 years Anniversary in Helsinki tonight. Showtime at 18.30. They asked for 19 minutes show, maybe it was 21 minutes in the end, AND a whole lotta fun! Even more fun!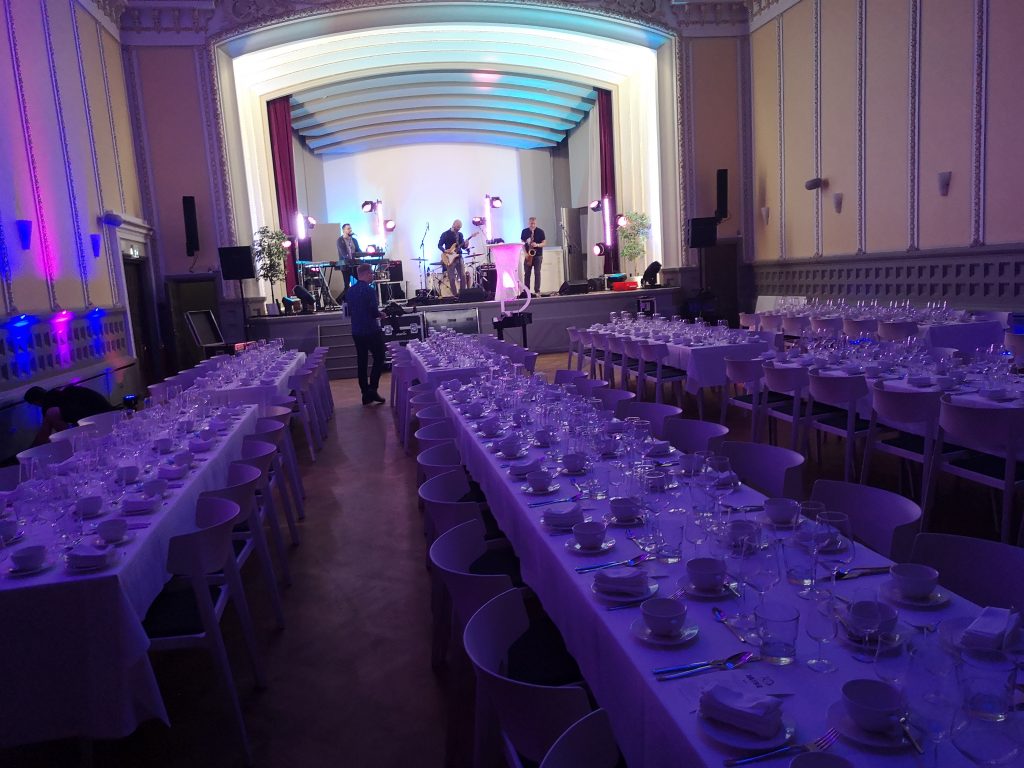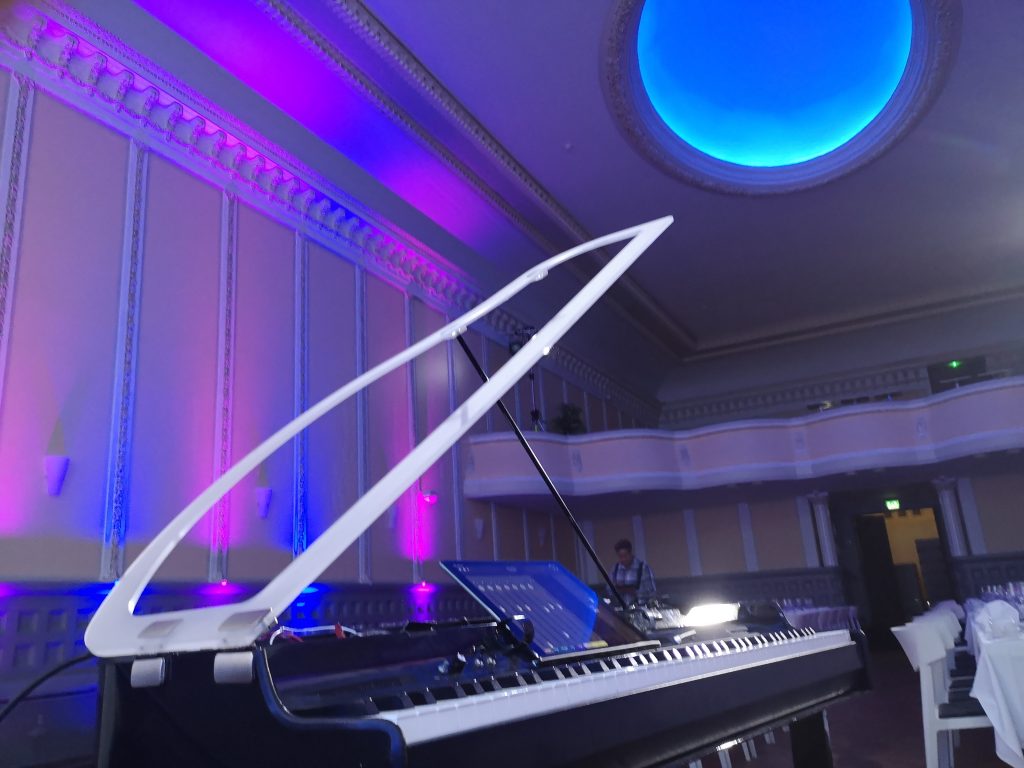 Stefan and our wonderful sound engineer Martin, just before gig…….
September 12th
New World Record? 36 minutes in the Security to Helsinki. They had some questions about one of my hand luggage….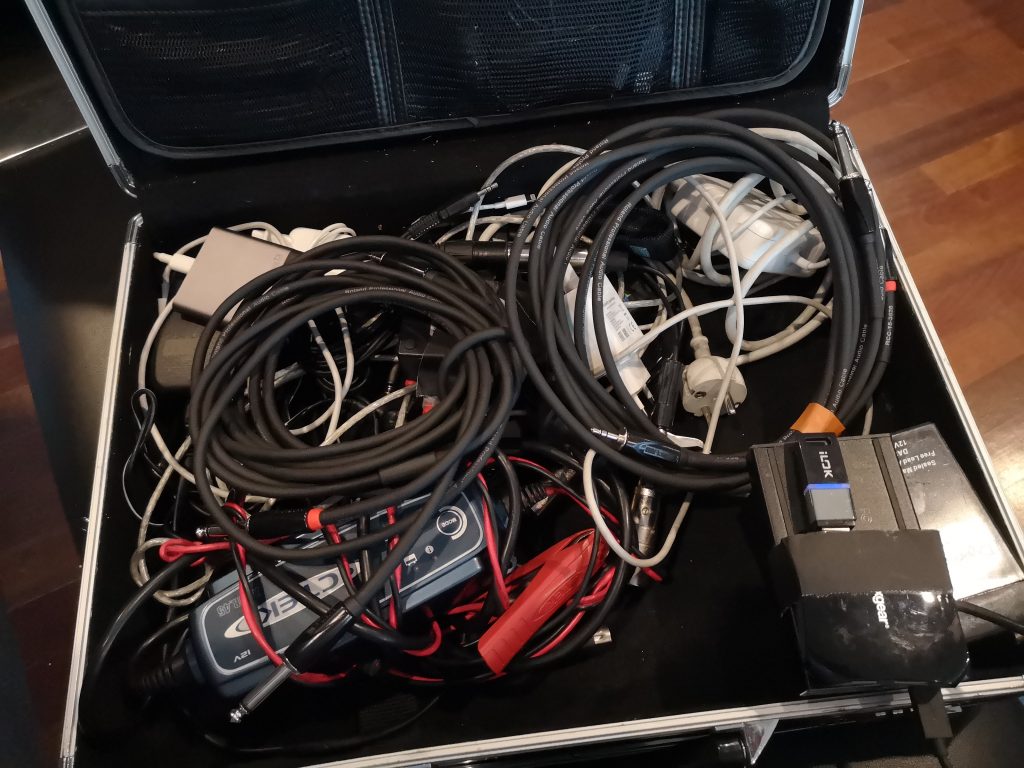 ---
September 11th
---
Just on on our way up on stage! Stefan Arwidson, a very very good friend of mine!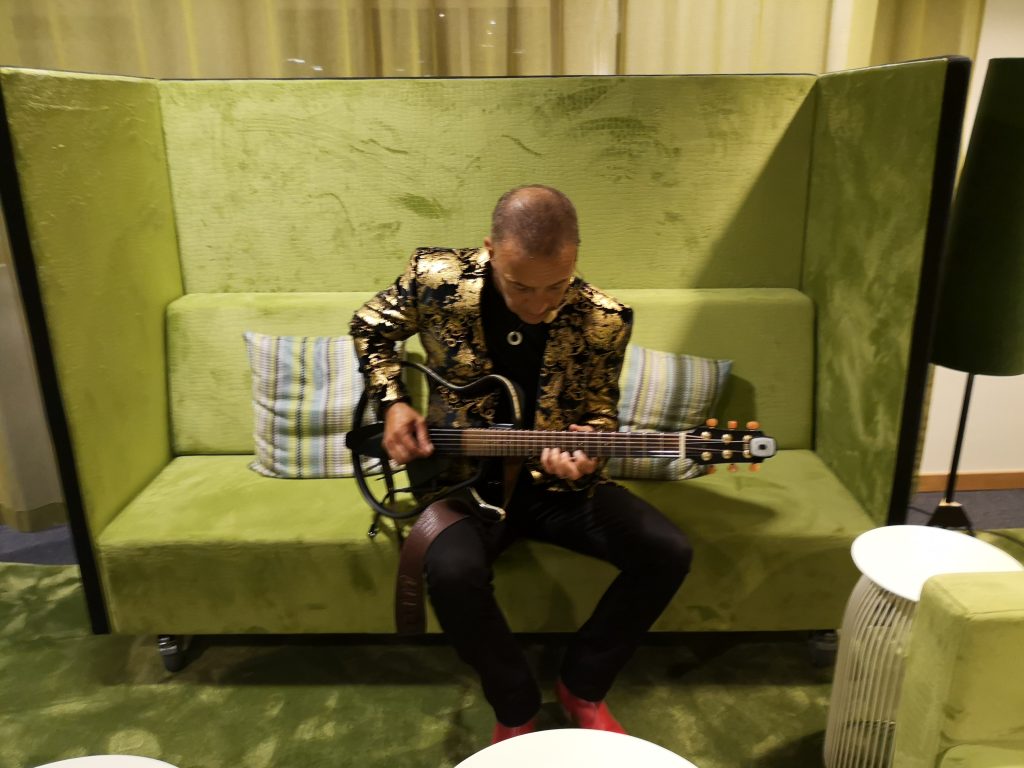 Gala tables, audience from 50 countries, could not be better!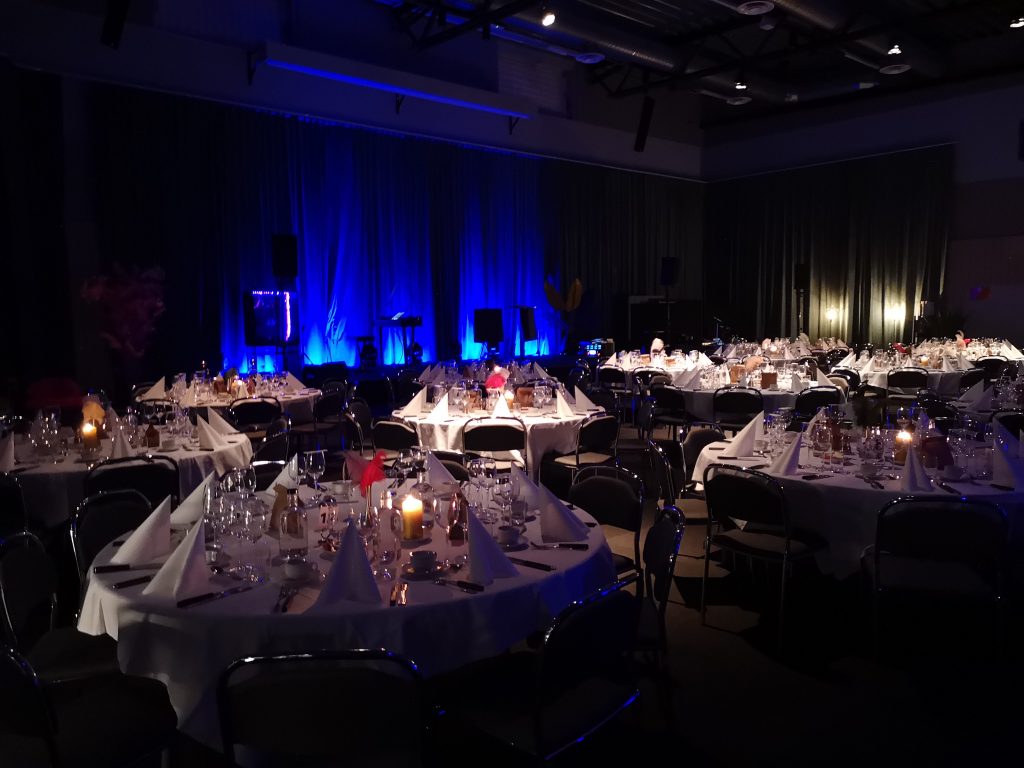 ---
September 2nd!
Damn it was a good show yesterday in Stockholm, Sweden!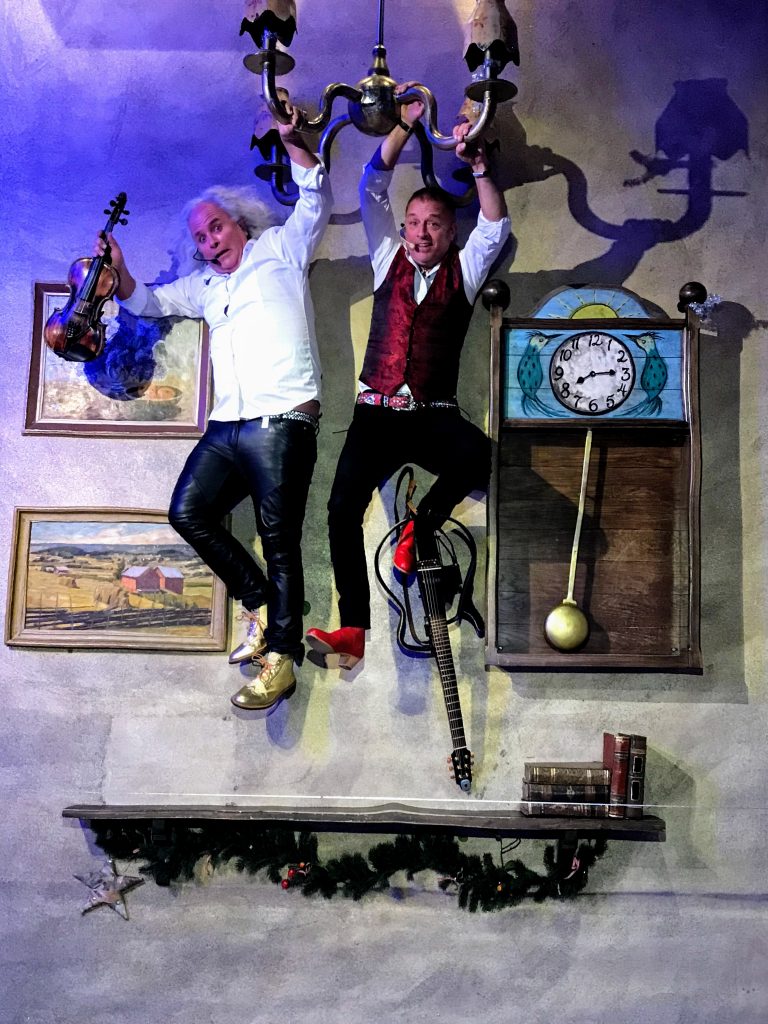 ---
2 Sep
Åhhhh what a nite at Malmoe Arena igen!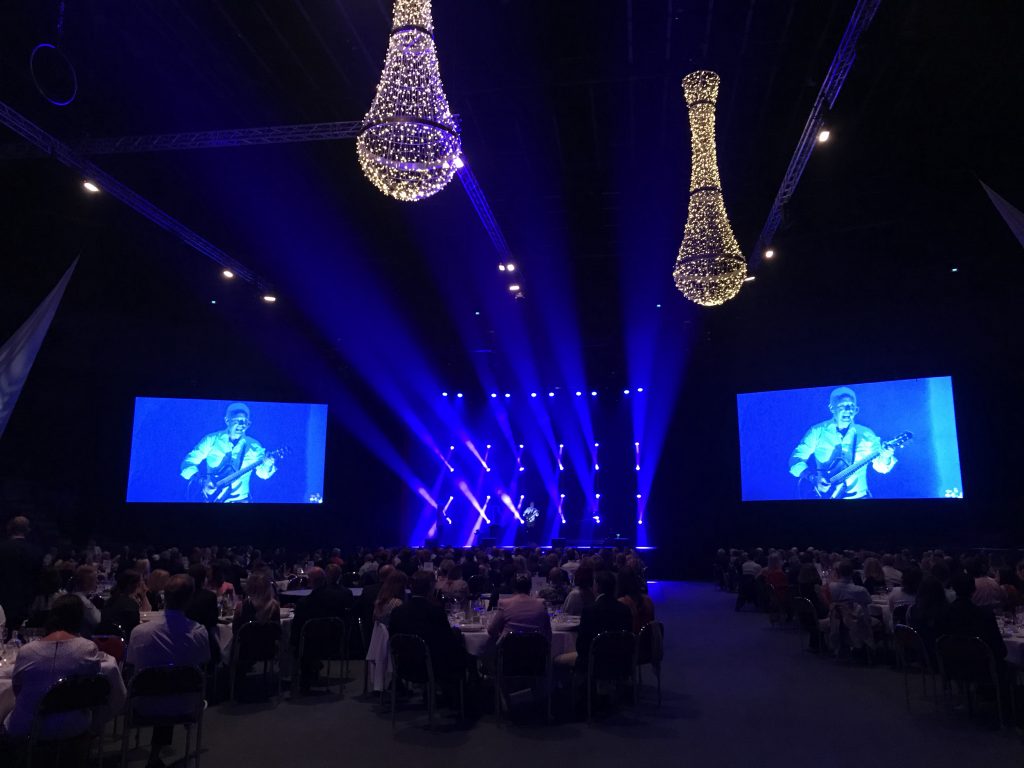 ---
Back in Denmark again! In the middle of Cph. Hotel Nimb, right beside Tivoli. Showtime at 11 in the evening! 10 round tables with white table clothes. I love it! Pictures from soundcheck. We started at the highest level and then we just got higher, and the crowd was with us all the way! Its hard to see that on that picture…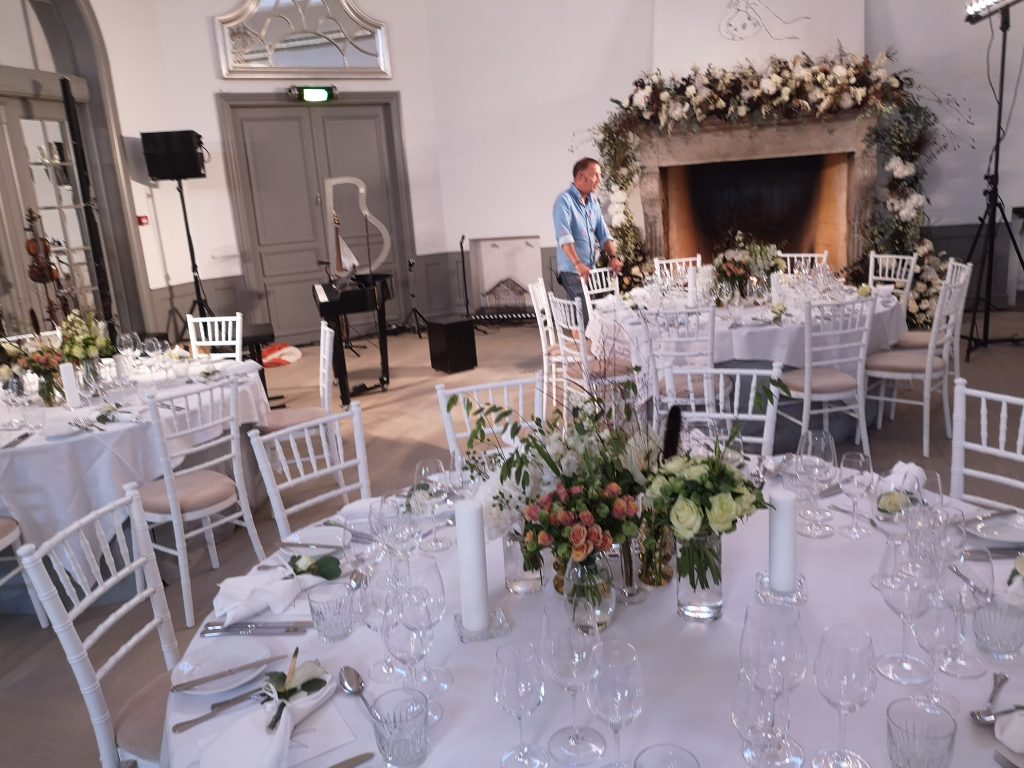 ---
August! Damn, What a nite! Barsebäck Golf Coutry Club 50th anniversary. Show with a View!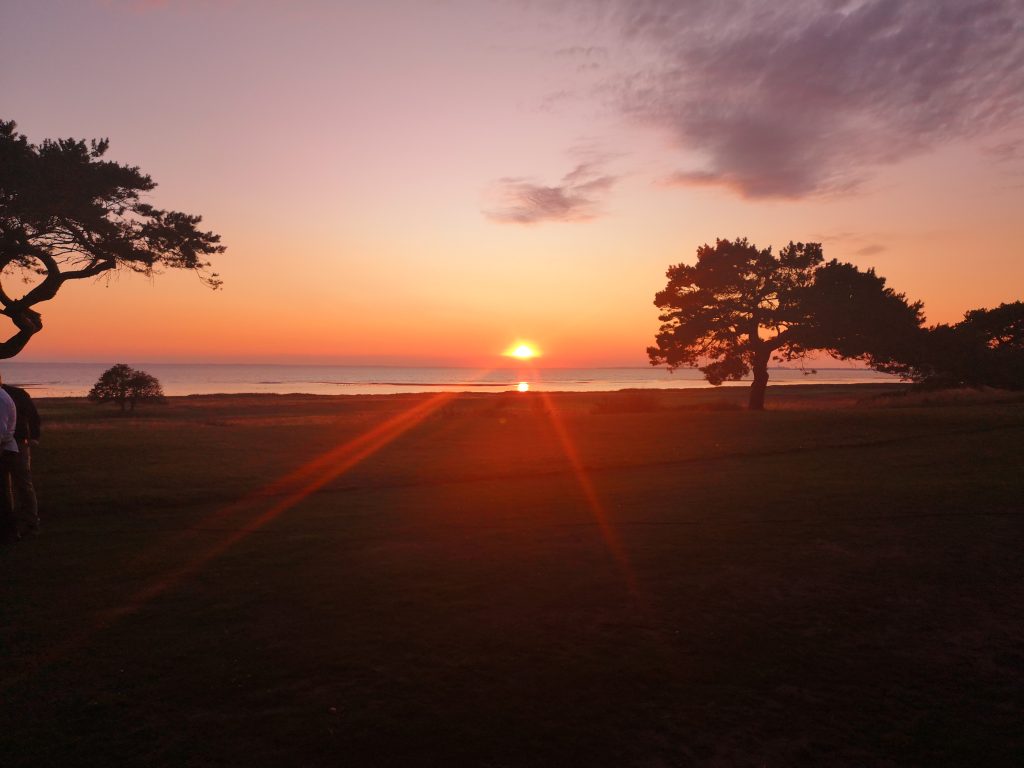 3rd encore! Violin on fire!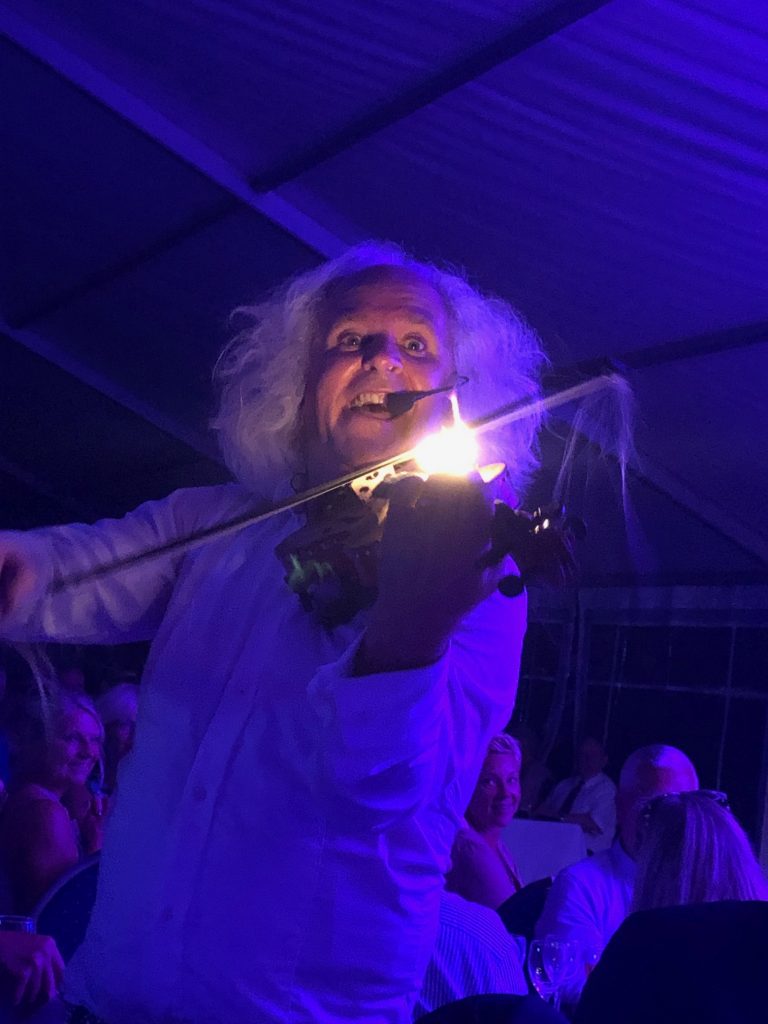 ---
From yesterday July 16th.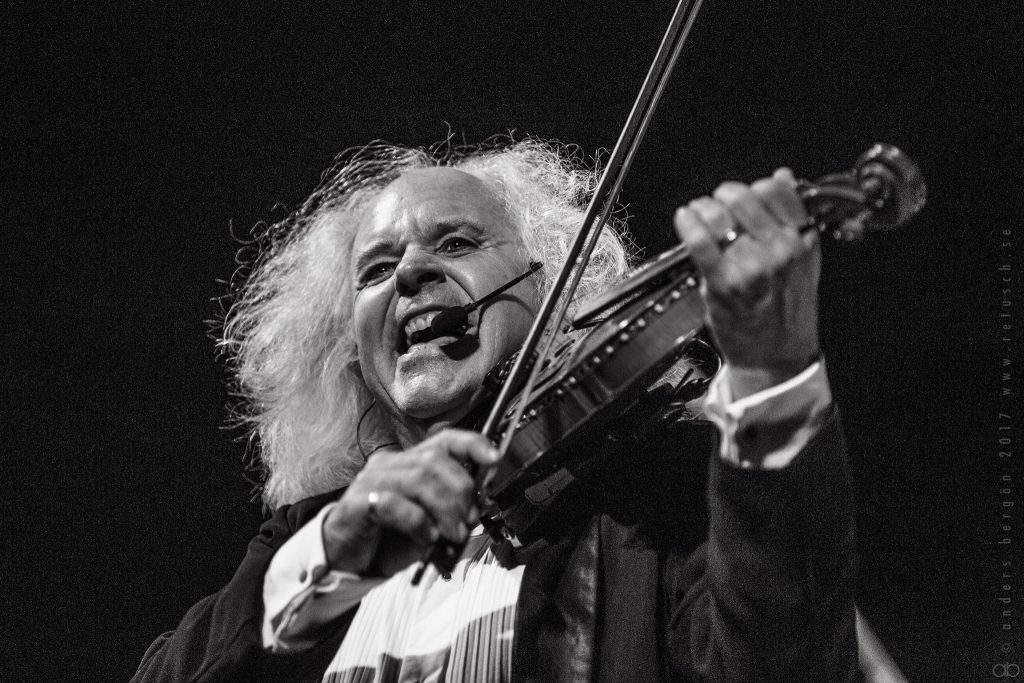 Marienlyst, DK, June 16th.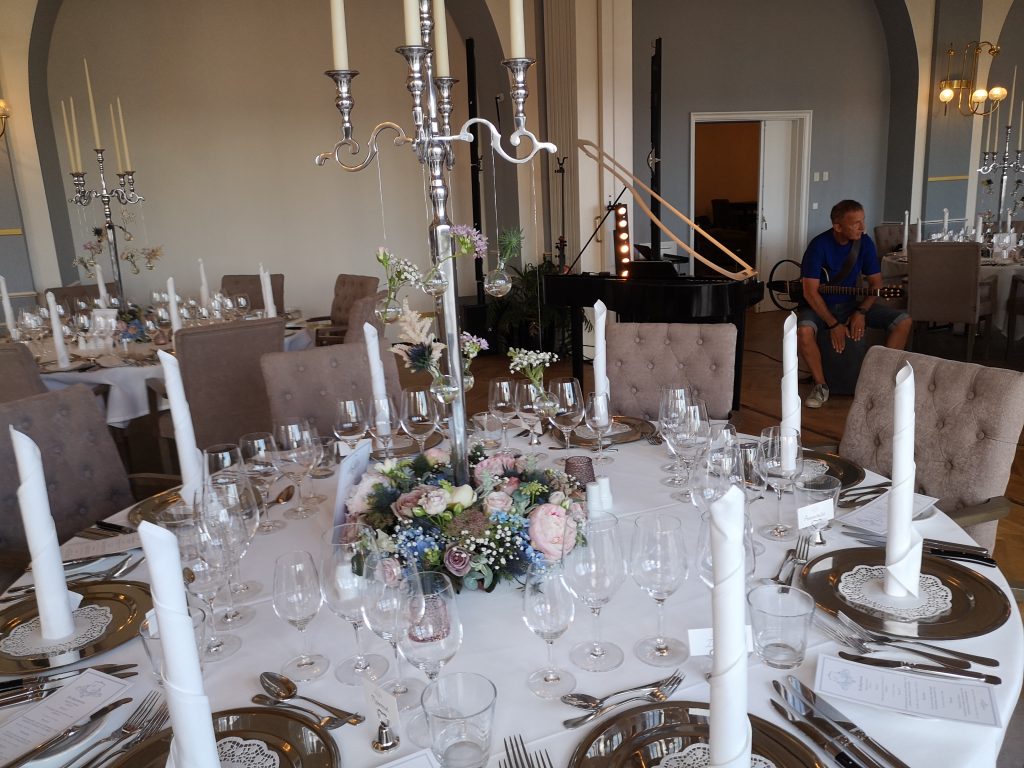 June 9th! A wonderful wedding at Marienlyst in heart of Denmark! The couple asked for 2 shows this very special night. And they wanted us to sing "Music of the Night" from Phantom of the Opera. View the clip!
_______________________________________________________
May 25th! "The Lomma Party" A lot of people, great atmosphere, and Stefan & Kim! Very nice backdrop!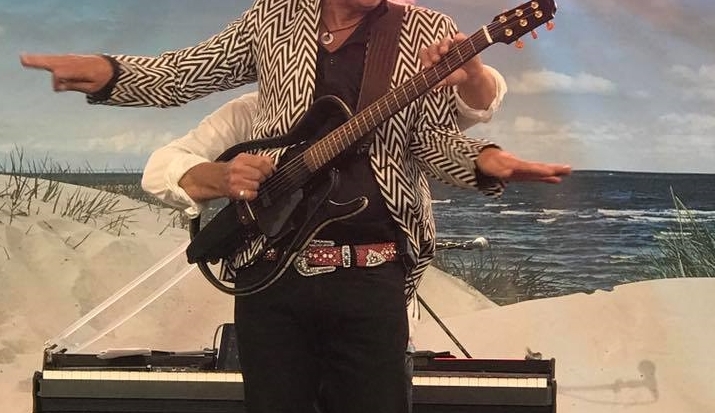 On the table, in the third encore!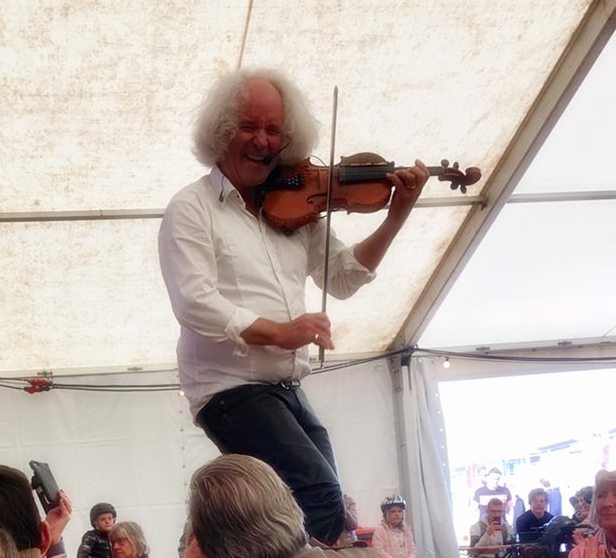 __________________________________________________________________

May 23rd: Extraordinary, intimate, business gala evening in the South of Sweden, in Vellinge!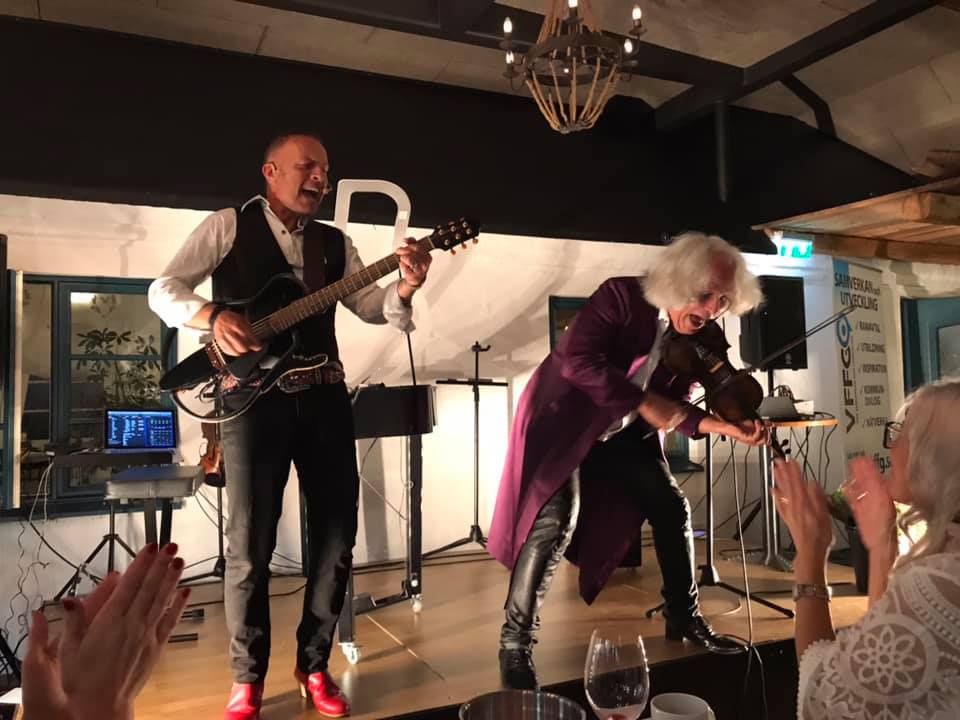 _____________________________________________________________
May 20th
Stefan & Kim on secret International Event! The client asked for Classical Music + Groovy Crooner Music + Hits from the 21st Century!
---
__________________________________________________________
May 18th!!!!! All set for show in Skellefteå, AGAIN! SO bad Picture, SO fantastic nite!!

________________________________________________________________________
18 maj!
________________________________________________________________
May 17th
And then directly to the flight for 2 days in Skellefteå, in the North of Sweden! I love it! Look at the view from the plane!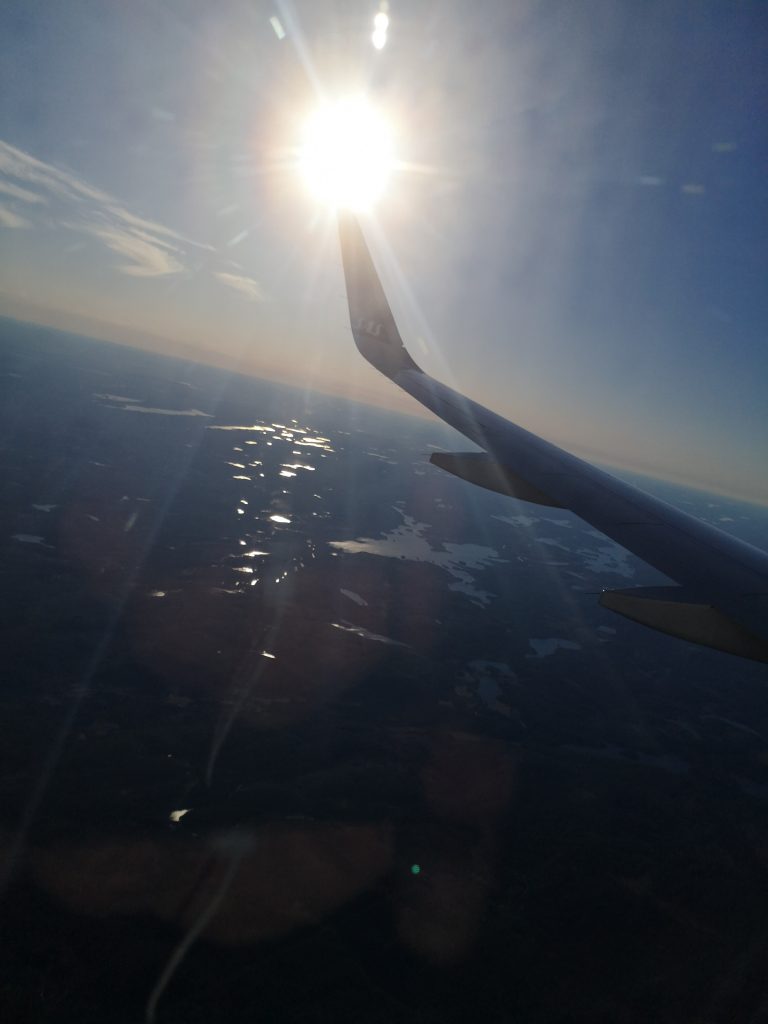 ---
Back to "Malmö Live" this day too, May 17th.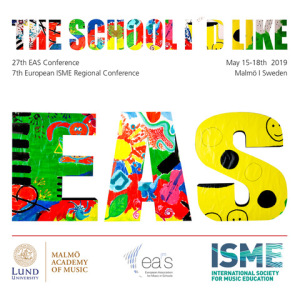 Day time Conference with Performance/Show/Concert with S&K, right in the middle of speaches, lectures and so on. Audience from all over Europé.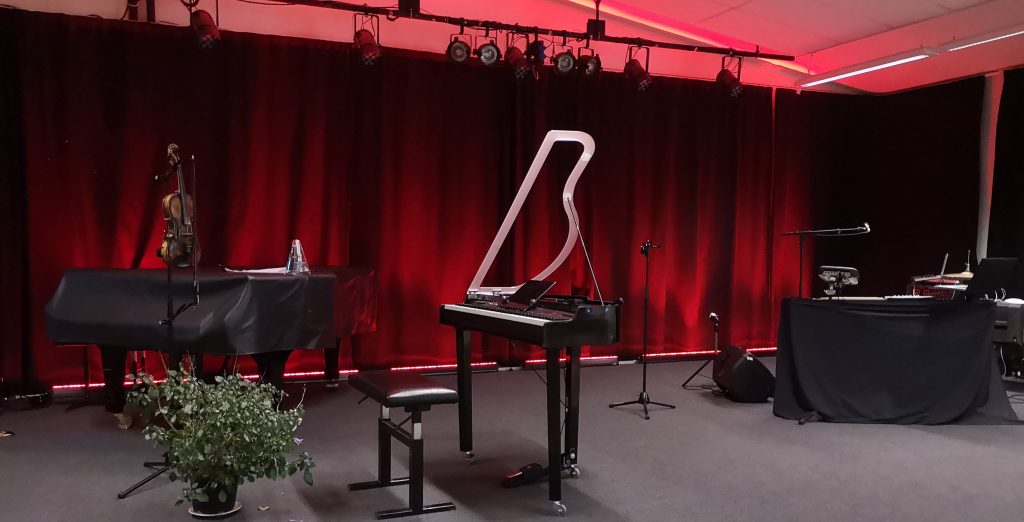 ---
Lovely venue at Malmö Live, May 16th, a very small gig, for about 30 people in the audience……..the picture in Black & White, why not!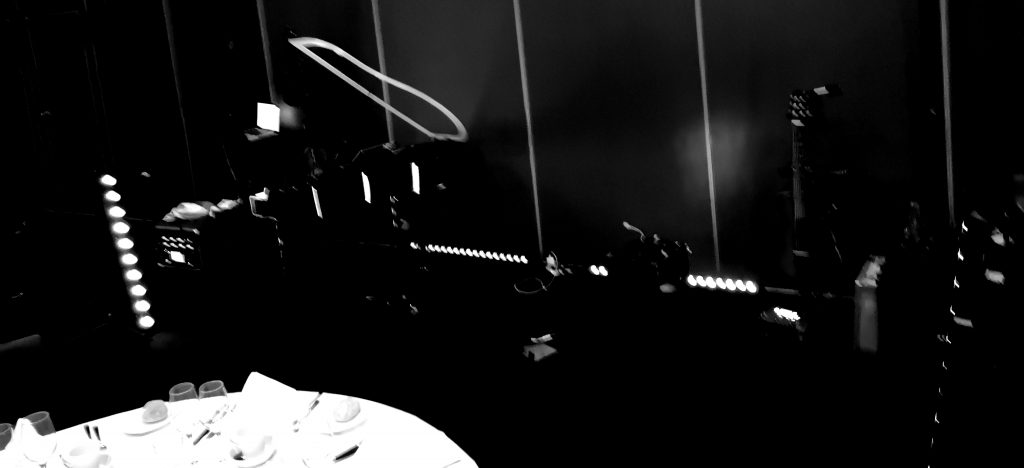 ---
May 10th: Today´s backstage! Kajskjul 8 in Gbg, Sweden!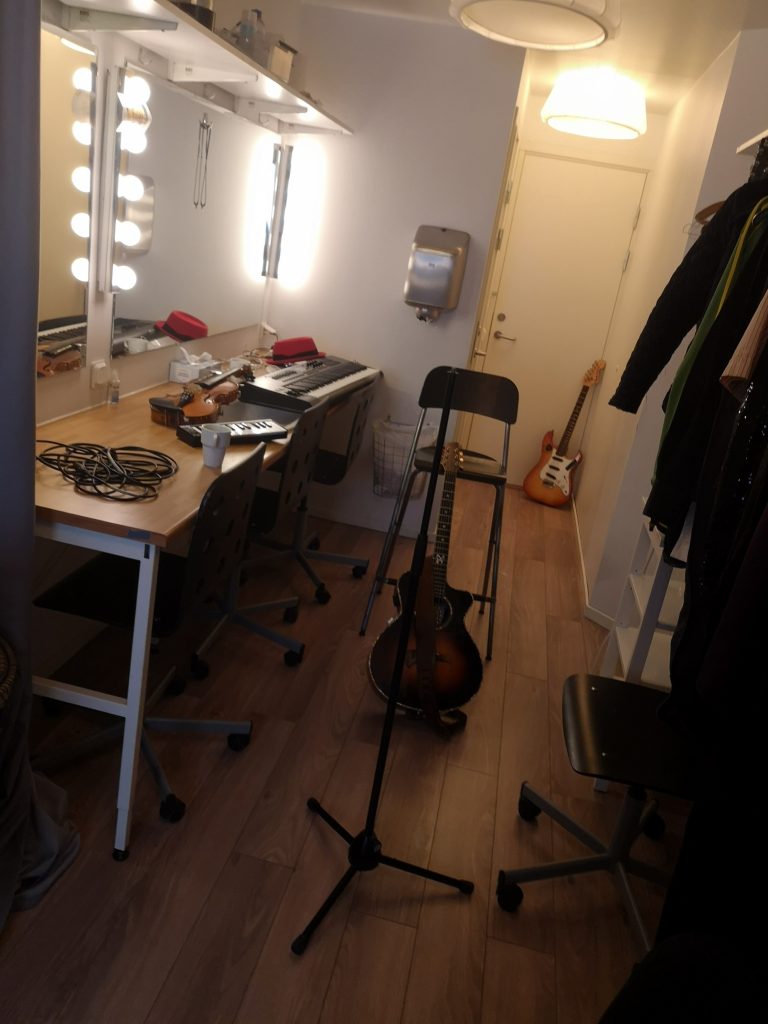 ---
May 7th: Soundcheck in front of people can be a lot of fun……as yesterday!!!!
---
April 28th: "Girls night" in Höllviken, Sweden! Stefan & Kim made the show and Stefan was the MC. It was fuuuuun!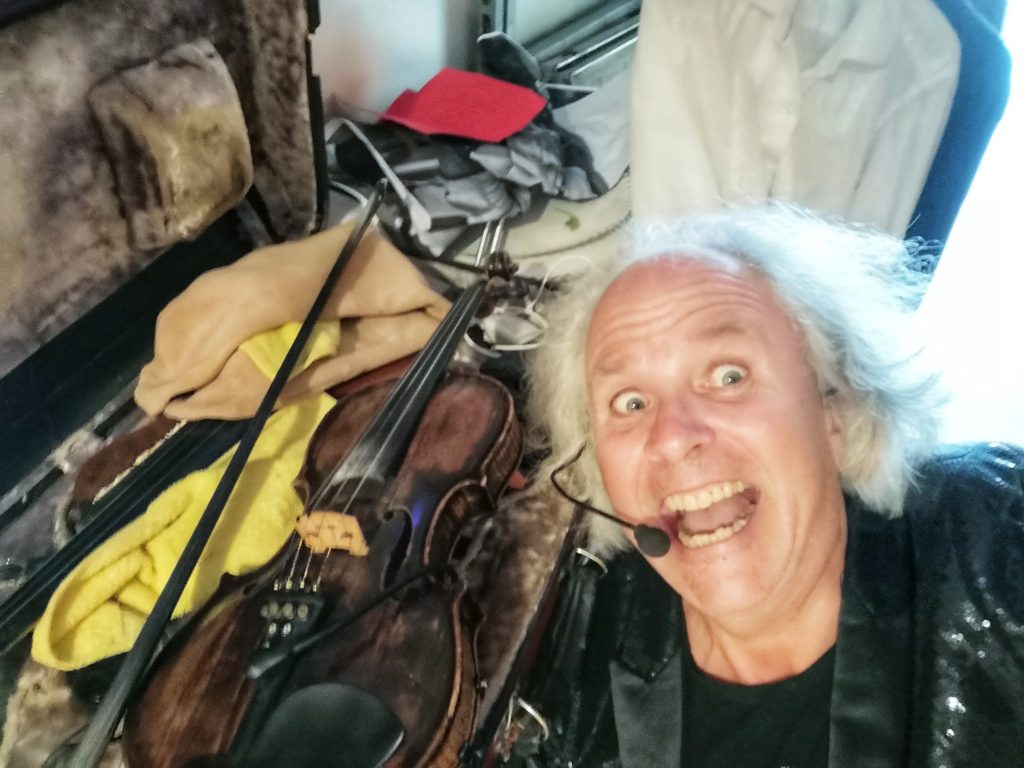 ---
April 10th.
Yesterday was a Good Day!
April 5th
So many new numbers i progress in our Studio! How many keyboards and violins can you find in this clip!
---
March 28th
Ready for Show in Stockholm, Clarion Sign!!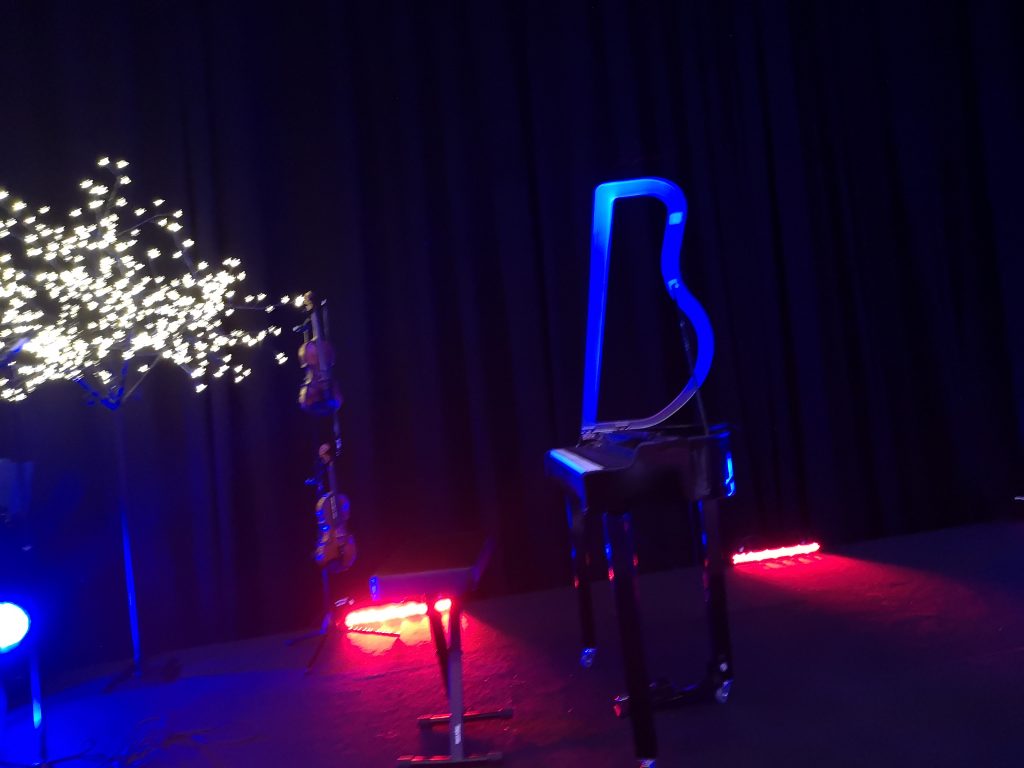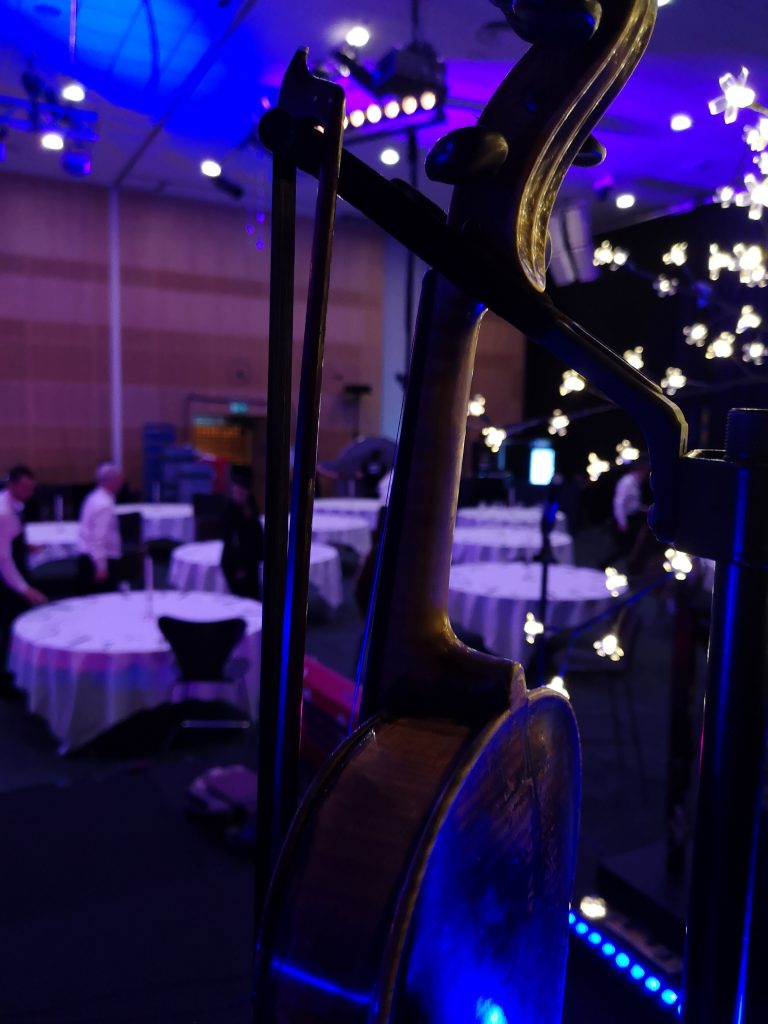 ---
8th of March
Wonderful day/nite at work again!!!!!
---
Guess who I met on a beach in India?!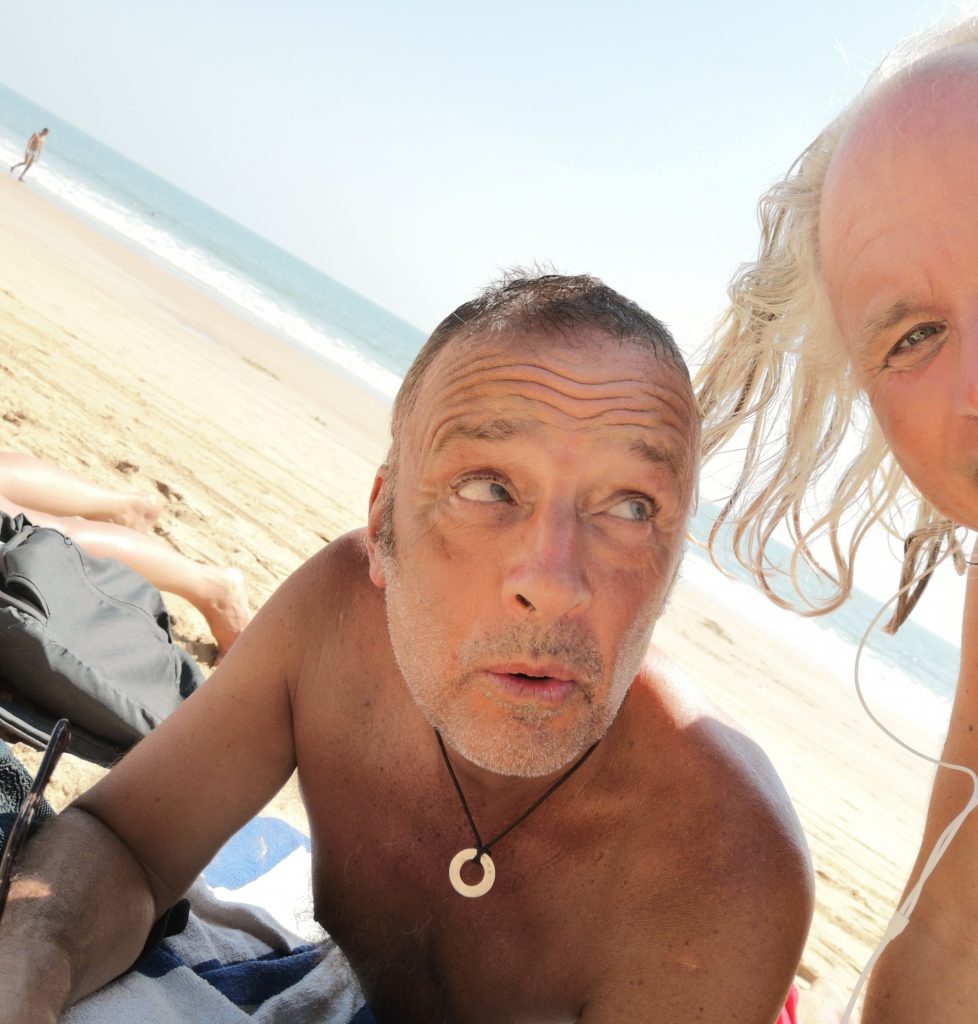 ——————————————————————————————————
1 Feb After Gala Show at the Finlandia Opera house in Helsinki!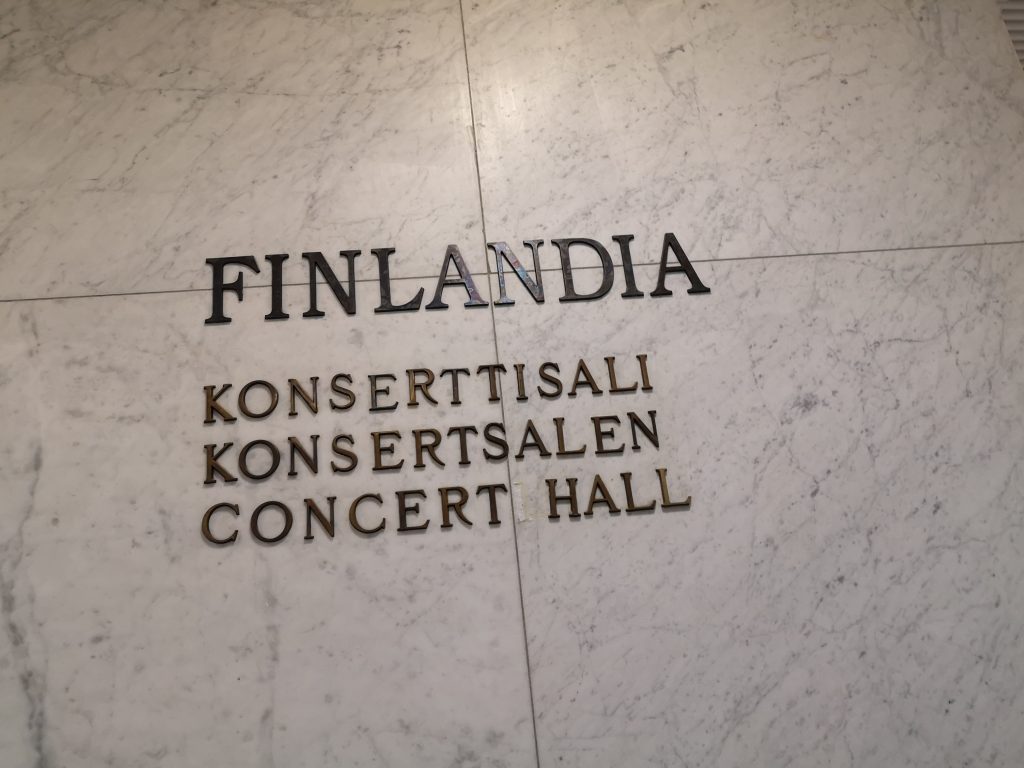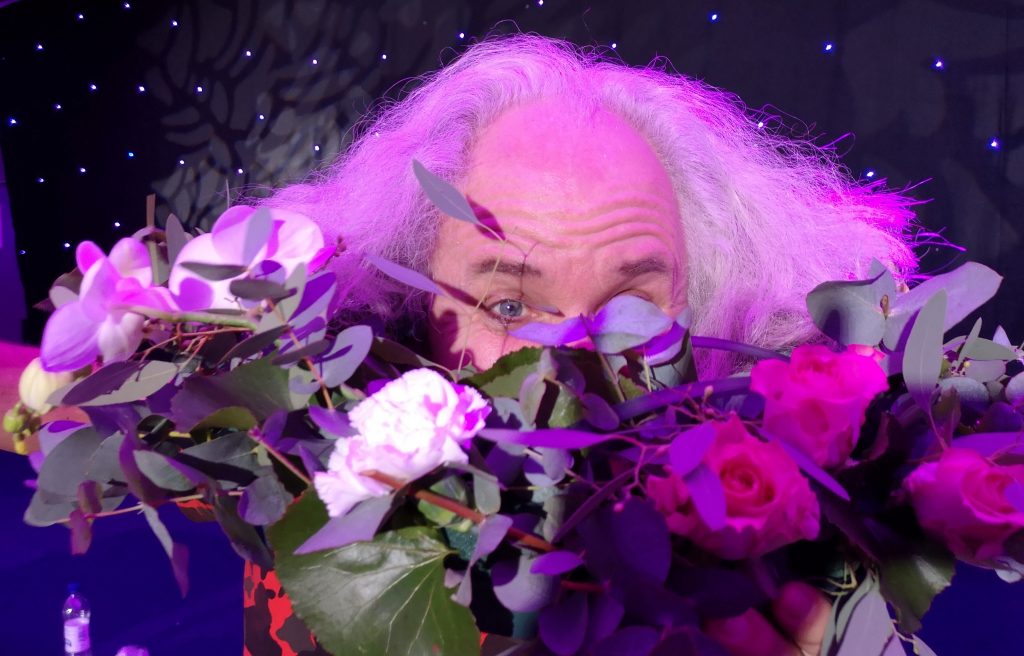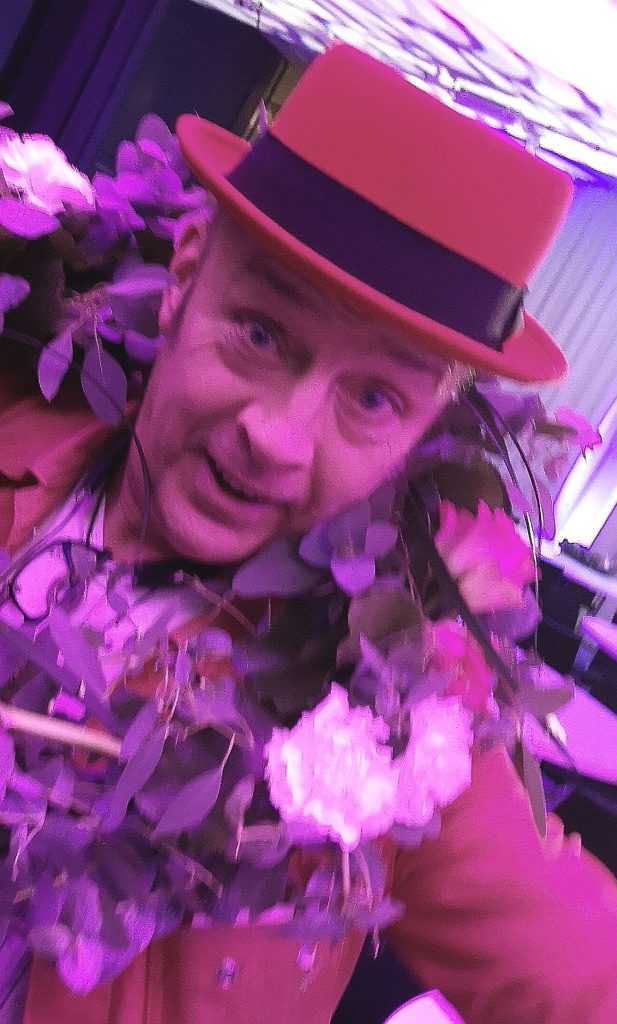 ———————————————————————————————————
31 Jan Clarion Hotel View Stockholm! Preparing for Show & Dinner!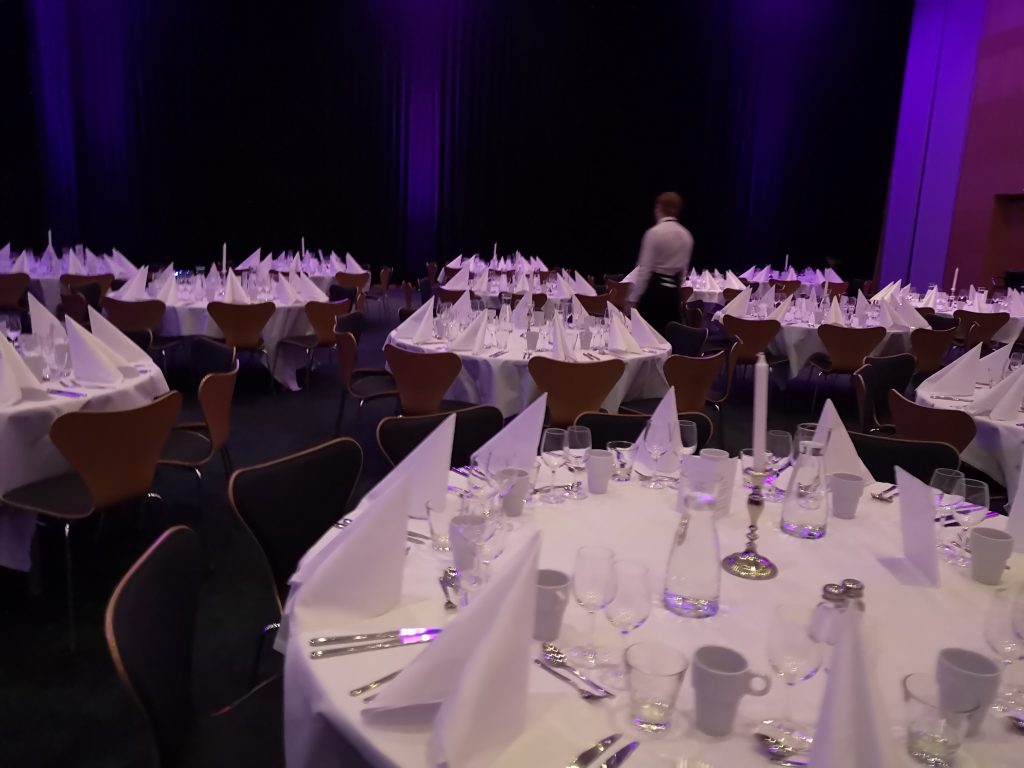 ---
Janury 25th. So well organized event by Gustavo Management. What an audience, what a nite! 149 people from an incurance company had the most wonderful evening! Picture from soundcheck

---
The Toreador hat & the guitar is ready to go at 7.30!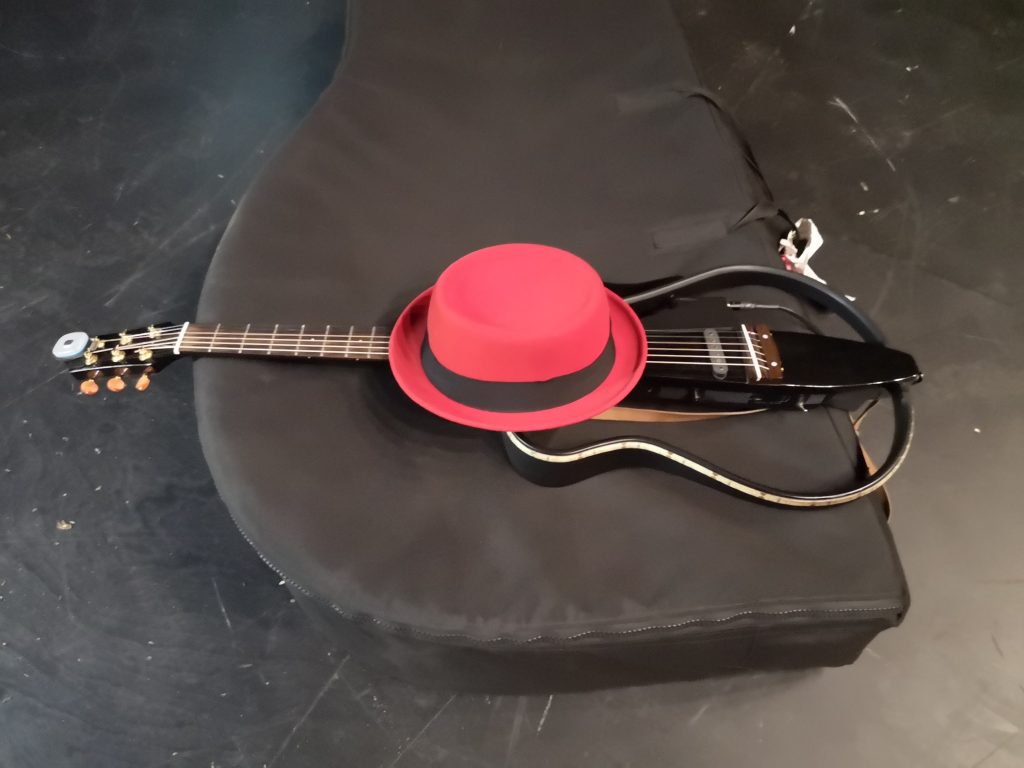 —————————————————————————————
My cat wanted to go on tour, too, today!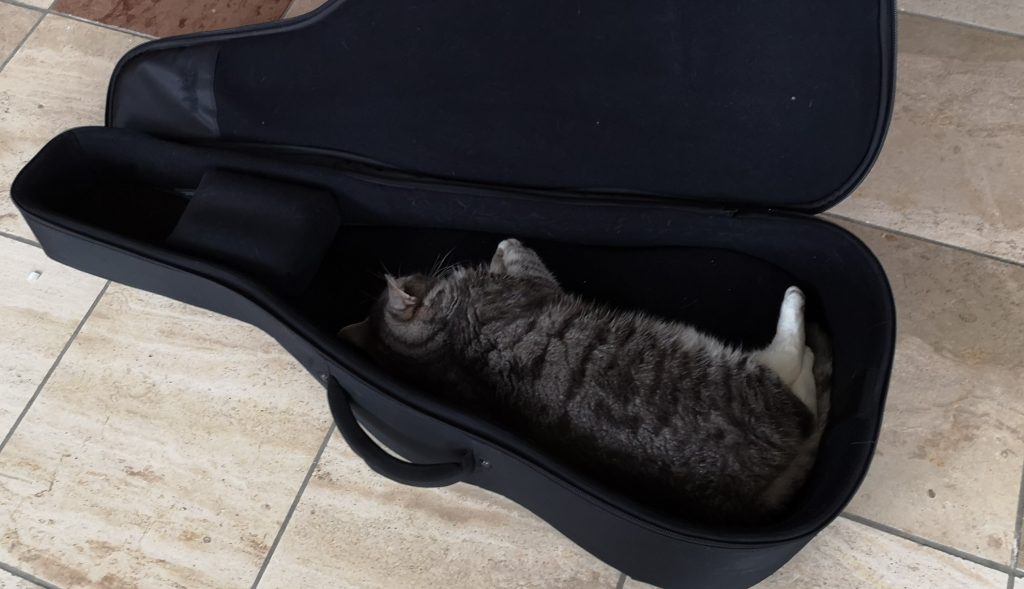 ---
Varberg January 8th. I love my job!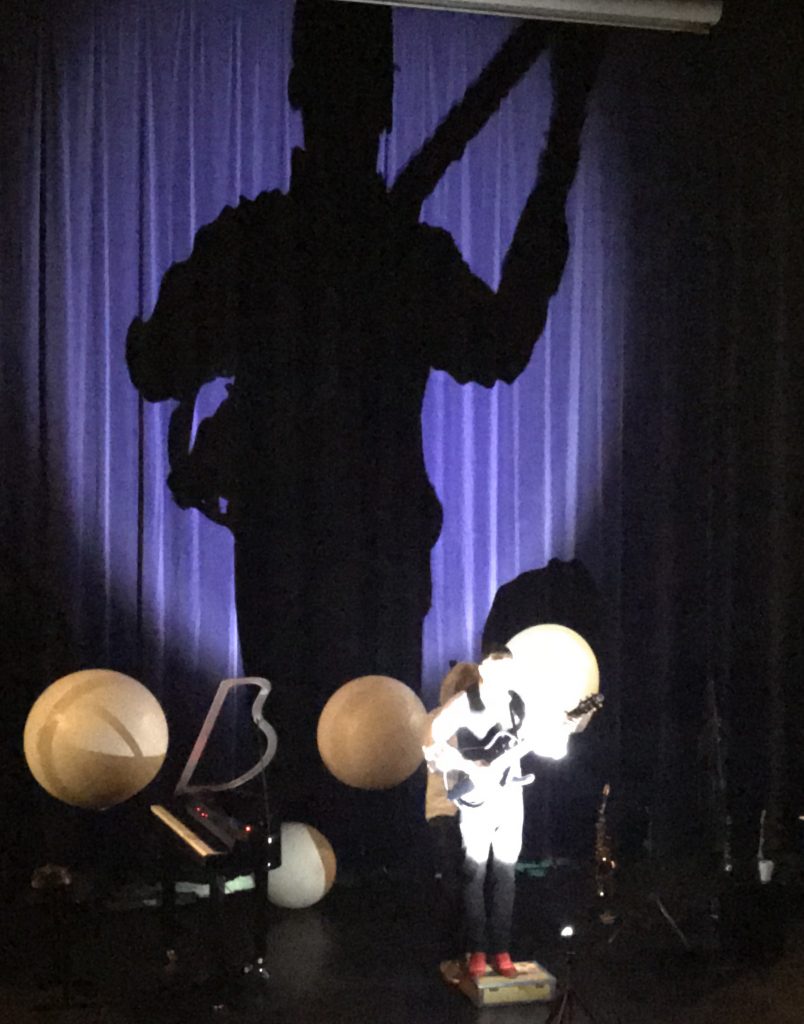 ---
What an honour to do the very special show at "Hovleverantör Rosers Trettondagsevenemang! Fully crowded Concert Hall and after that the most exclusive dinner! So was the beginning of 2019!!!
——————————————————————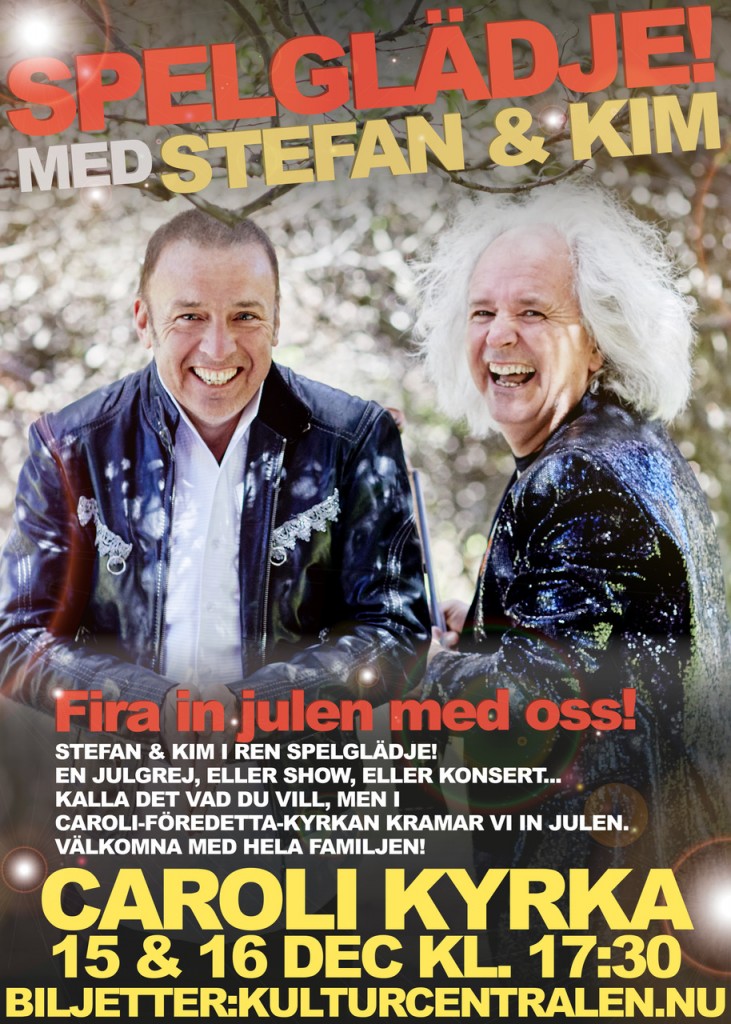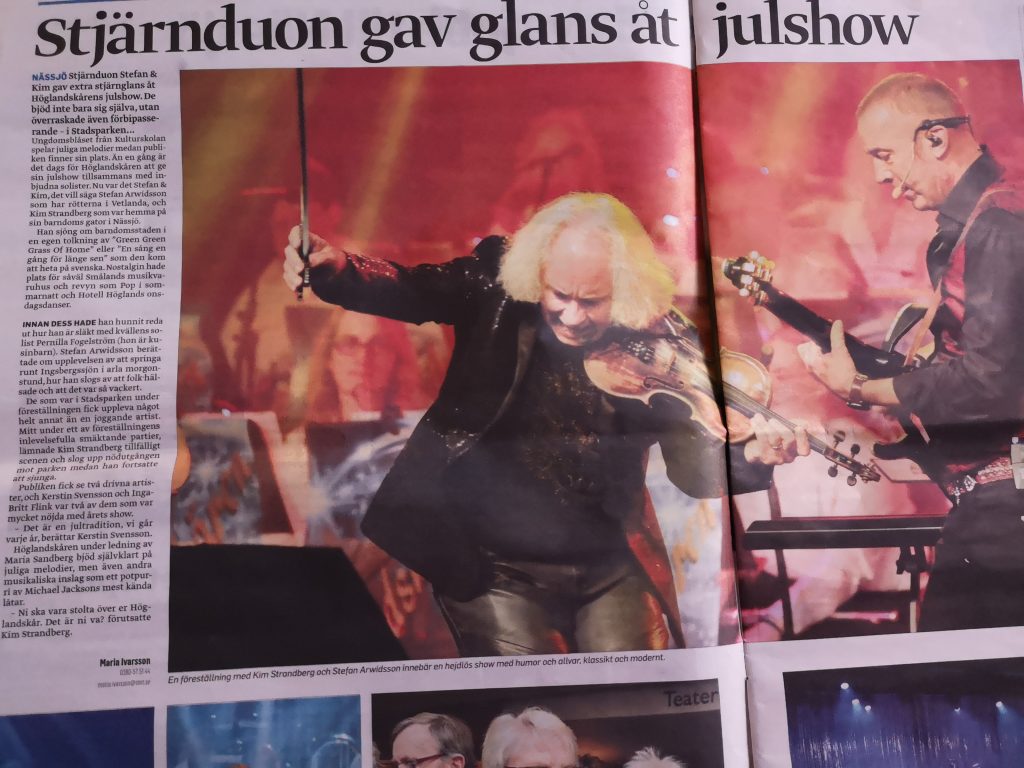 2 wonderful nights in Nässjö!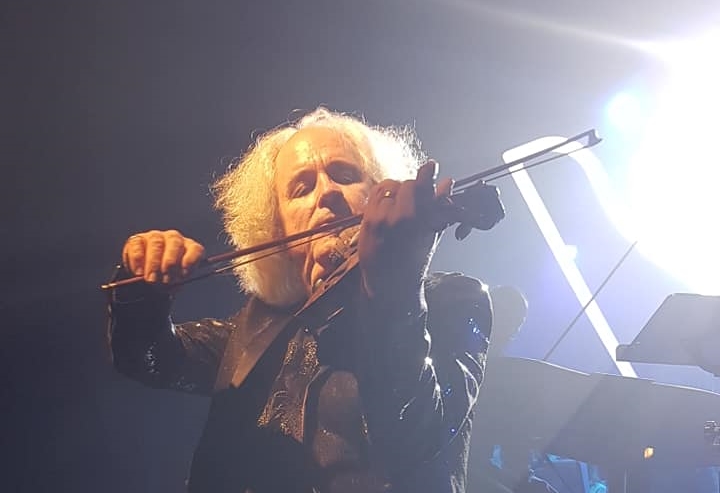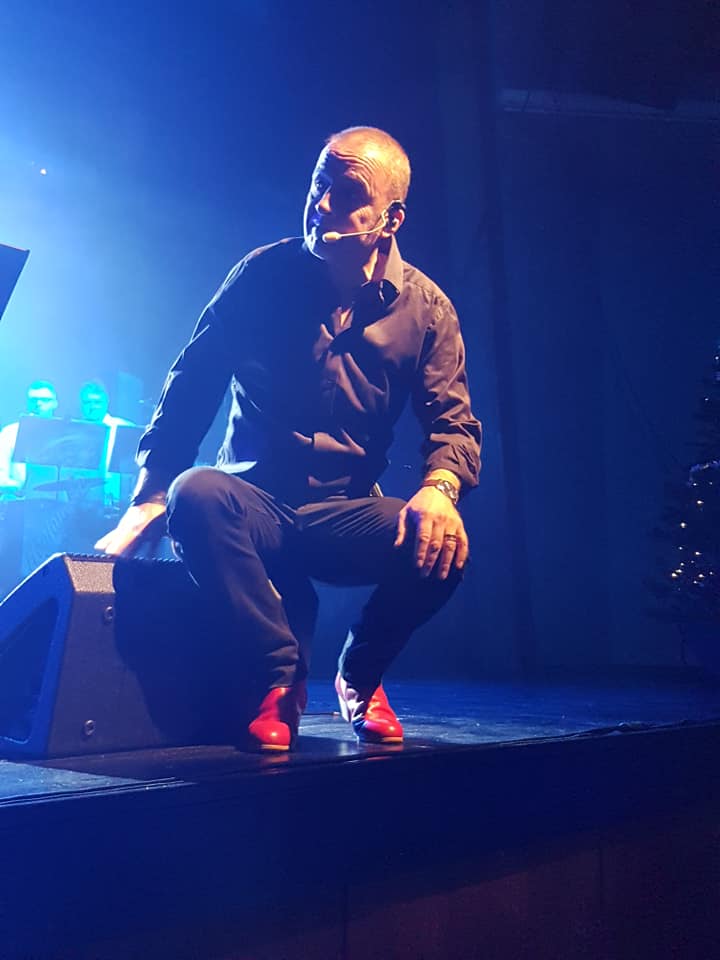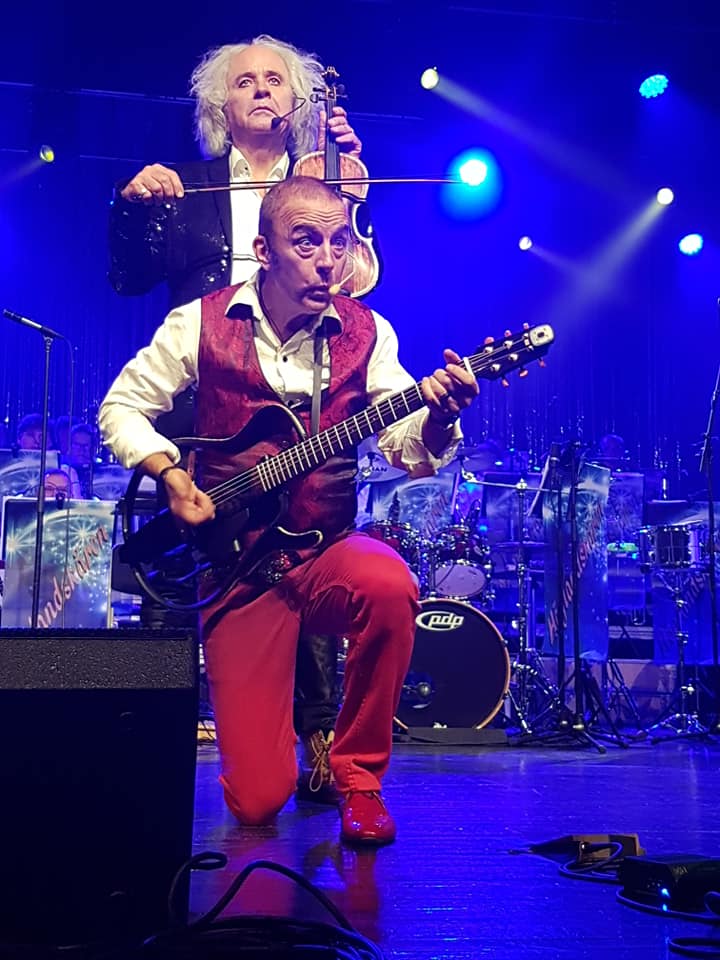 —————————————————————-
Small gig right in the middle of Malmö! Picture from the dressing room. VERY SMALL!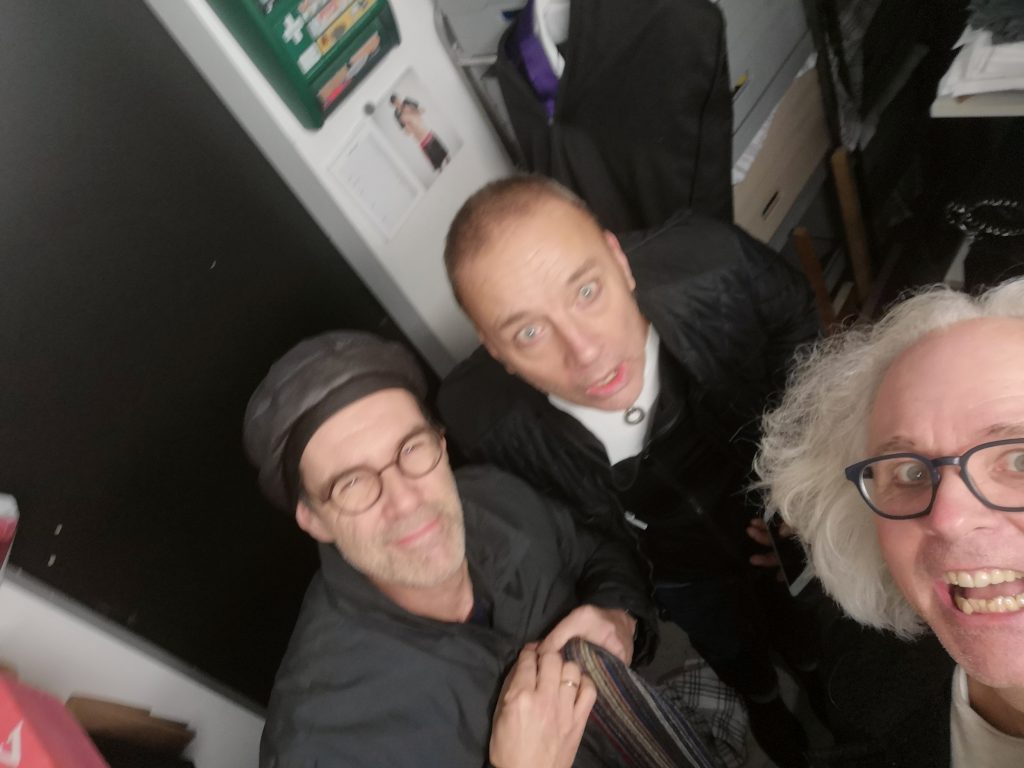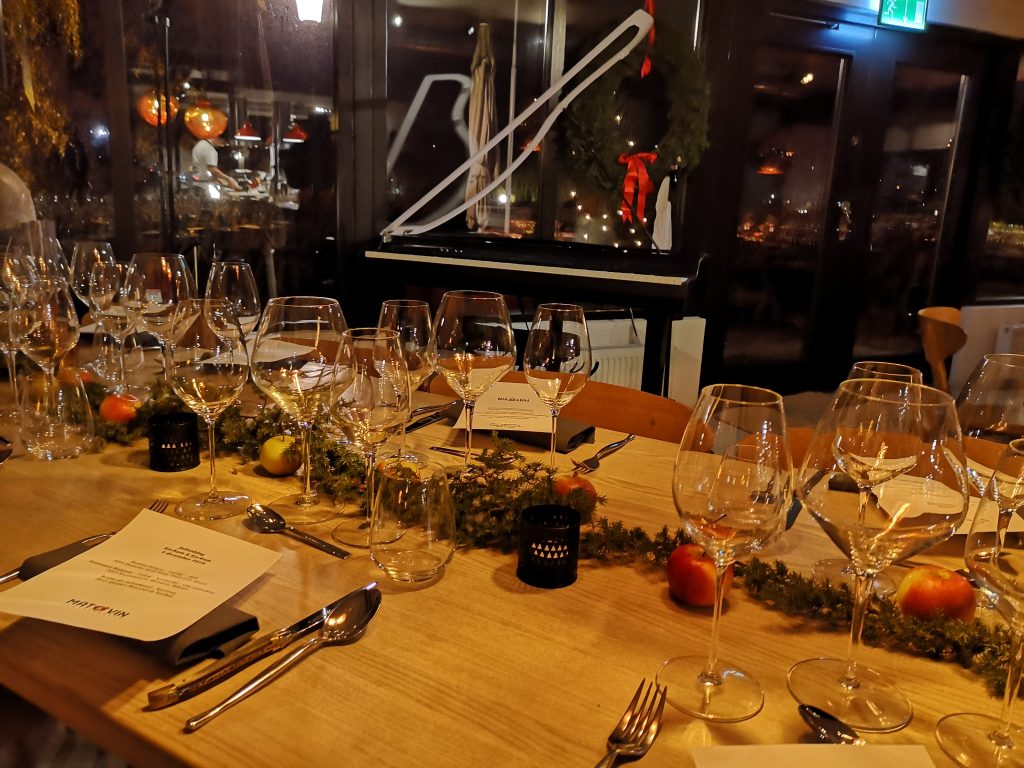 ——————————————————————————
Nov 30th in Stockhom City Hall!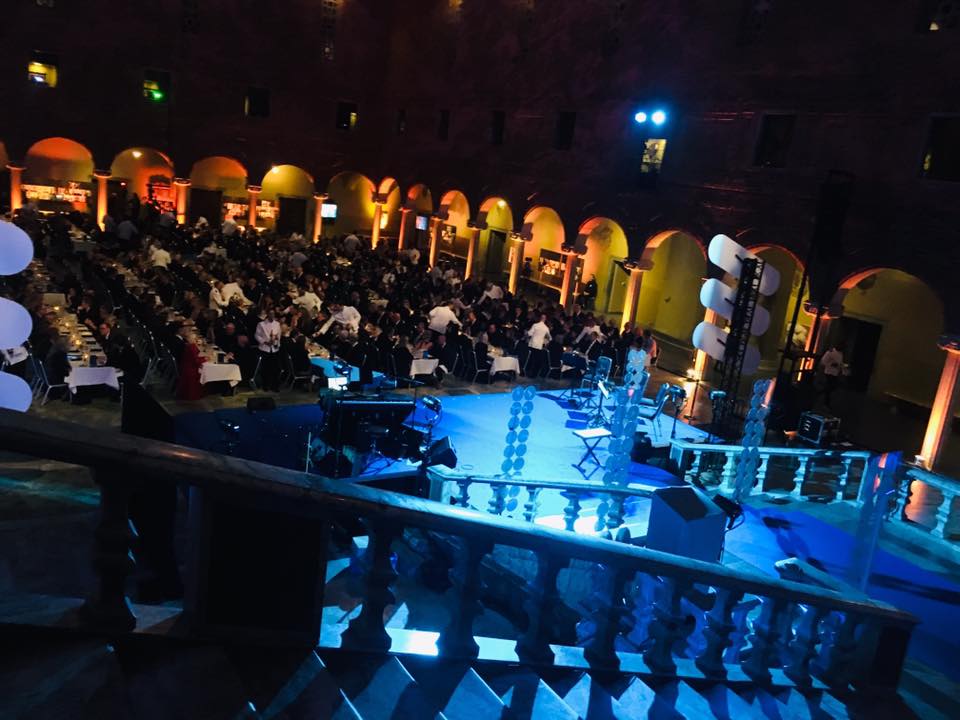 Tillsammans med Stråkkapellet & vår Paul Suchanek, till vänster på soundcheck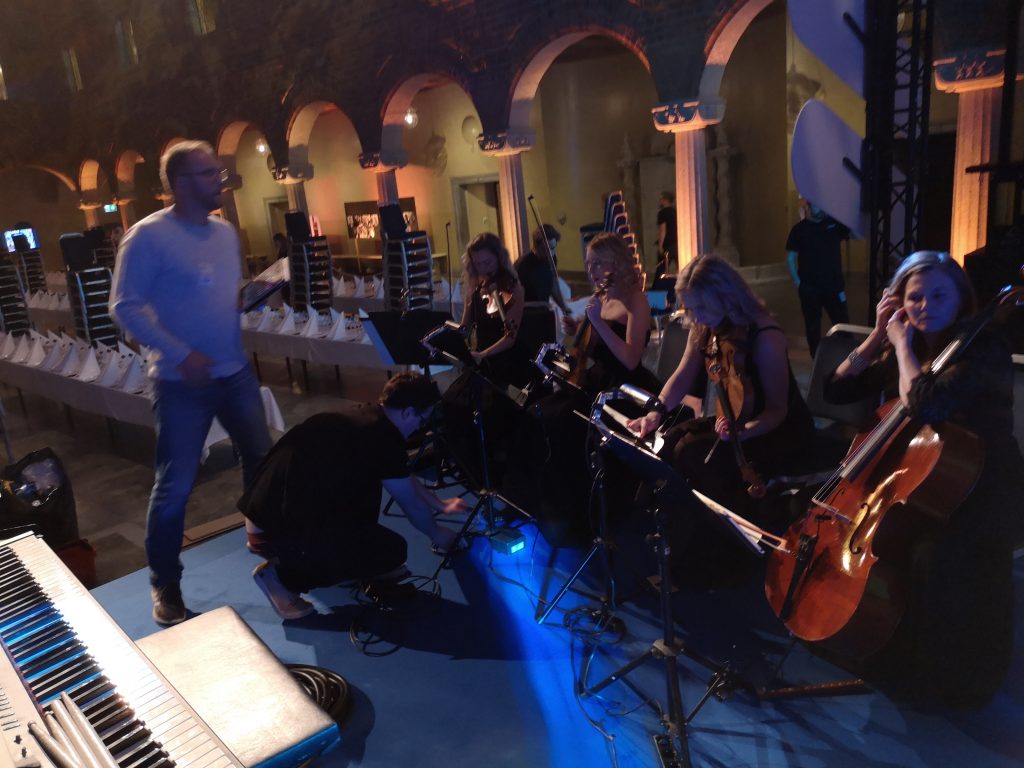 Vicken dukning & vicken kväll!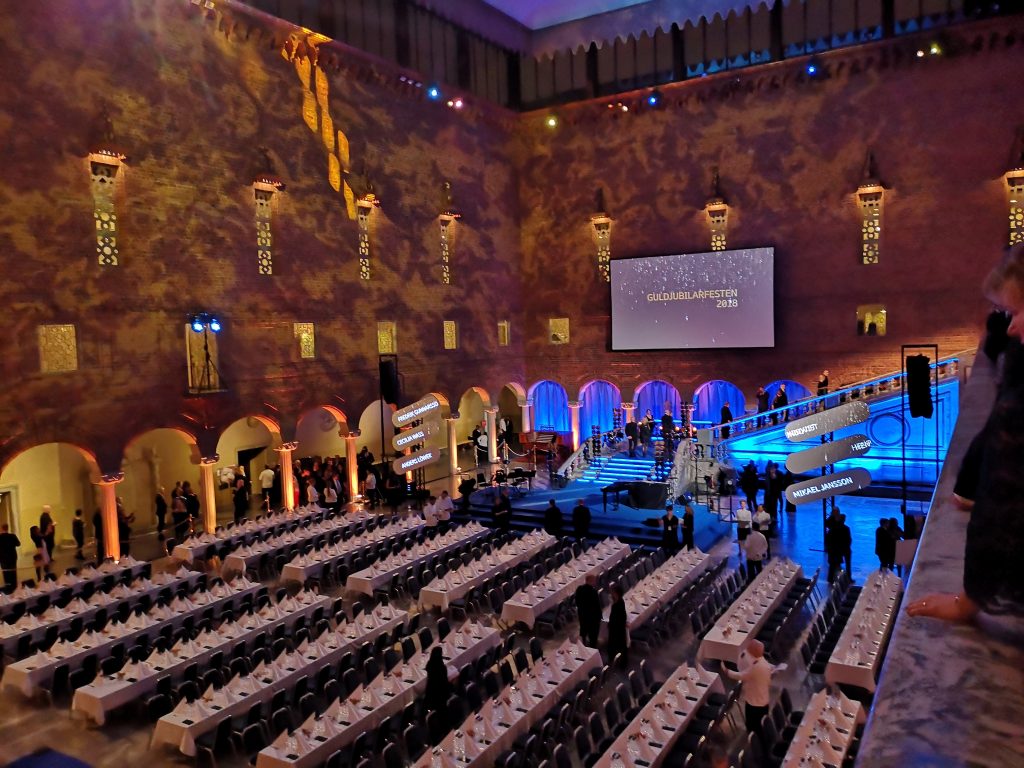 Whole lot of fun yesterday!!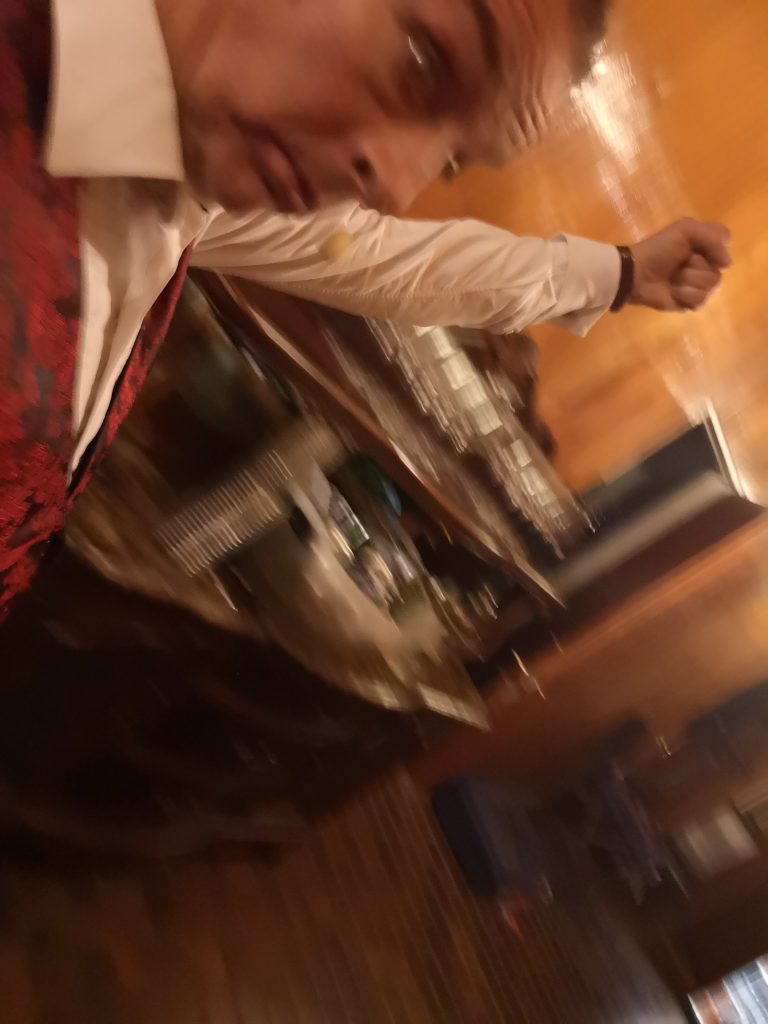 ———————————————————————
I love this kind of work!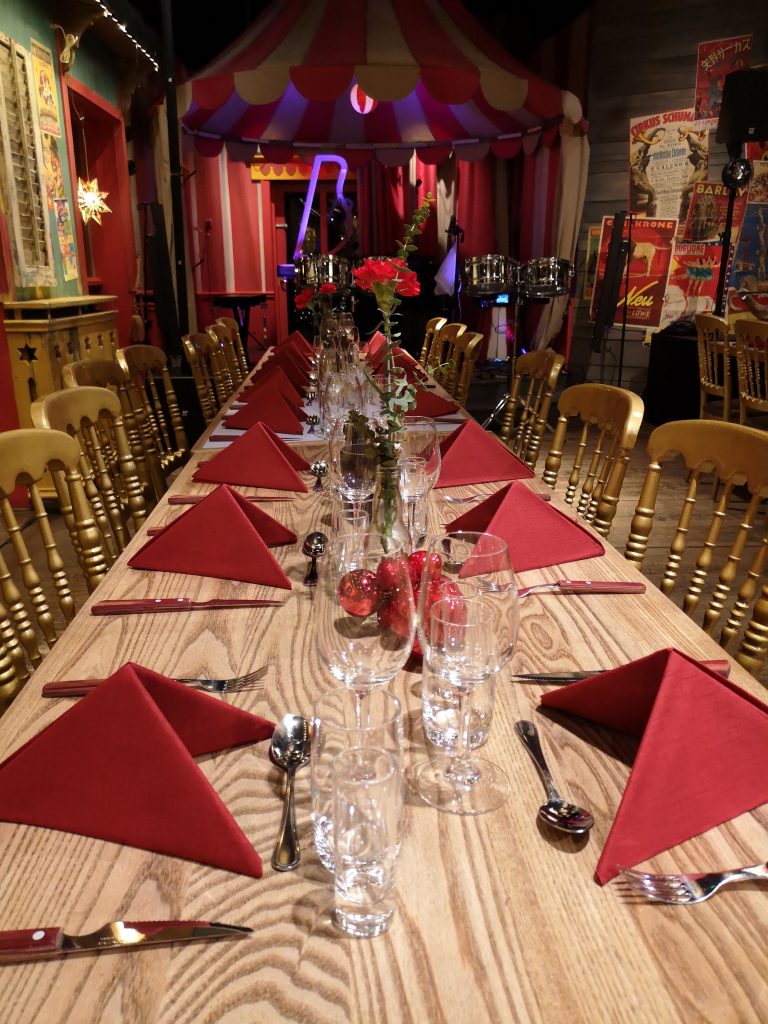 ……. at gig once again!
---
100 years anniversary in Helsinki, 8th of November
———————————————————–
Stefan & Kim at Glasklart, malmö, Sweden 7th of Nov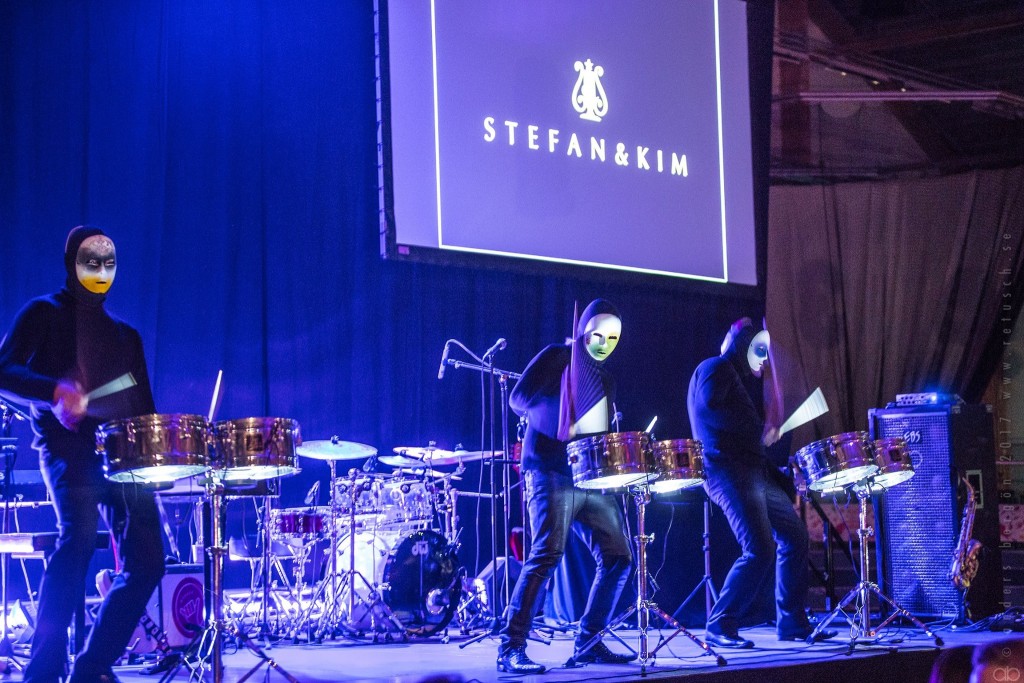 ——————————————————–
Borås, in Swe in October New Ford Focus Event!.
#ahaga! #bilinvigning! #stefan&Kim #jävligtbra
4 Oktober
The Dessert is about to be served at Skövde University! And we´re about to get up on stage!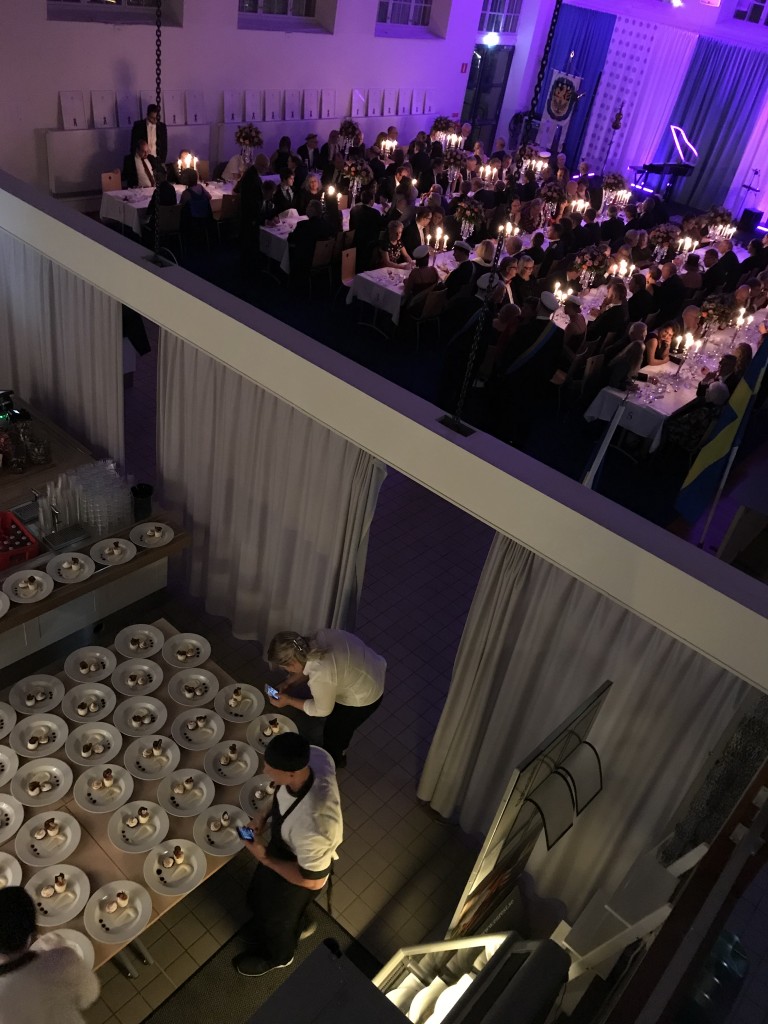 Soundcheck in Gbg, Sweden! After soundcheck, Showtime!!!!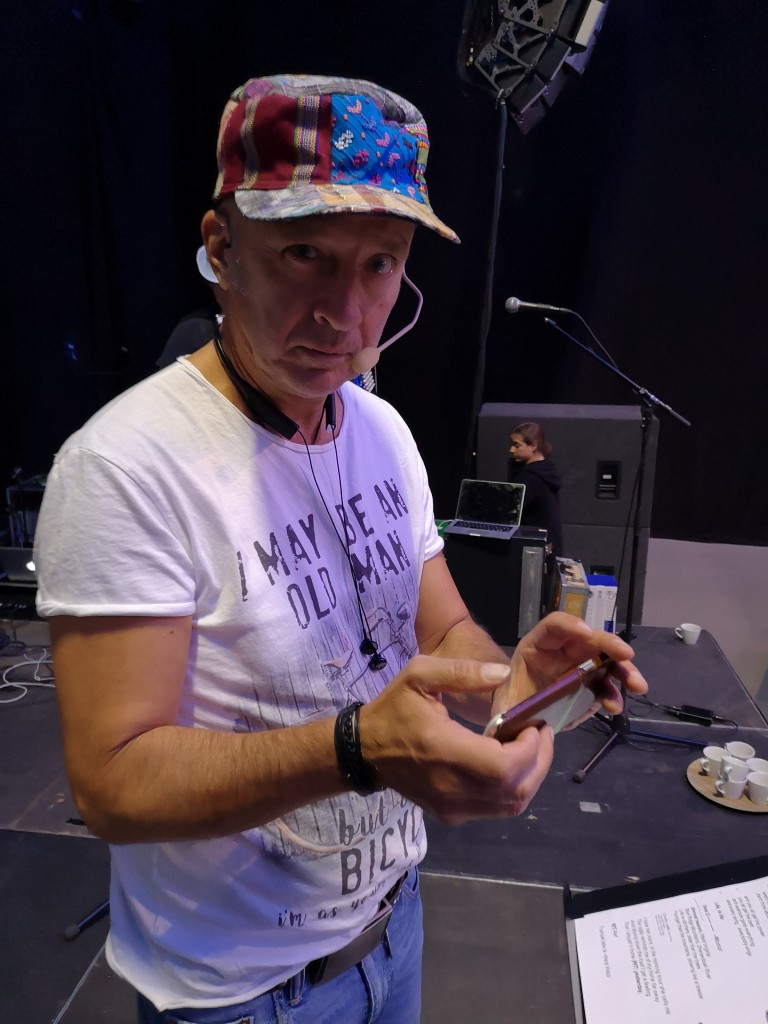 ————————————————————————–
September 28th in Vedum, Swe! What a nite together with these lovely musicians! What about Tuba, Trumpet & Accordion and Lederhosen together with S&K? We´d like to say, a huge success!!!!
Operaterassen, Sthlm, Sweden, Wonderful audience, Wonderful show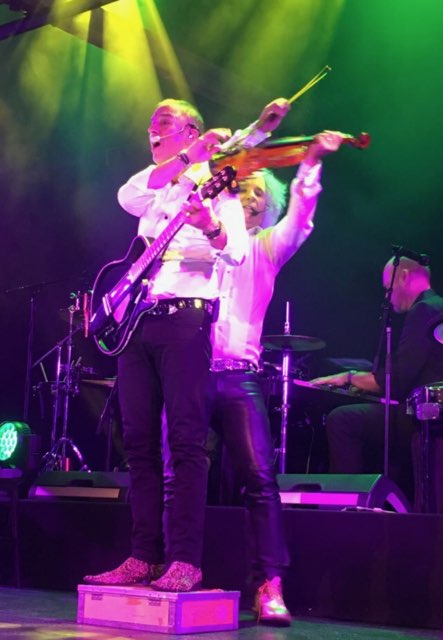 Secret show for 40 guests somewhere out in the World! Everything is ready, and Stefan & Kim too, for international show!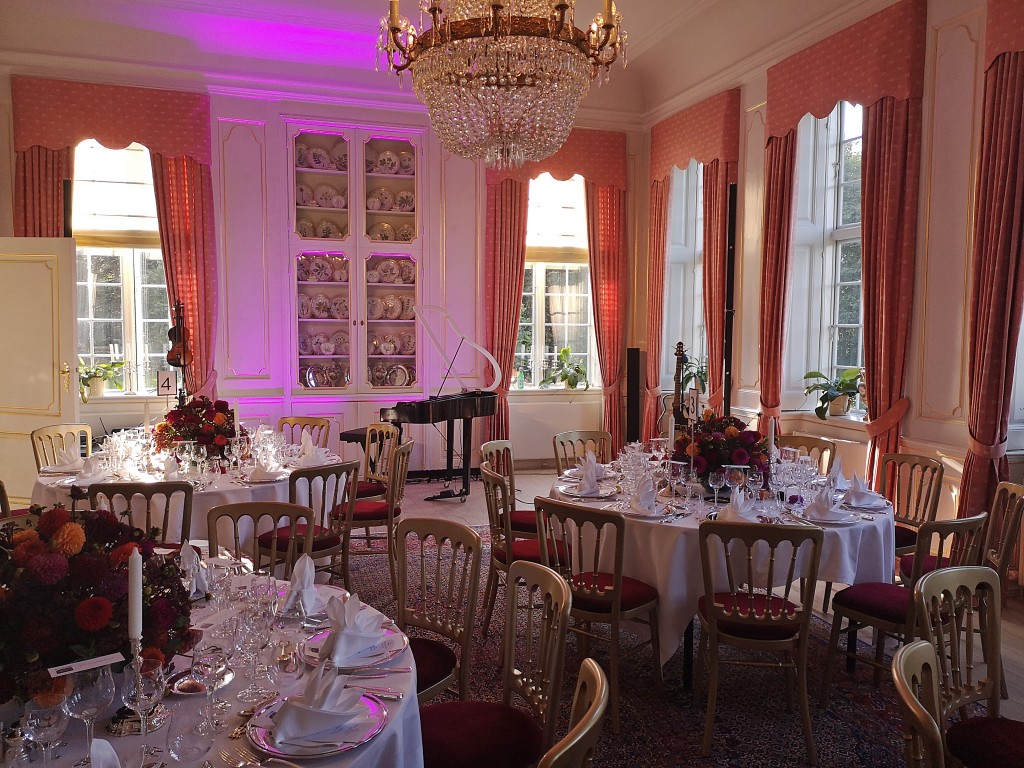 Aug 31st! Gatsby event at Tanumstrand in Sweden! I love my job!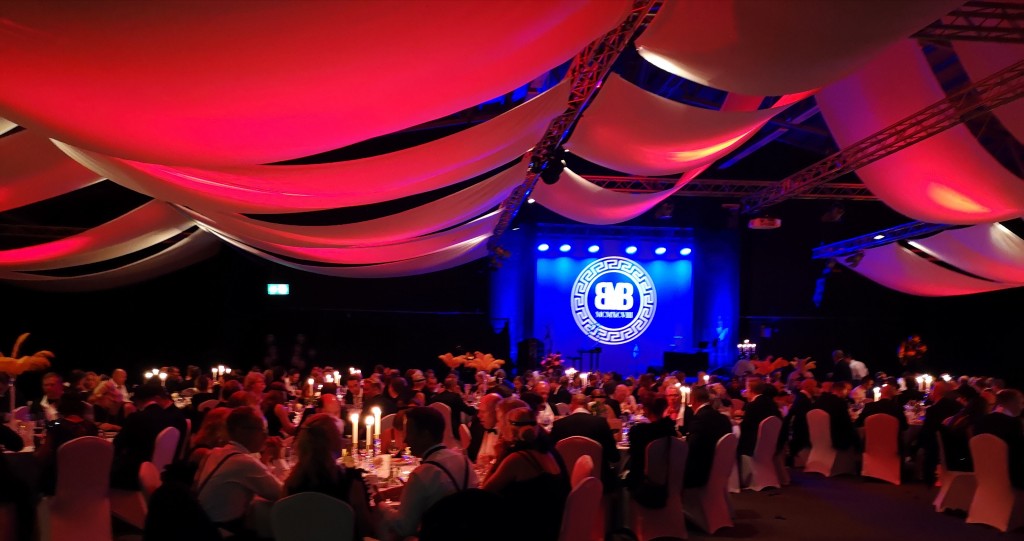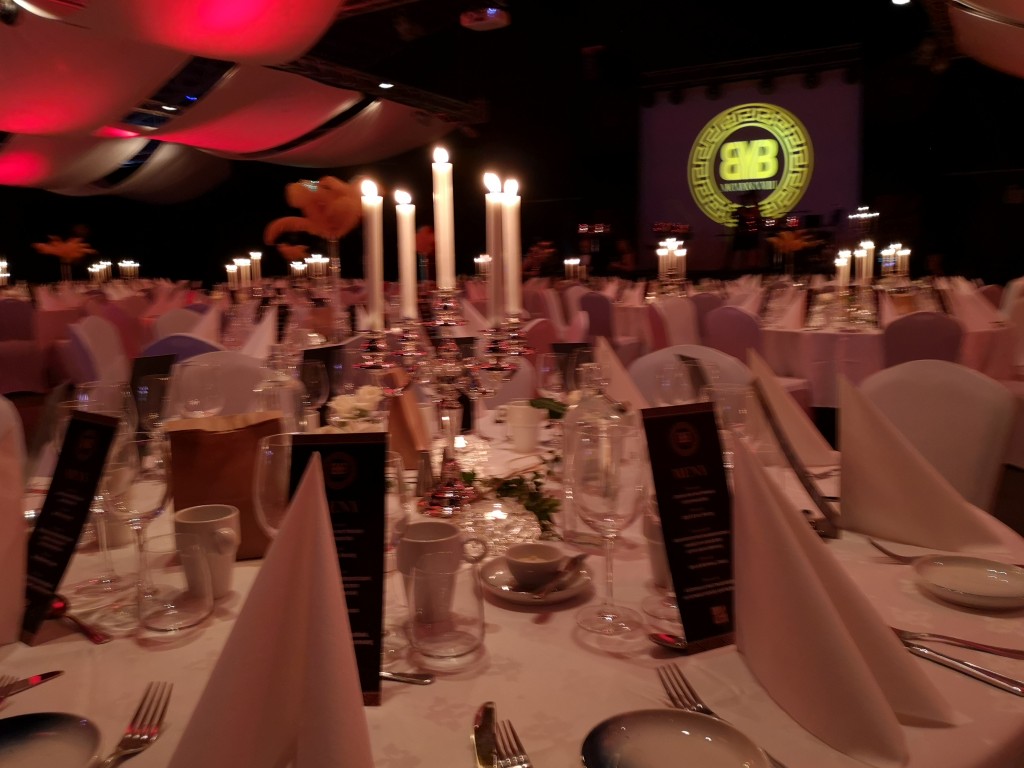 Aug 30th! Great gig to nite!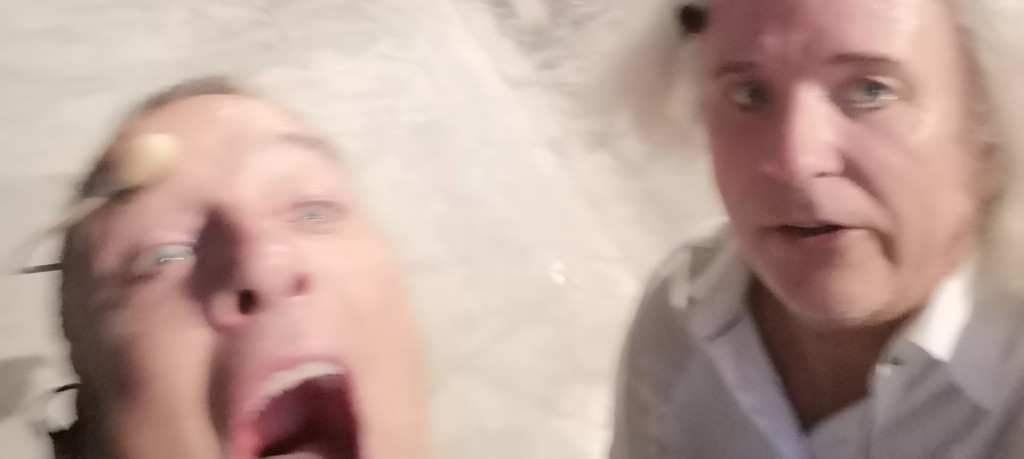 1-2-3-4-GO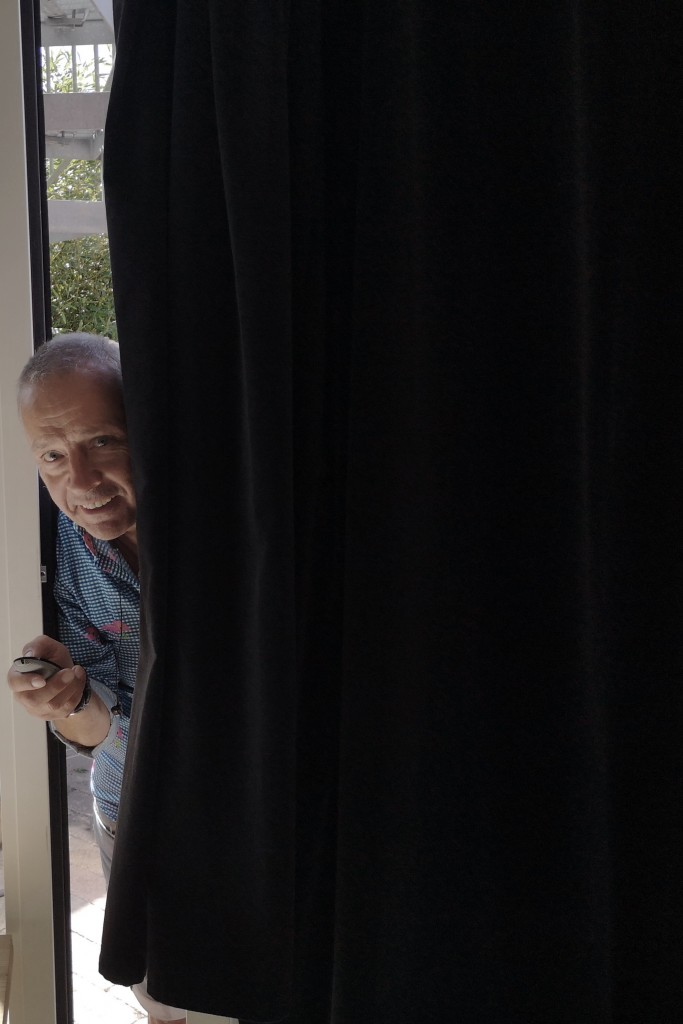 In the studion!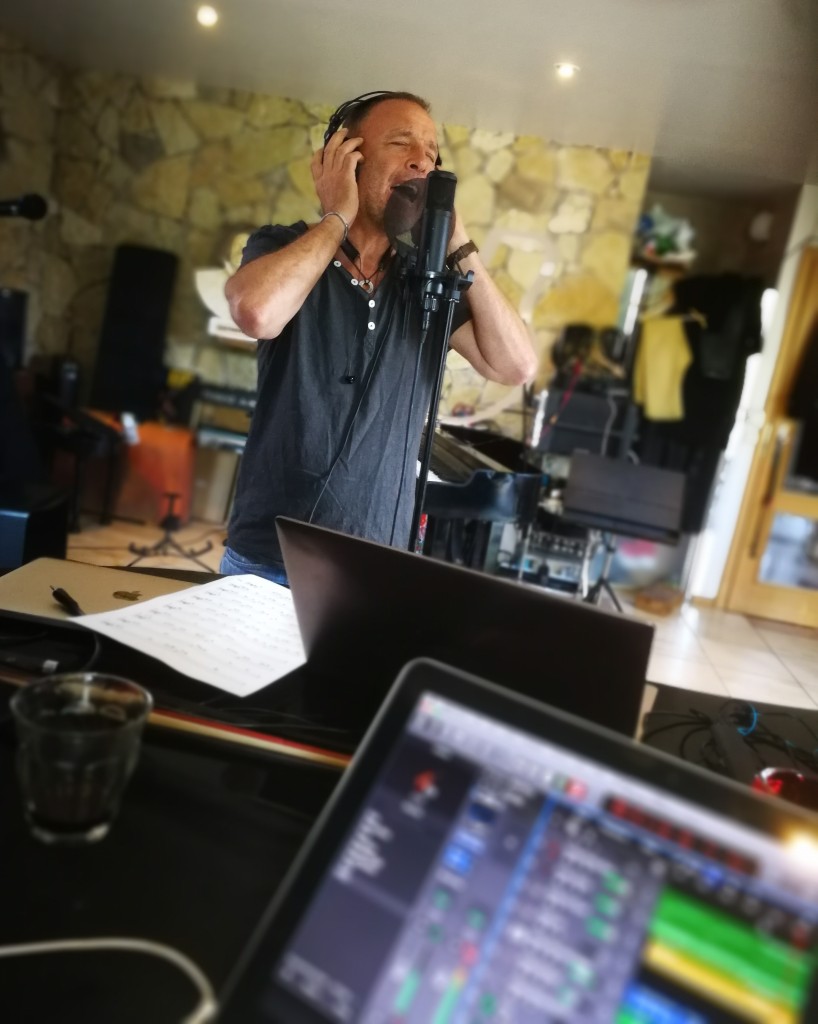 Summer rehearsal in the poooool!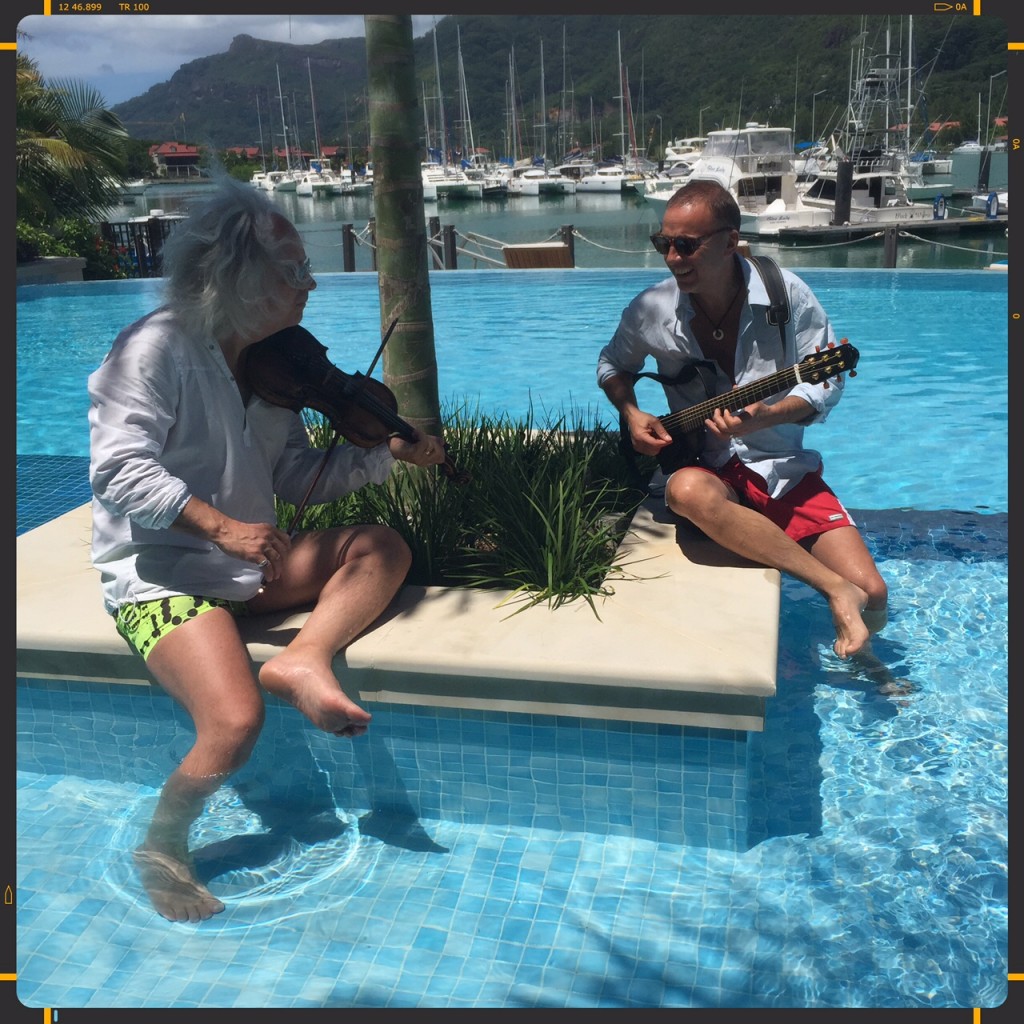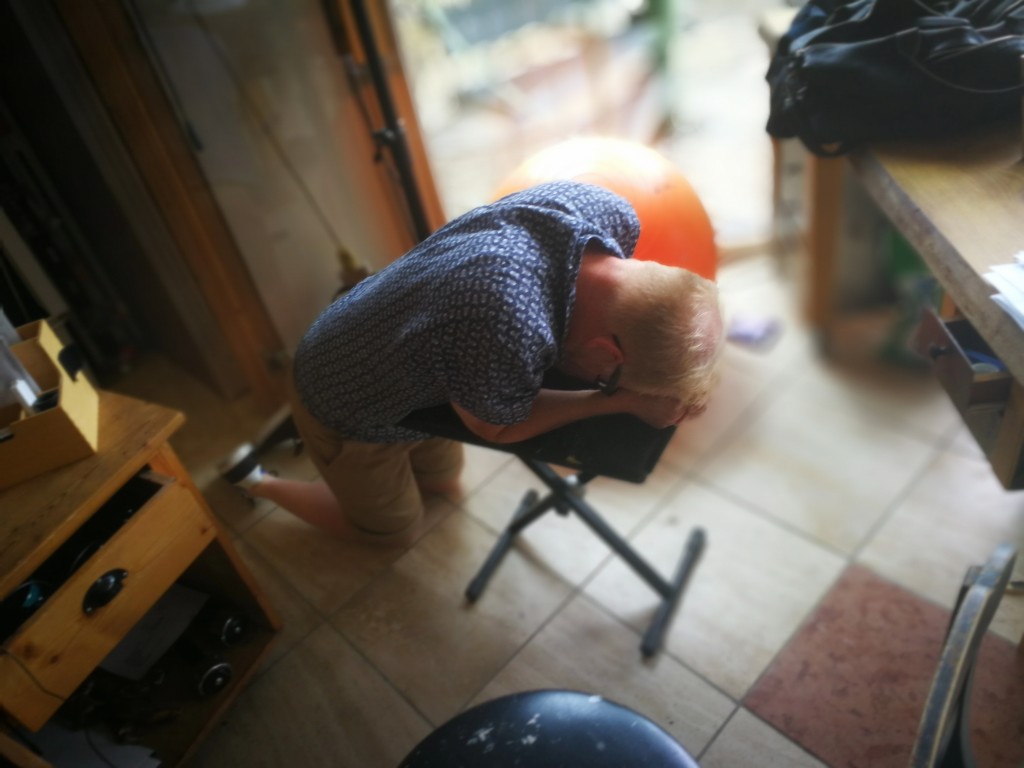 "Bessan" didn`t care at all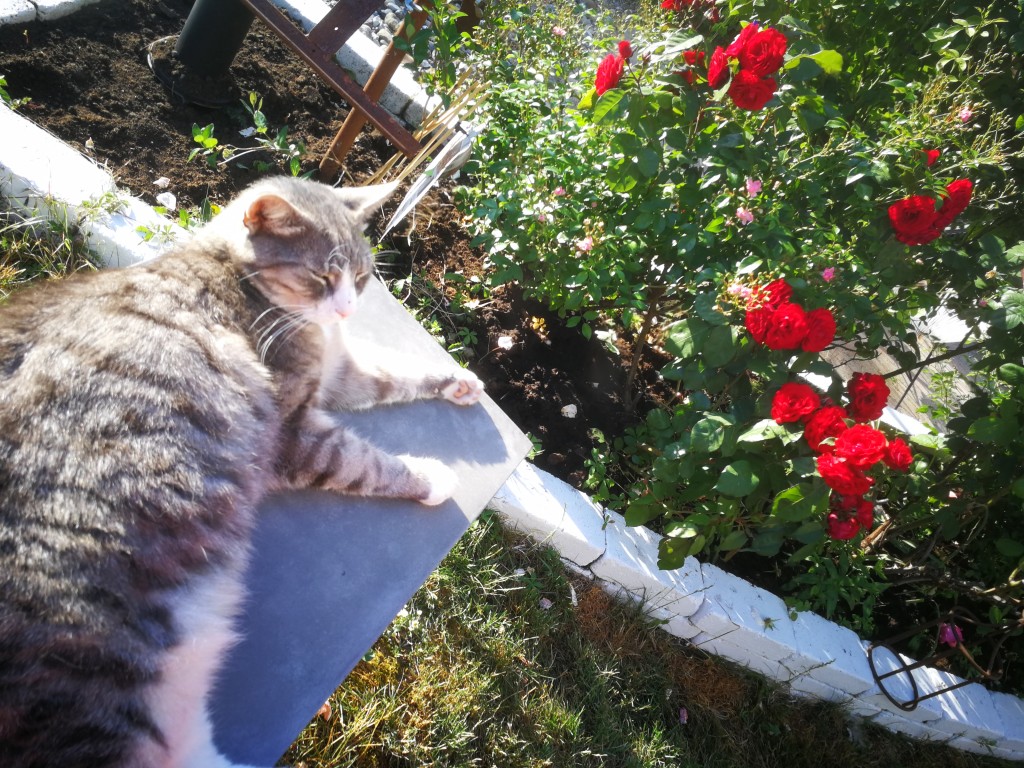 Shoes are prepared for show!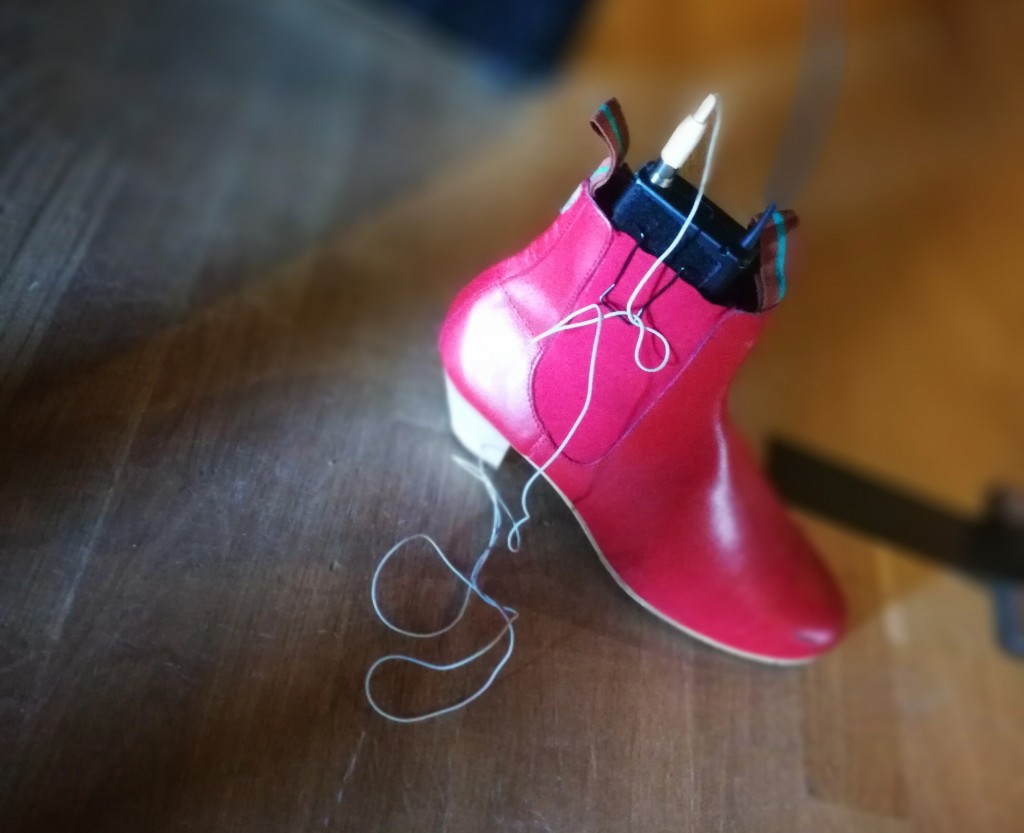 Soundcheck at arena again!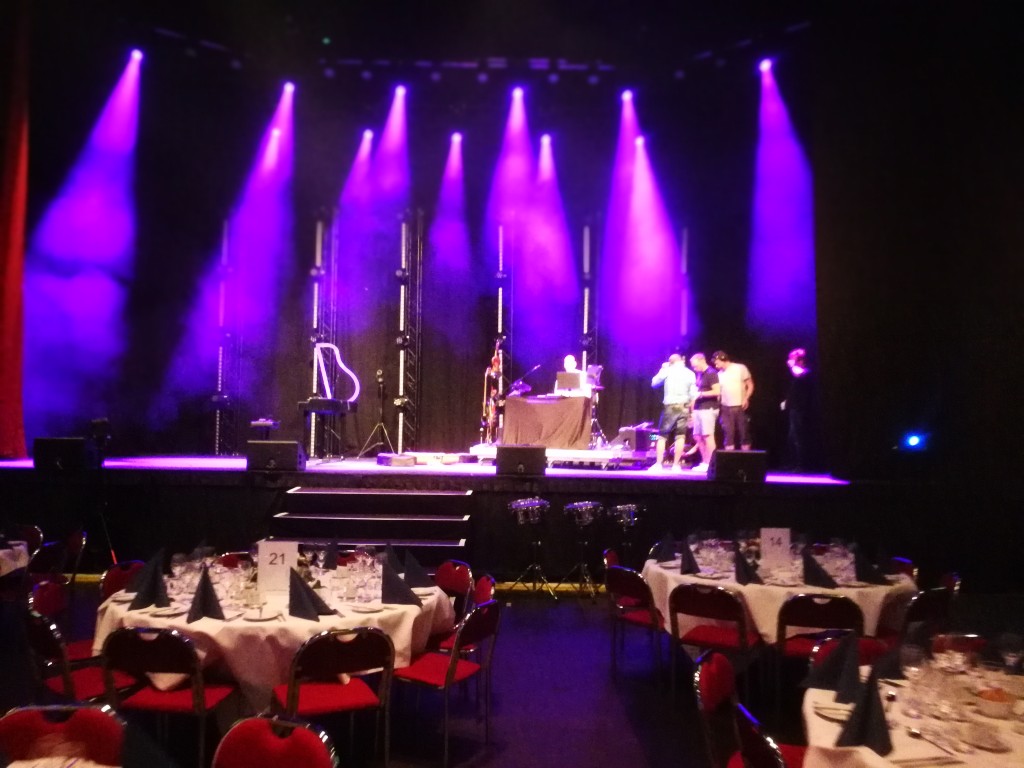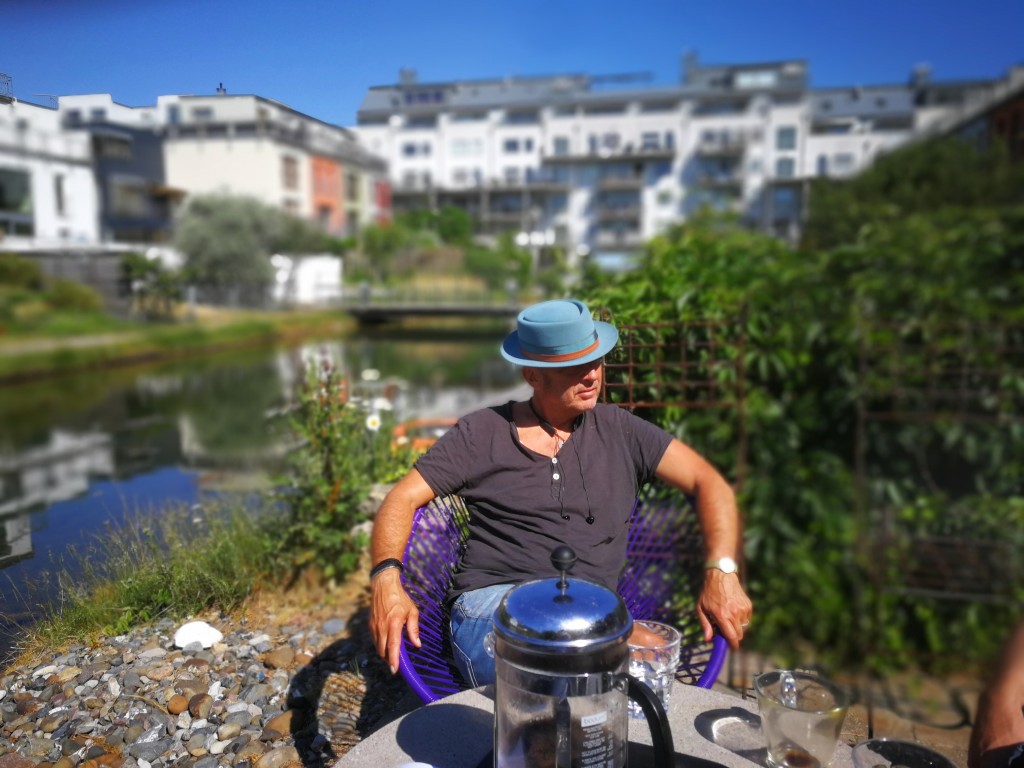 June 5th
All our things ready to go on the boat för Tjärö! Small gig at this small island out in the archipelago!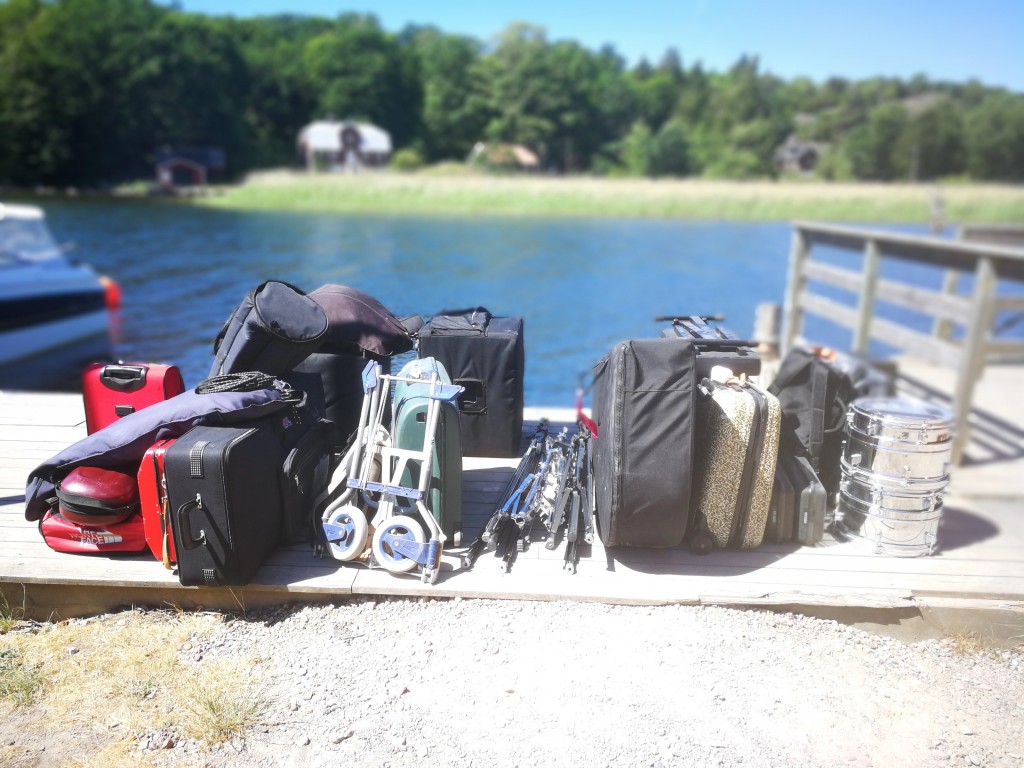 The boat!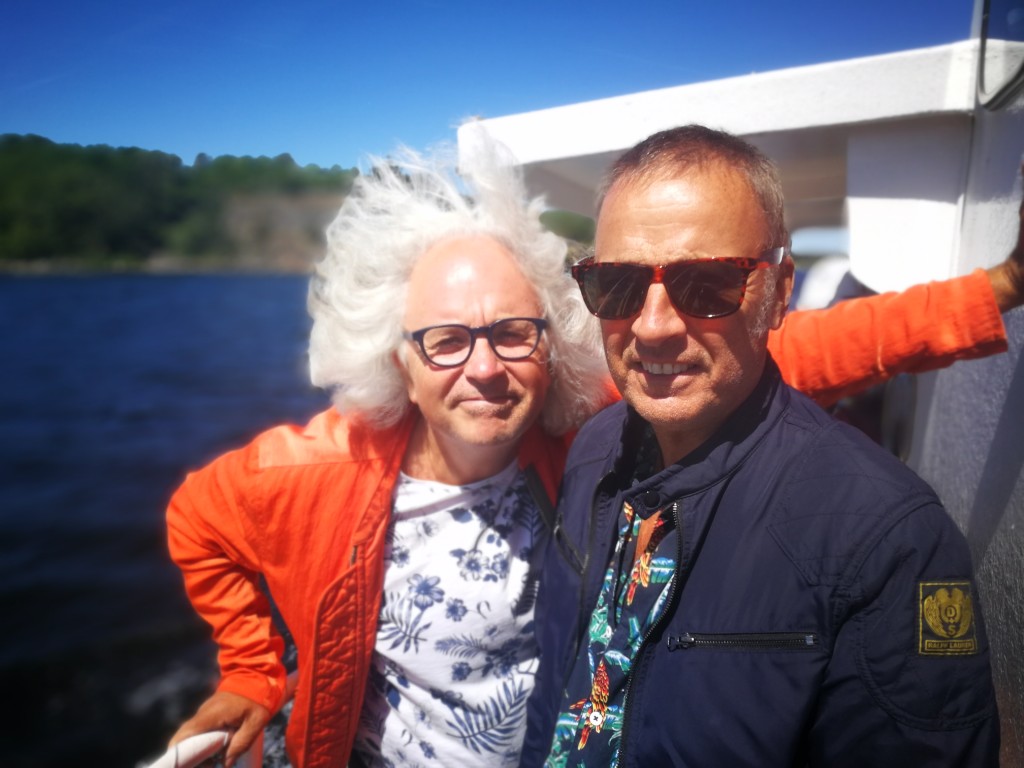 June 2nd at Malmö Arena. John Houdi, Maria Zenio, Jamladies, Johan Wester & Stefan & Kim. AAK 100 years anniversary!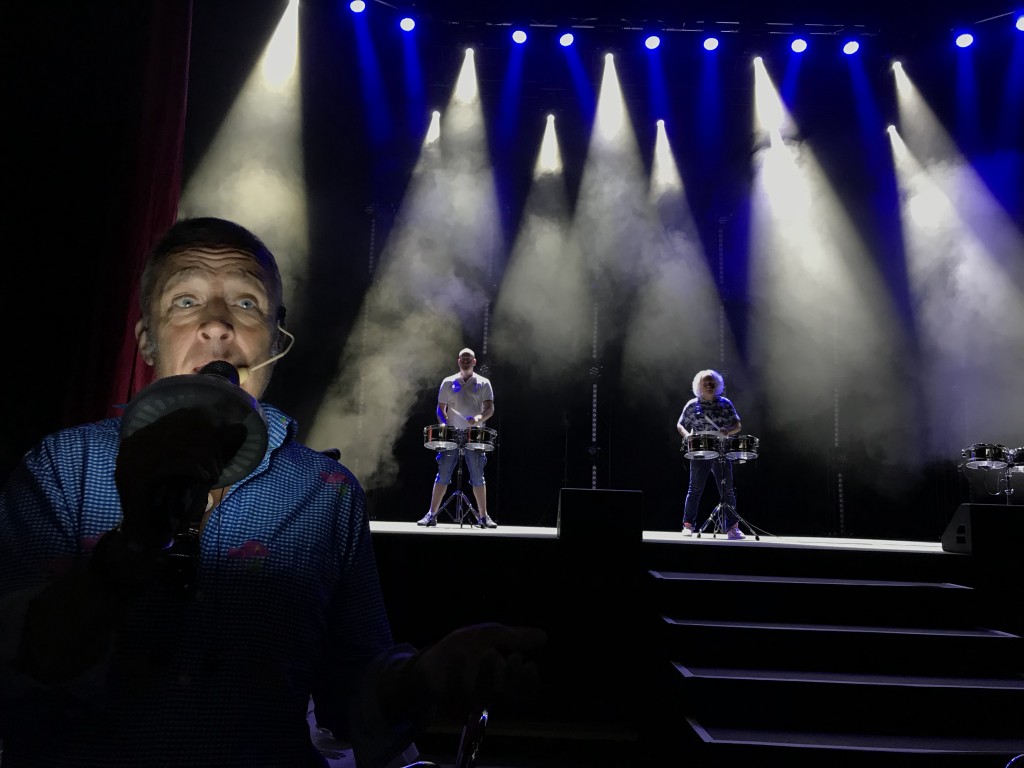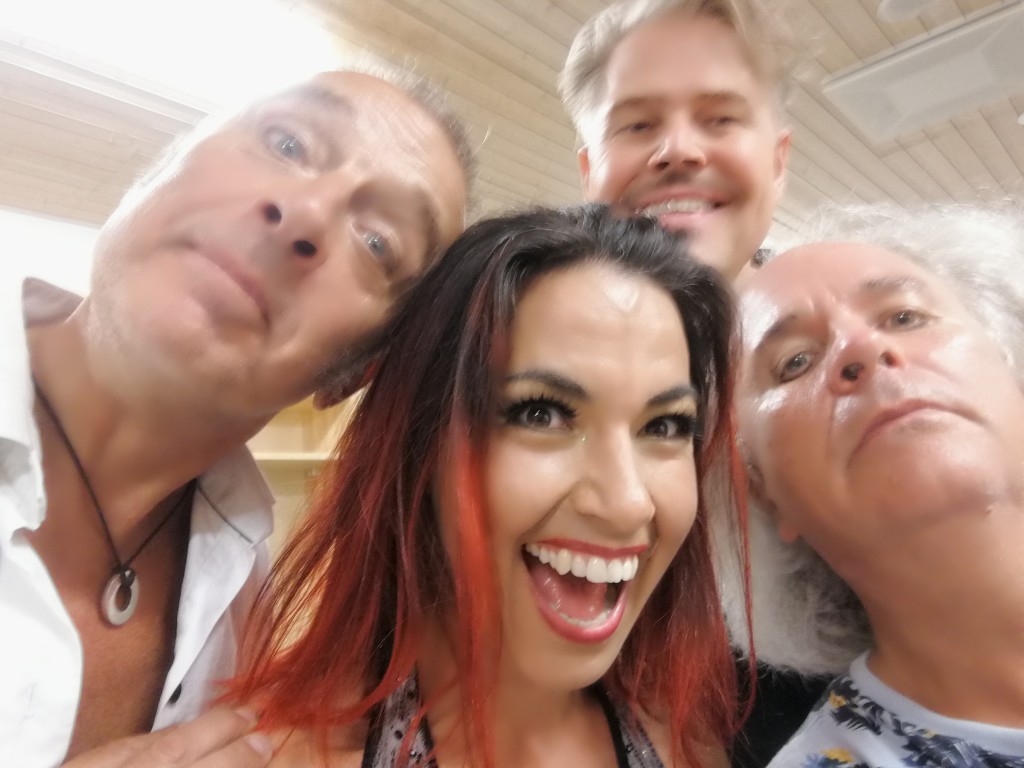 30 Maj
Soundcheck in Gislaved, "Gnosjöandan" at its best! 280 pax at business race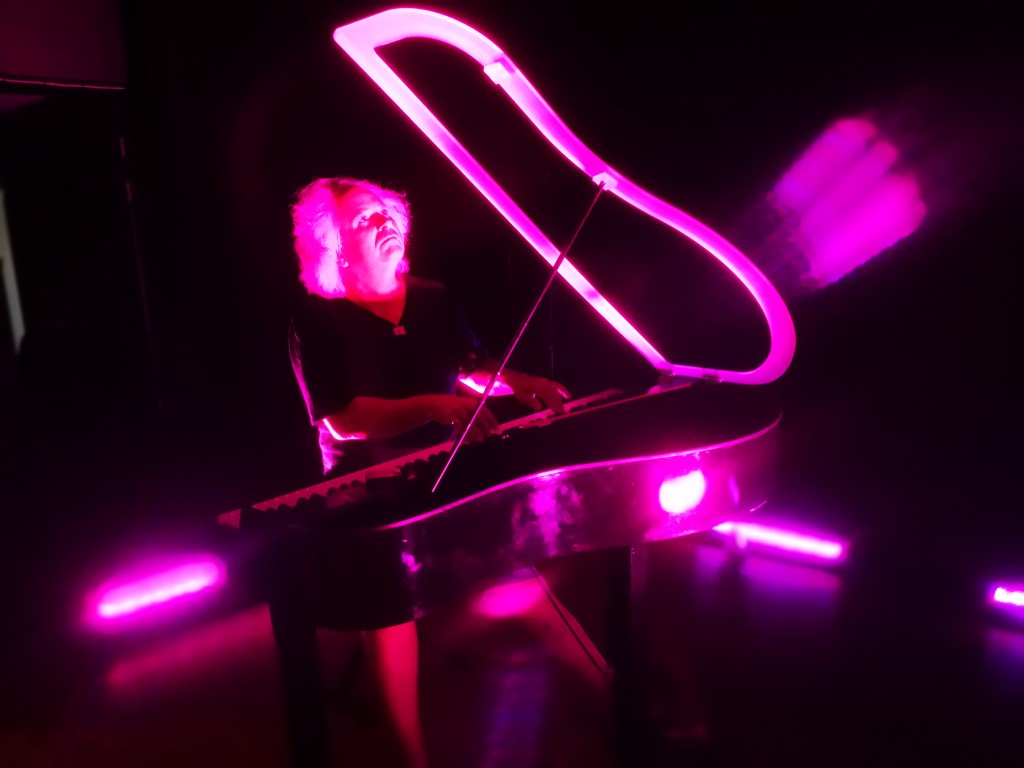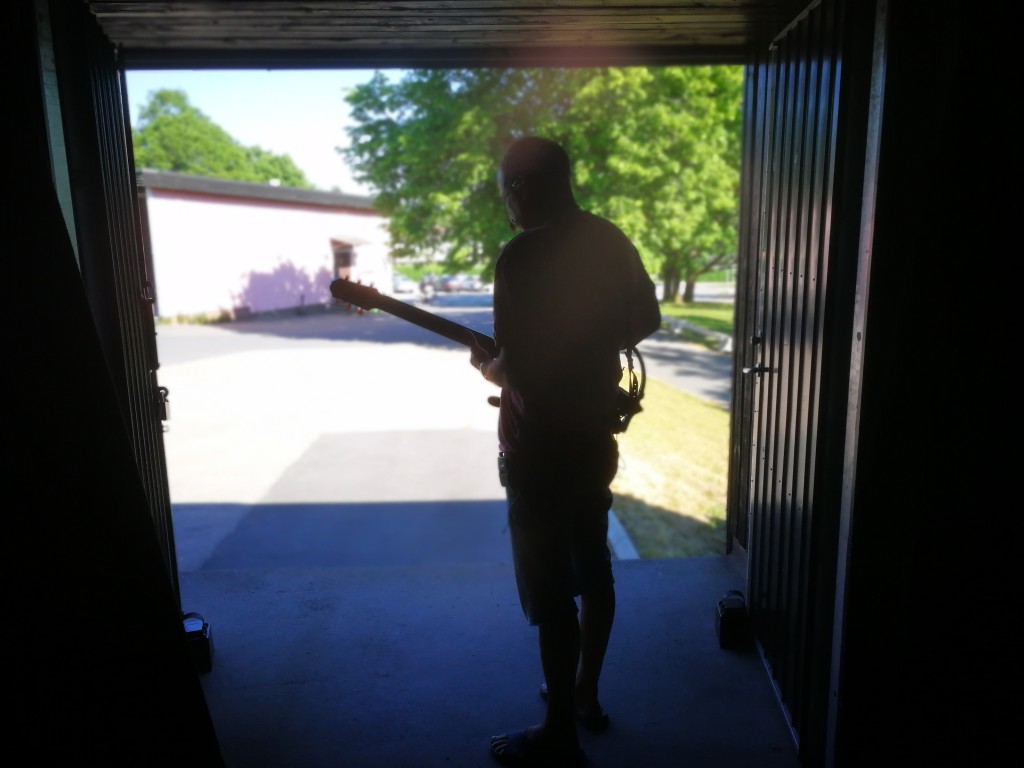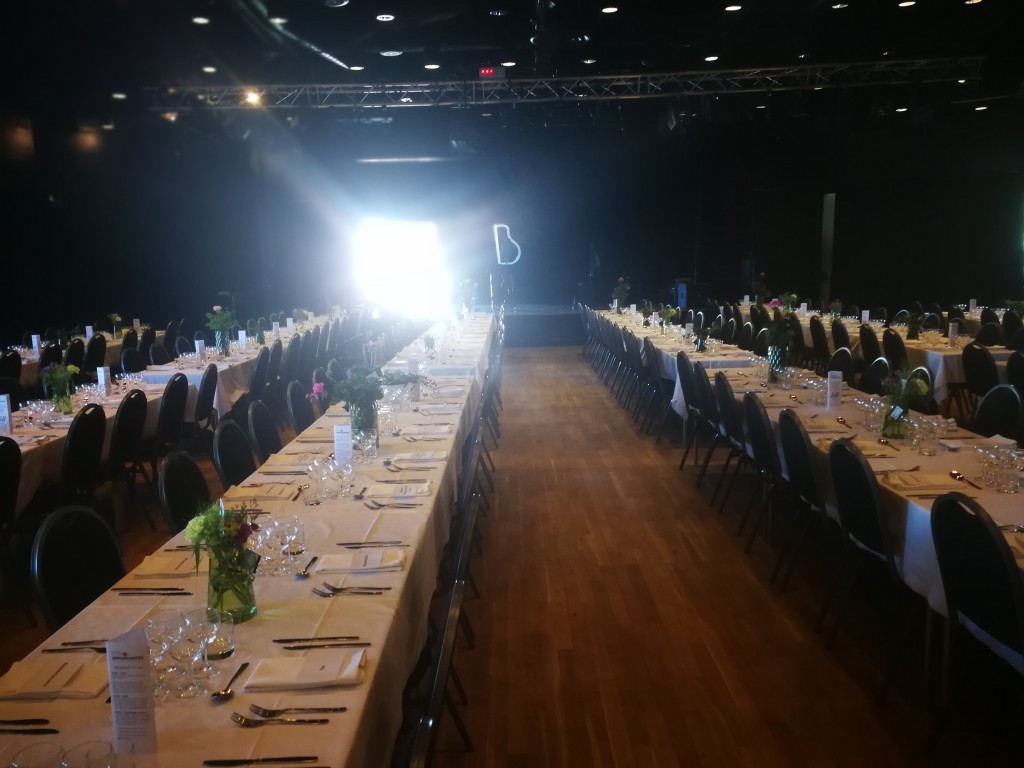 May 27 th
At last, there is blood on the keys after show!!!! Lommafesten, Sunday Afternoon, I love it!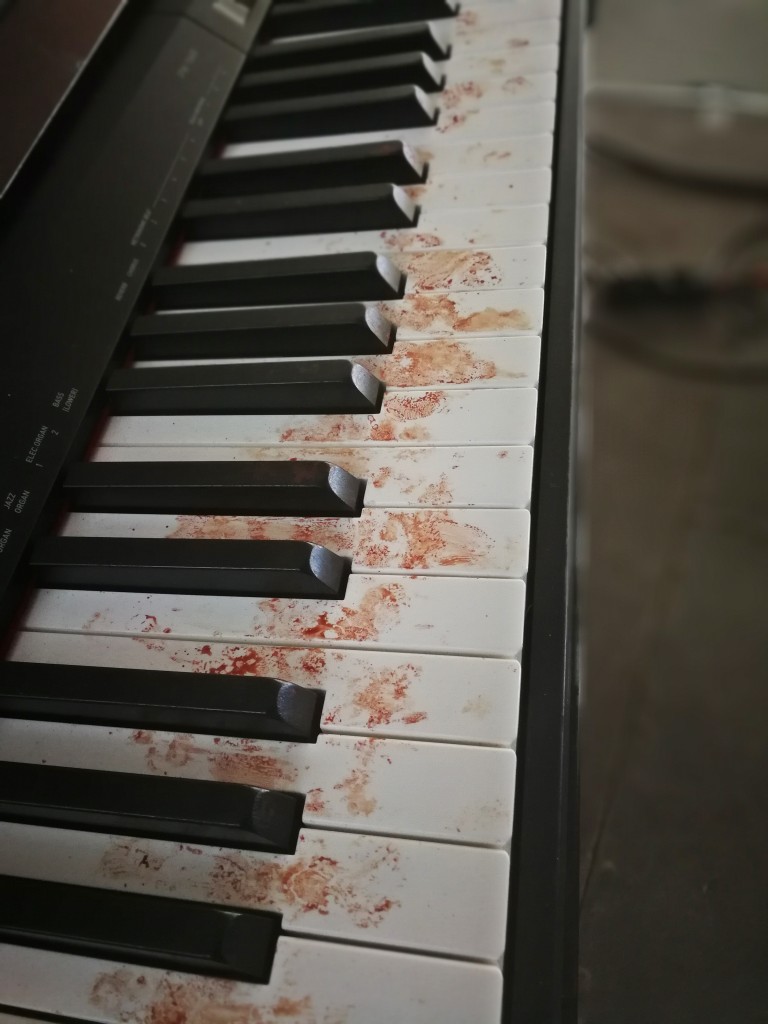 May 23rd
Show at the Finnish National Opera in Helsinki. Gala evening! Whos that man playing the piano???? I´ll tell Ya, it´s my partner Stefan!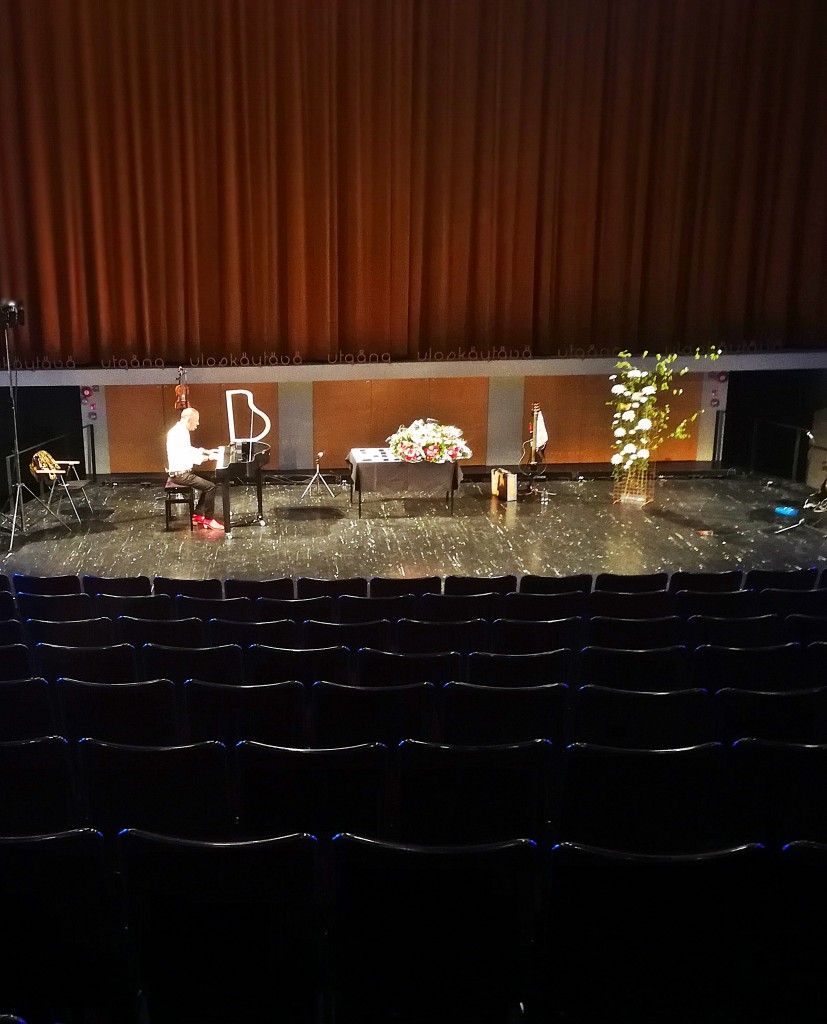 May 18th
Very, very, very nice gig at Tylösand, Halmstad, Sweden!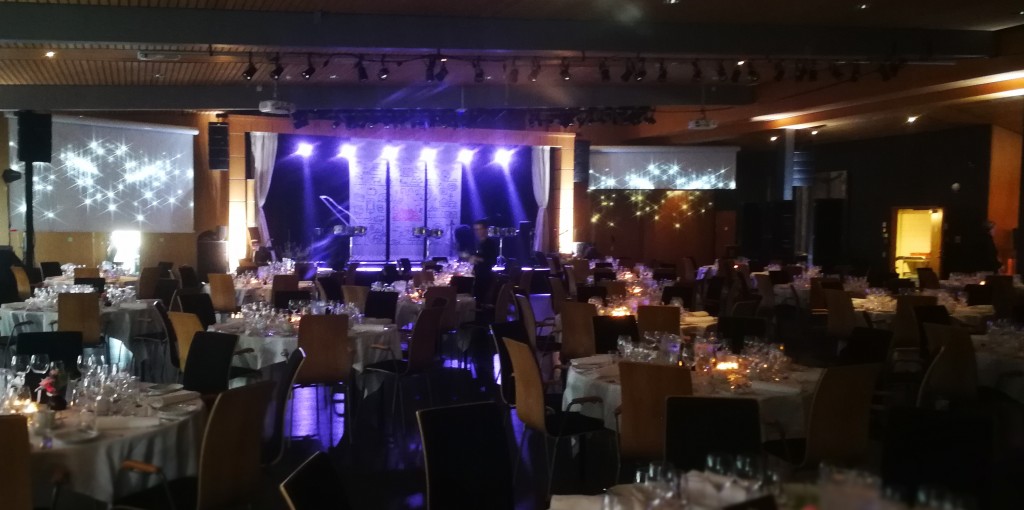 Lovely view outside venue!

How short is a movie? Like this…..Outdoor gig again!
Life is good! Summer Concert right in the middle of Sweden!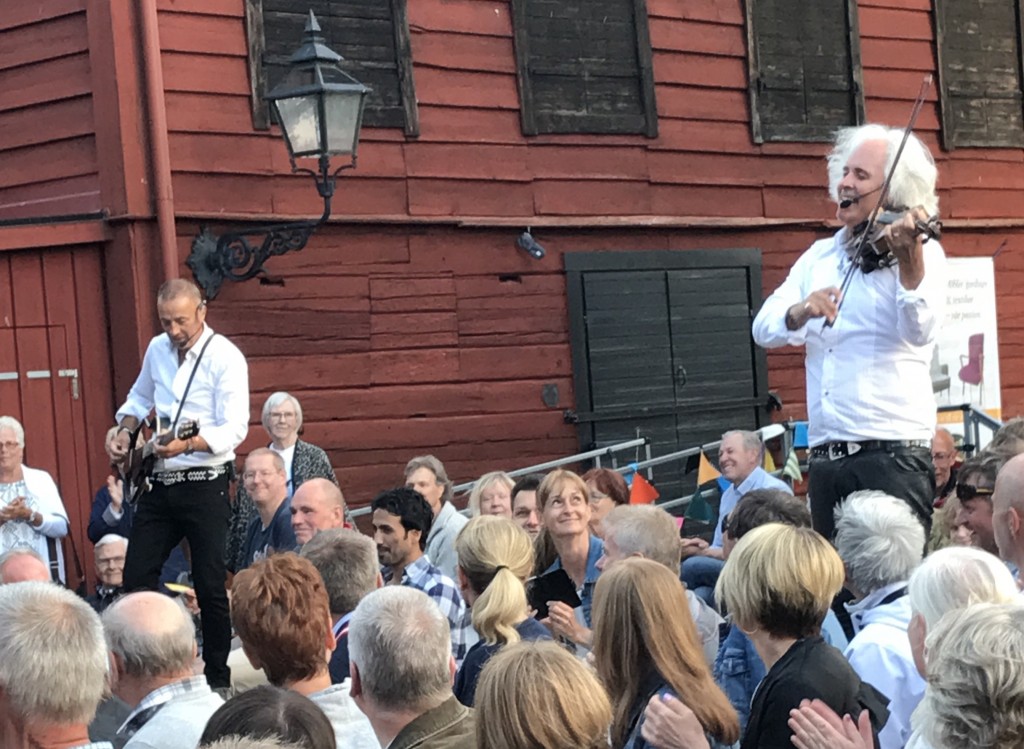 Exclusive "Homeshow" on Sunday afternoon in a town! No PA system, no special lightning, just Show & Music in the style of Stefan & Kim!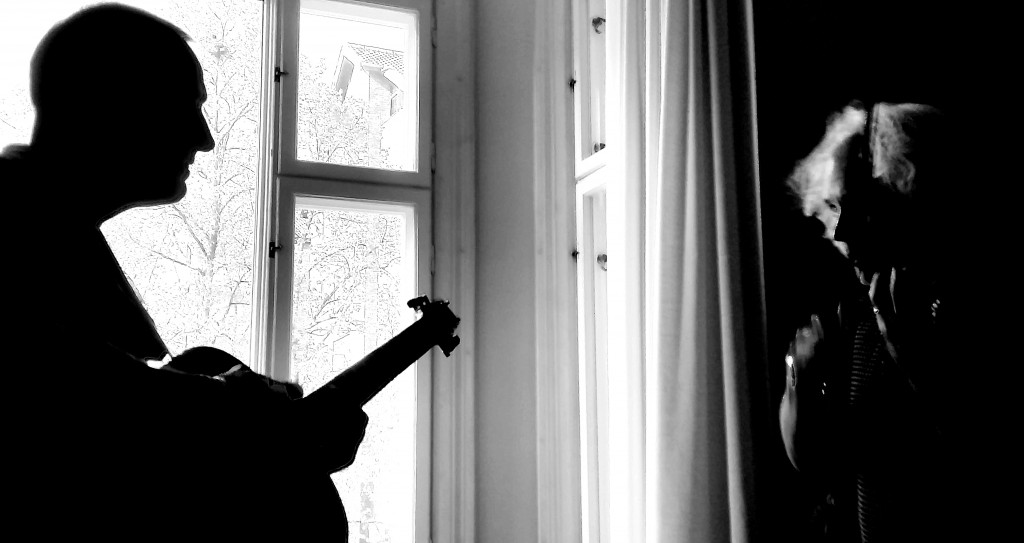 The most beautiful backdrop behind the Grand piano!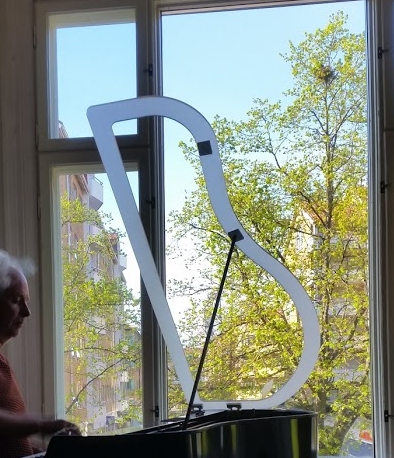 Friday 27th
49 people in middle of a big town in Sweden, got an exclusive show from Stefan & Kim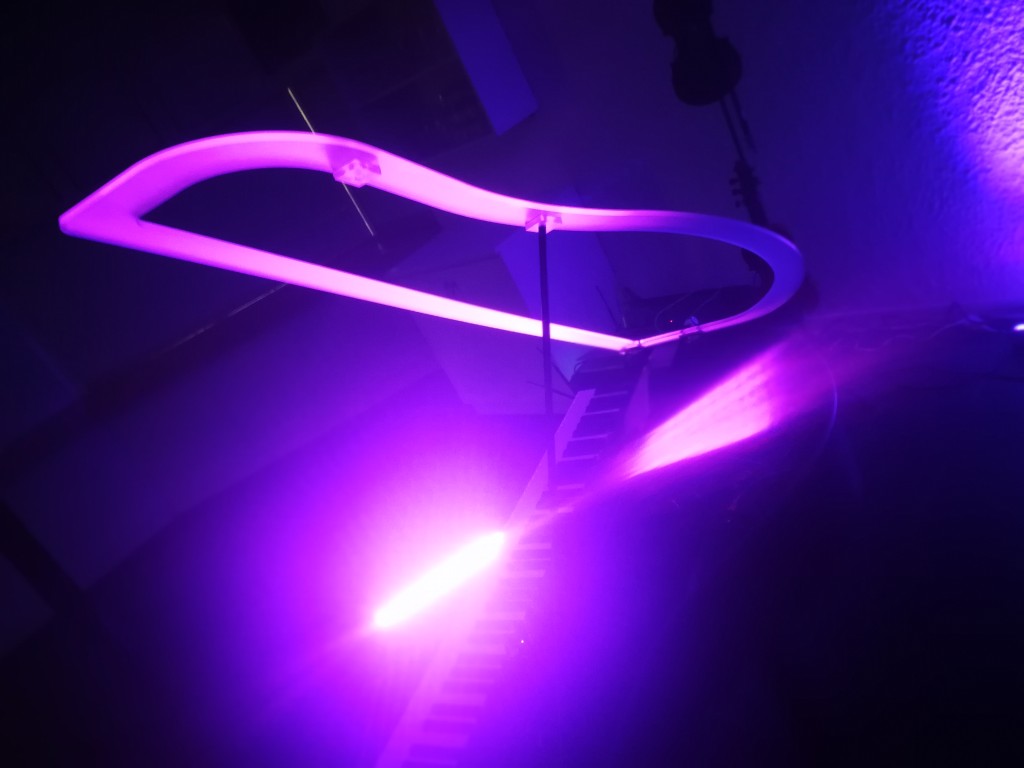 Thursday 26th
"Vetlanda Näringslivsgala"! Great venue, Great Event Producer, Great show!

—————————————–
Friday April20th
70 exclusive customers/clients in a big bank in Malmoe. 2 artists!
Some Grand Pianos just fit in the elevator!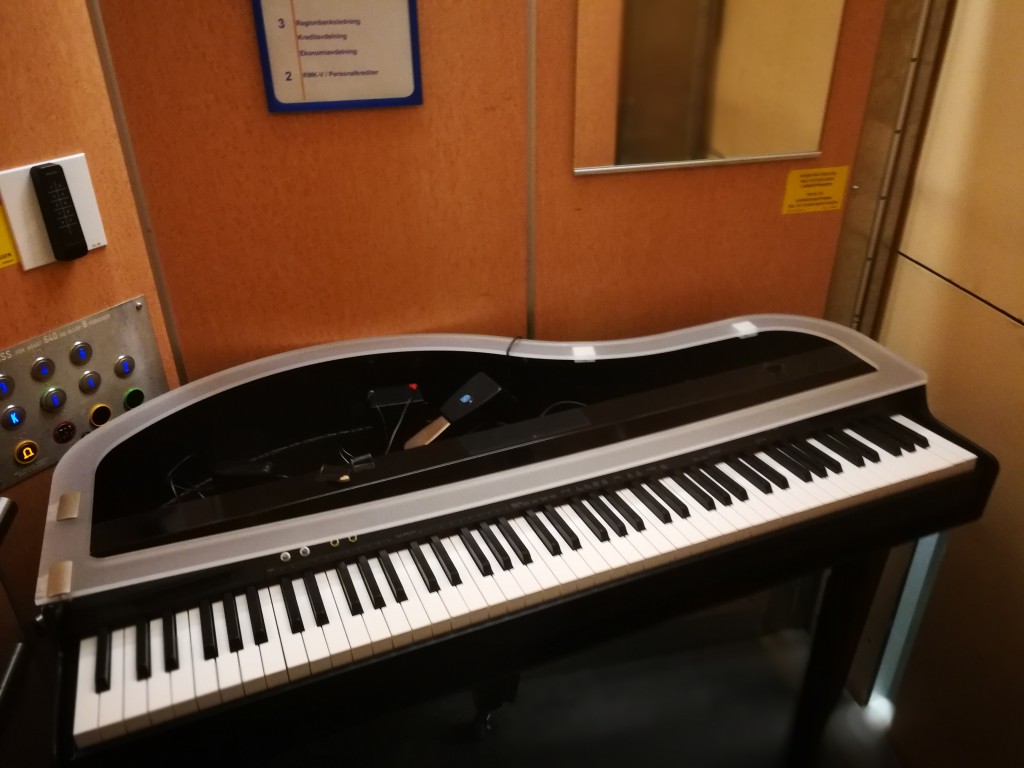 April 13th
Another lovely day at work at Berns in Sthlm! What a great audience! Bilder:Bosse Johansson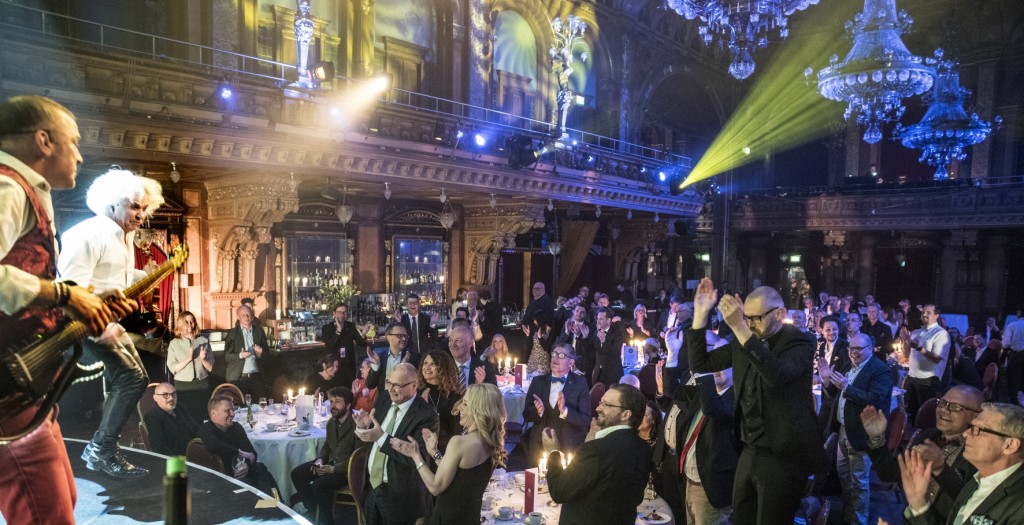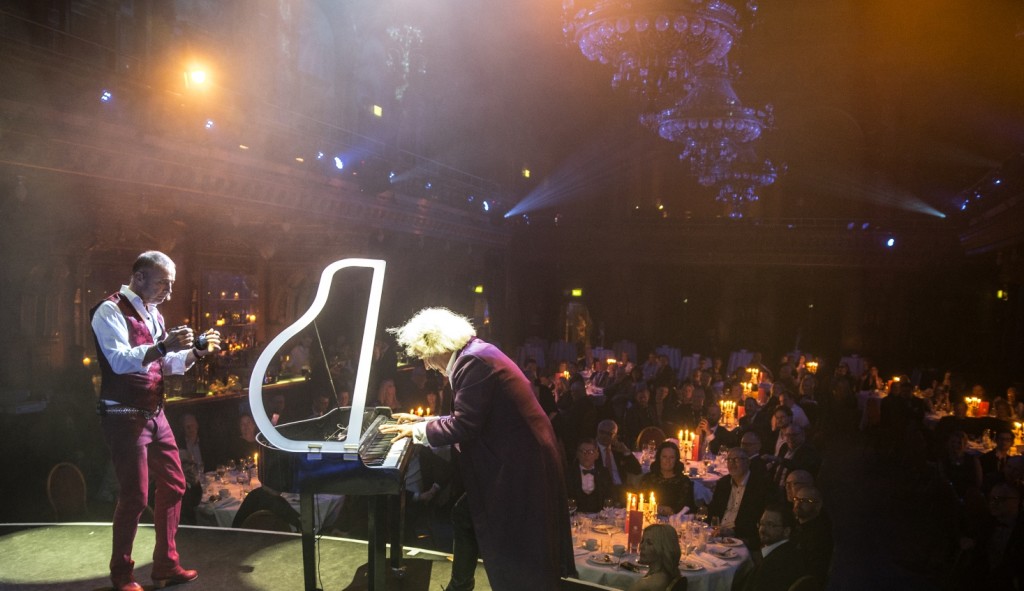 April 16th
En underbar Måndag inför 3 kvinnor & 37 Män & 1 Landshövding! Exklusiv föreställning i den mörka skogen i Småland!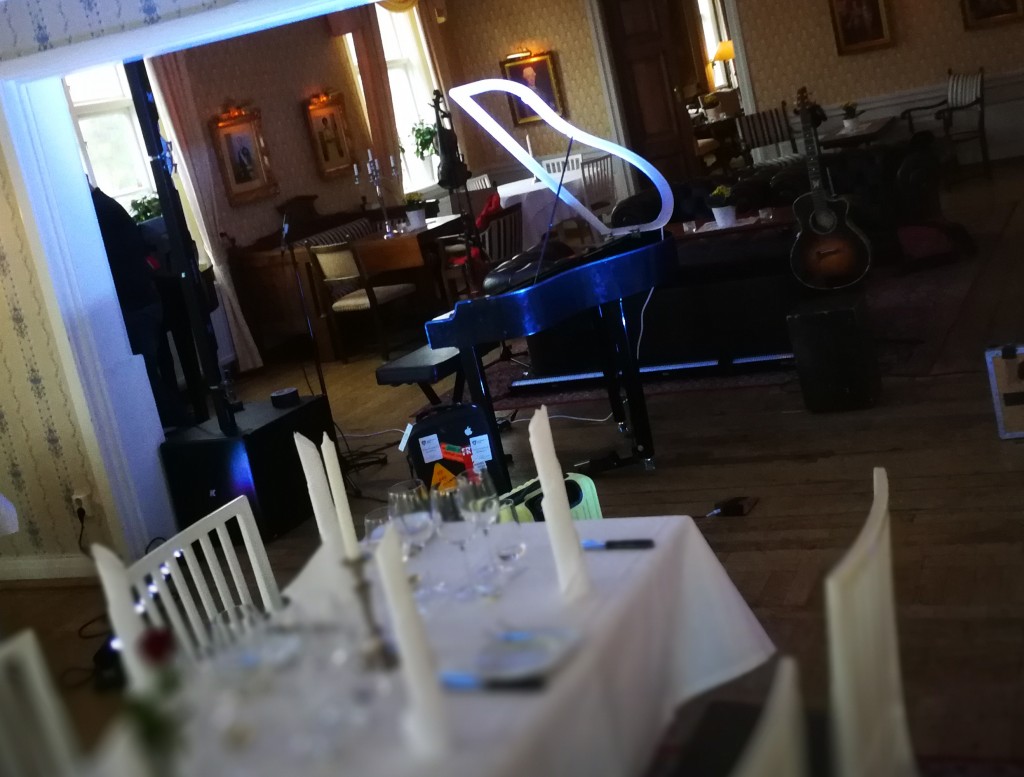 April 14th
And then for Halmstad…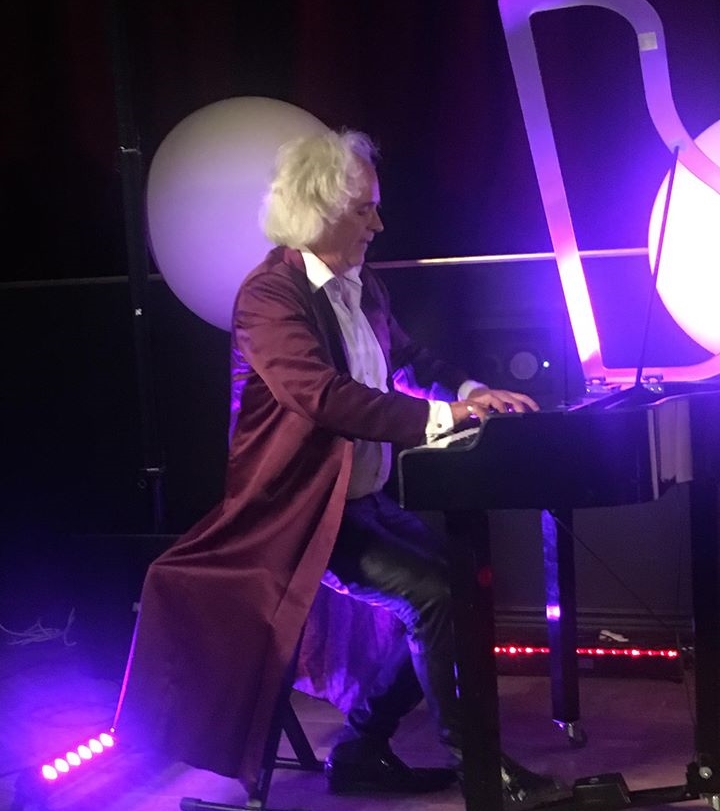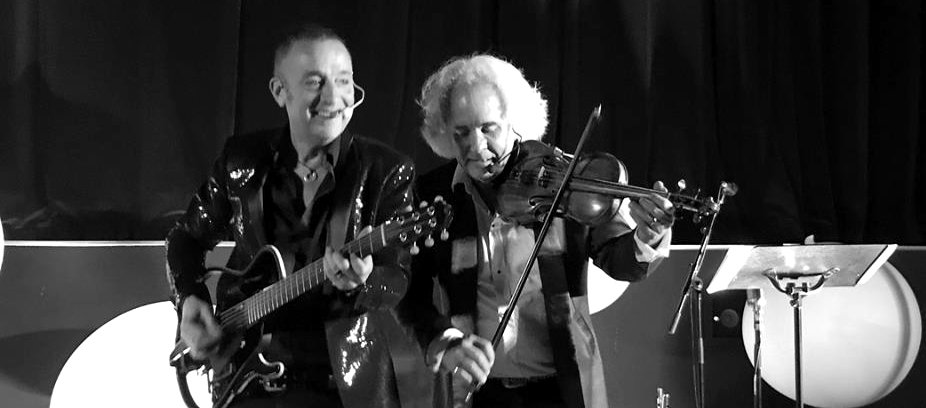 April 13th
Lovely night at Berns, Sthlm, Sweden. Before doors, tables & soundcheck.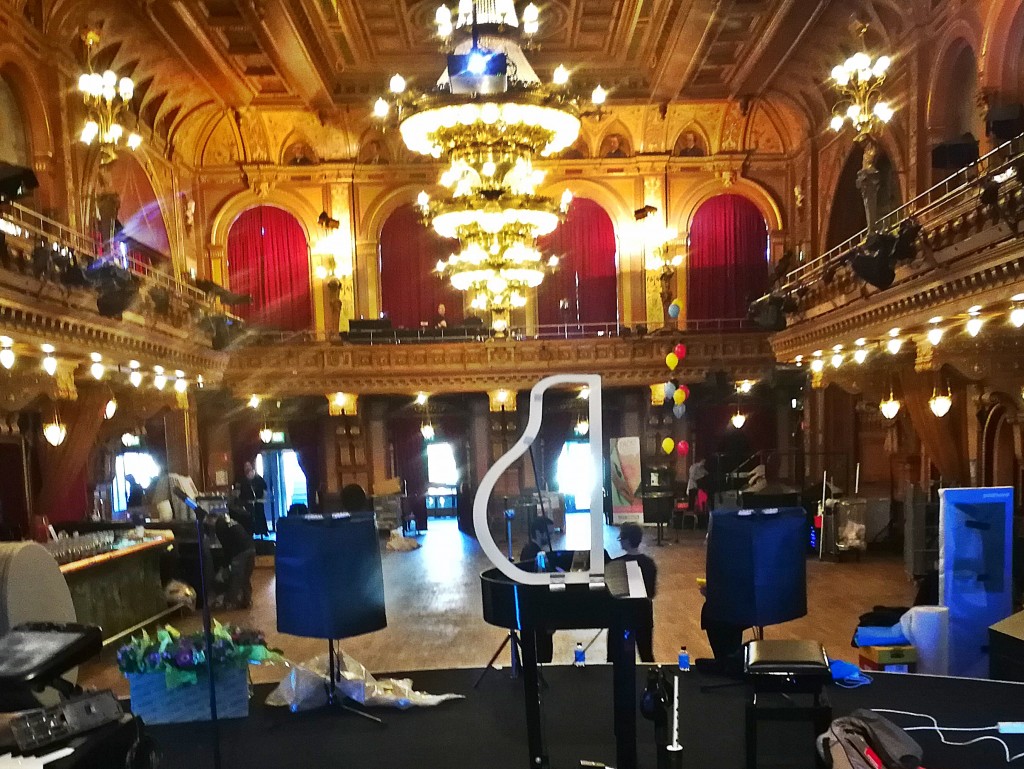 Concert/Show Yesterday!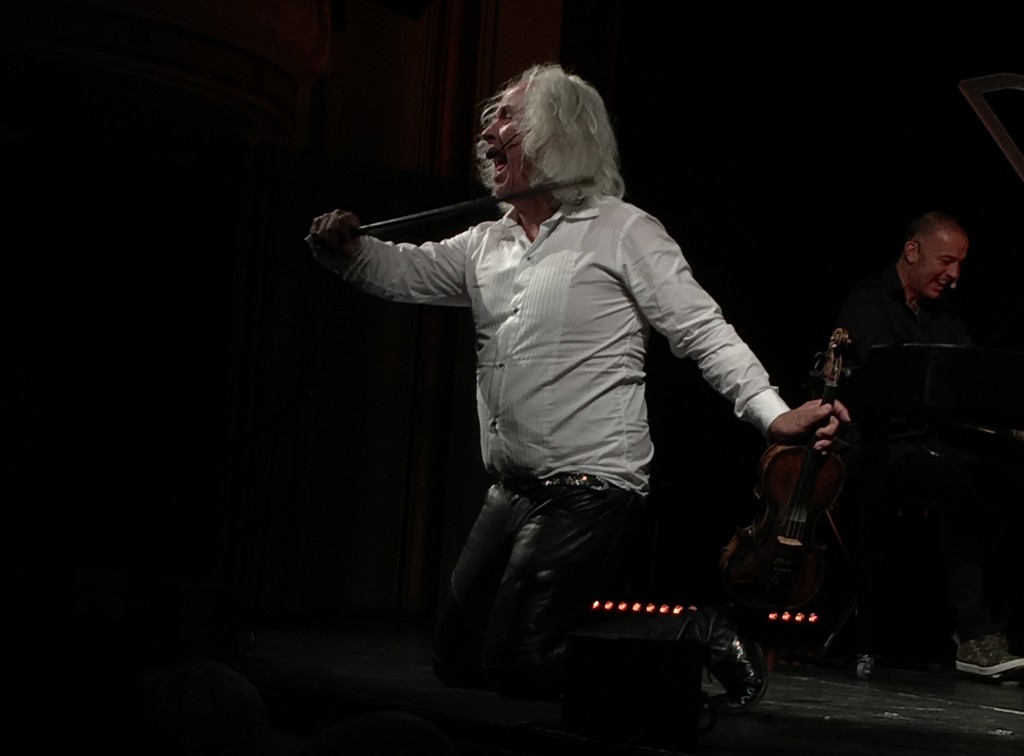 March 17th
We are ready, are You??????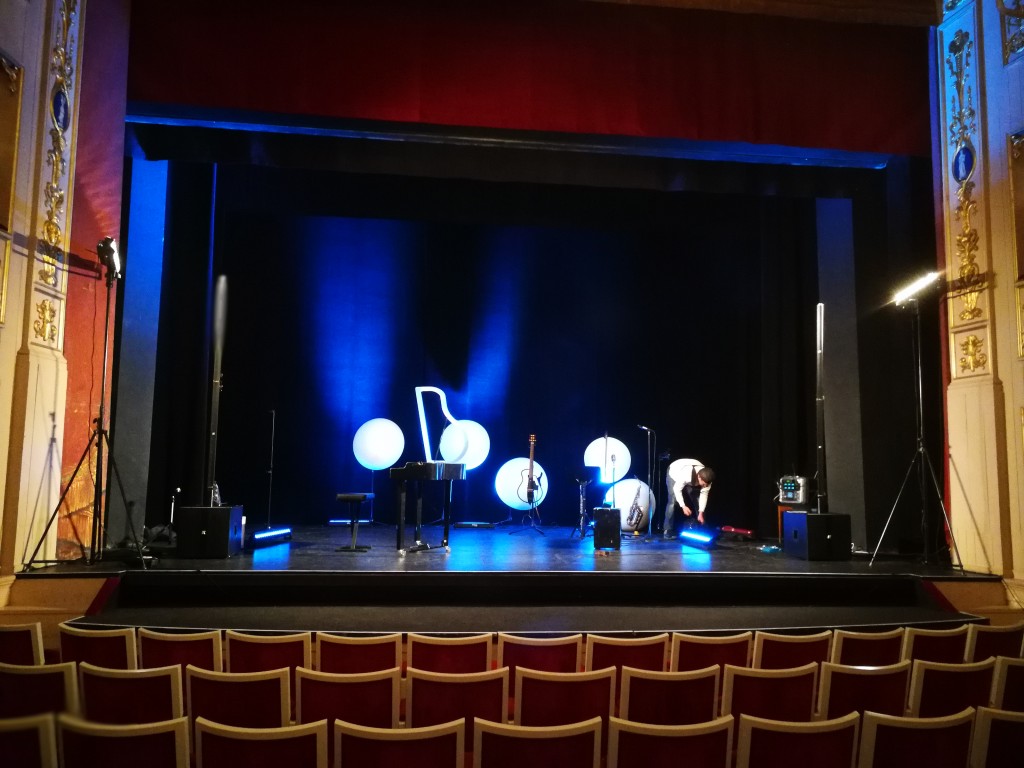 Heaven in Jönköping, March 16th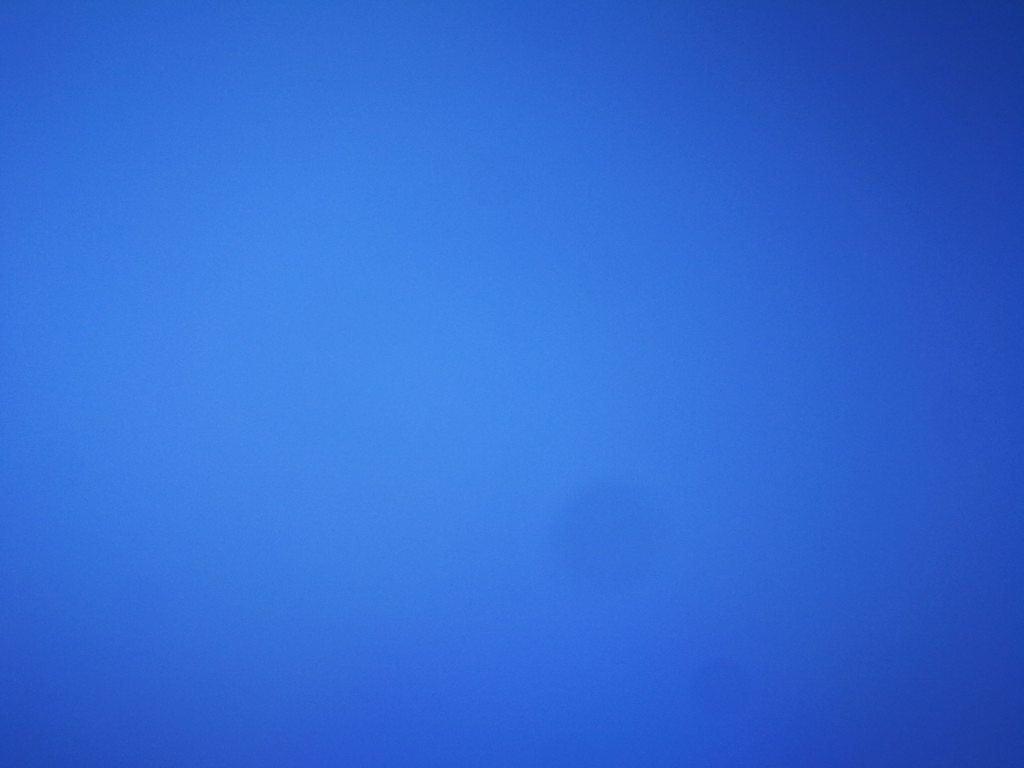 Nice venue this Fiday in Huskvarna! It started up nice & easy and ended up like….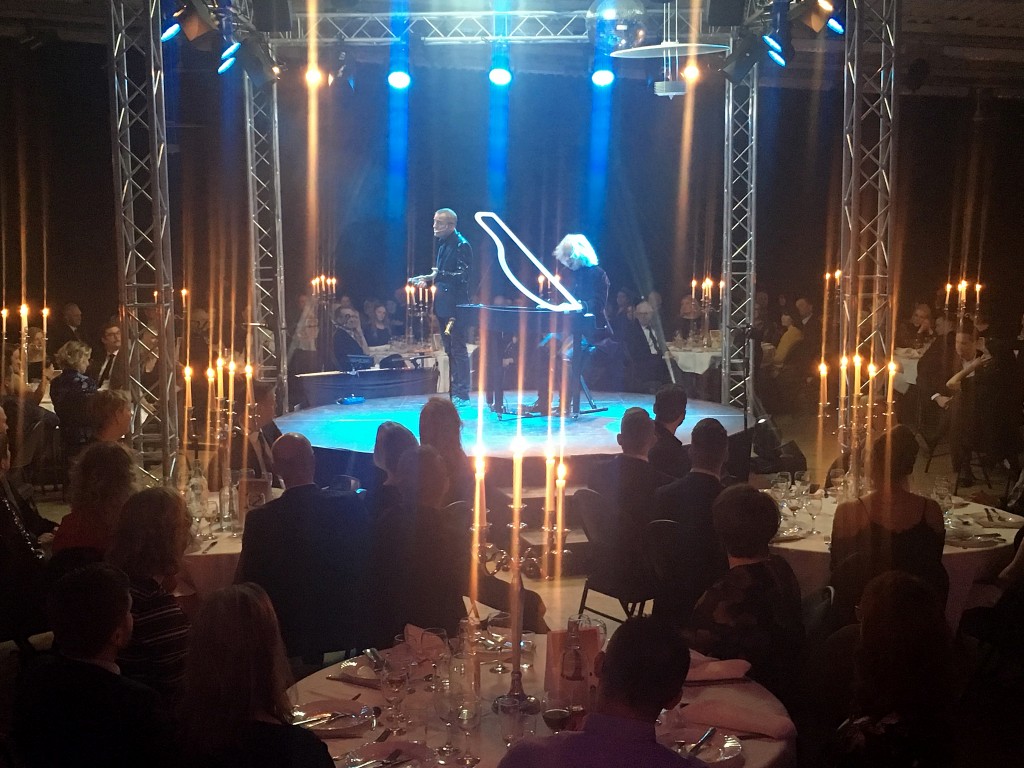 March 15th! Short cut Skövde(Swe)!
Short cut Glasklart, Malmö(Swe)
Rehearsal in the studio in Malmoe! Lets go to SKÖVDE tomorrow nite!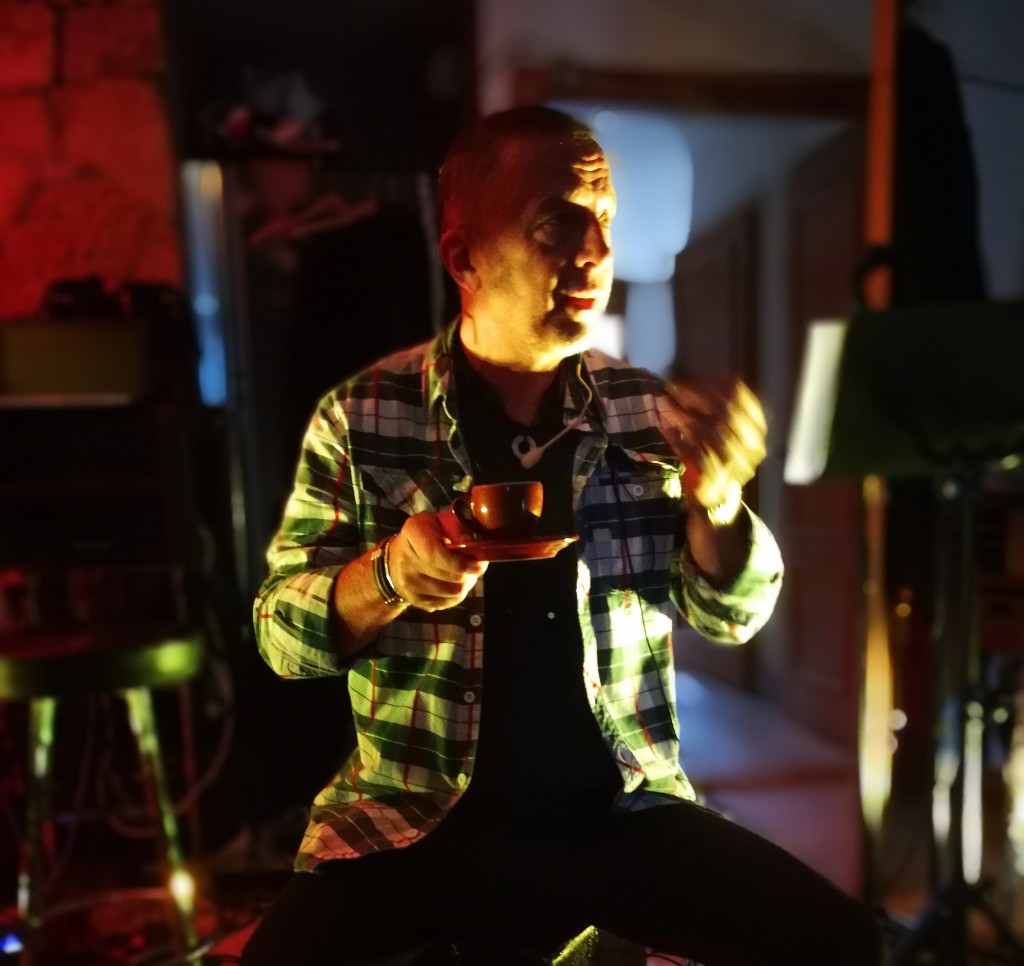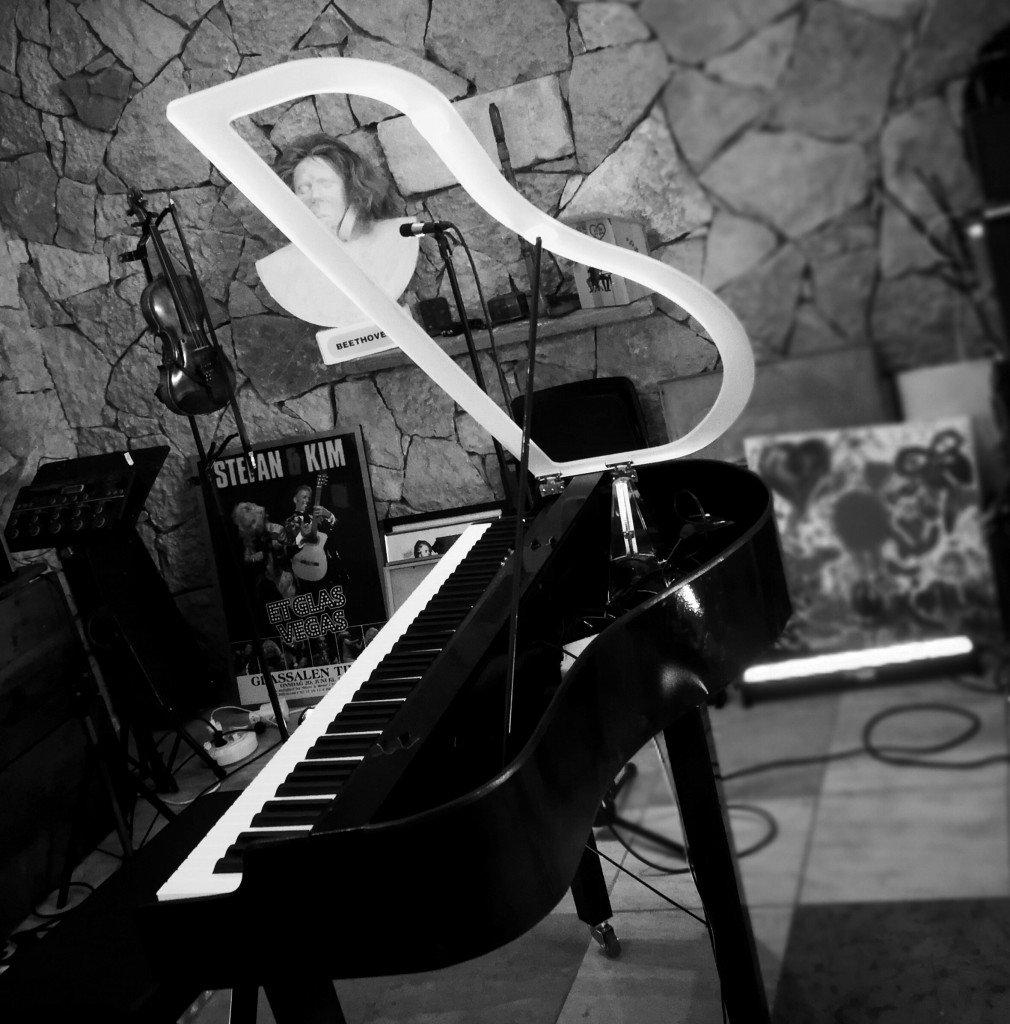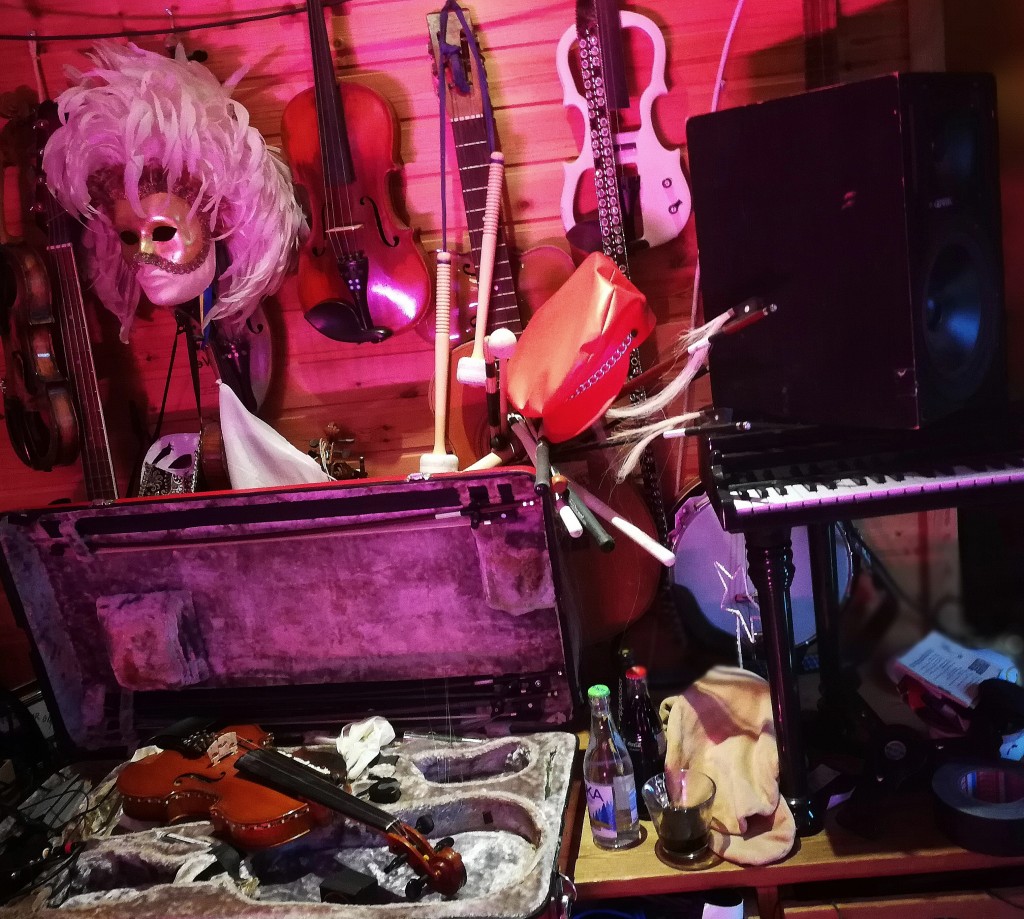 Great gig,great venue!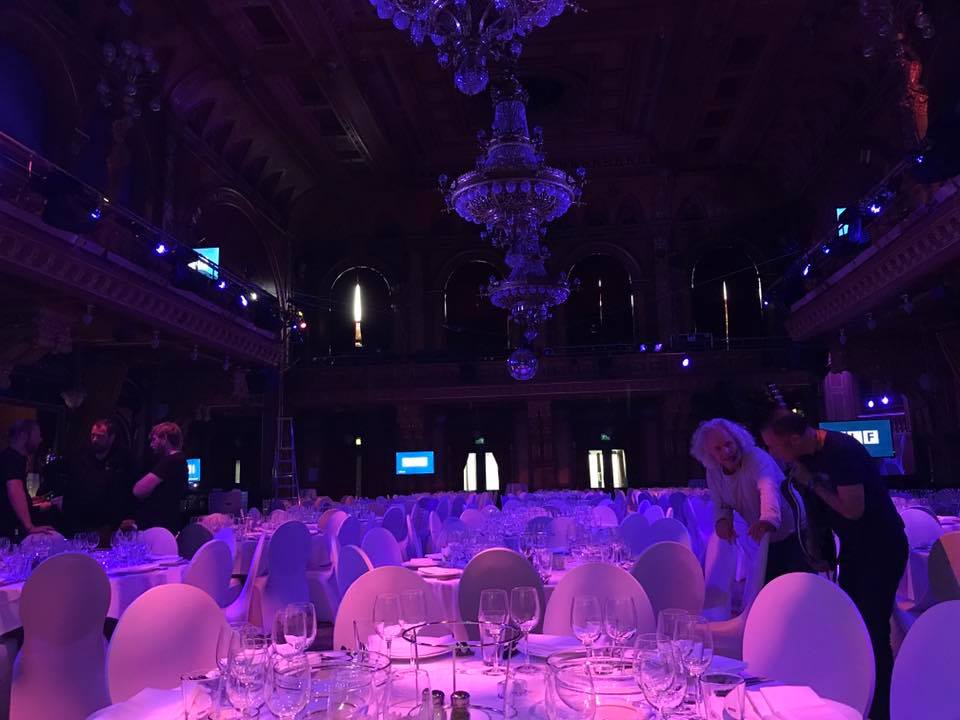 March 2nd! Spot on the last note on the opening nite, on the new tour!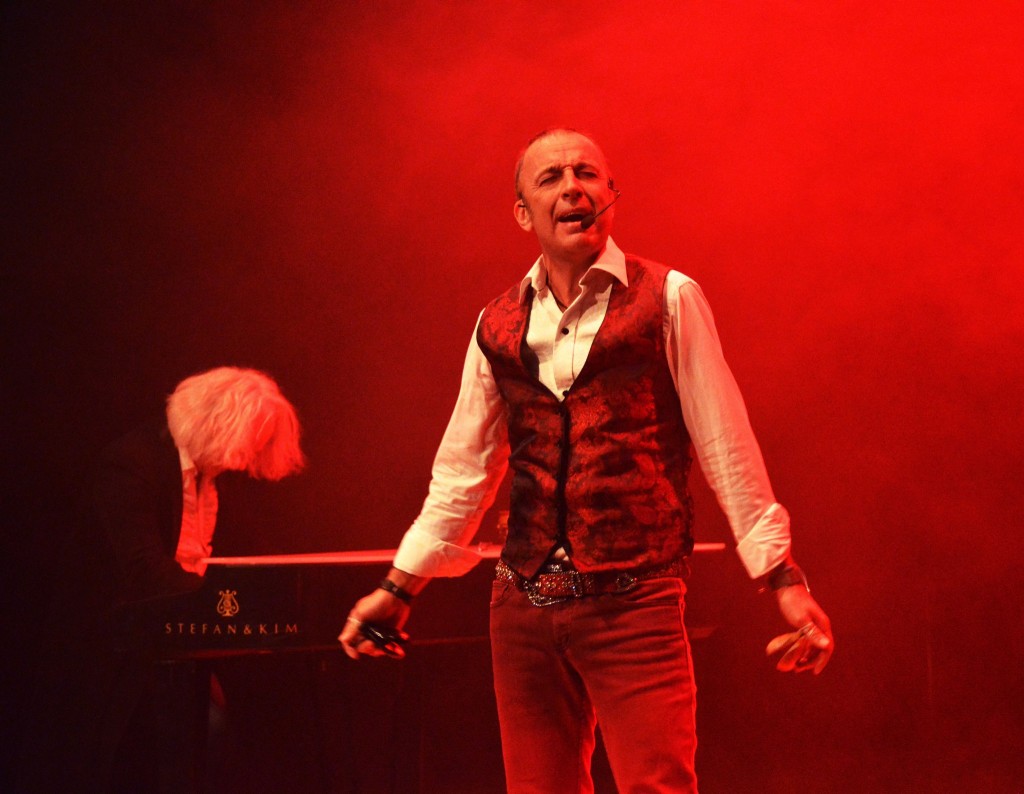 In the middle of the bubble!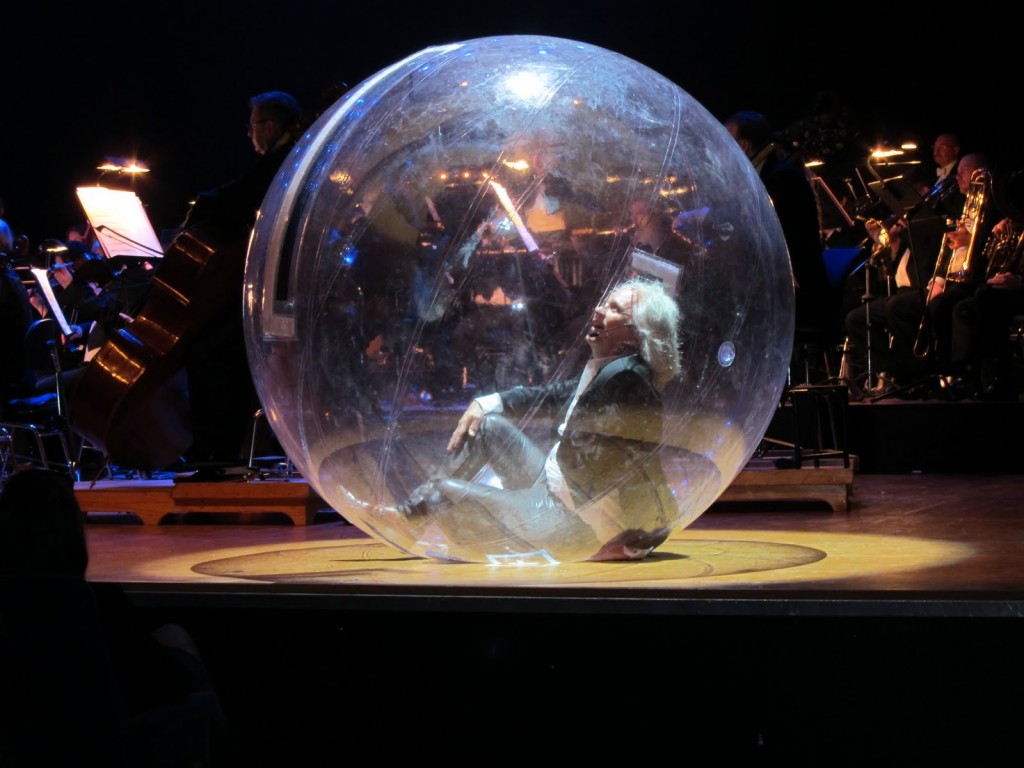 Another fabulous evening, this time in Sthlm(Sweden)
February 22th
Gala evening in Borås! What a nite!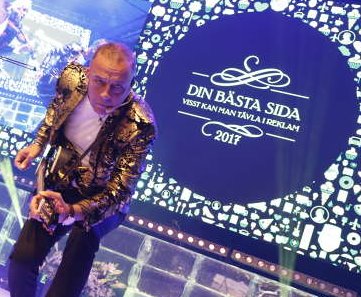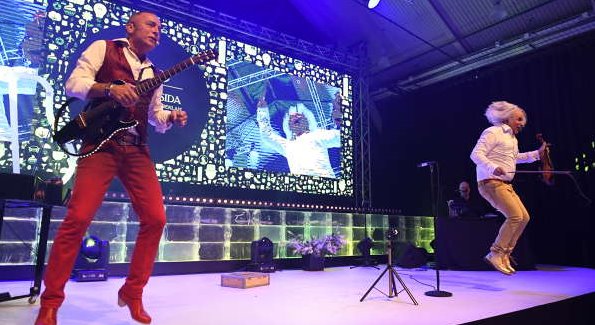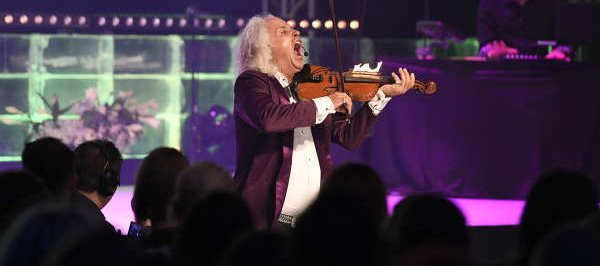 Preparing for show far from home!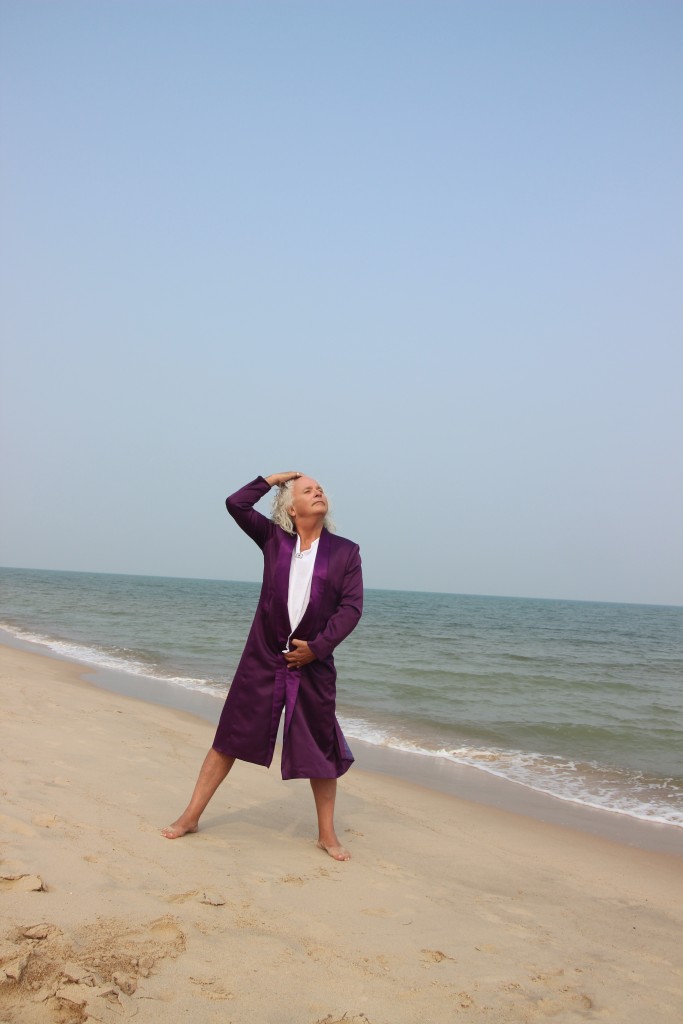 Back in Sweden again…..boring highway, nice gig!
Marbella!
The day before yesterday January20th!
Yesterday January 19th!
Soundcheck again!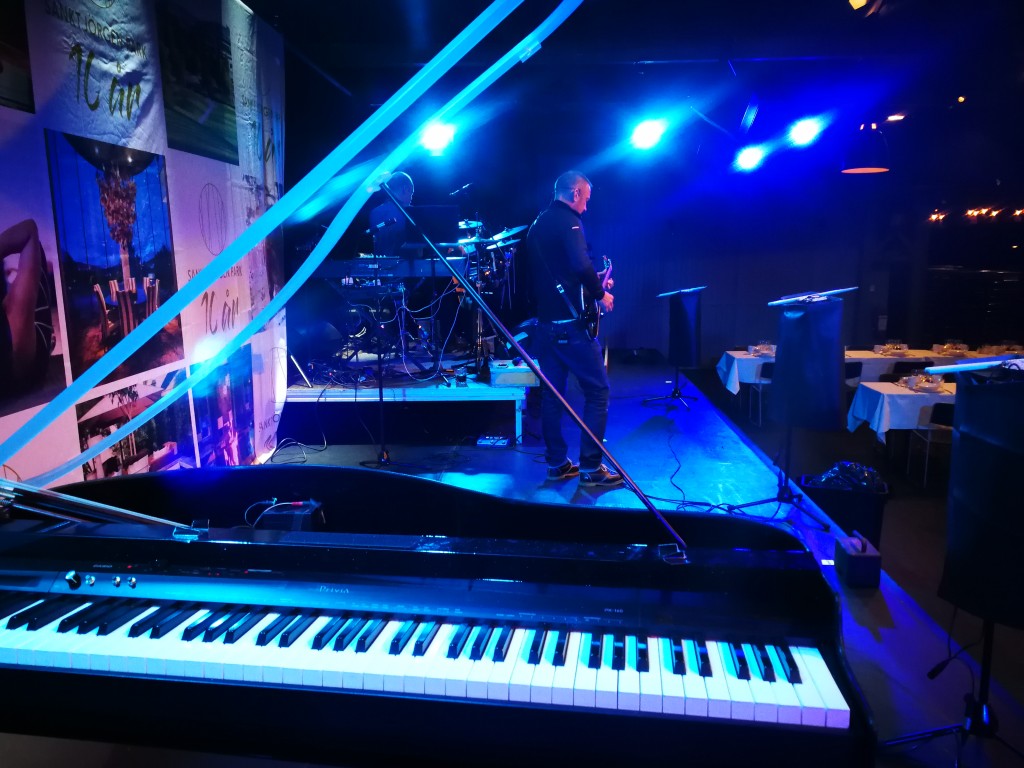 2018! First show this year! Just Before……who´s that?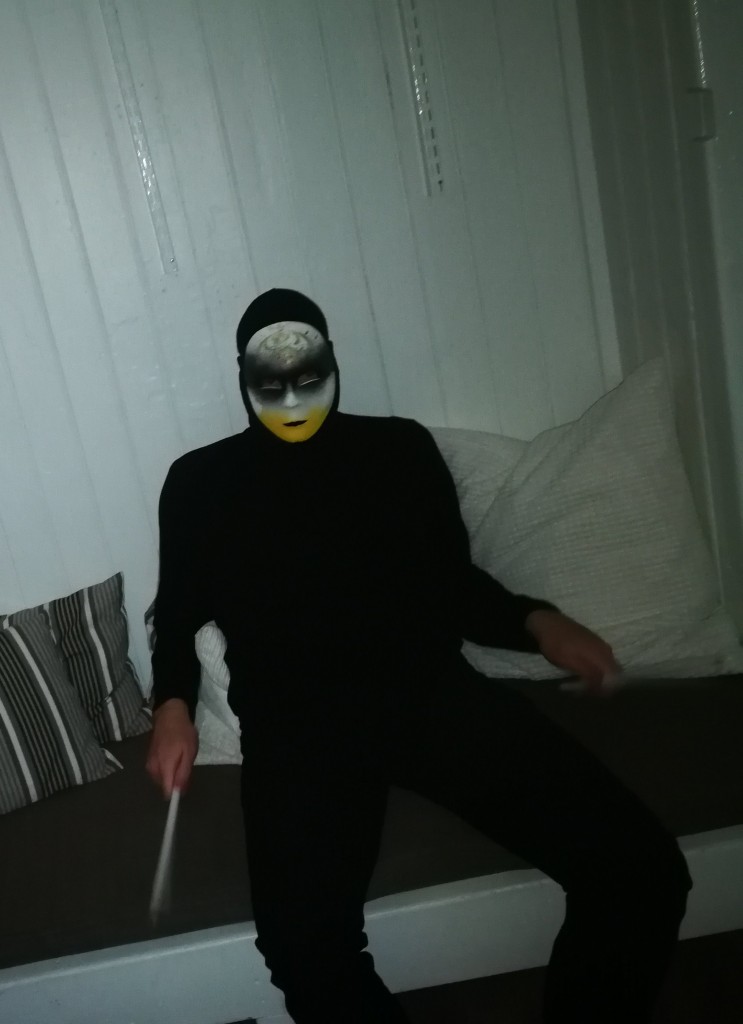 2017!
Lets go home celebrating Christmas!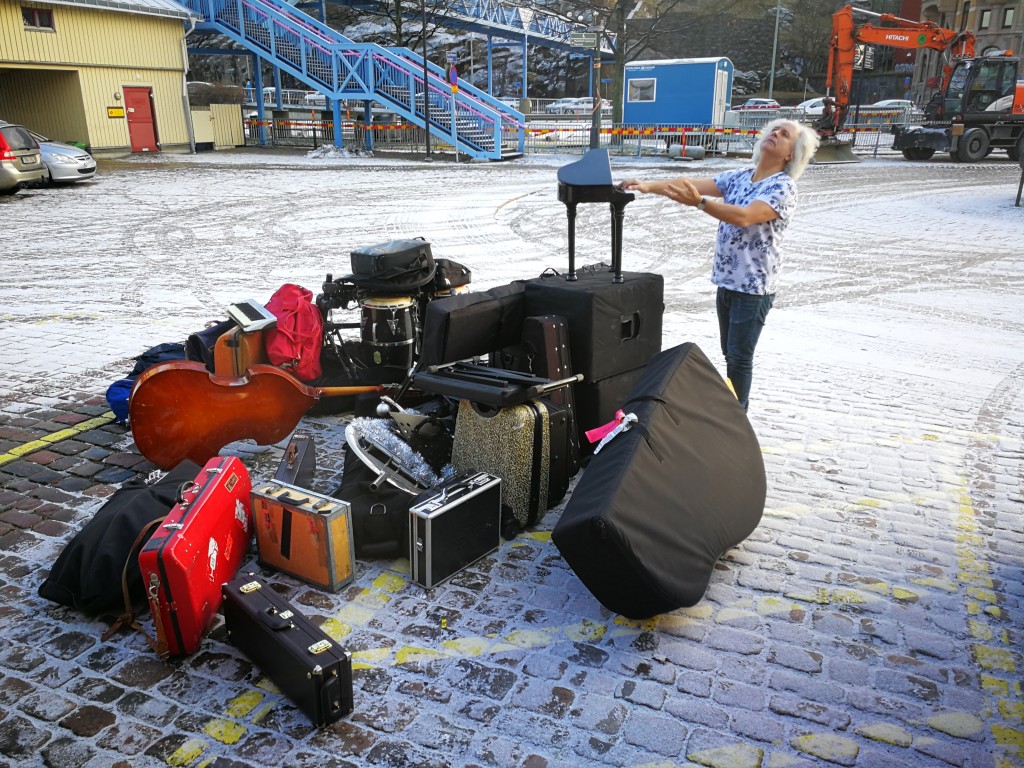 So much fun we had!!!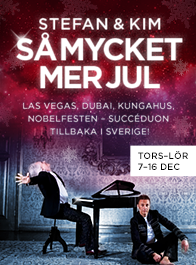 December 14th! Just one more picture from another lovely nite in Gothenborg: 1 Lamp & Cymbal……whats that for?? Photo Art….I dont know but I like it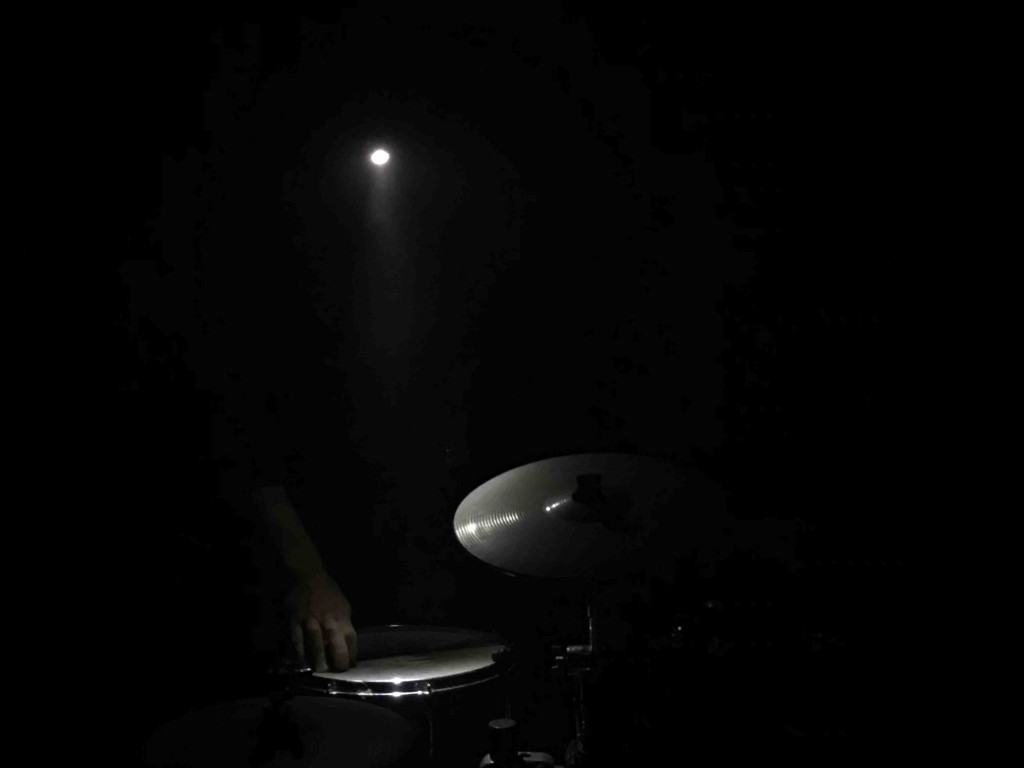 Dec 11th. Swedish Review after the Opening Night of our new show in Gotheborg in Sweden.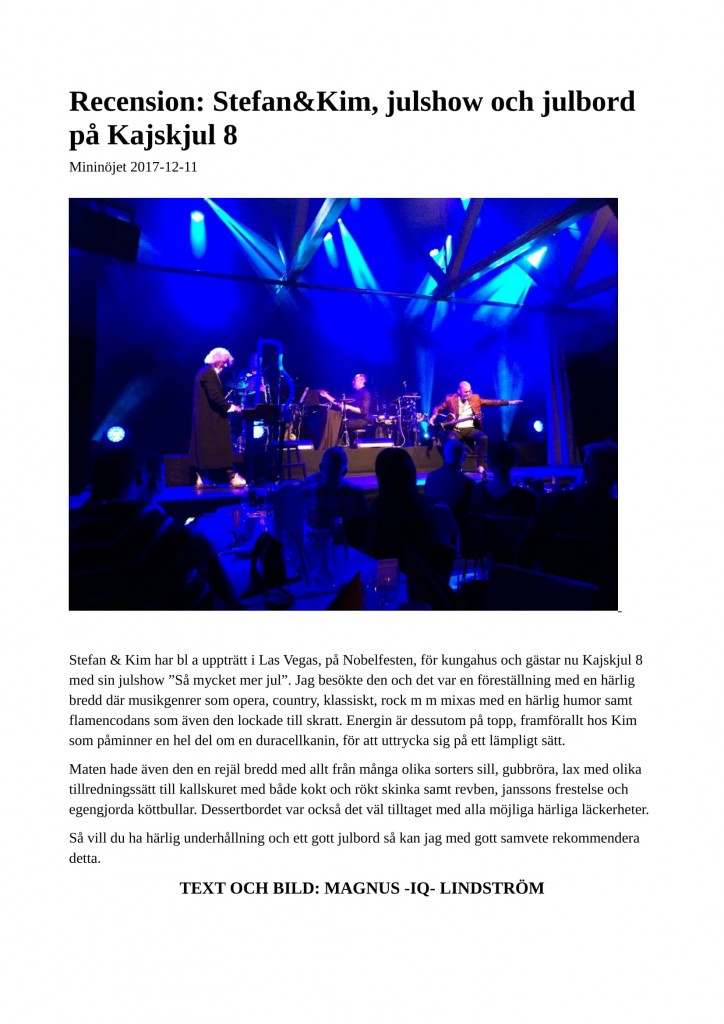 Dec 8th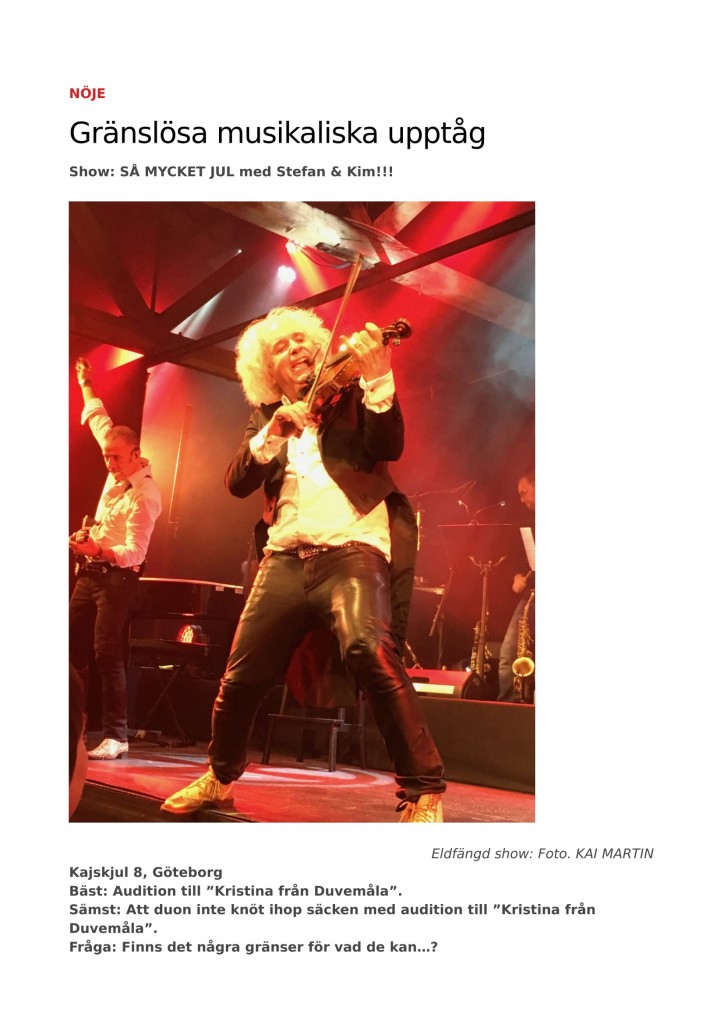 December 6th. Nice pics taken from behind by our Clarinet playe/Saxophone player/Percussion player/Soundengineer, Paul Suchanek
MrFrisk: Synth & Piano player/Drummer/Background vocal/Music arranger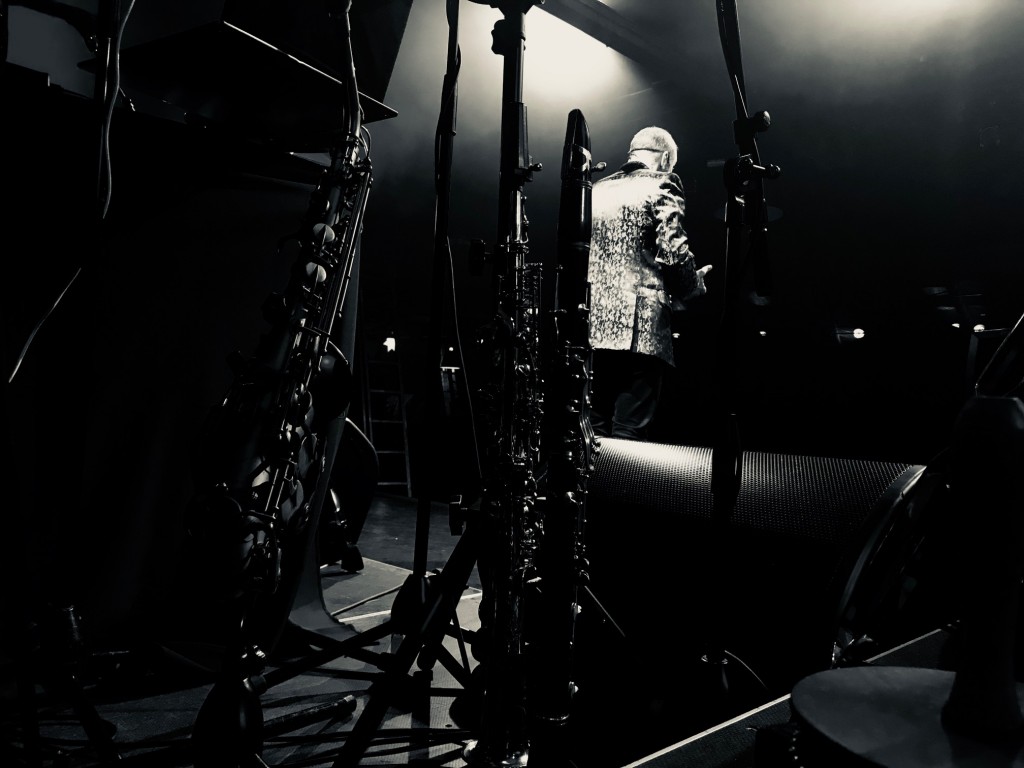 The snow is falling on stage…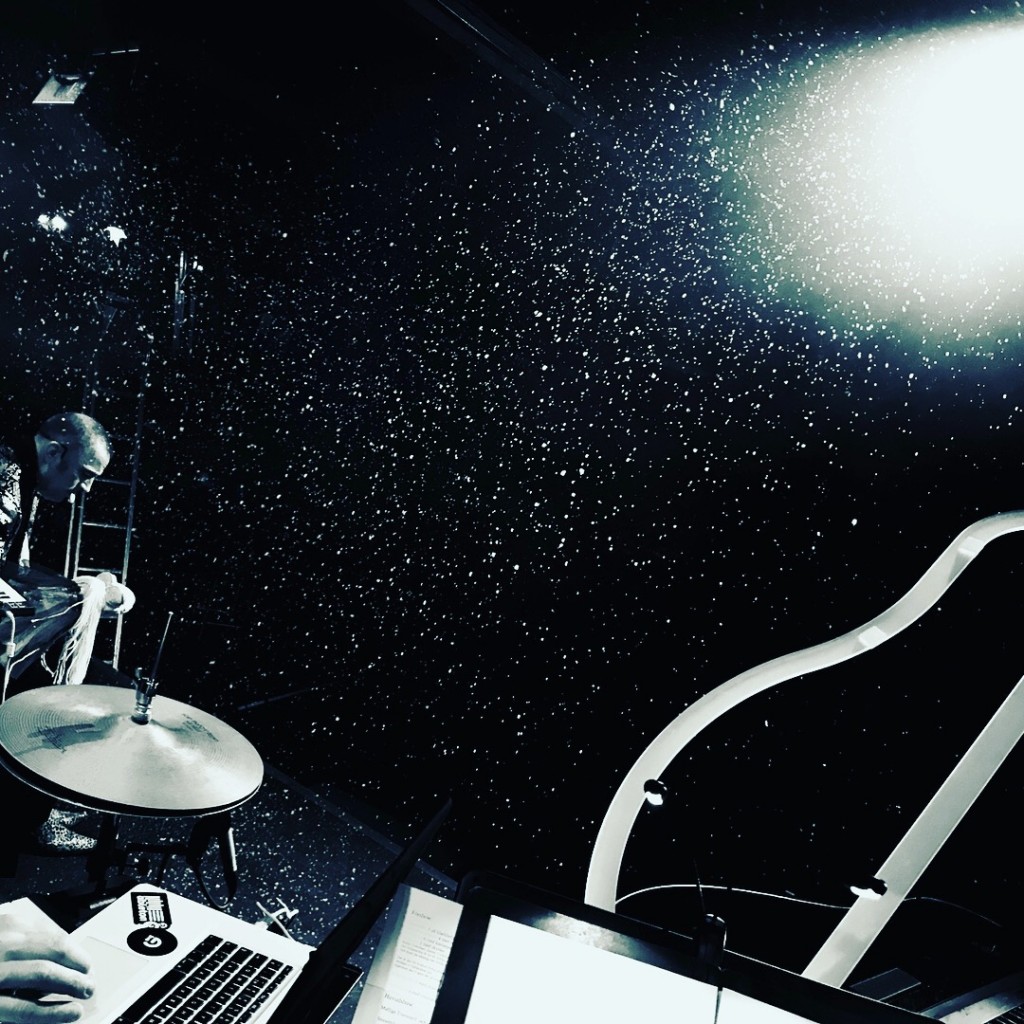 Dec 1st. Wonderful night/event at the City Hall/Blå Hallen in Stockholm
A lot of smoke in Gothenborg!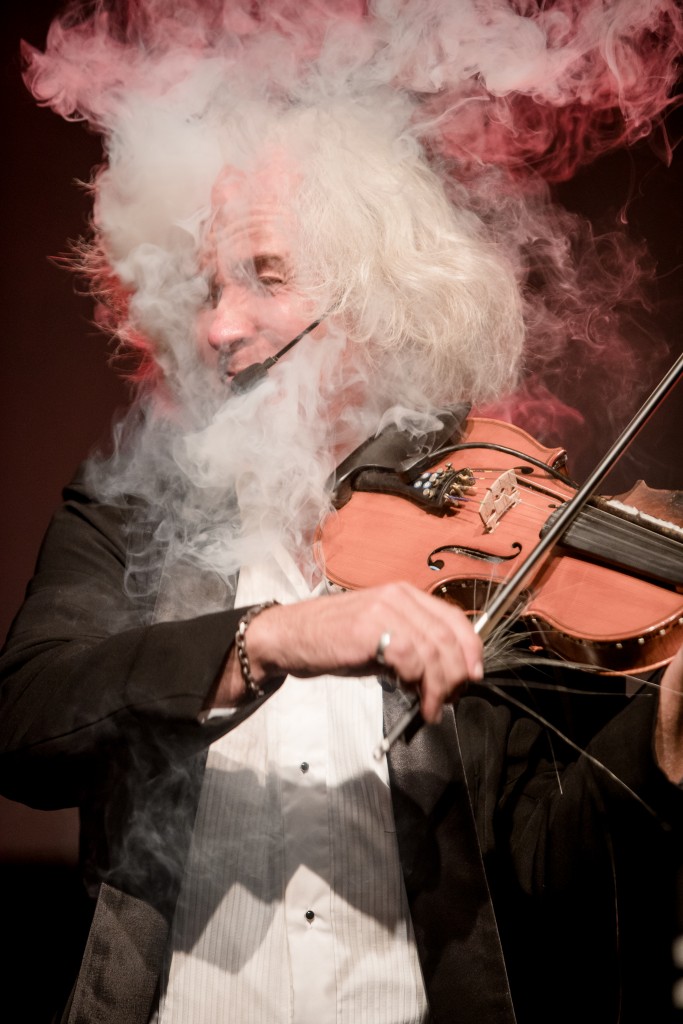 Oct 21st. Last nite on the tour! In Varberg, Sweden.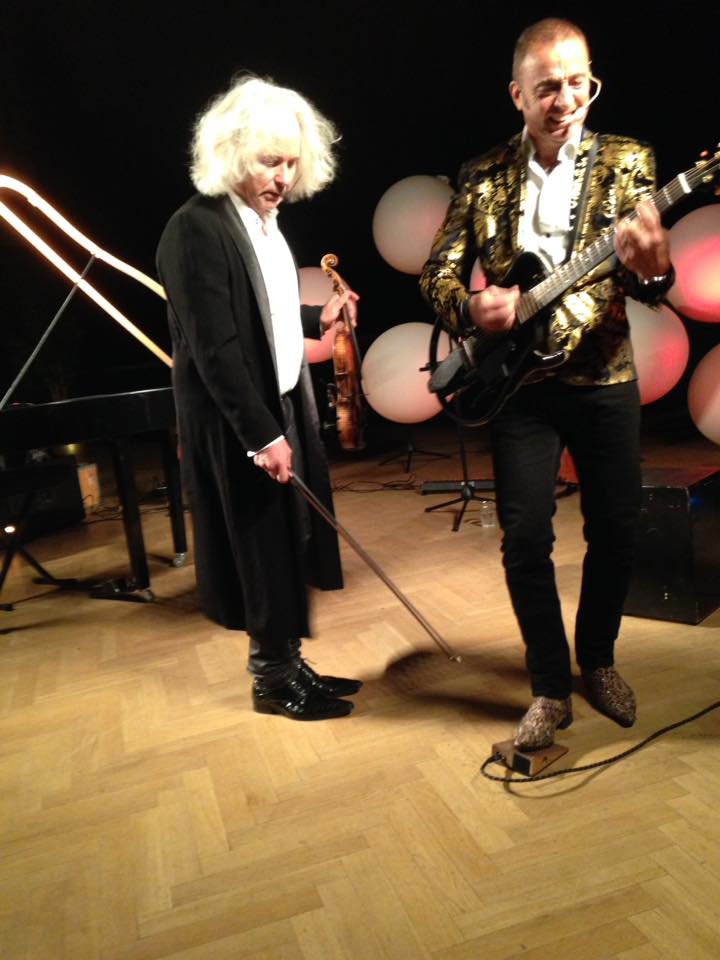 20 Oktober!
Concert in Vara, Sweden!
Before doors.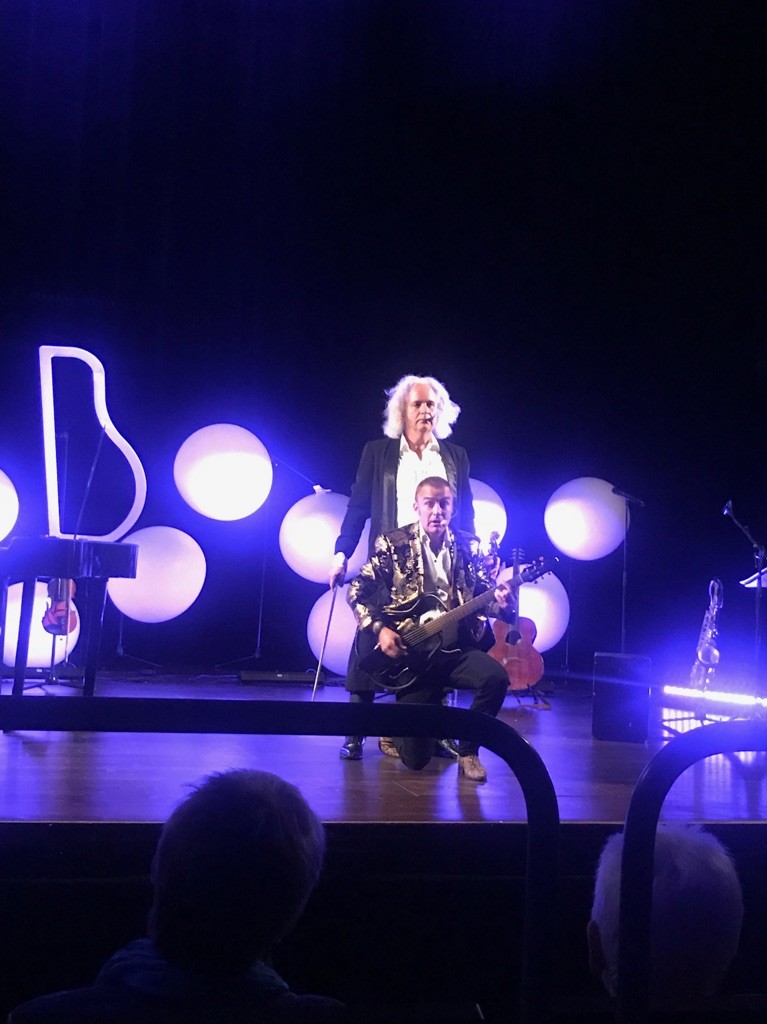 Show in Zaragoza
18 Okt Tuesday morning in Zaragoza!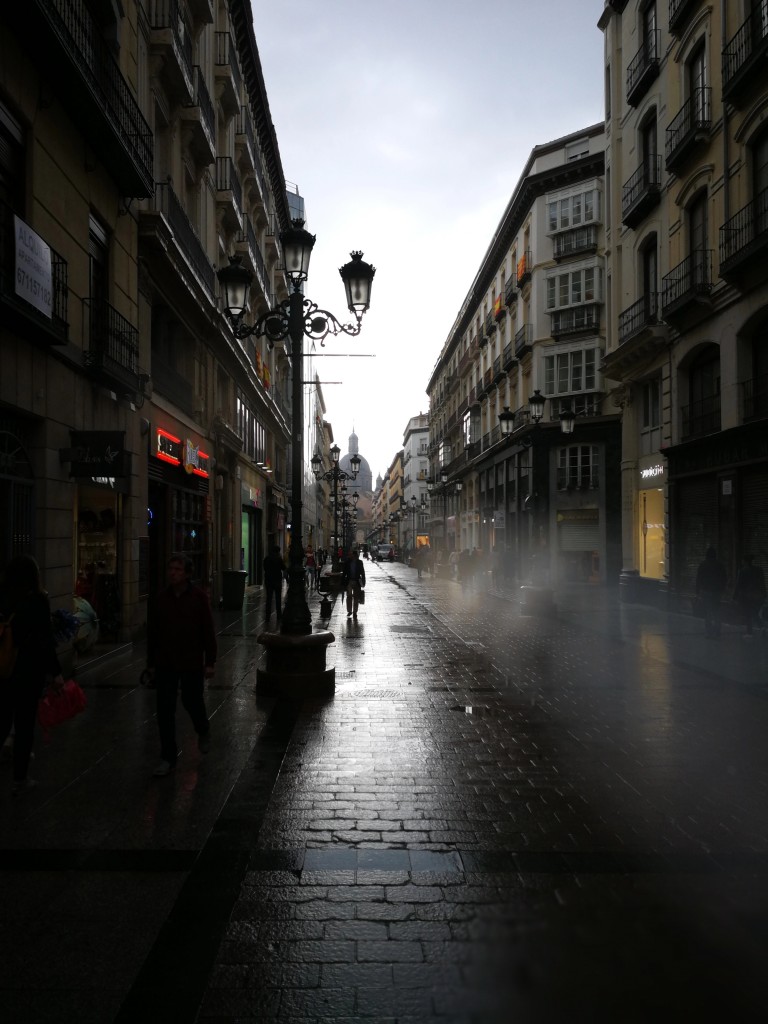 16 Okt Newspaper interview by the sea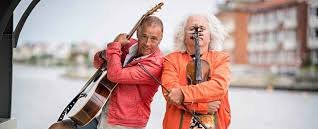 October 15th! Lovely concert again, this time at the Kalmar Theater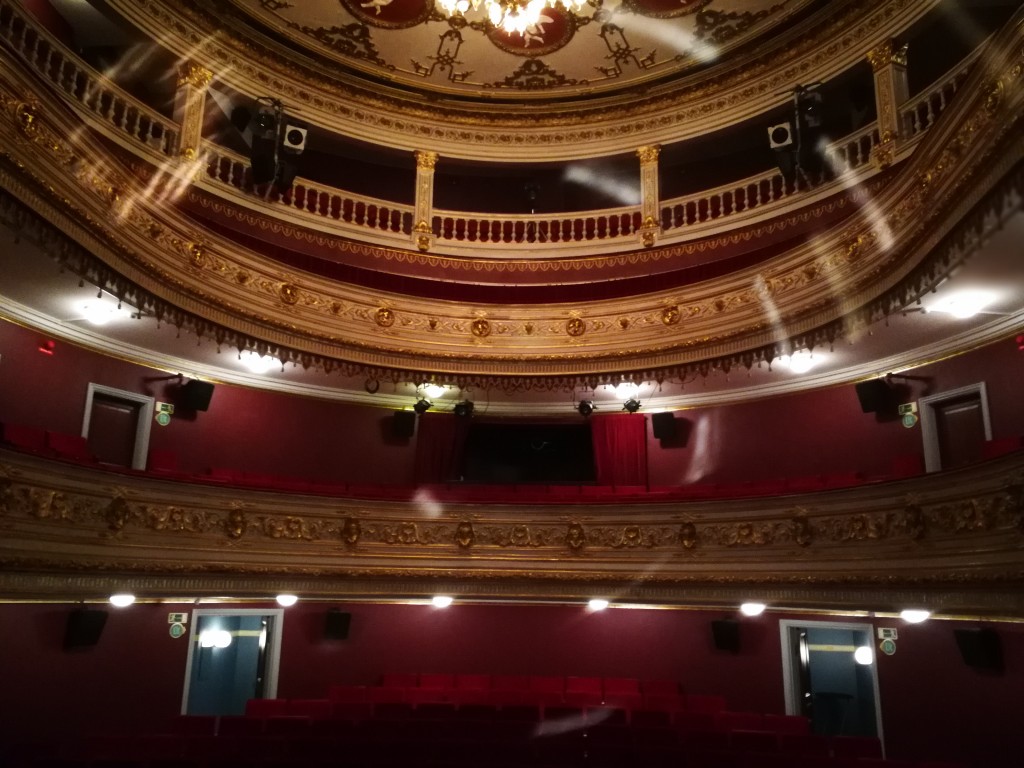 Oct 14th! Gala evening for big company in Sweden! 600 people in the audience!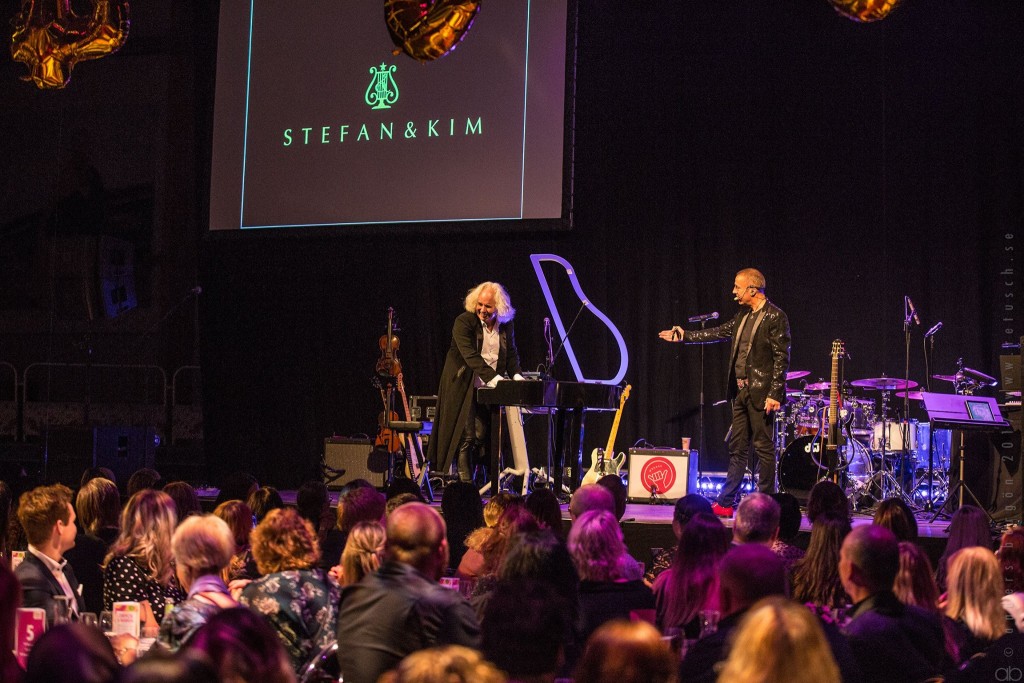 Växjö in Småland, Sweden! Concert in the wonderful venue Växjö Theater. What a place, what an audience!
Concert at the Stadshallen in Lund October 7th.
Lund Before Dooooors!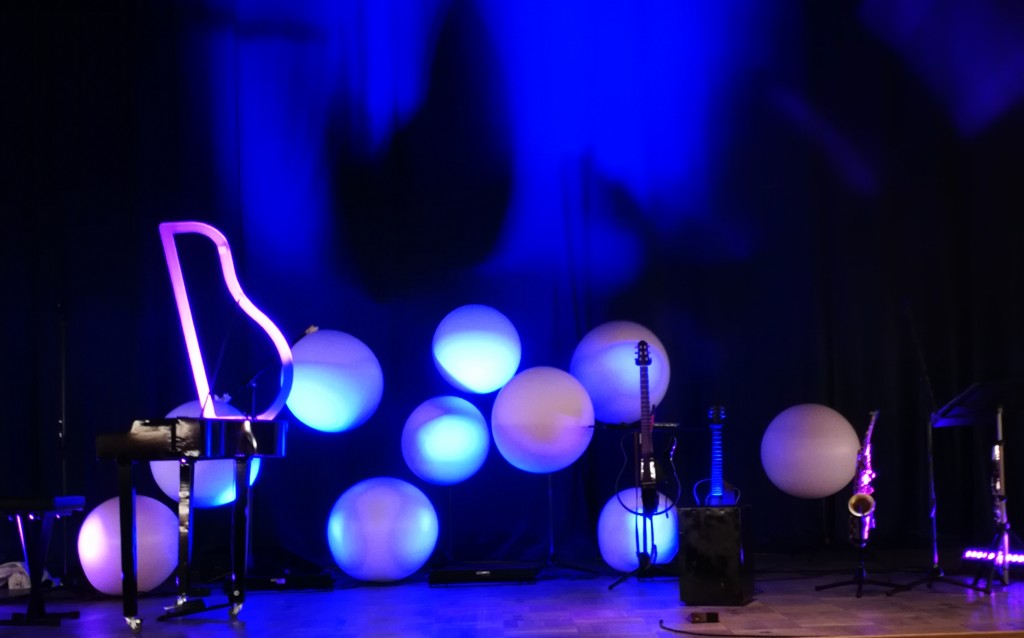 Radio interview in Kristianstad, Sweden!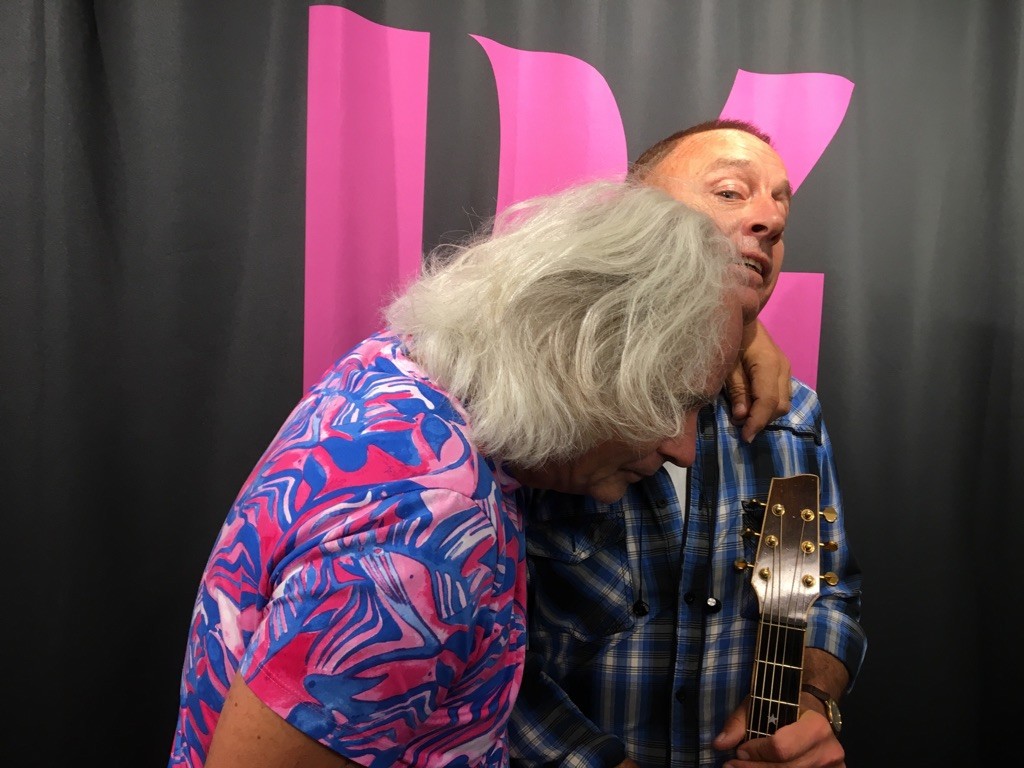 September 29th in Cph! International audience! Really nice venue!
Let it burn!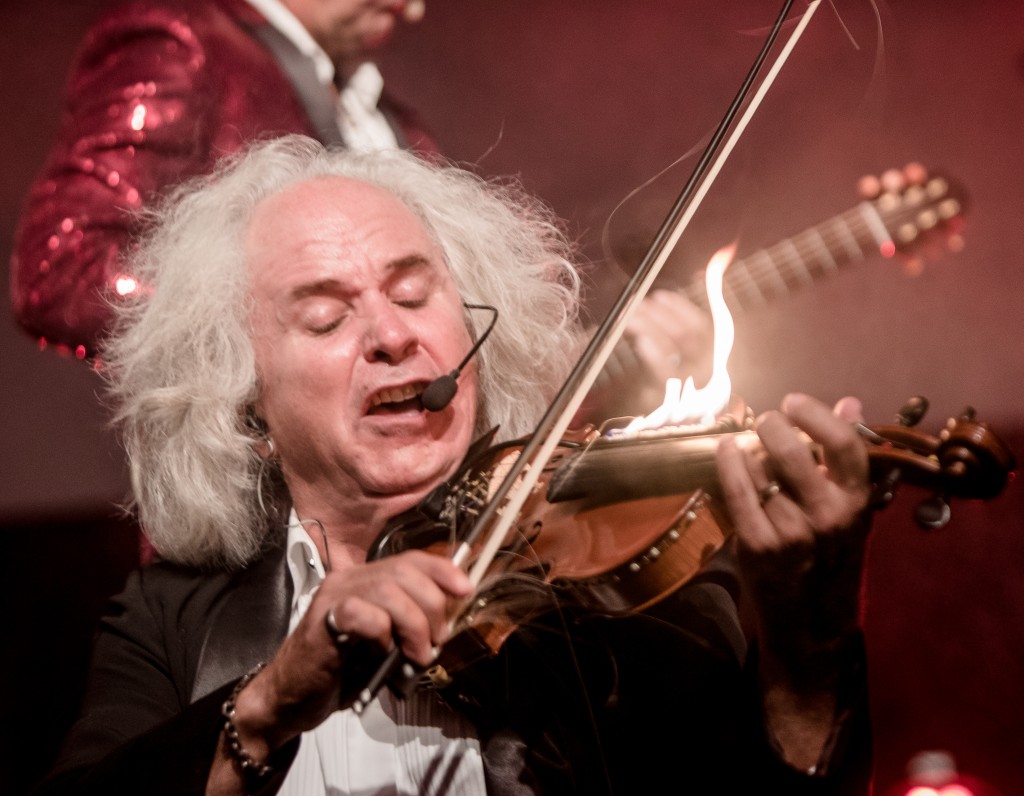 September 20th in Göteborg! International congress, 500 people in the audience at Kajskjul8.
Tuesday Night! Rehearsal in Gothenborg together with new director/producer Mats Berglund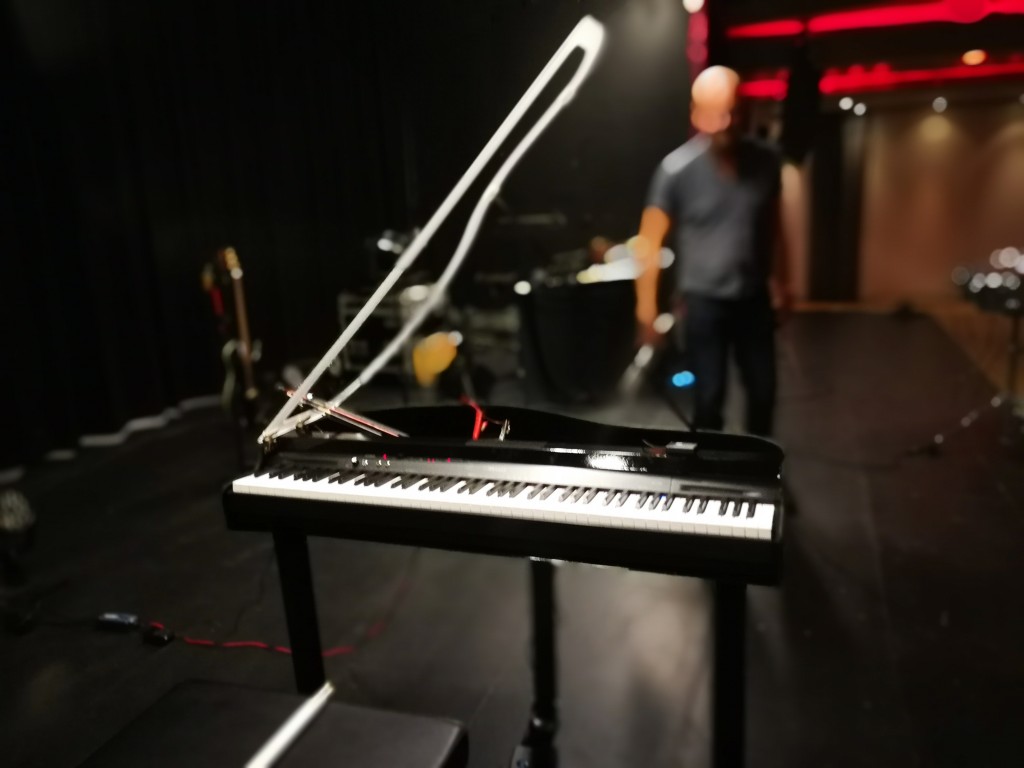 Monday meeting!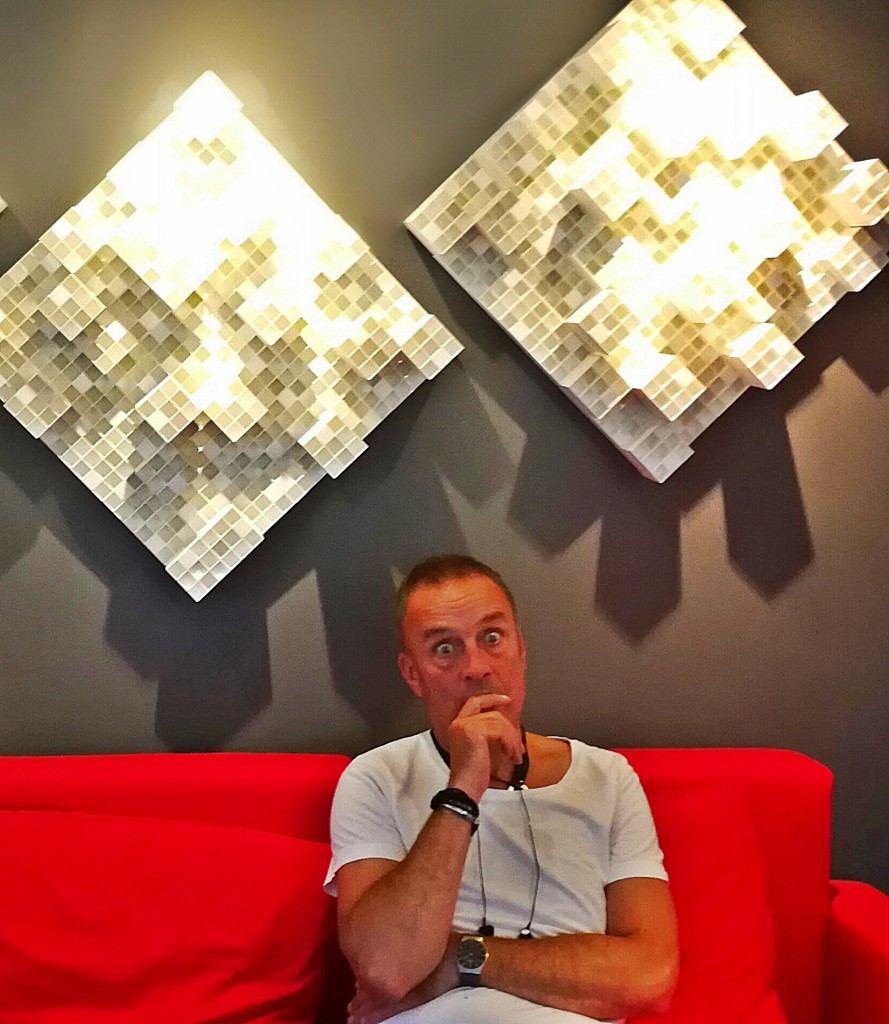 September 16th, Gala evening for Childhood Cancer Foundation! A lot of Money has been collected! So very nice to be a part of this!!!
Stefan, right in the middle of the audience!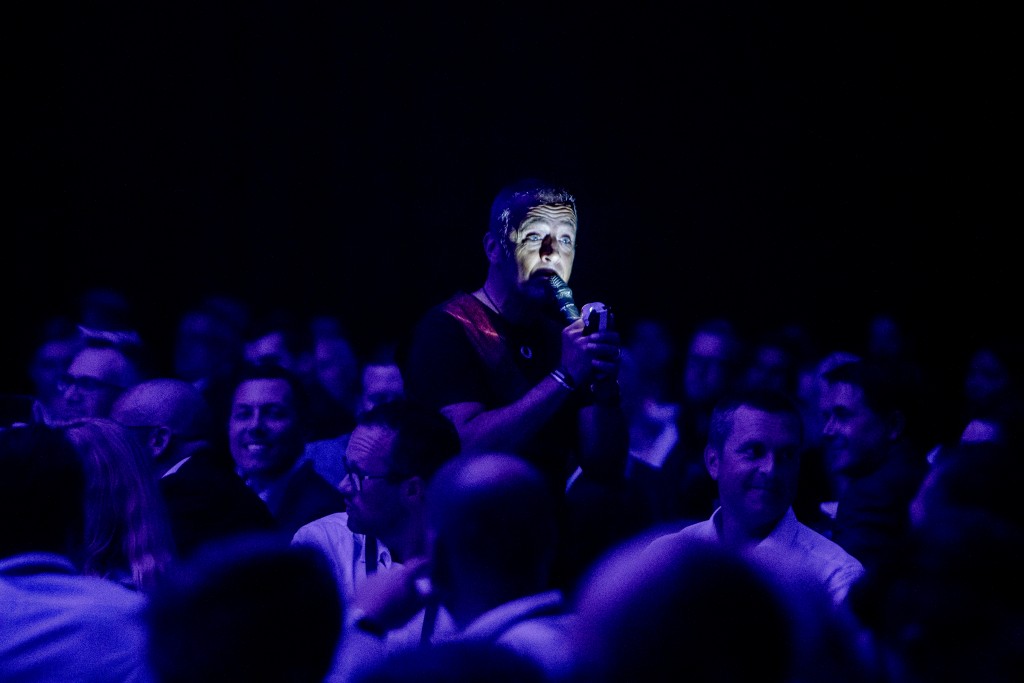 Today!
75 meter from this famous Swedish building we had great gig for Tyrens, celebrating their 75 year in buisiness! 400 all dressed up people experienced a lovely anniversary! We did a great number in the beginning of the evening together with the CEO and the management group & then of course a big show.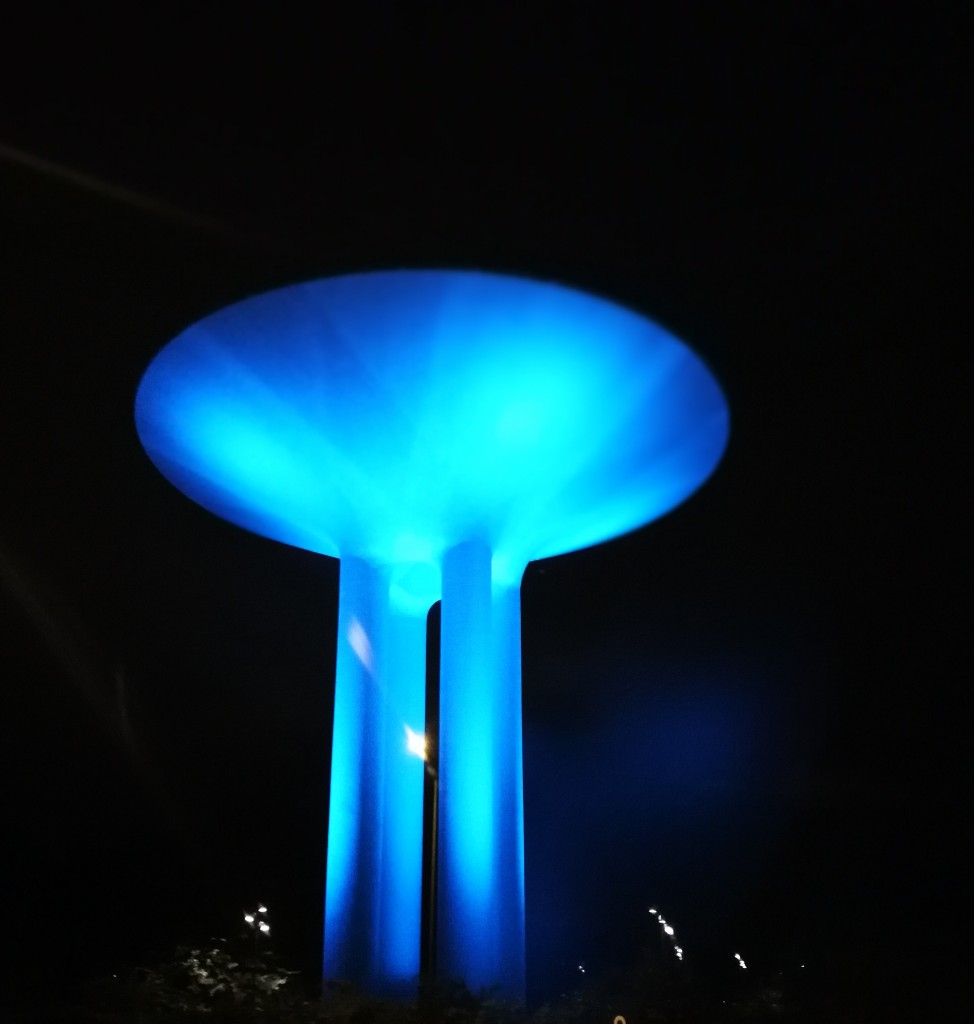 Recording session AGAIN at ALY studio, whats gonna happen this time??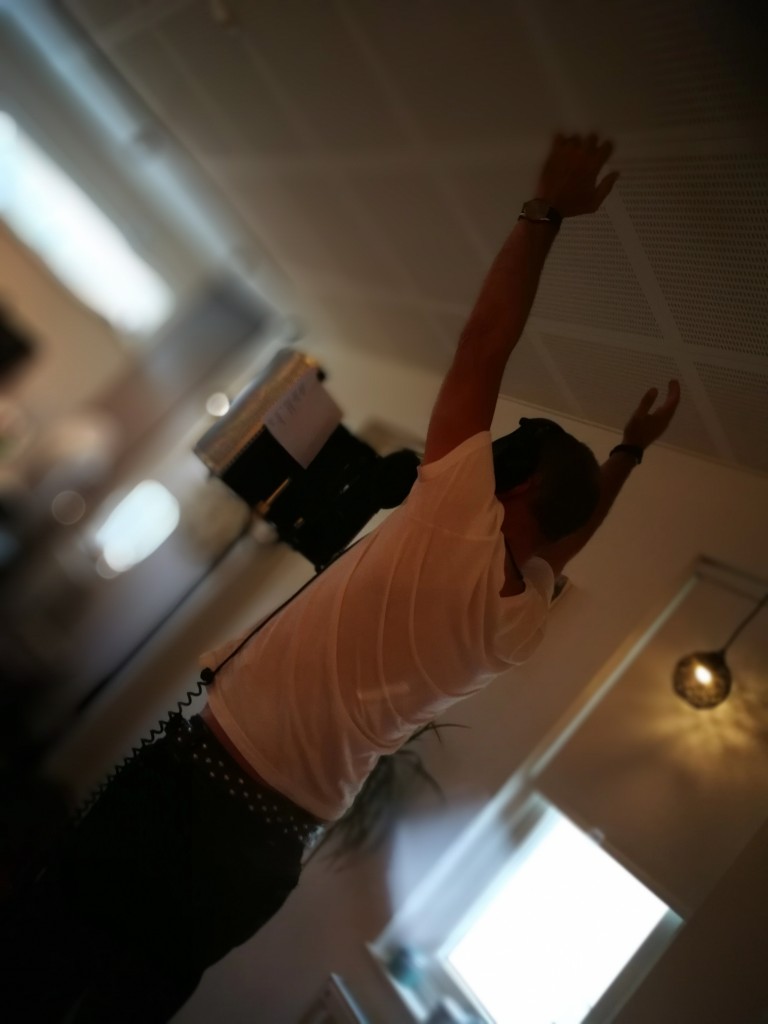 Microsoft event, Clarion Sign, in Stockholm, this wonderful Tuesday in September!!!
Several magic numbers this evening! Gala tables, white carpets………we love it! Sorry it doesn´t look that fancy on the picture….it´s from soundcheck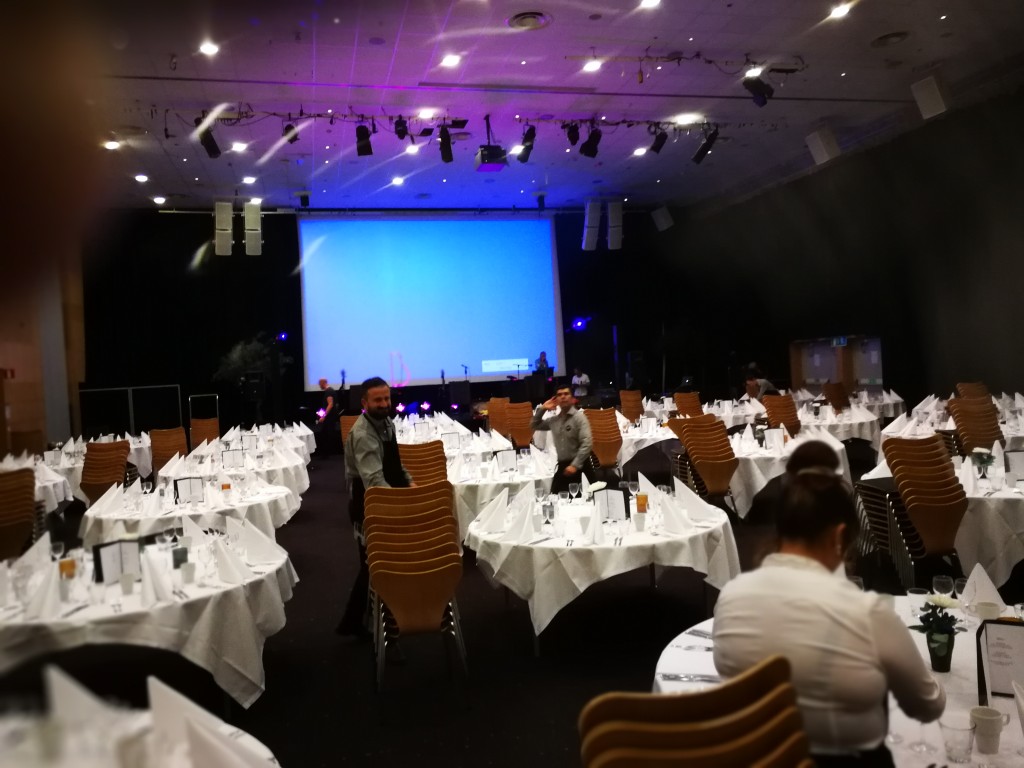 Our beautiful Grand Piano in Gothenborg!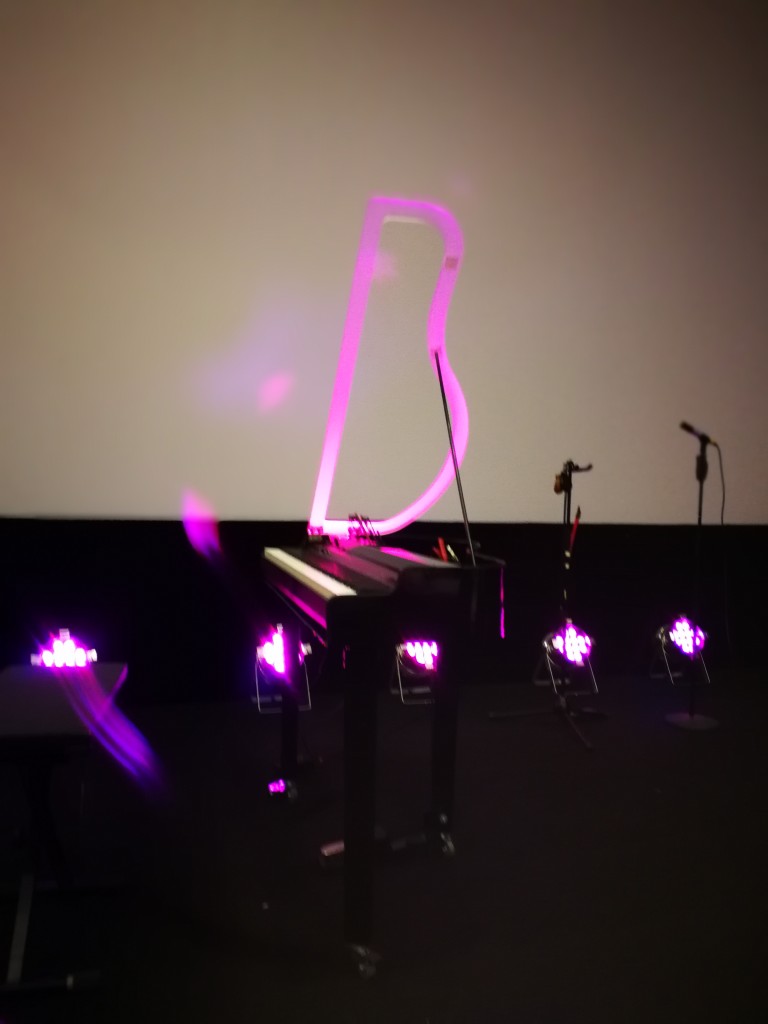 Tylösand Tonite! Very well organized event!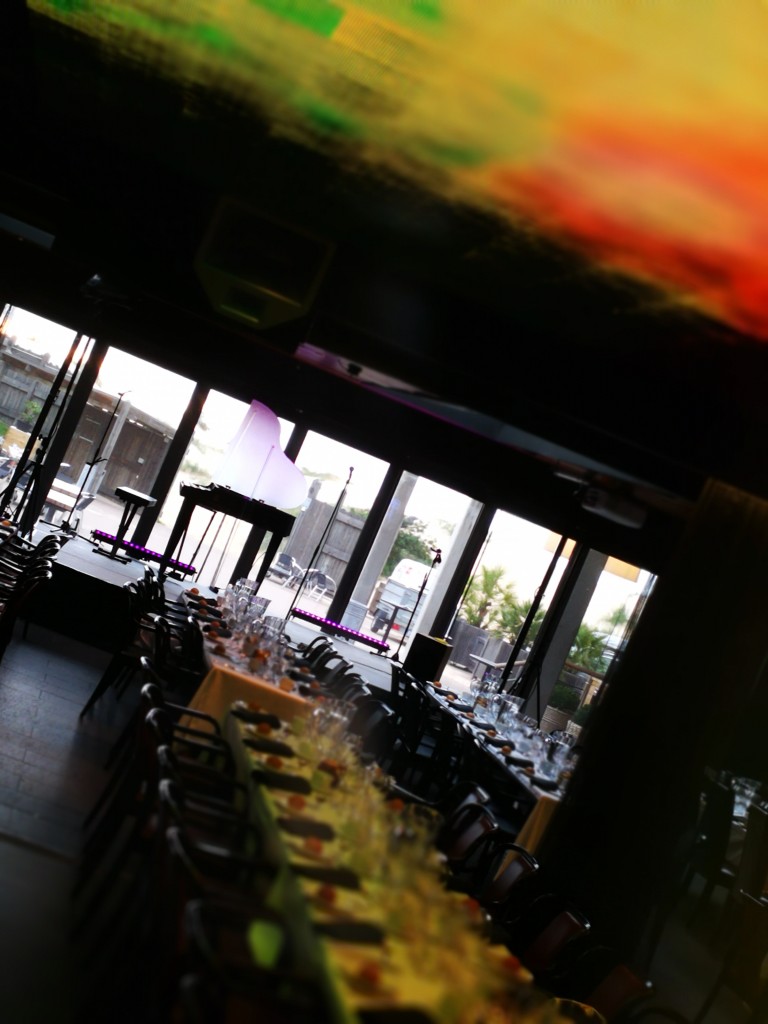 Exclusive show in a castle in Denmark, August the 12th!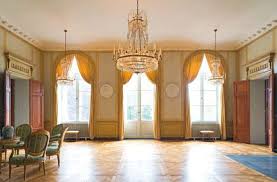 ————————————————————————————
July in Eksjö at 6 o´clock!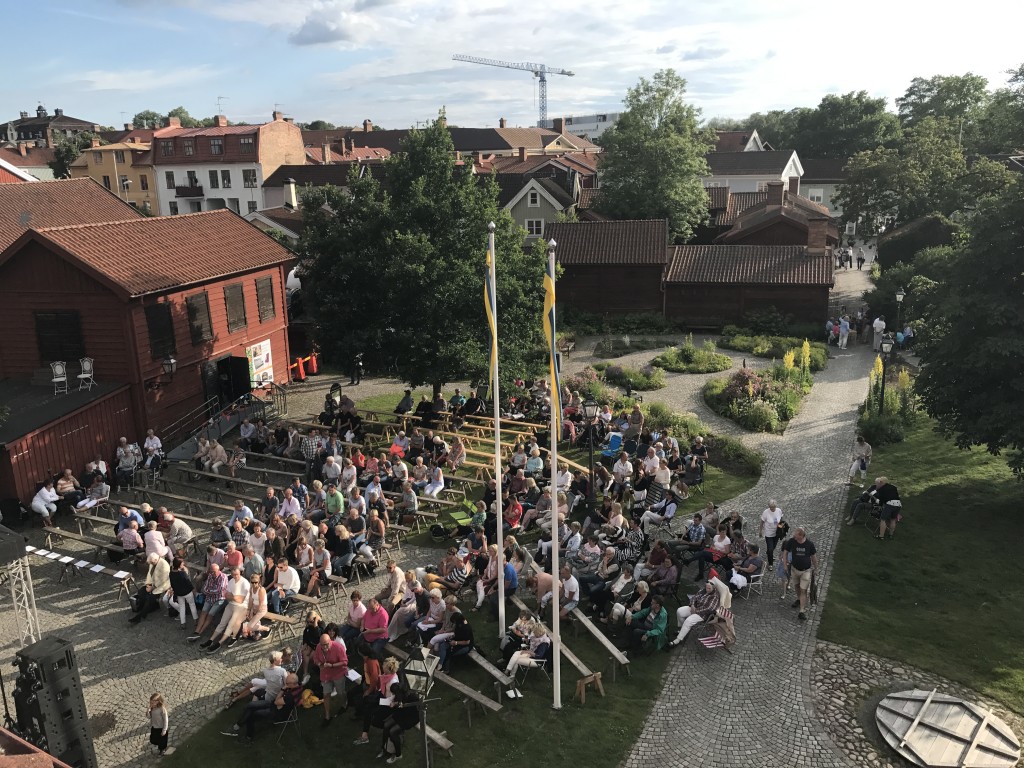 At 7!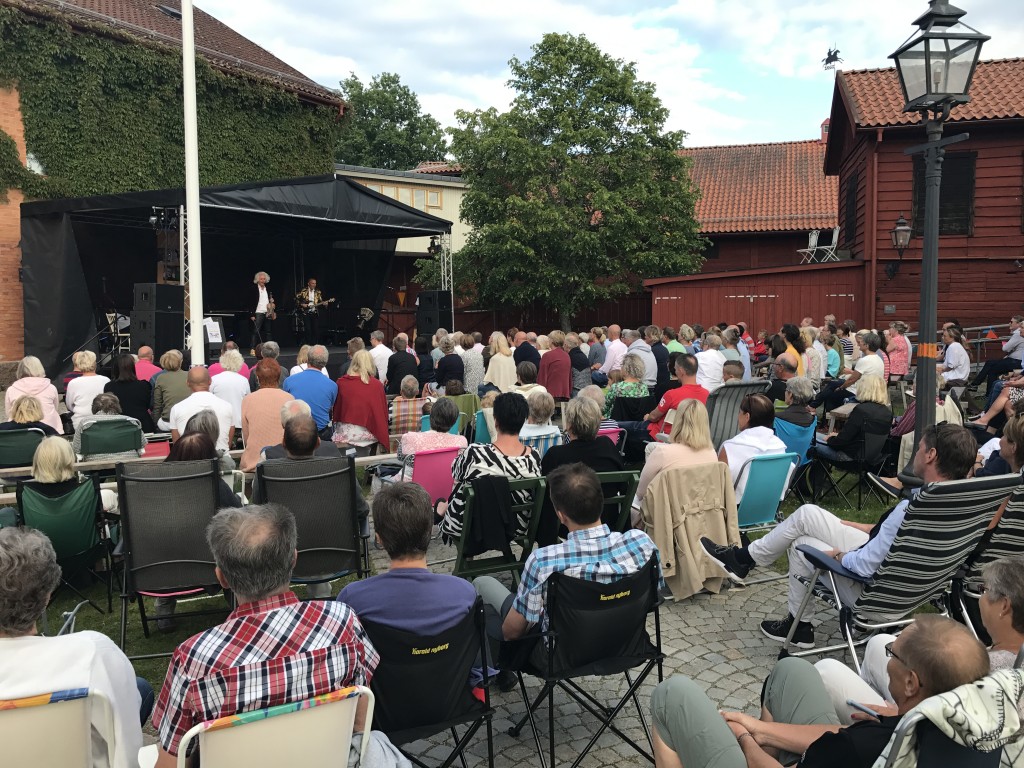 June!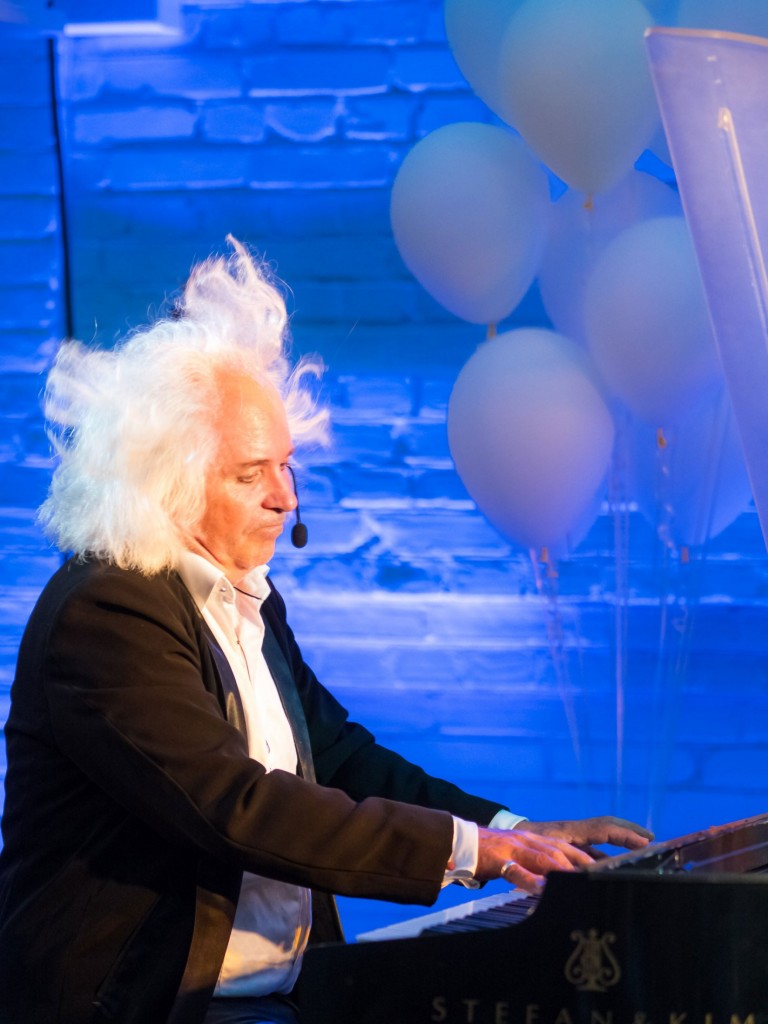 Back in Helsinki June 8th!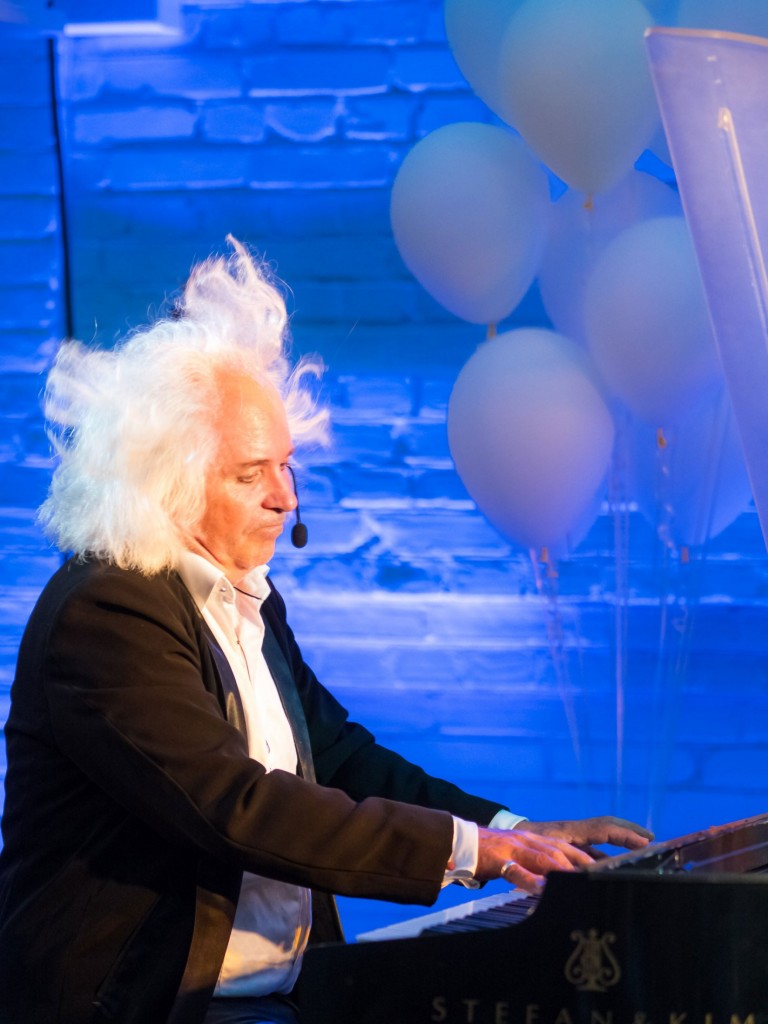 June 1st!
1 Juni! Soundcheck in Helsinki, playing on the new small Grand! Exclusive, international show for 26 people!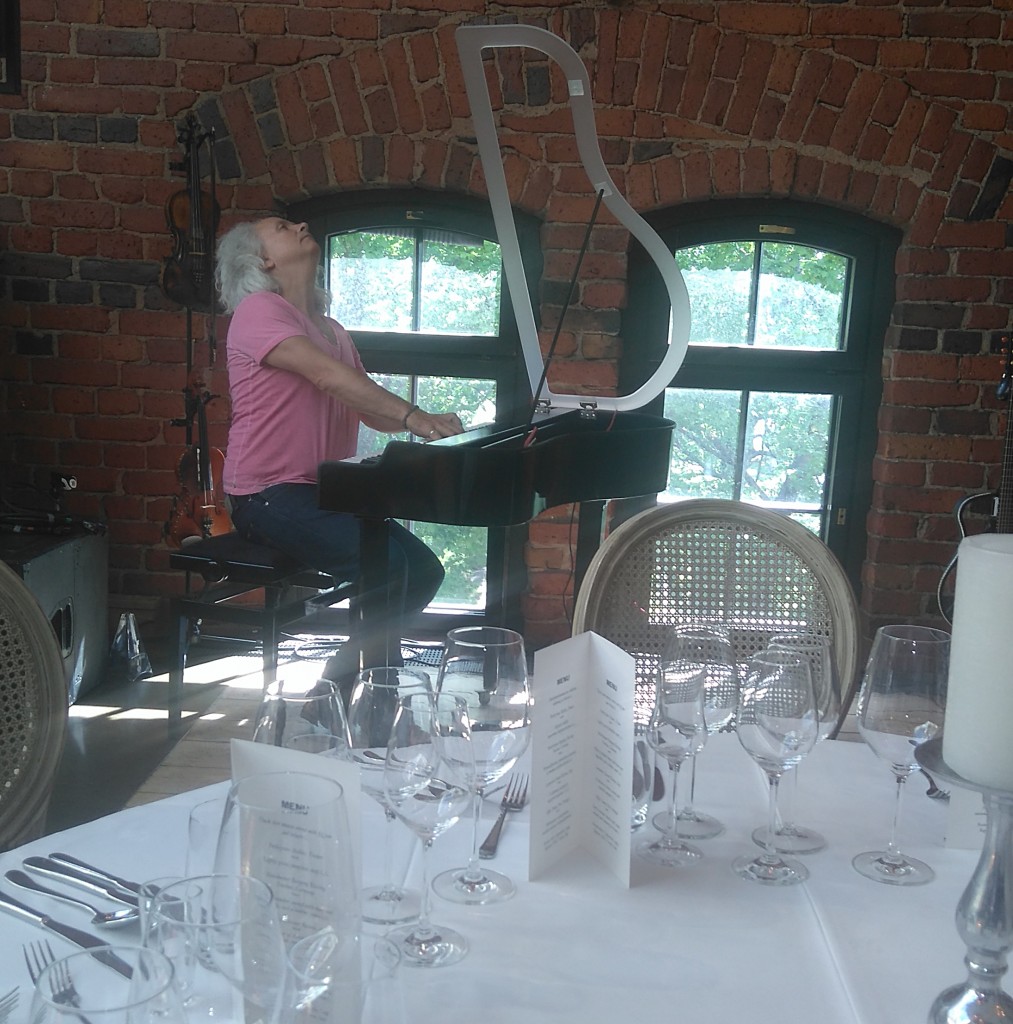 May 28th!
—————————————————————————-
May 26th! The Swedish Porsche Club had their annual big event!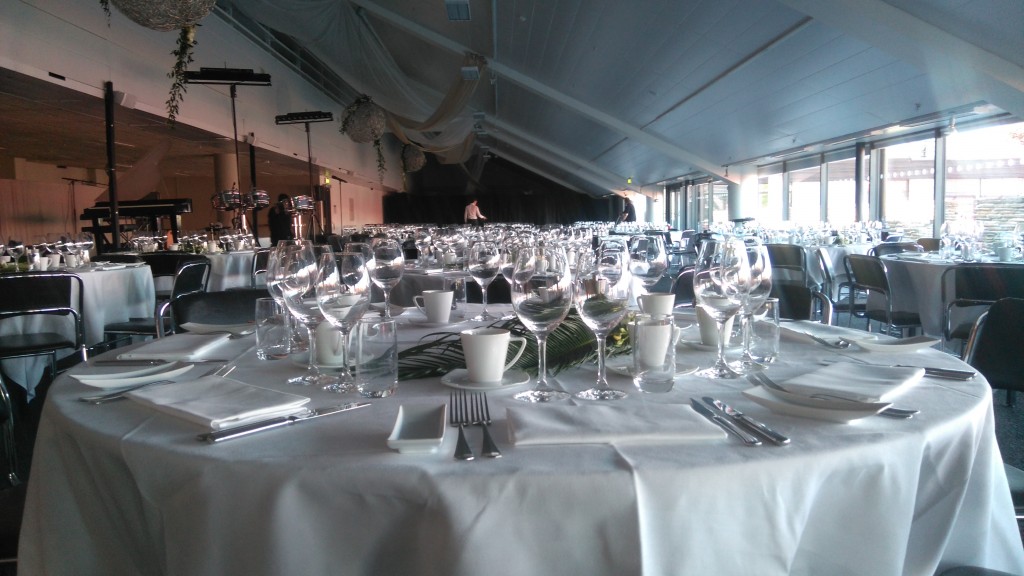 —————————————————————–
May 23rd! In Lomma, in Sweden a great concert with Stefan & Kim for young music students and their teachers & parents.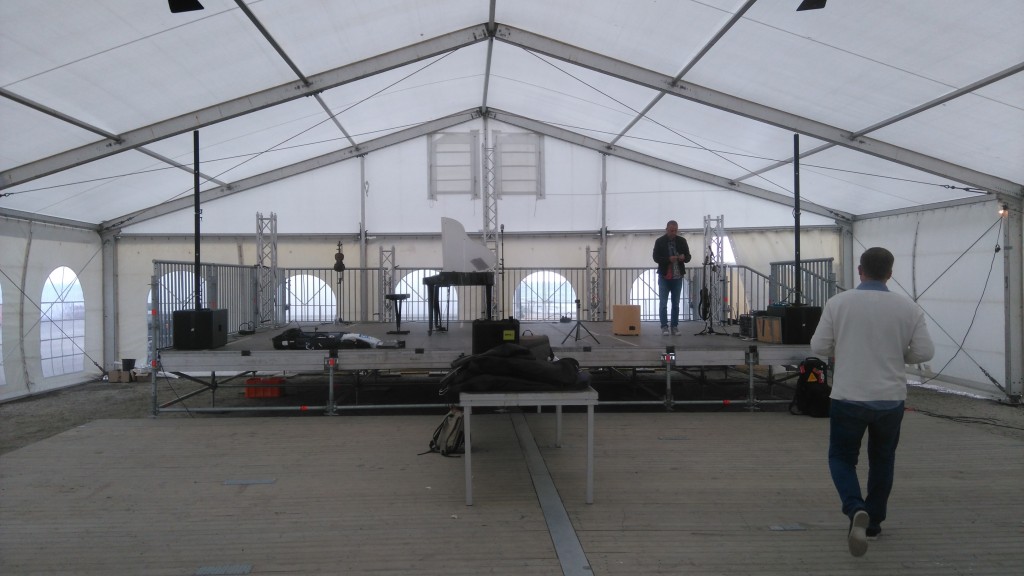 ———————————————————————
Showtime in a castle in Denmark, 22nd of May!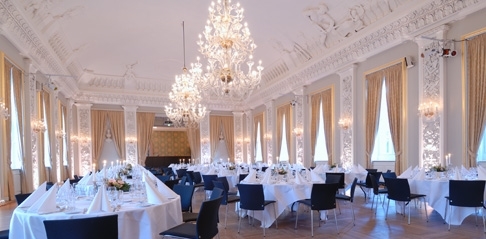 Norrvikens Trädgårdar! Gala show in Båstad!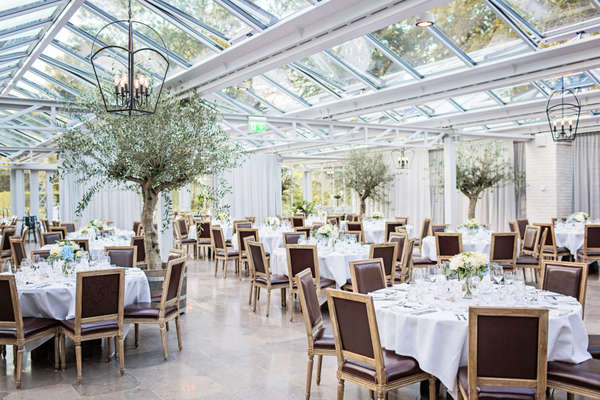 ———————————————————————-
Photosession in the park!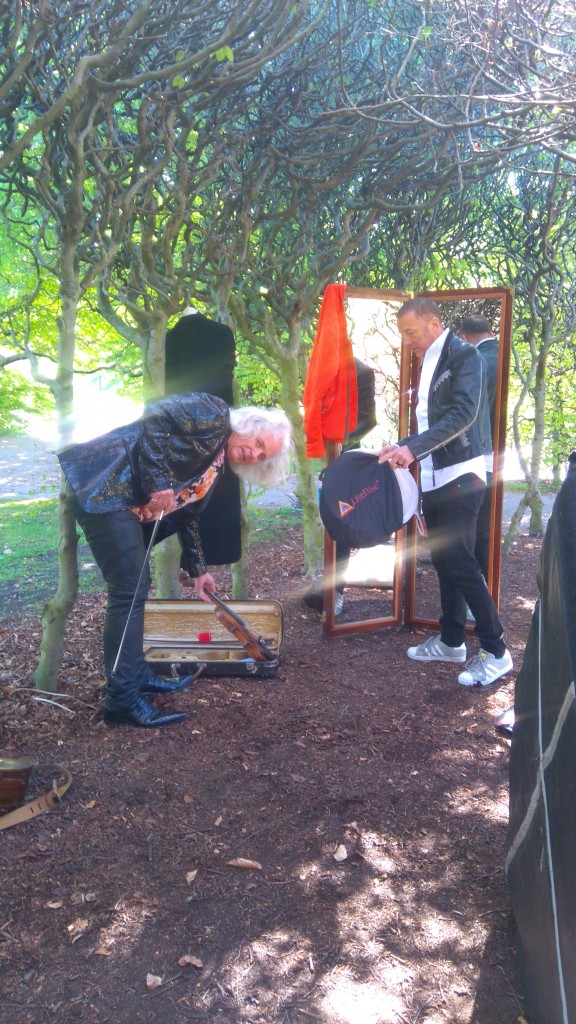 May 11th! Showtime at Berns in thlm Sweden! Soundcheck!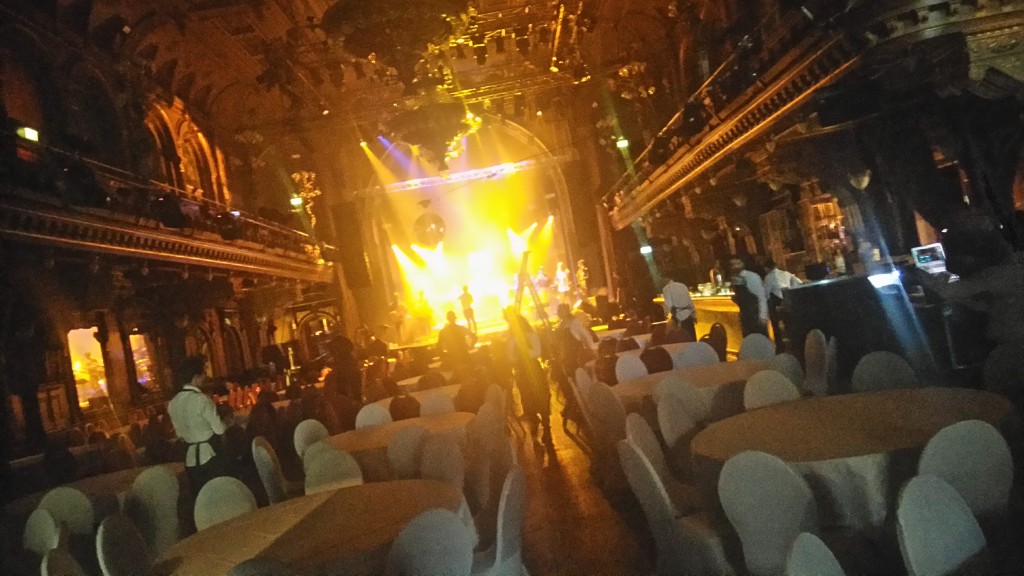 ——————————————————————-
May 9th: So beutiful this time of the year after gig!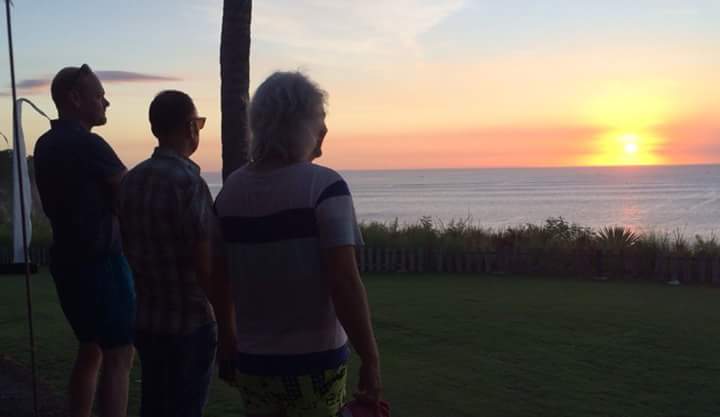 8 Maj! Recording session with horns
Paul Suchanek-Sax
Fredrik Davidsson-Trumpet & Flygelhorn
Christoffer Sjögren-Trombon
Amir Aly-Producer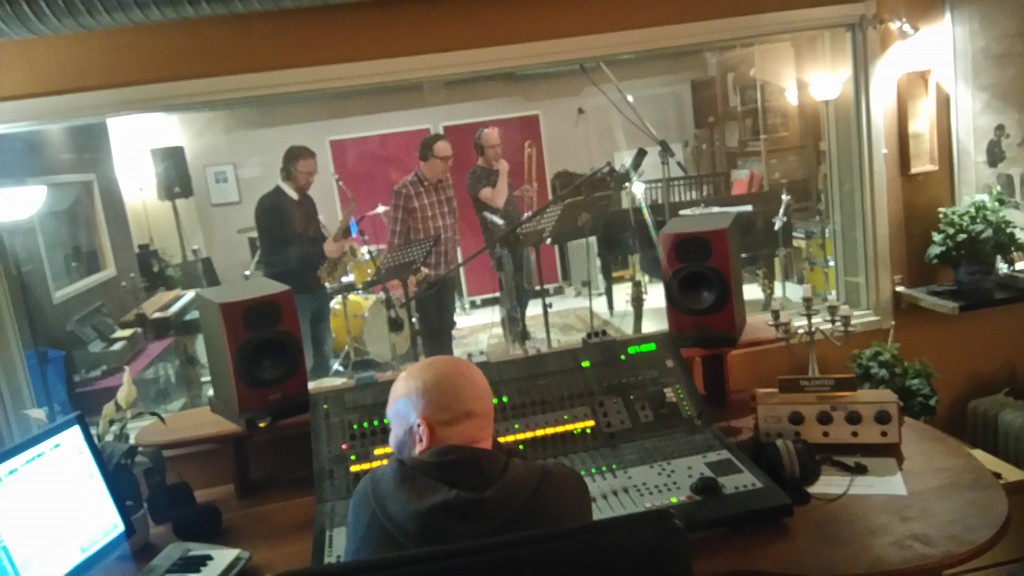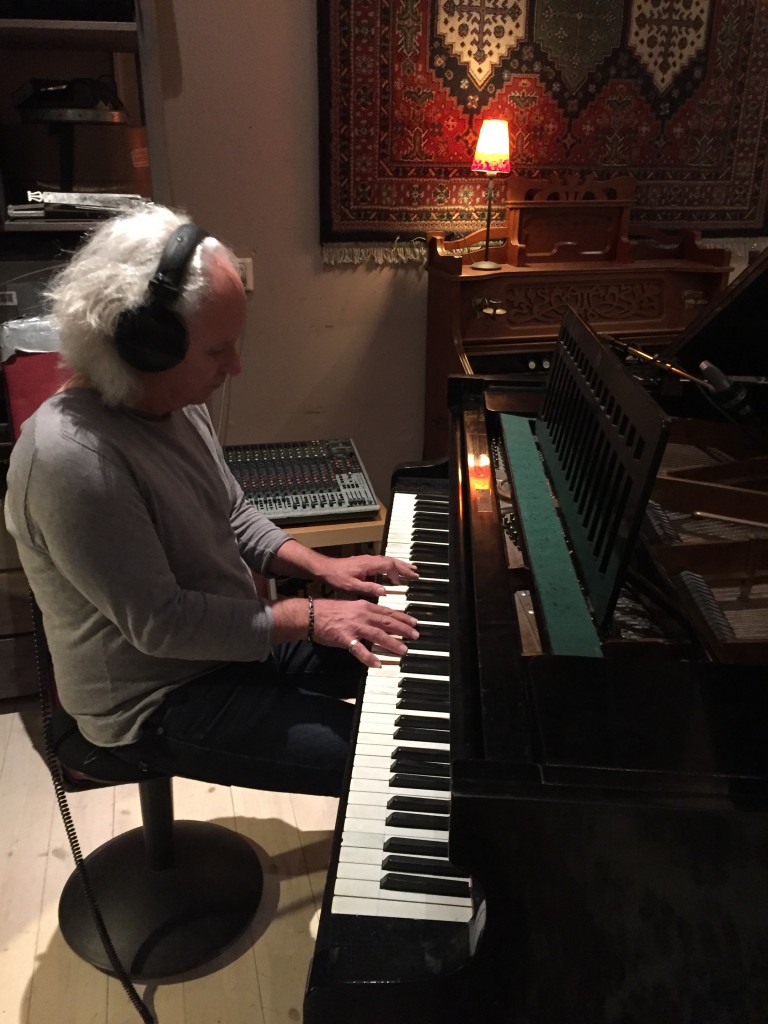 ————————————————-
2017-05-03
2 gig in the Straw City, Halmstad(Swedish joke)….Sveriges Åkeriförbunds 100årsjubileum! What a nite!!!! Before gig!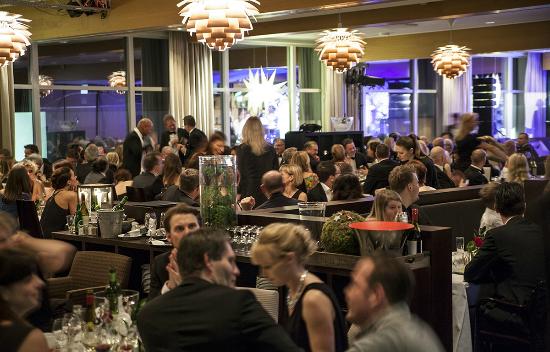 Fiddle on a gig at/in Tylösand!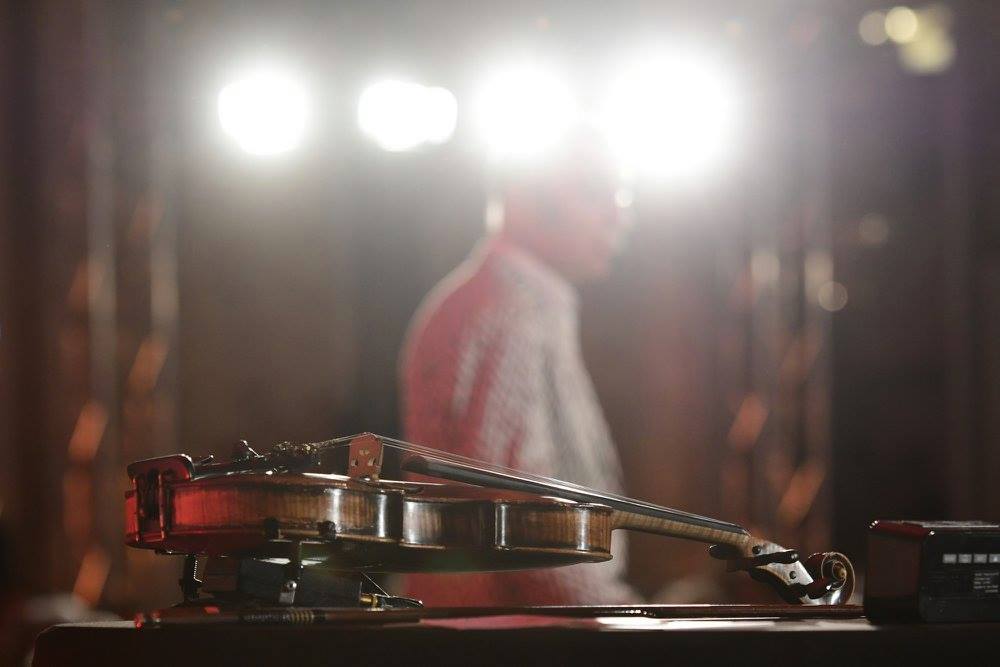 Monday & Show & Halmstad April 24th!!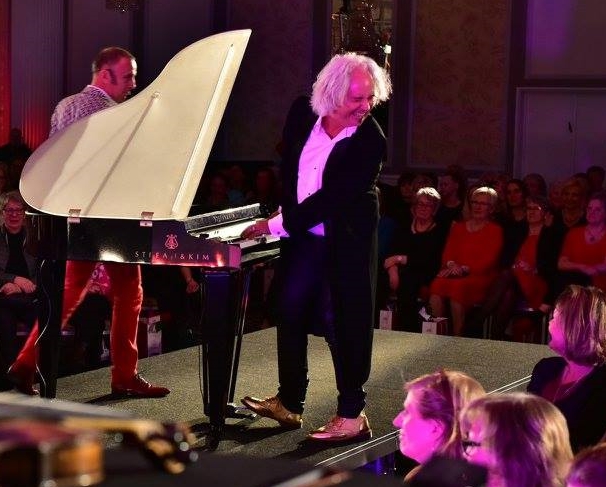 ——————————————————————————————
Another day at work!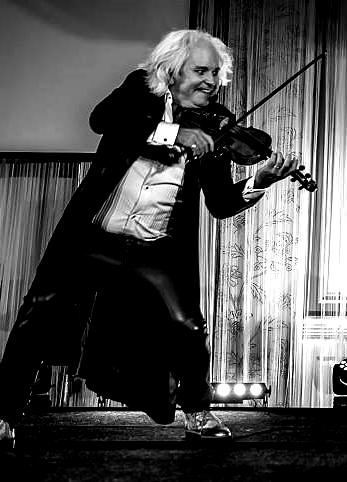 —————————————————————————–
April 18th. Coffee break!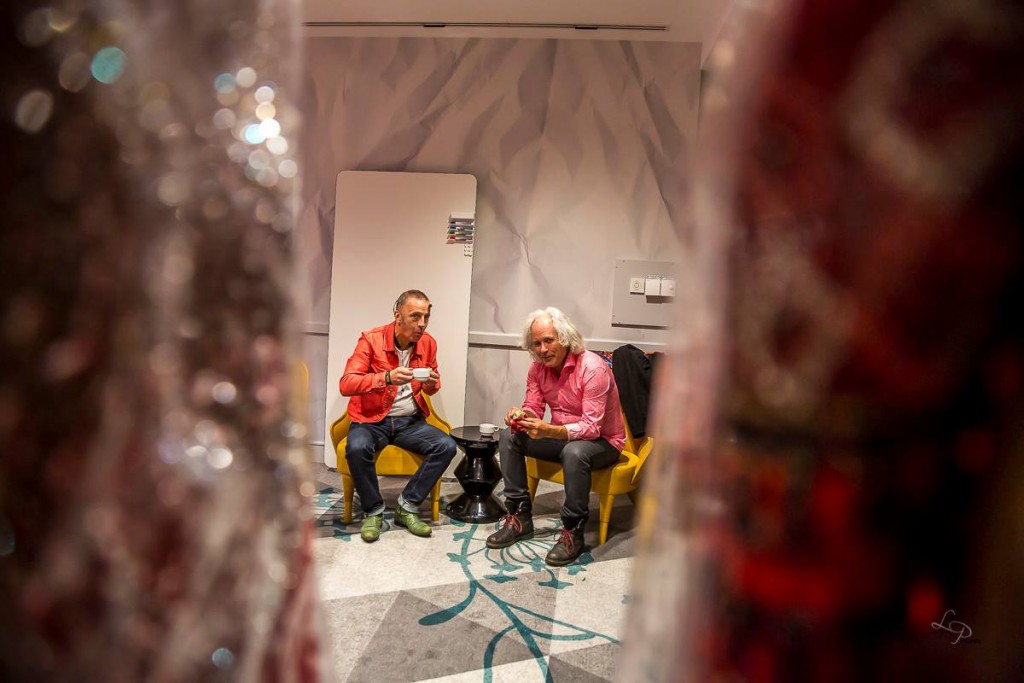 ————————————————————————————————-
April 17th!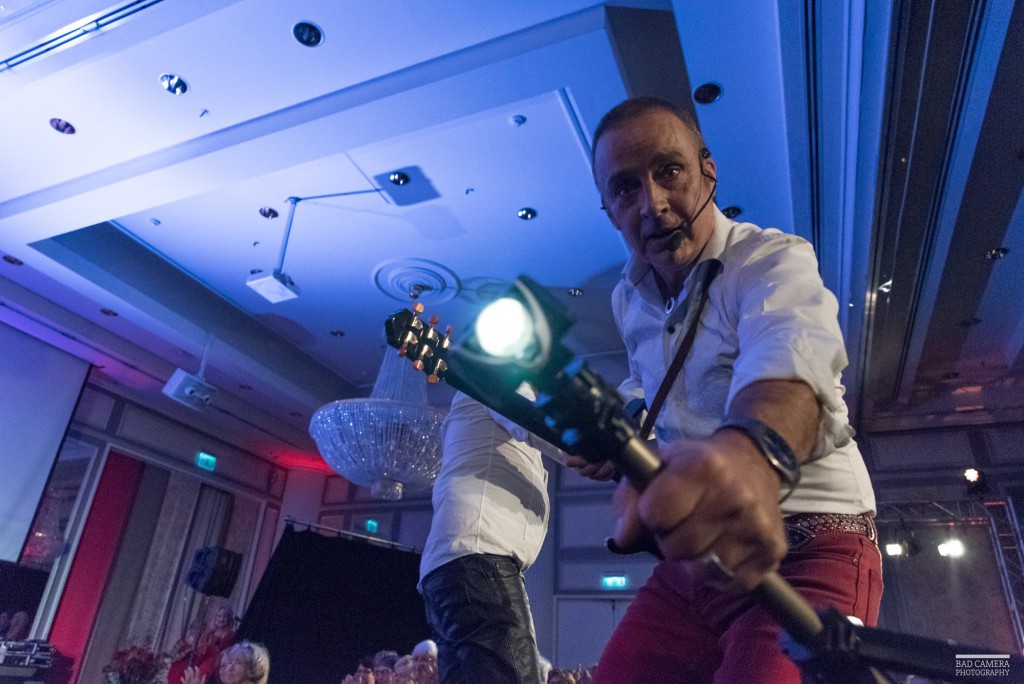 —————————————————————————————————–
April 10th! 1 hour before showtime, Stefan sleeping on a floor in a dressing room.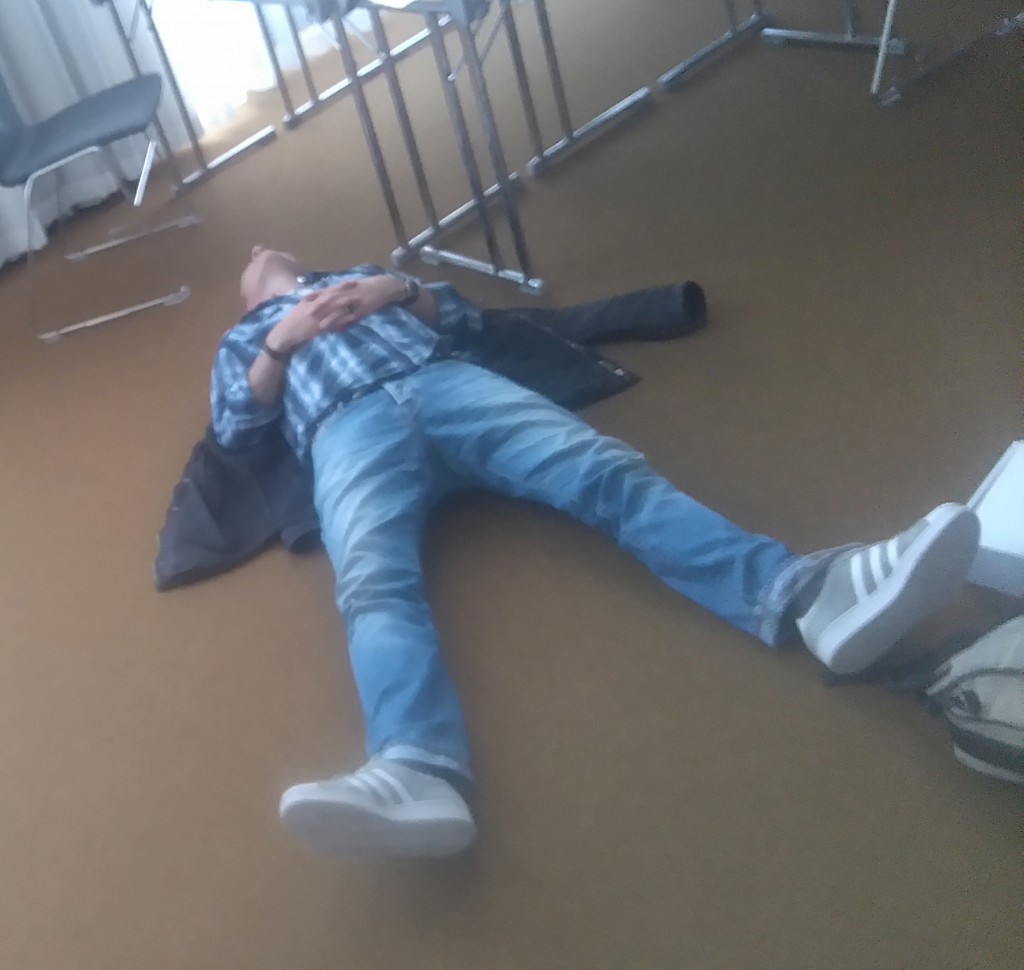 April 6th! new day, new hotel, new event, new audience, new gala tables. Same Stefan & Kim Show! Fun!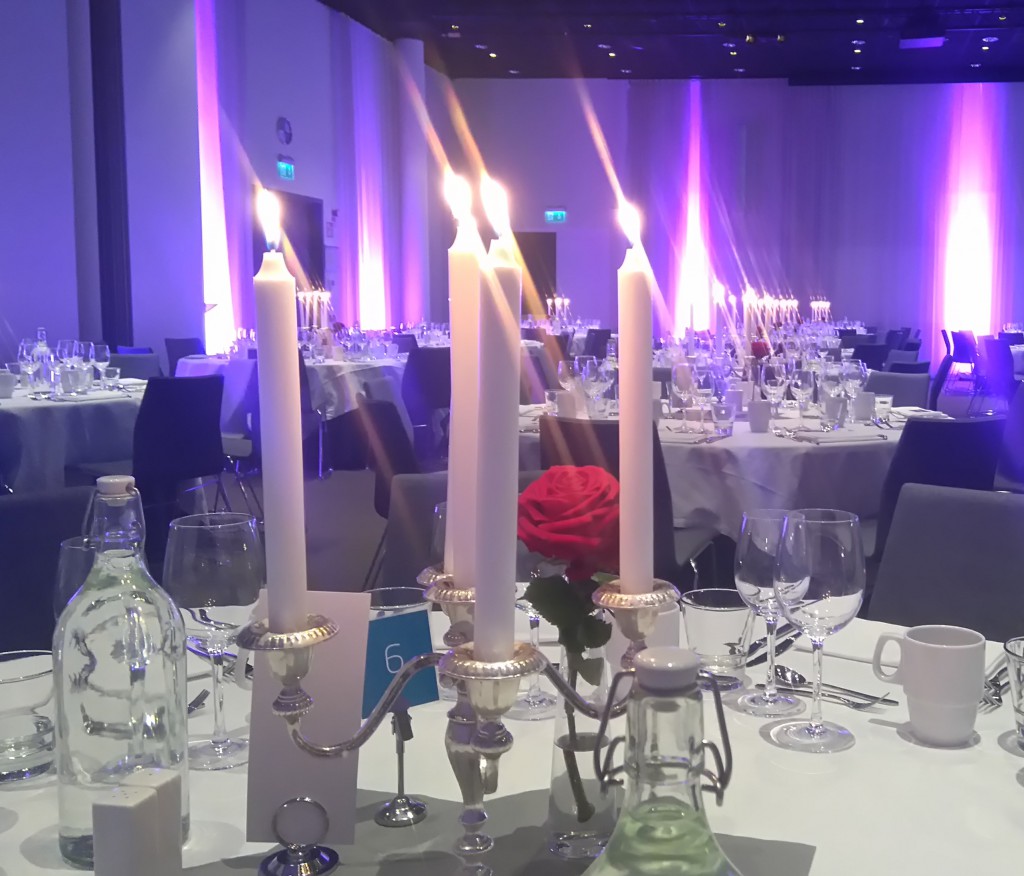 ——————————————————-
5 April in Vetlanda right in the middle of Small-land. International audience out in the Woods.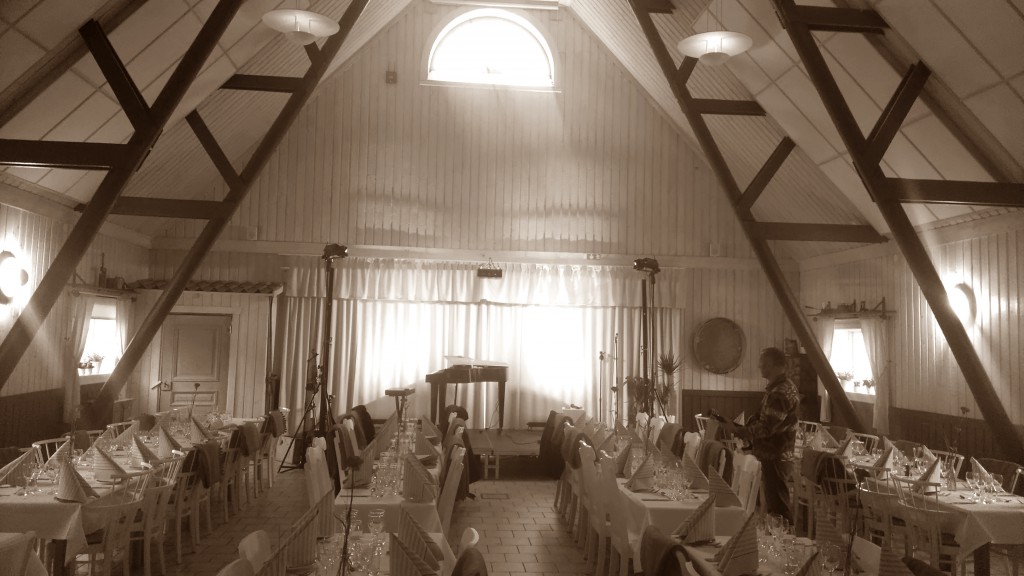 ——————————————————————-
April 3rd! 19 Gala tables with white carpets with a Lovely audience this extra ordinary Monday. Picture was taken before doooooors.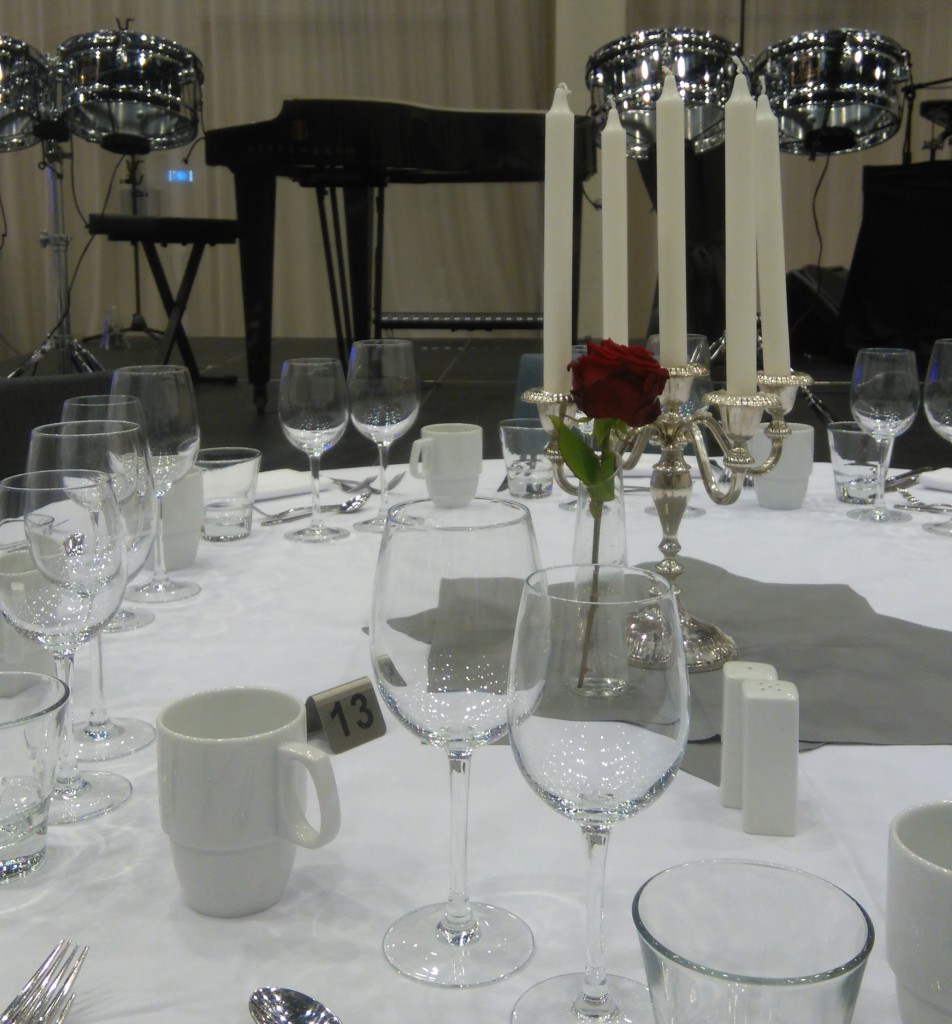 Outside venue after gig!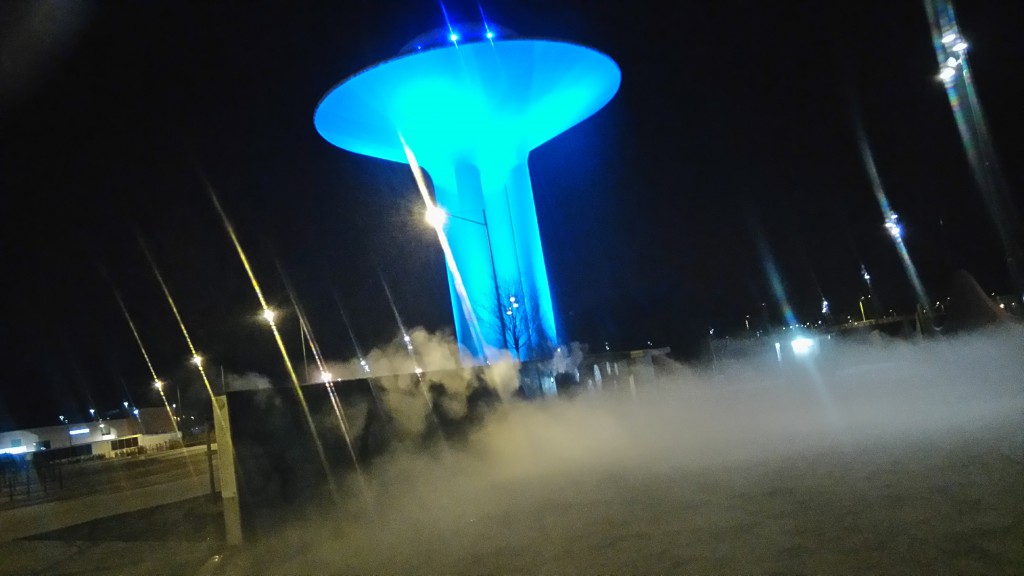 ————————————————————————————-
The 28th of March! Båstad The Riviera Hotel. Event! Soundcheck!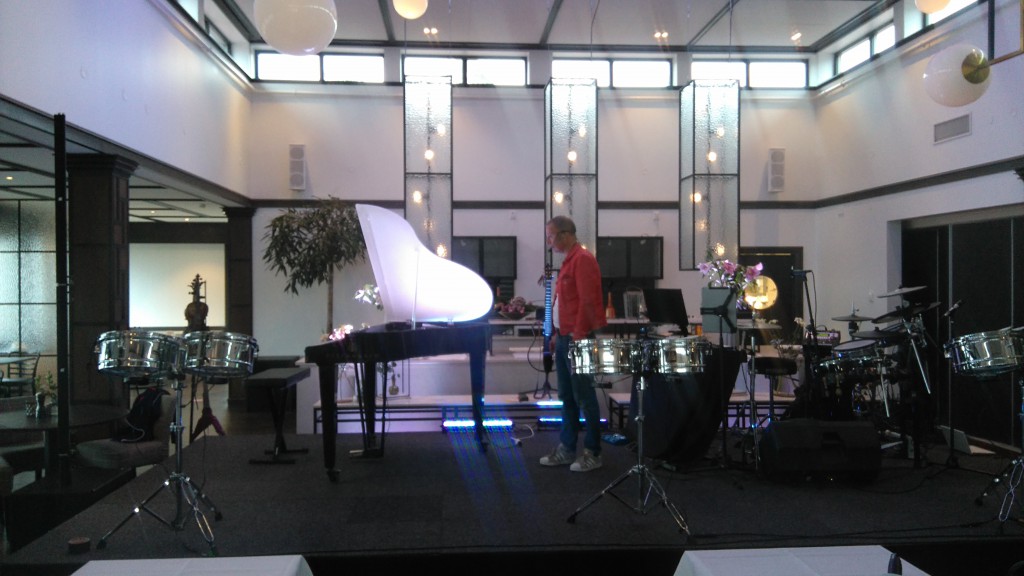 ———————————————————————————–
March 25th! Soldout Palladium Malmö!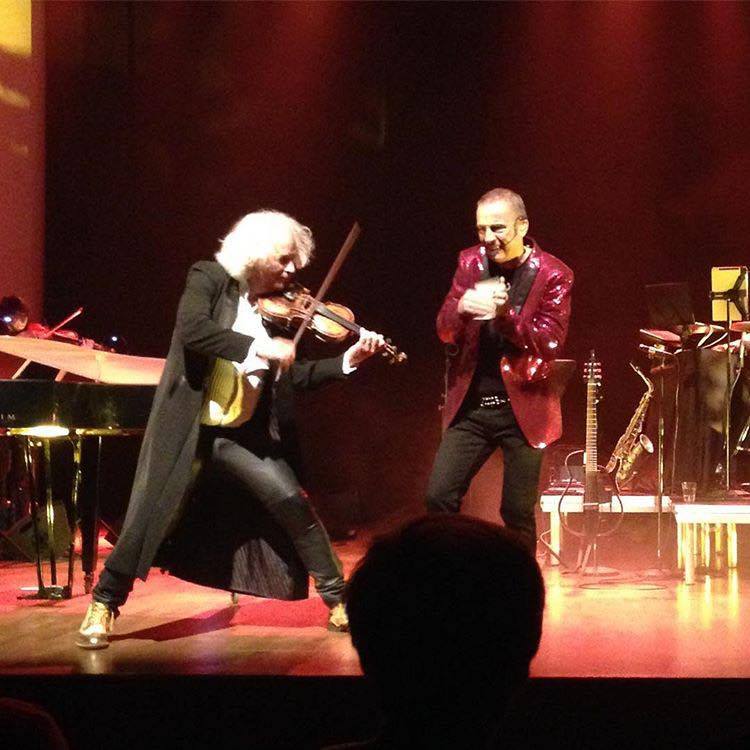 ————————————————————————————————-
Chairs & Catwalk an our Before doors! The Hilton!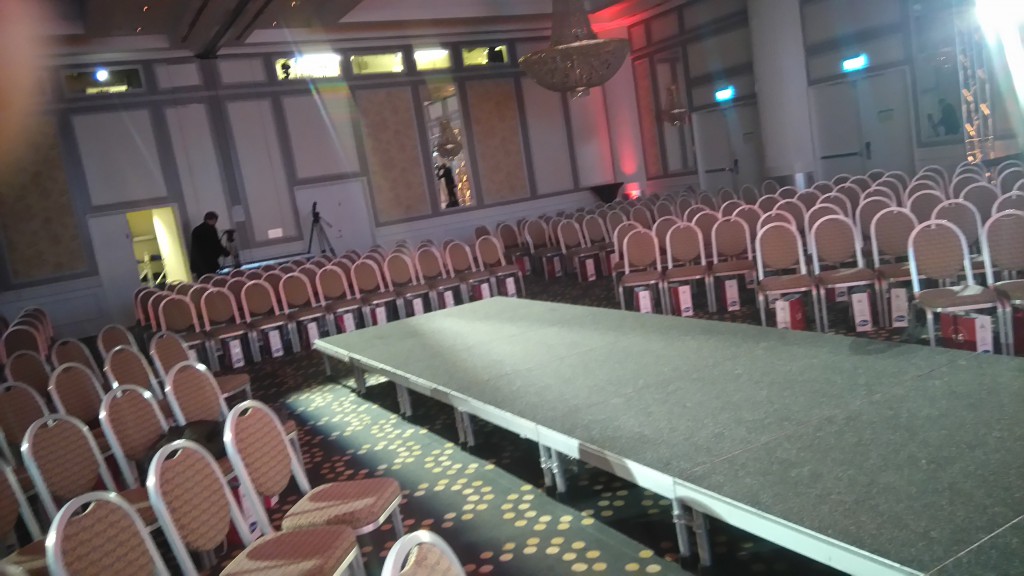 March the 3rd!
International show for Ballingslöv at Quality Hotel View

—————————————————–
Wednesday Afternoon 14.34 at Ystad Theater
———————————————————–
Wednesday Morning 09.27 at Ystad Theater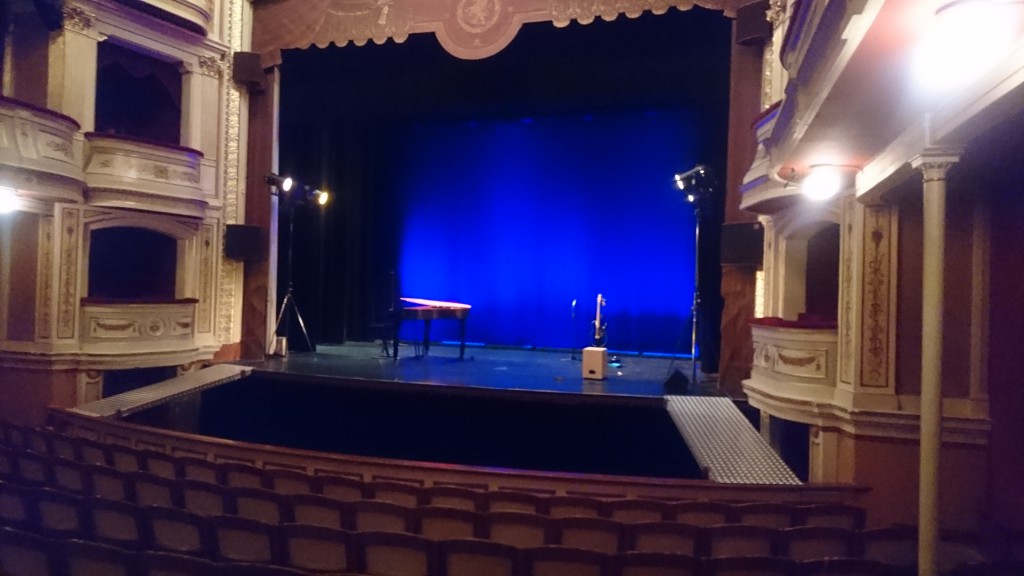 ———————————————————————
Tuesday in Trelleborg. 5 minutes after show!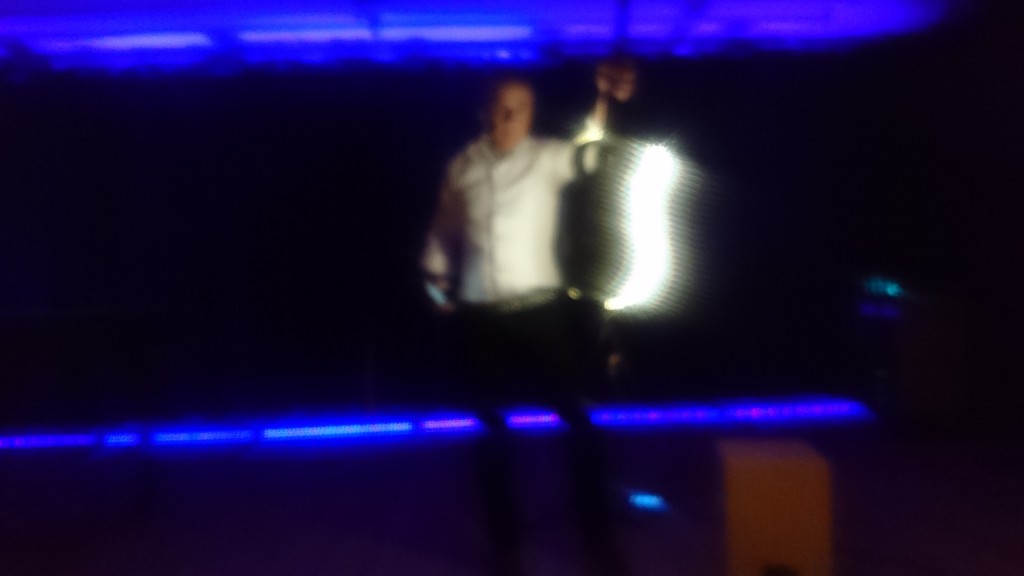 —————————————————————
Lomma(Swe) on Monday. 5 minutes to show!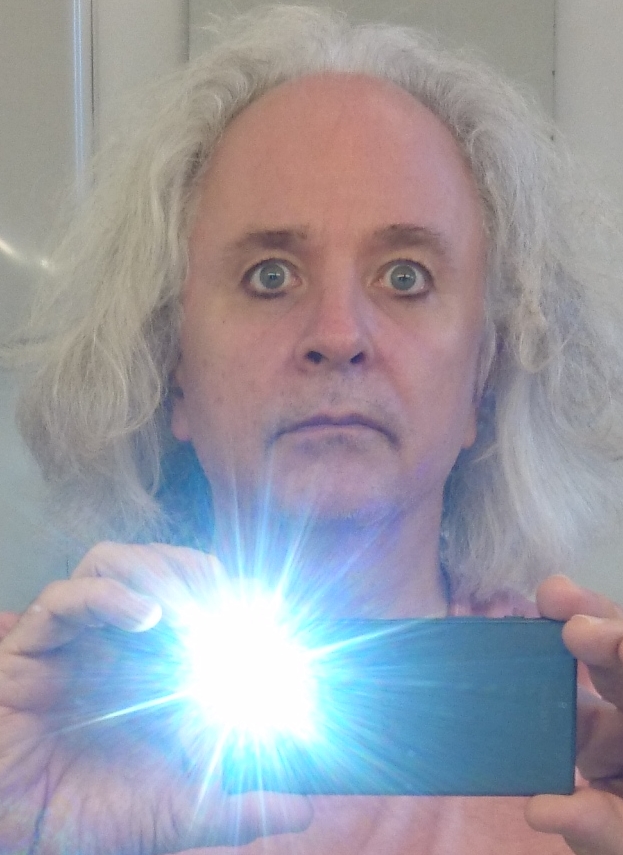 —————————————————————————
We love to get flowers after gig!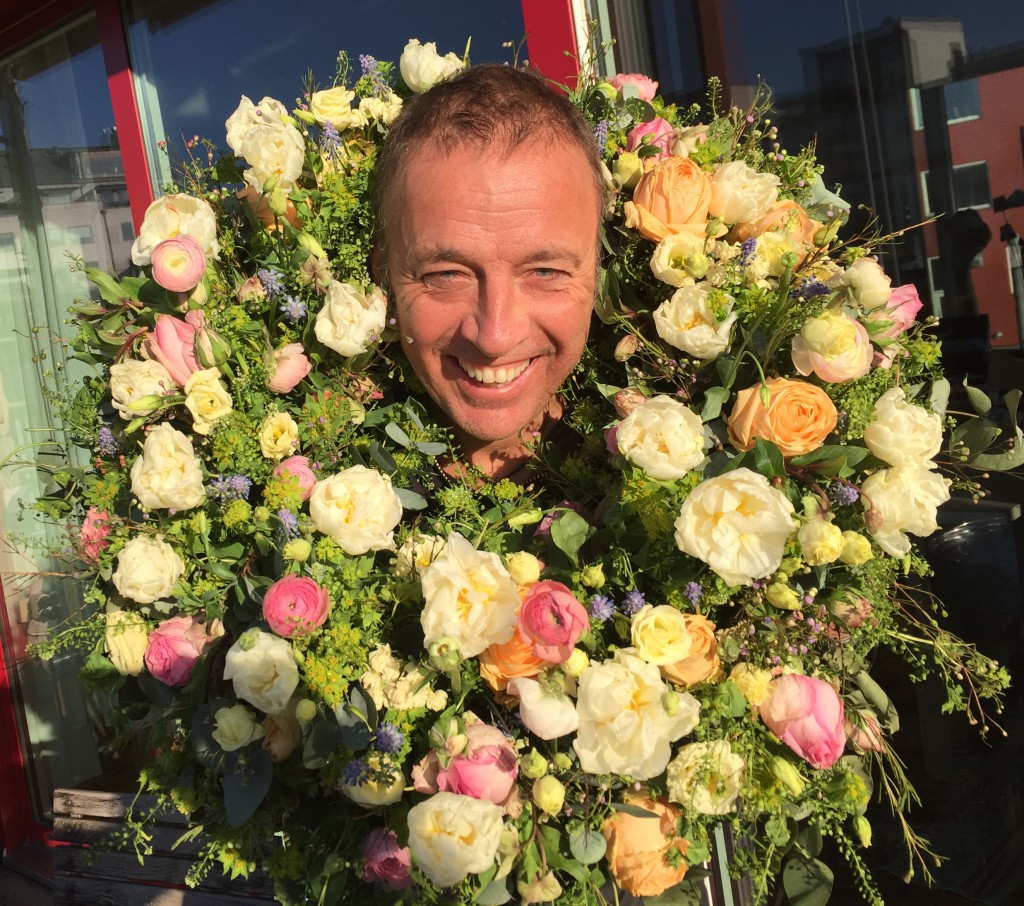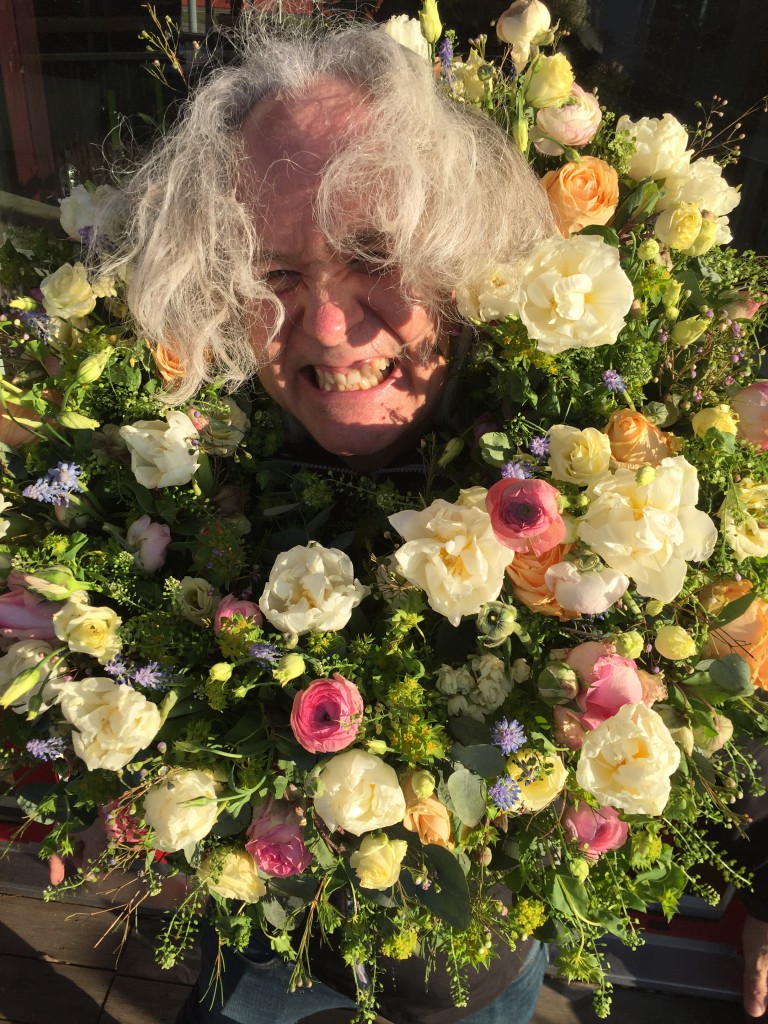 Back in Finland! Soundcheck and then Big event for 350 guests at a venue outside Helsinki!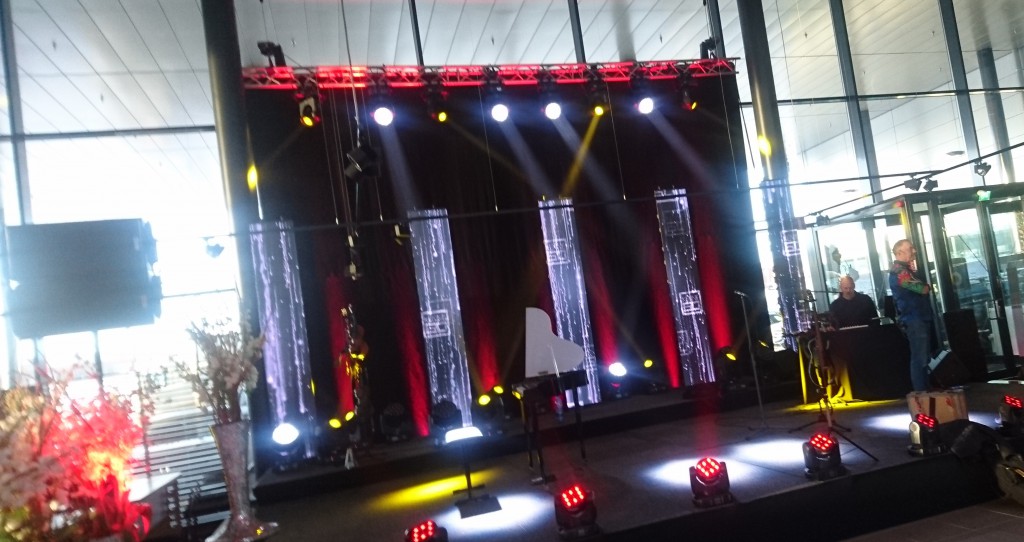 ———————————————————————-
Evening before gig!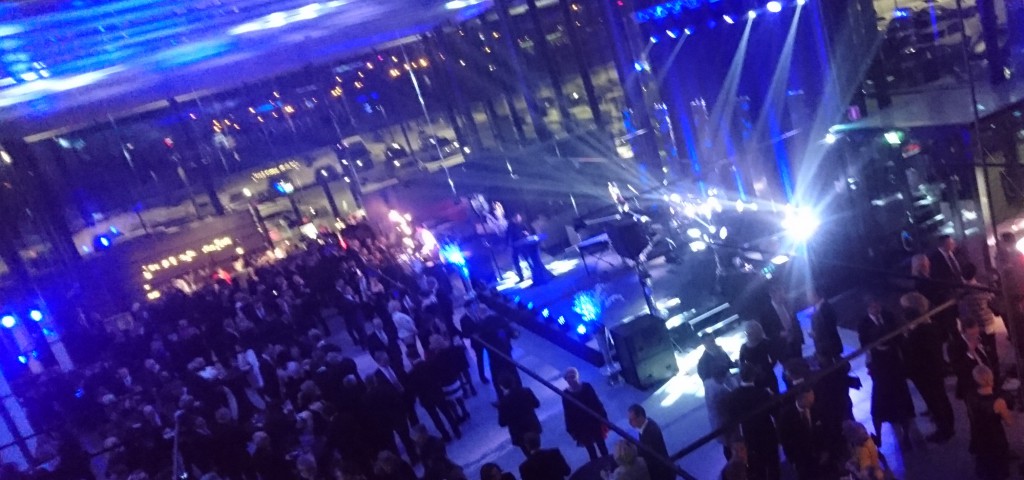 ———————————————————————————–
Summer party/event in Copenhagen in January! A lot of great danish artists and 2 artists from Sweden(S&K)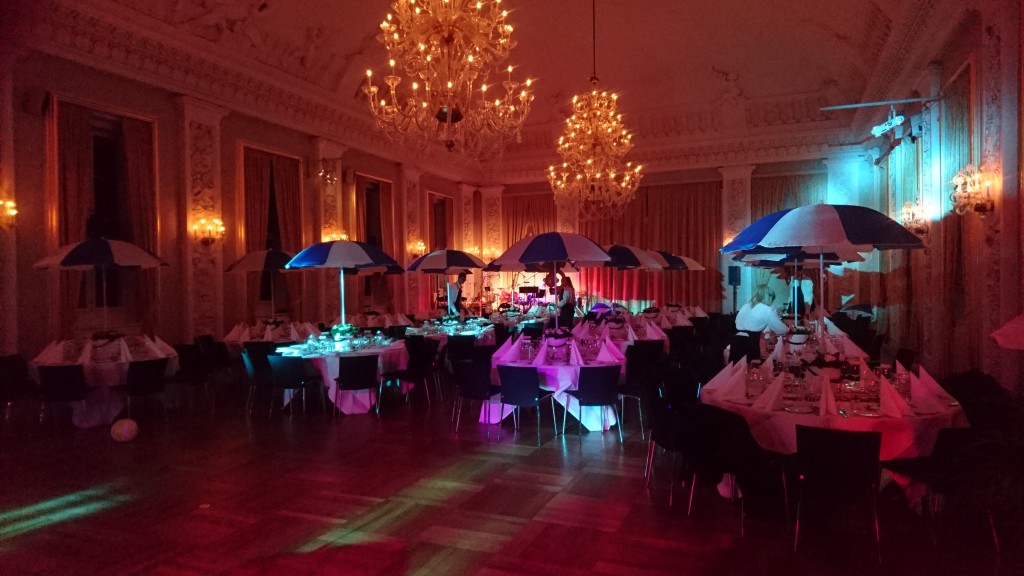 ———————————————————————
What a Lovely week that ended up at Quality Hotel View in Malmoe, Sweden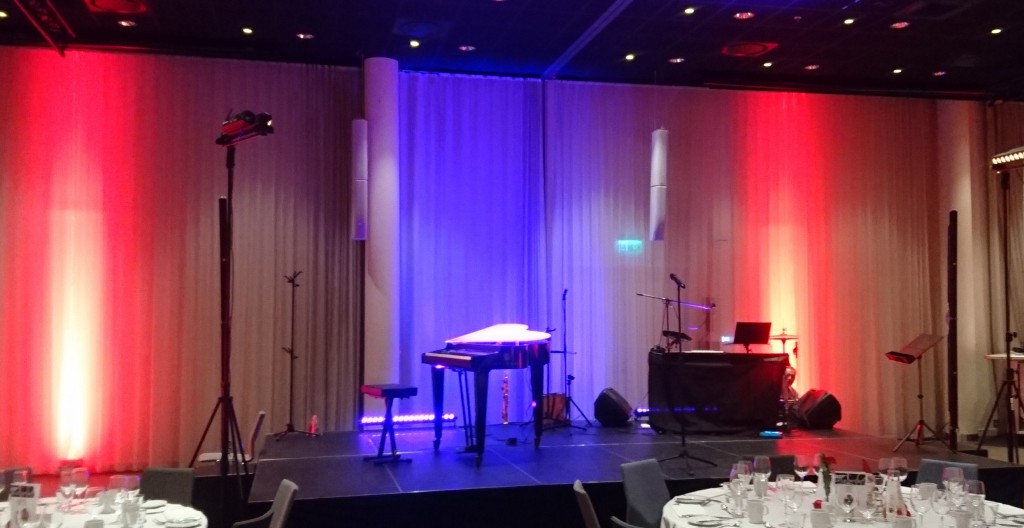 ————————————————————-
2016!
Show in a tent, The 1st of Dec, right in the middle of Wintertime!!!!!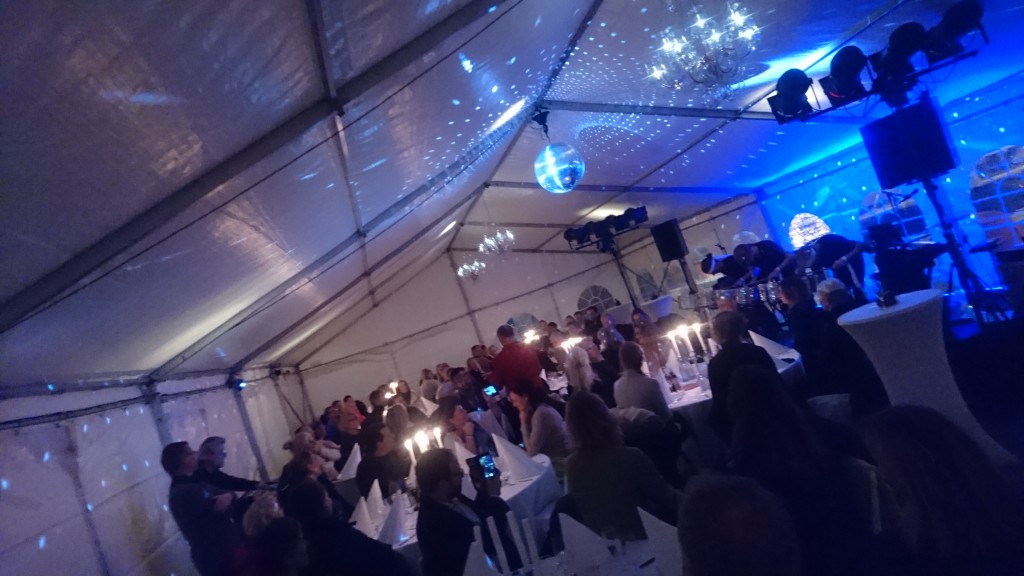 —————————————————————————
Friday!!! Soundcheck at Helsingborg Arena!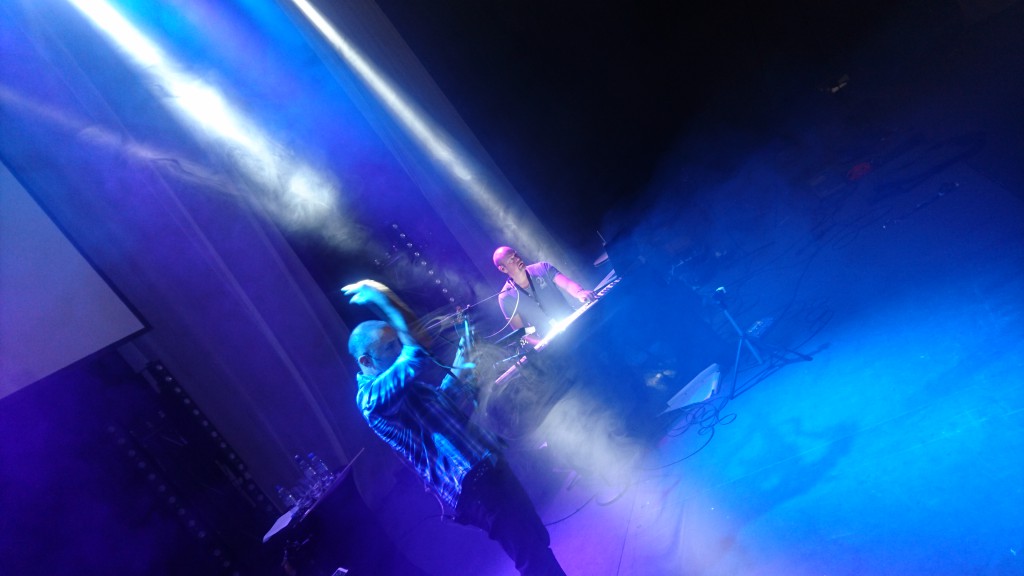 ————————————————————————
And it became Friday in Helsinki & it was fantastic! Big birthday party for Sito, 40 years in business! Nice Picture from soundcheck.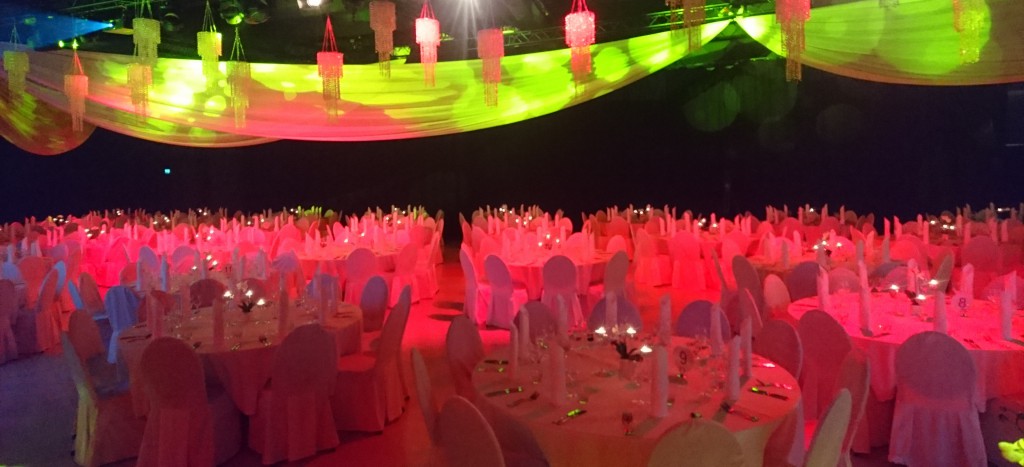 ————————————————————————–
We love Monday`s on stage!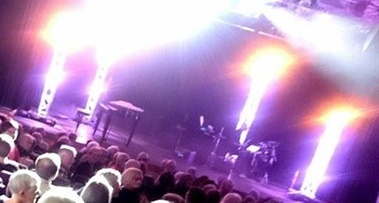 ————————————————————————
Bad Picture, Beutiful Grand Piano, Before goood gig in Trelleborg, October 21st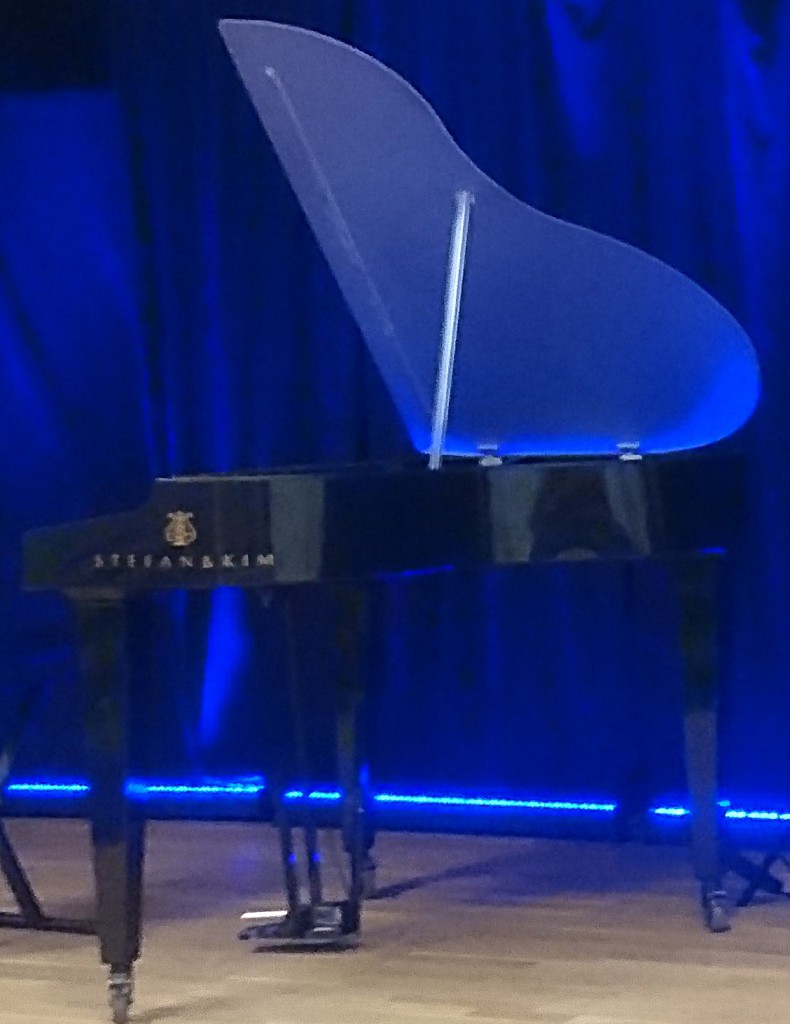 ——————————————————————————
Oct 17th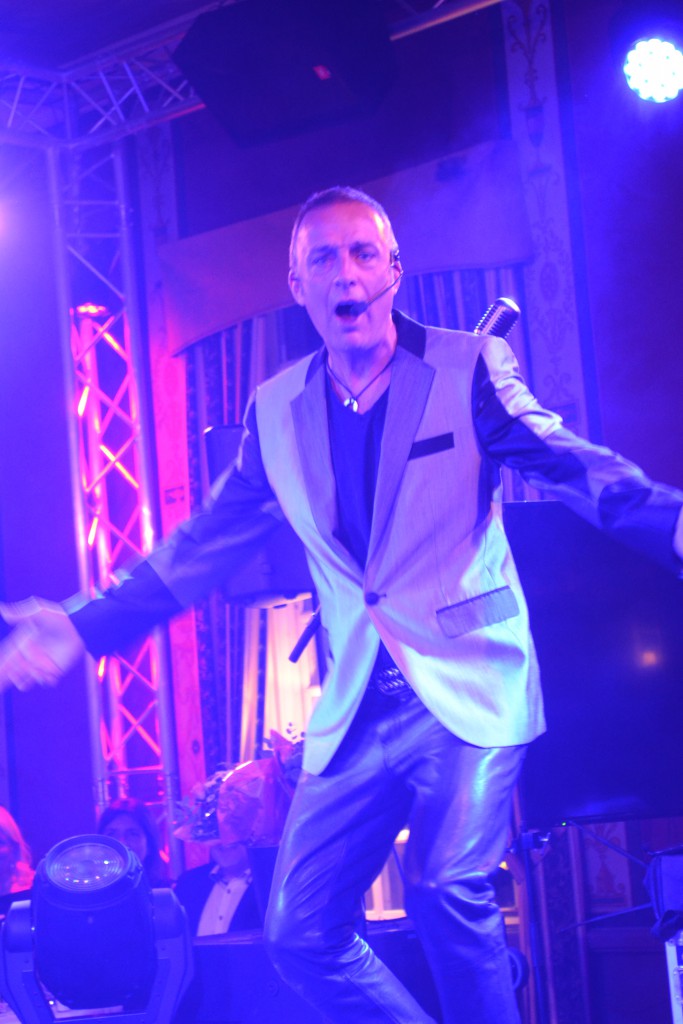 ———————————————————————–
Oct 11th in Båstad on Skansen Hotel! Internationell event, fun-fun!!!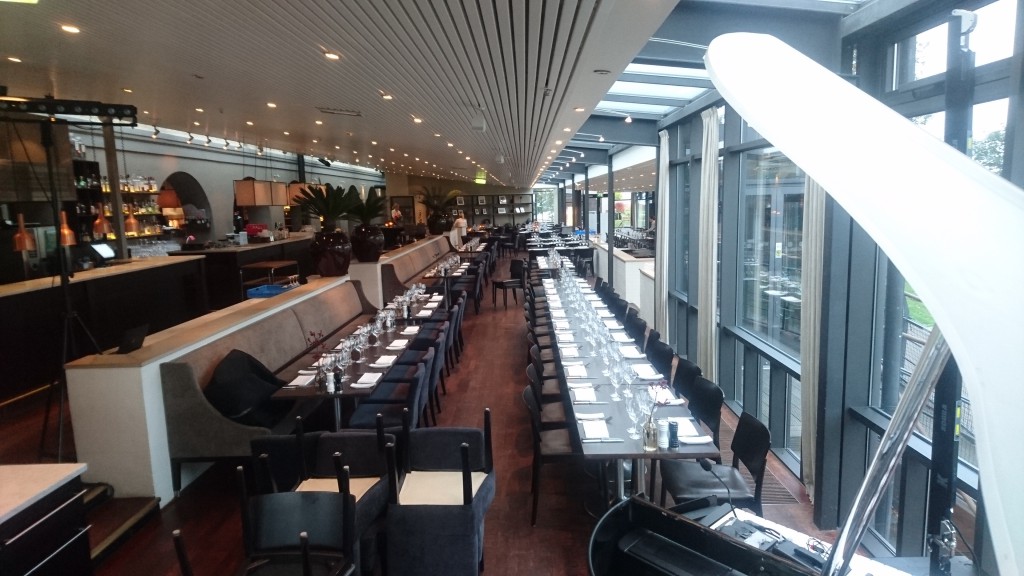 ——————————————————————-
6th of October
And then 300km south again to Malmö after 3 shows to the 20 years Jubilee of Midroc, a well arranged event with 400 people in the audience. Wonderful picture of S&K and the Baltoskandia Quartet that we used for this show + Mr Frisk of course and Mr Suchanek.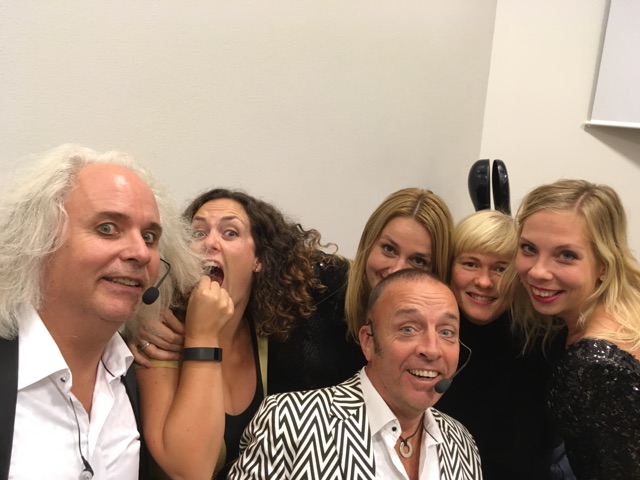 —————————————————————————
300 km in the car after Concert in Landskrona & then soundcheck at 9.30 in Åseda, Sweden.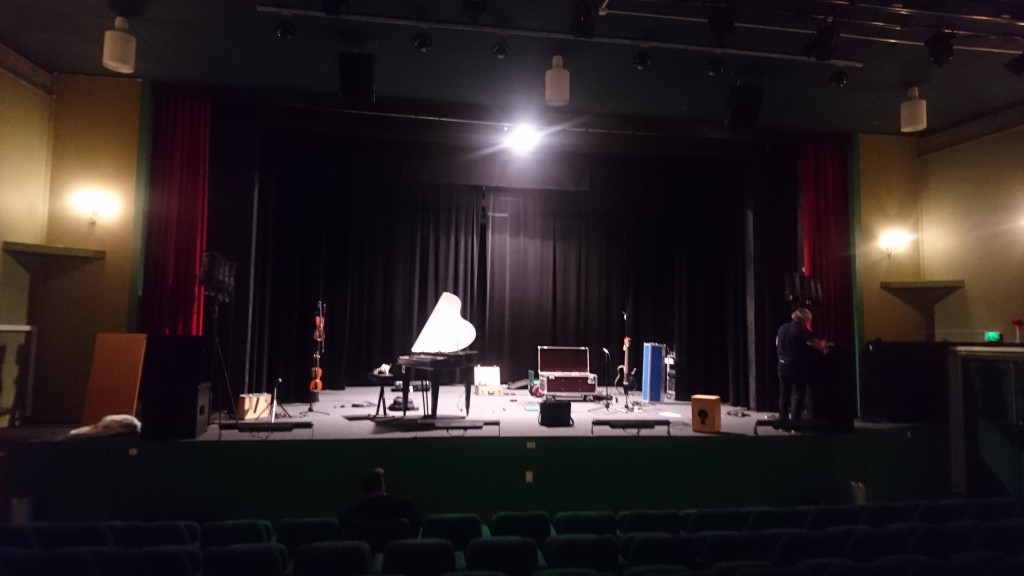 —————————————————————————
———————————————————————-
Another day at work! Landskrona Theater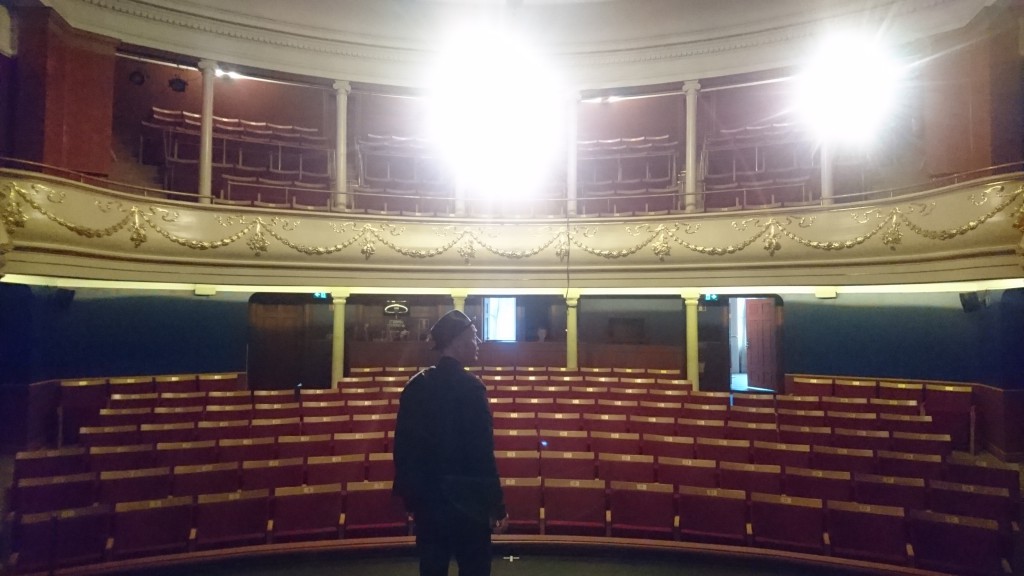 ————————————————————
Look, how beutiful it can be at The Malmömässan! Event for Sydvatten, a Swedish cooperation that were celebrating 50 year. They invited 400 people + S&K. And we added the finest String Quartet that we could come up with, the Baltoskandia Quartet. And then we added the best DJ for this kind of event, LINSAN! What a nite!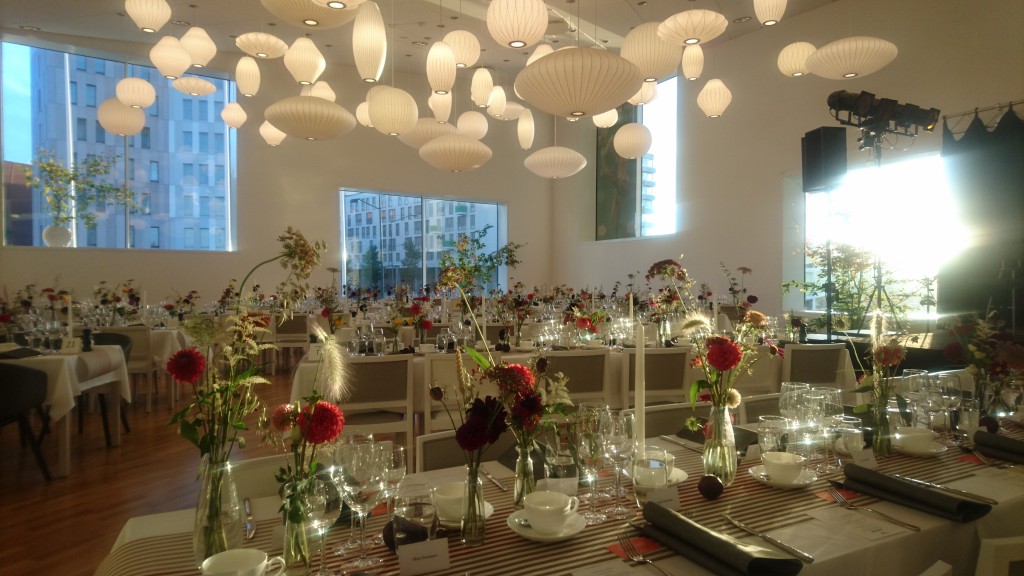 ——————————————————————
Österöö Fårfarm, The 29th of September! Absolutely highest level of one of the biggest company in Sweden. Right out in the forest! Contrast, the swedish event planner hired us. PM-restaurant from Växjö did a incredible 8 course dinner. Stefan & Kim & Ulrika Skoglund performed a wholenight entertainment show, filled with swedish music tradition, from the old time to the new. The audience was internatonal, of course! I´m proud of the result! Picture from soundcheck…..check the roof!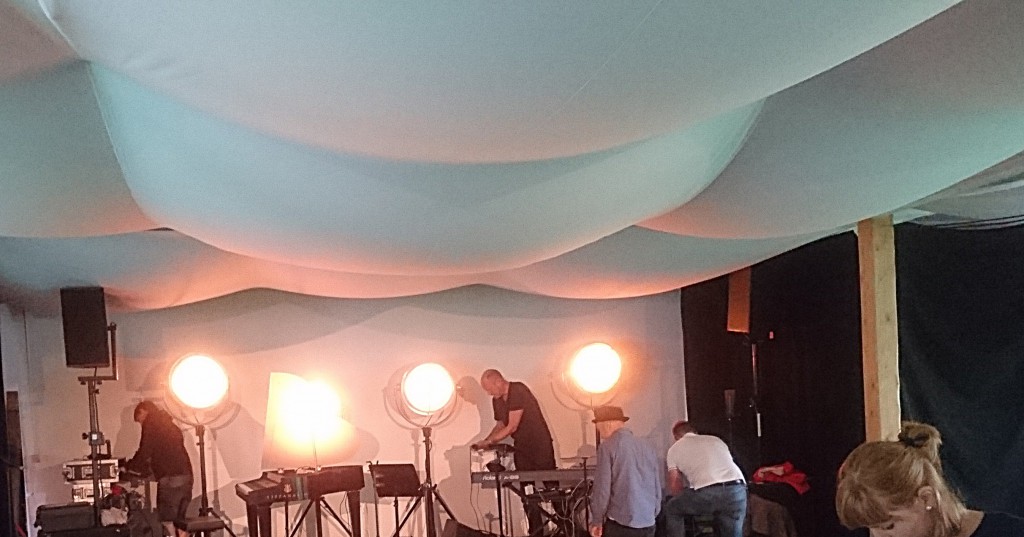 ————————————————————–
Hofdala Slott September 27th ! Event for Hilding Anders beds! International crowd!
This it how it all began, a lonely violin player, on a wooden bench, and it ended up with a big show!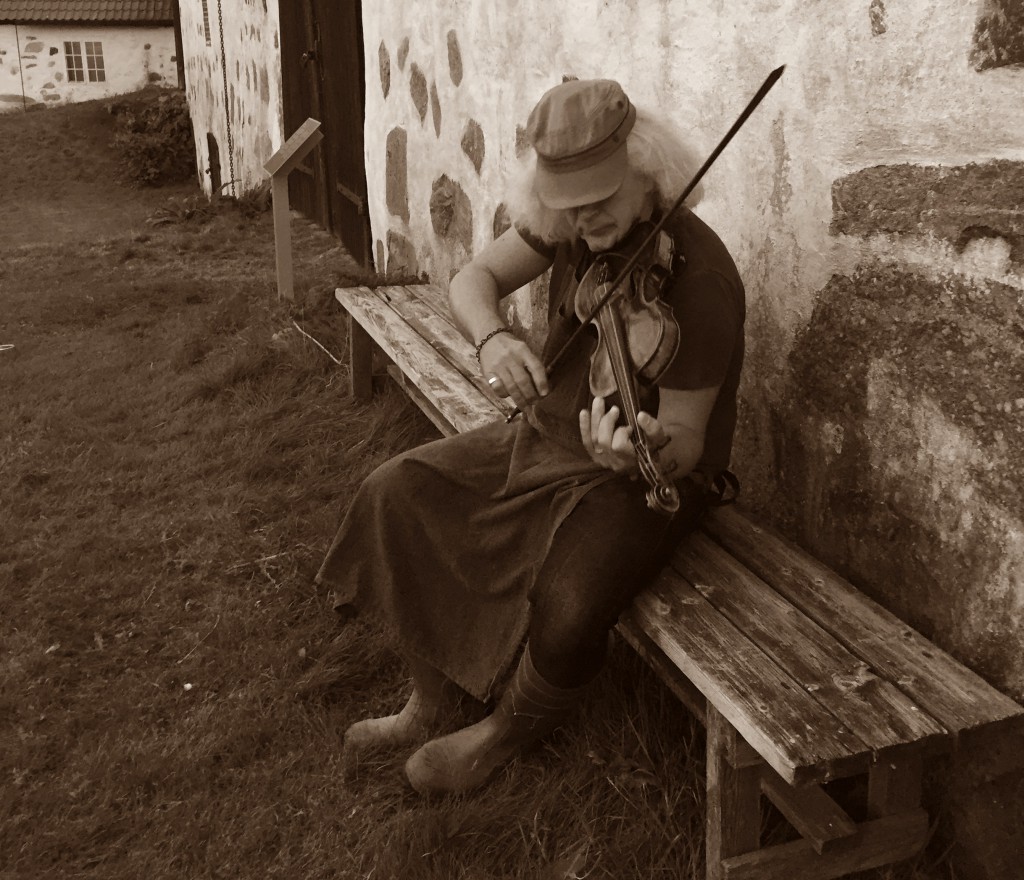 Then all the guests came in to this wonderful rustic venue! Picture from soundcheck!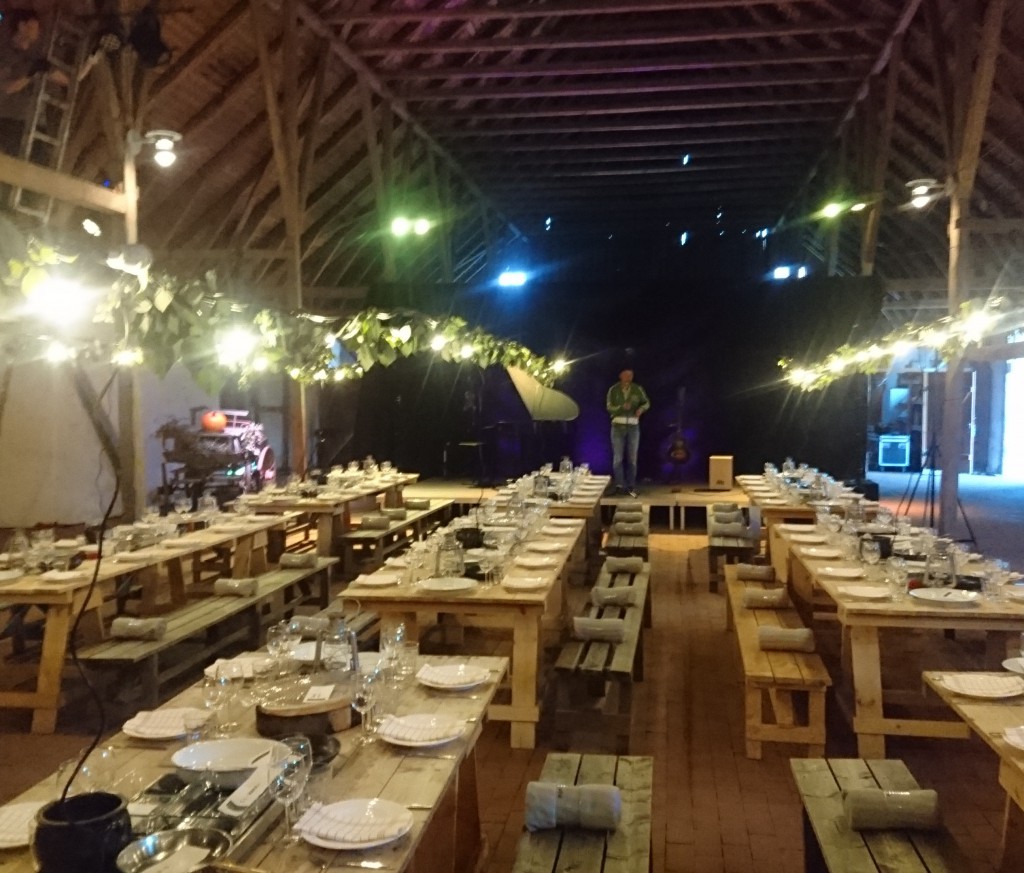 ———————————————————————————–
Lovely sky after gig on Quality Hotel Wiev!
The 24th of Sep. What a view after gig on Quality Hotell View!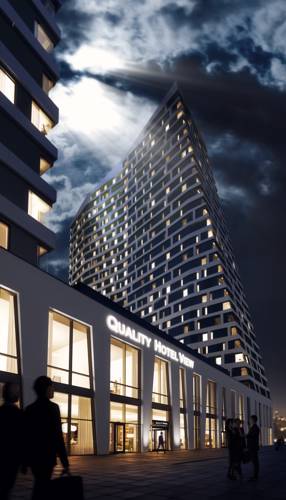 September 23rd. Malmö Live tonight! 1300 in the audience got a marvelous show!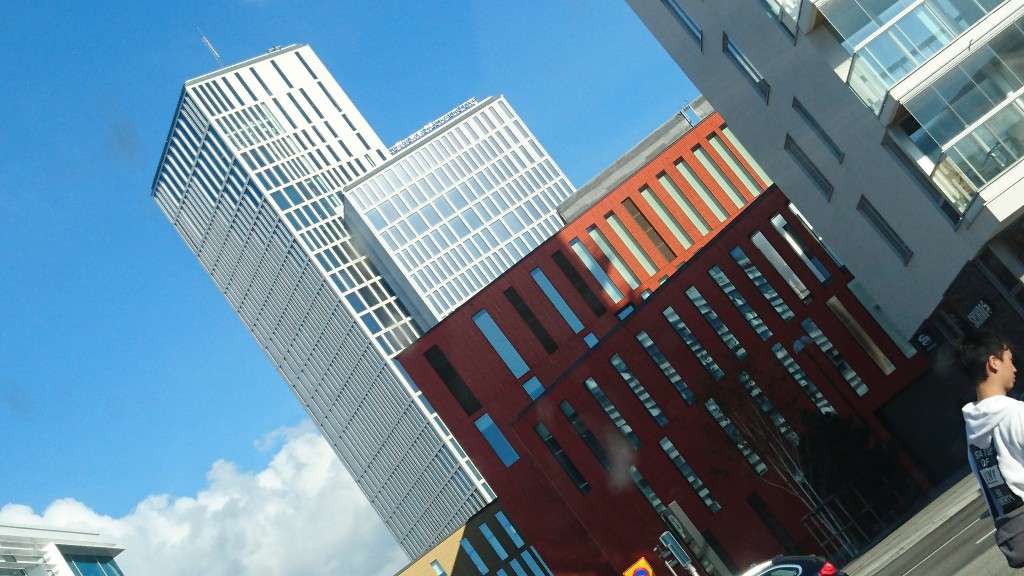 17th of Sep What a lovely place, right in the woods, "Holken" in Yxnanäs! Stefan & Kim Show tonite!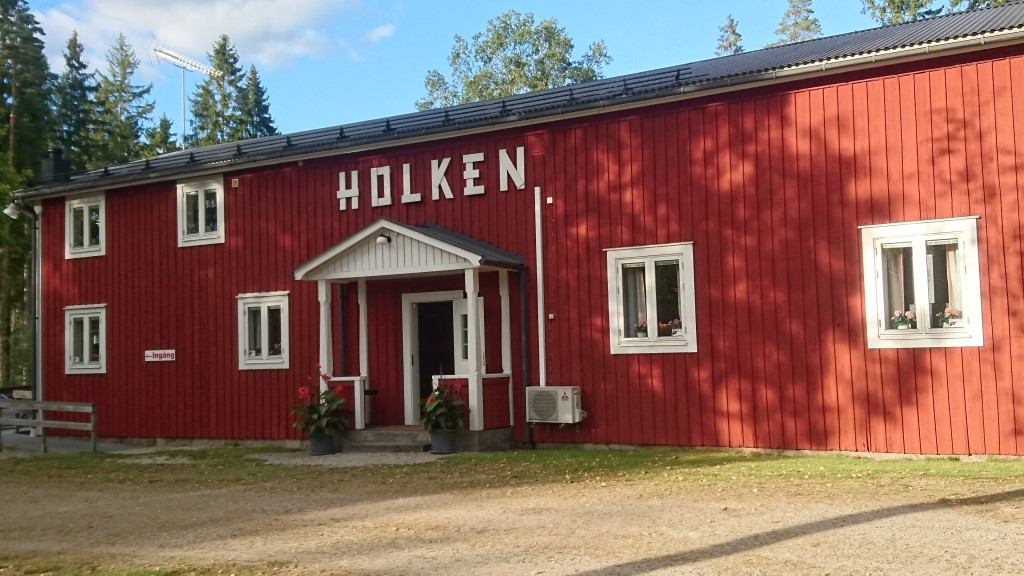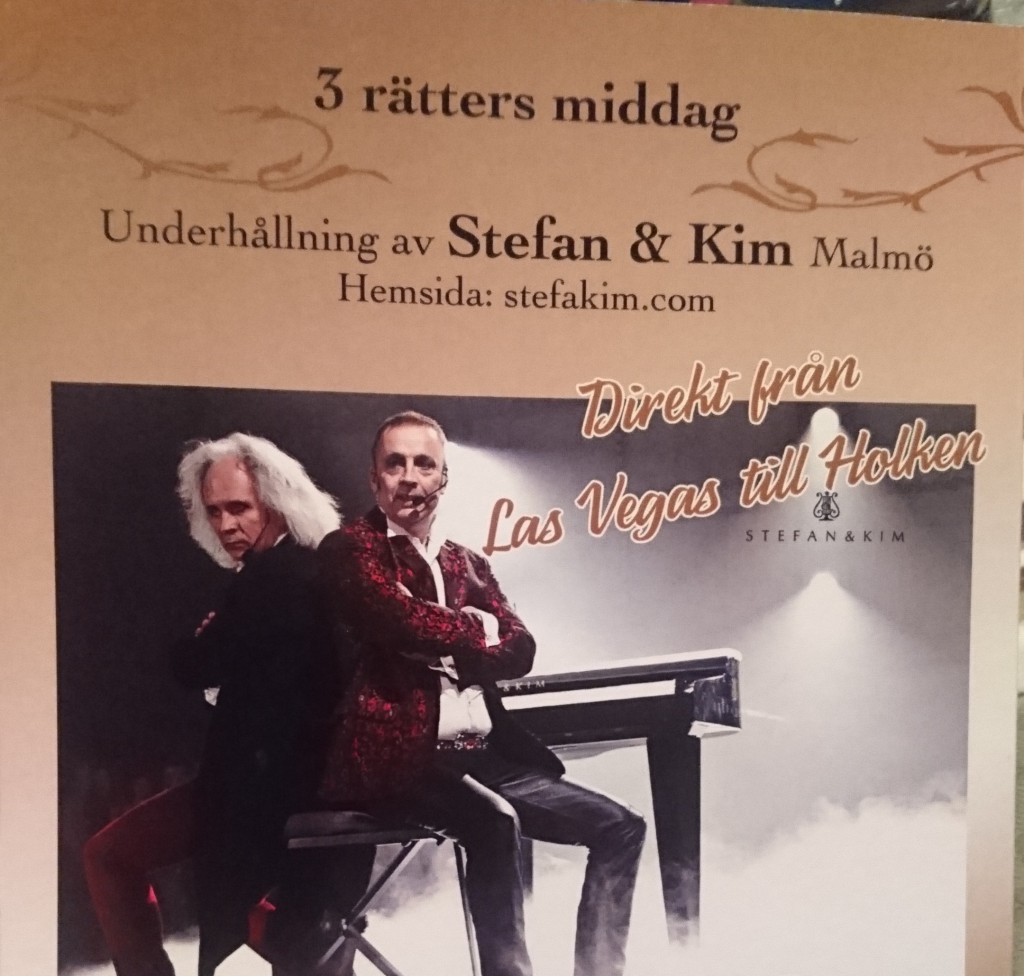 16th of Sep Show on Glasklart in Malmö again!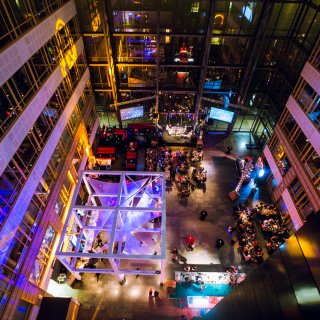 15th of Sep Just before Show in Nyborg(DK)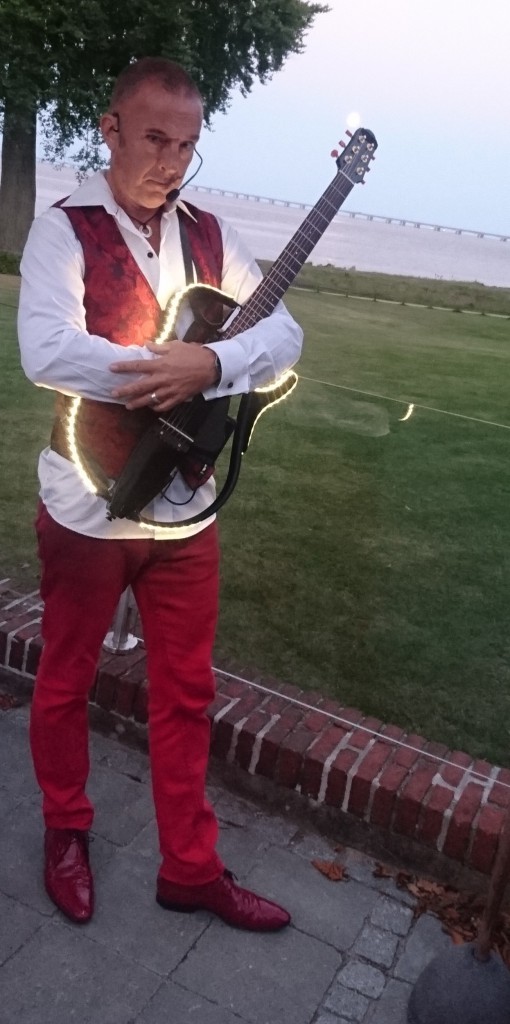 Showtime!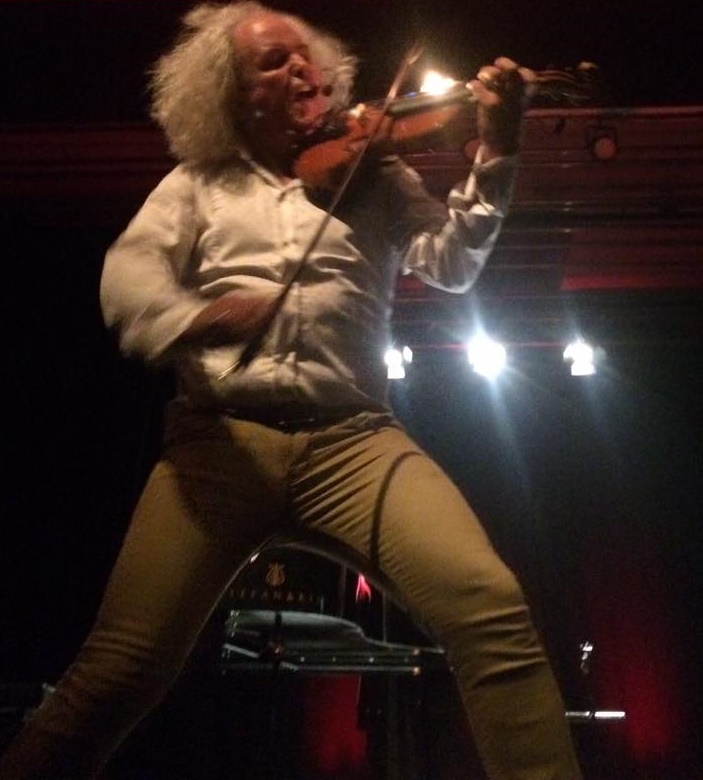 14th of Sep Tour final in Nässjö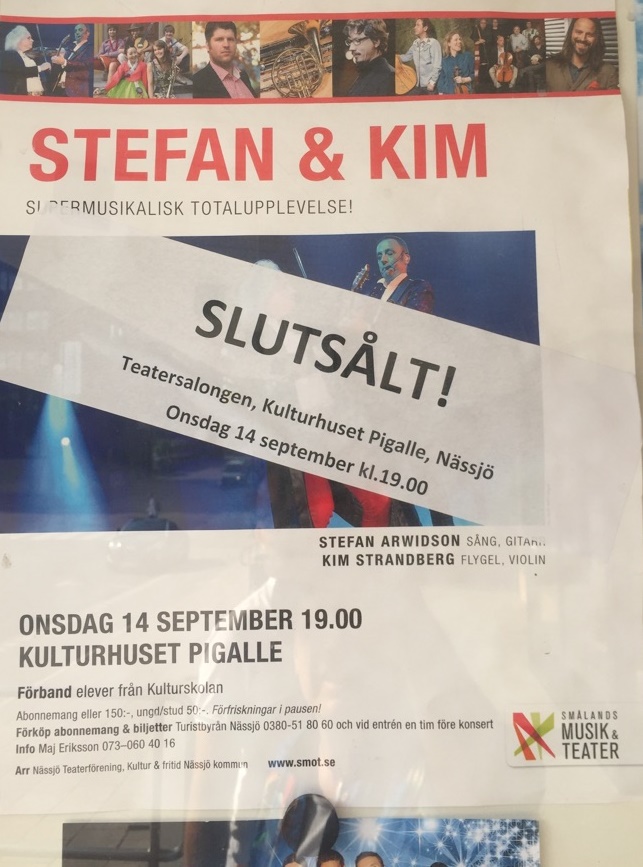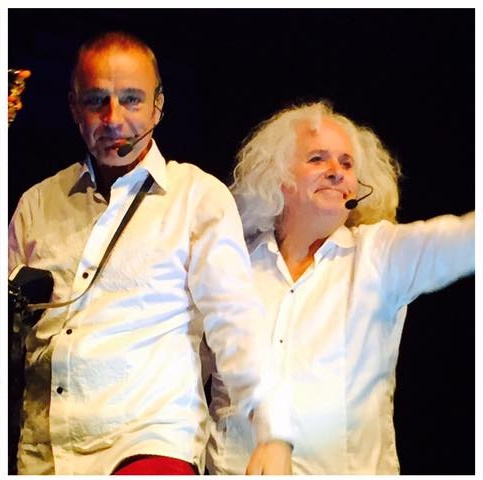 The 13th of Sep Fully crowded in Eksjö! In a few hours…..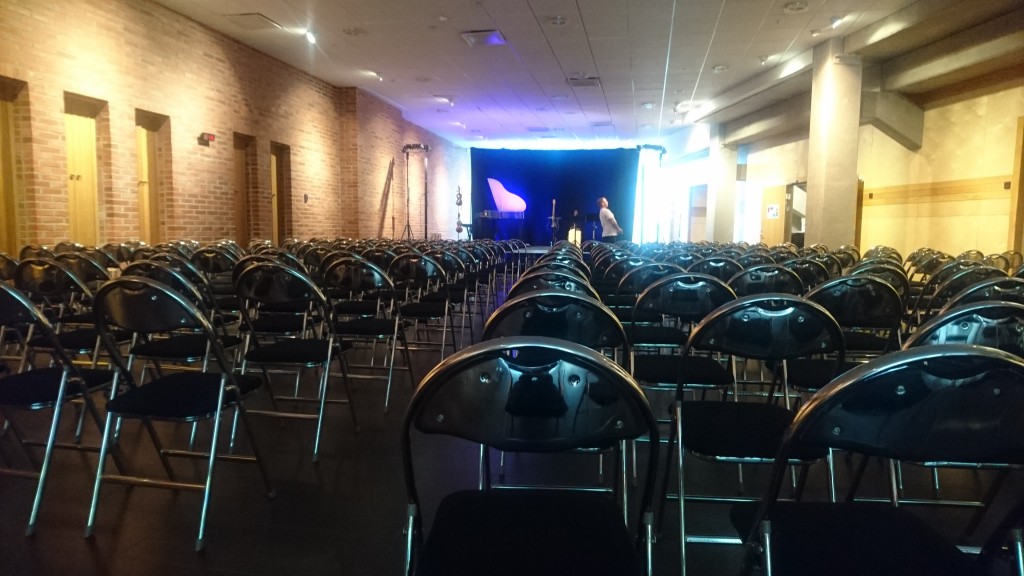 The 12th of Sep A magic night in Vetlanda!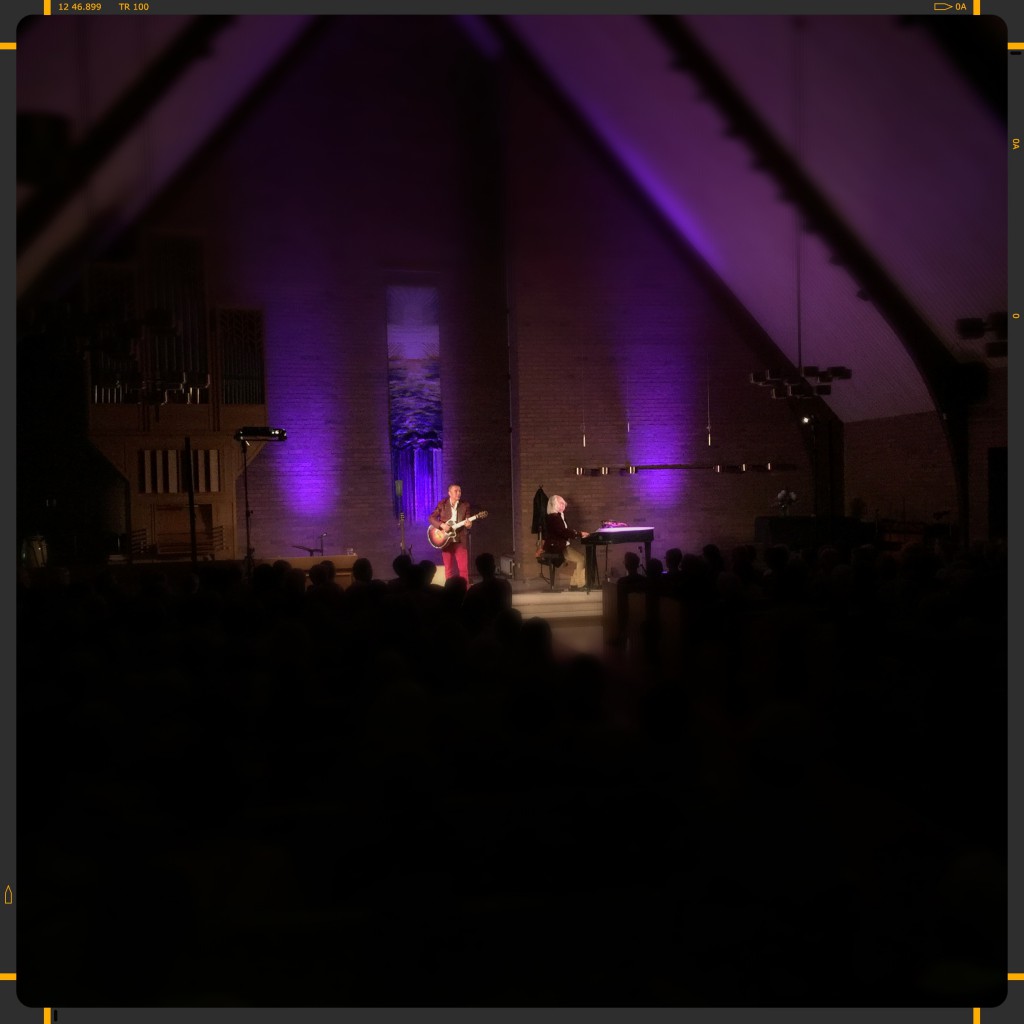 Radiointerview Sep 12th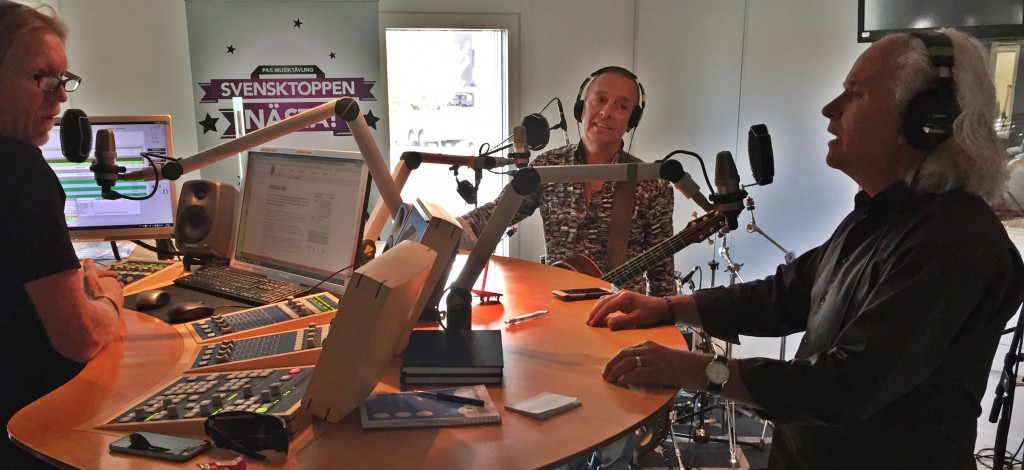 Playing in the radio studio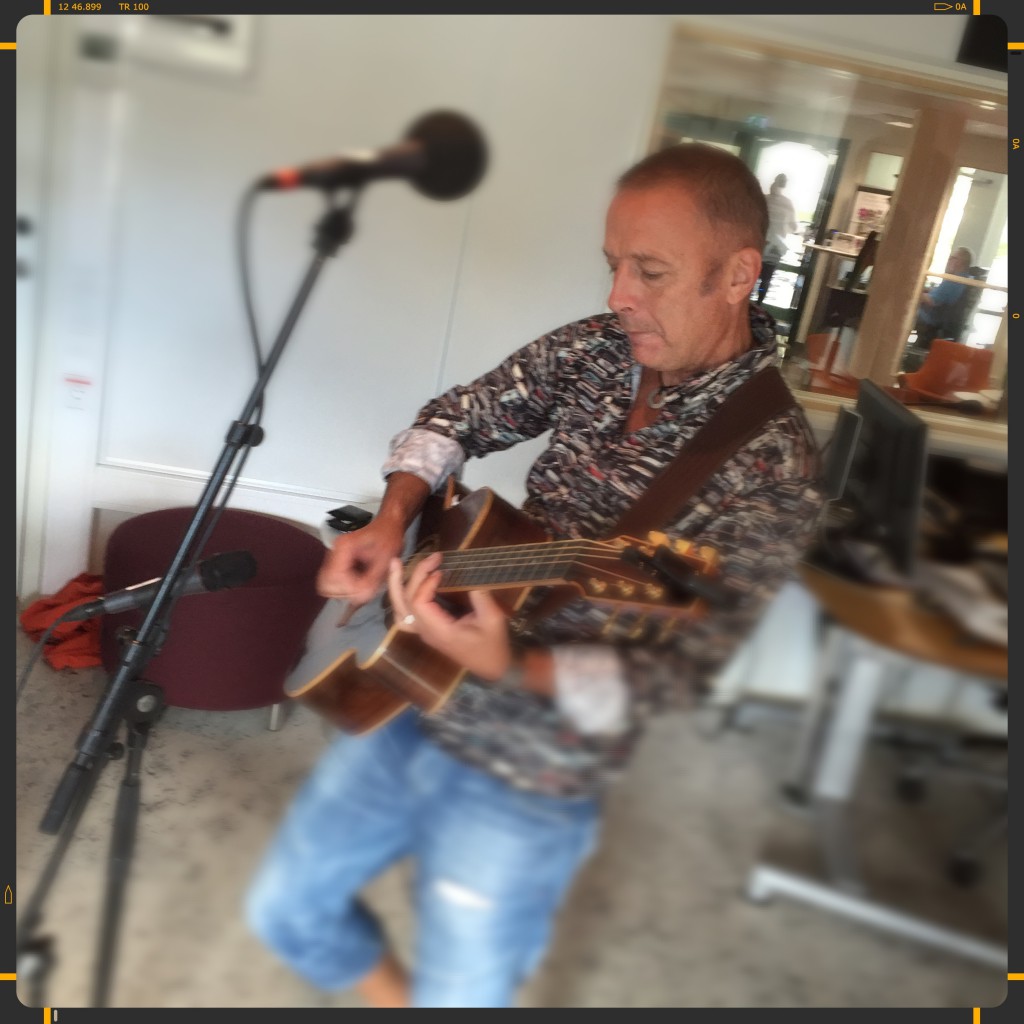 Venue in Vernamo! 11th of Sep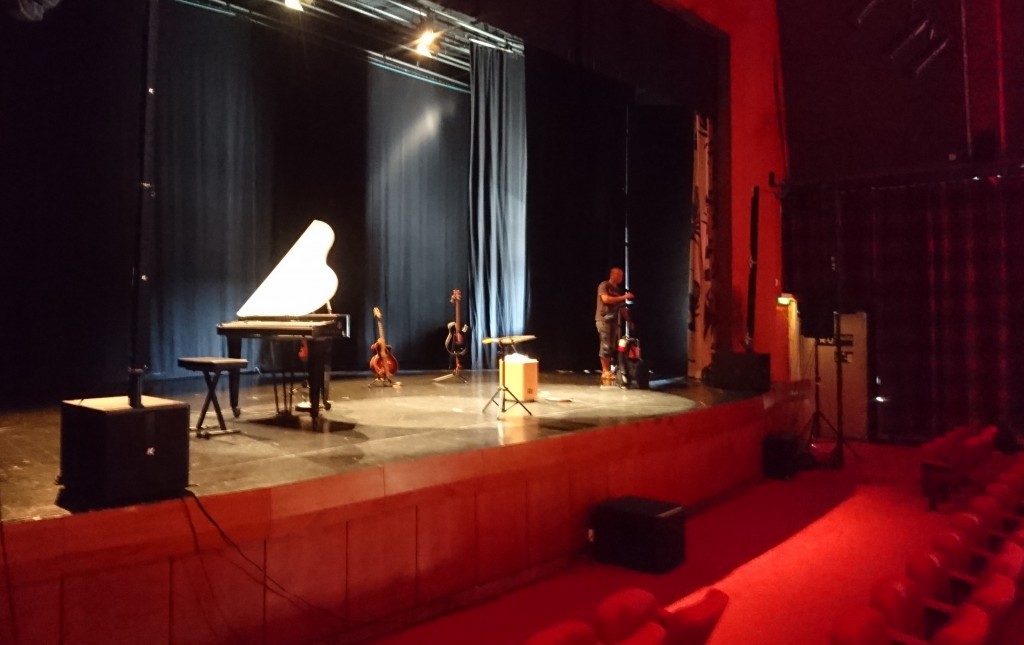 Setup in Gislaved The 10th of Sep!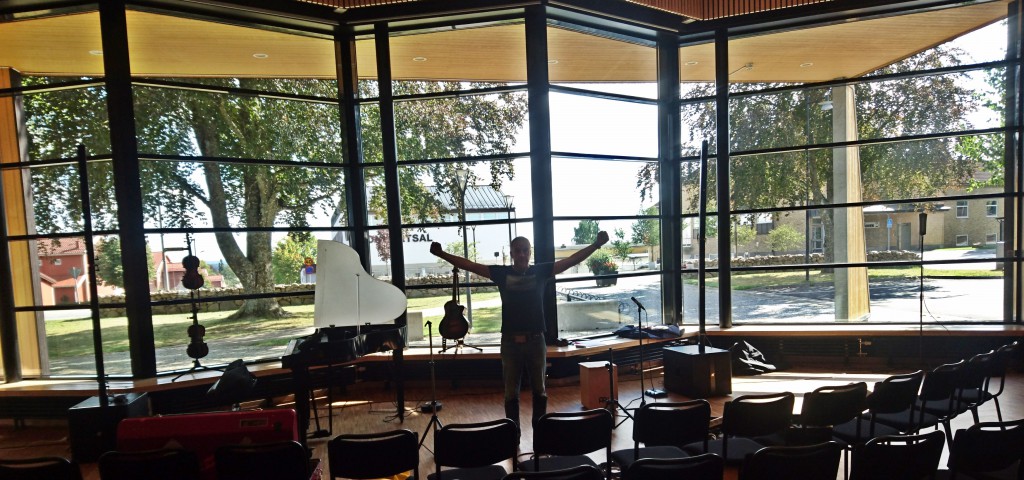 Yesterday Sävsjö(Swe), Today the 9th of Sep, Galadinner, Helsingfors(Fin)!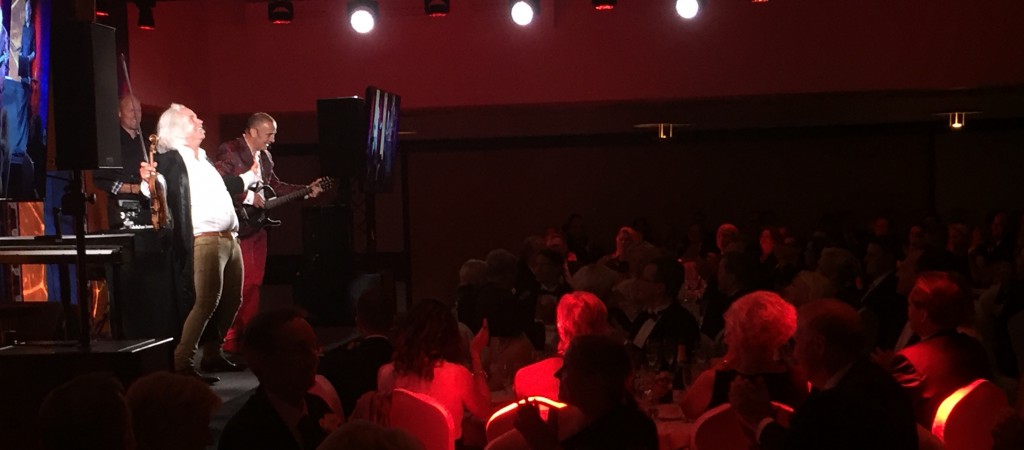 One wonderful night in Sävsjö! 8 Sep
Before doors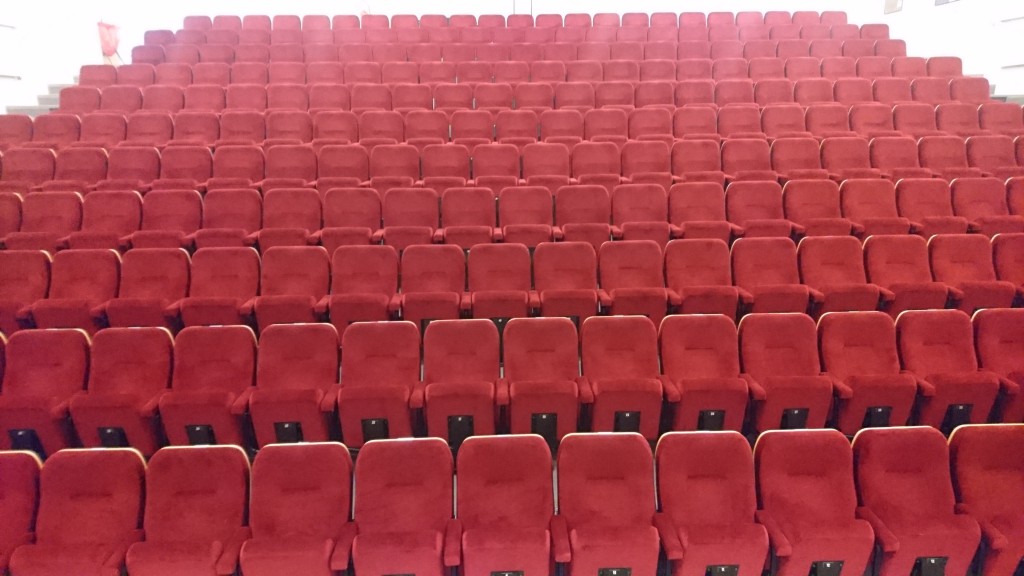 Fully booked concert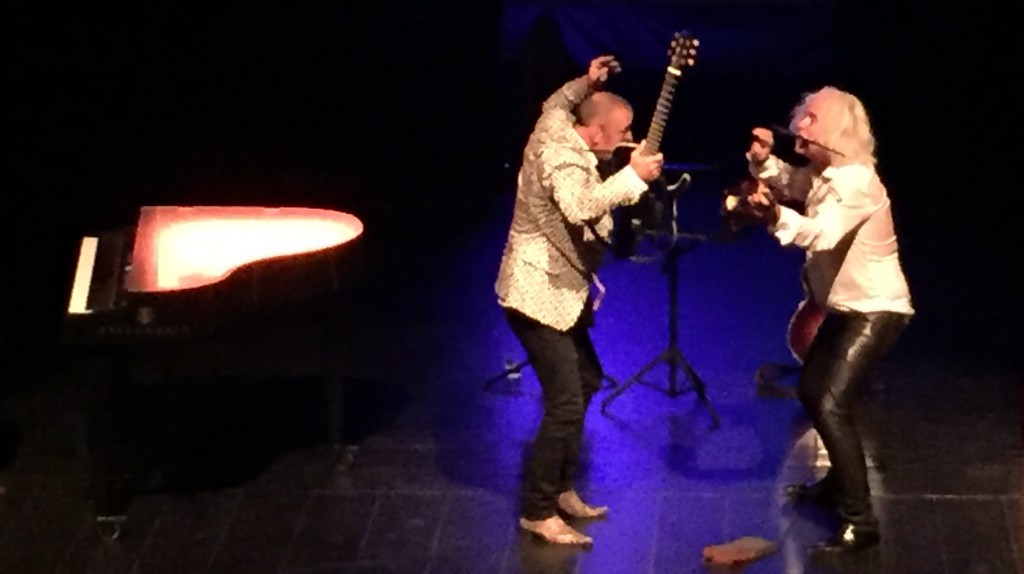 Tranås 7 Sep!
Tranås(Swe) 7 Sep!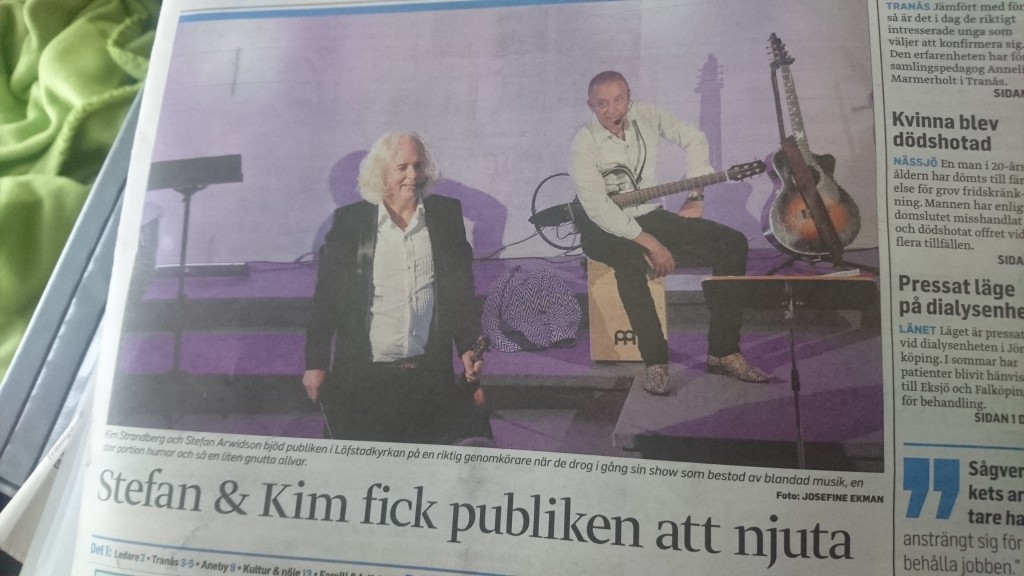 A 2 week tour in Småland, Sweden. Opening night in Huskvarna, September the 6th! The hall had room for 120 in the audience, 121 came.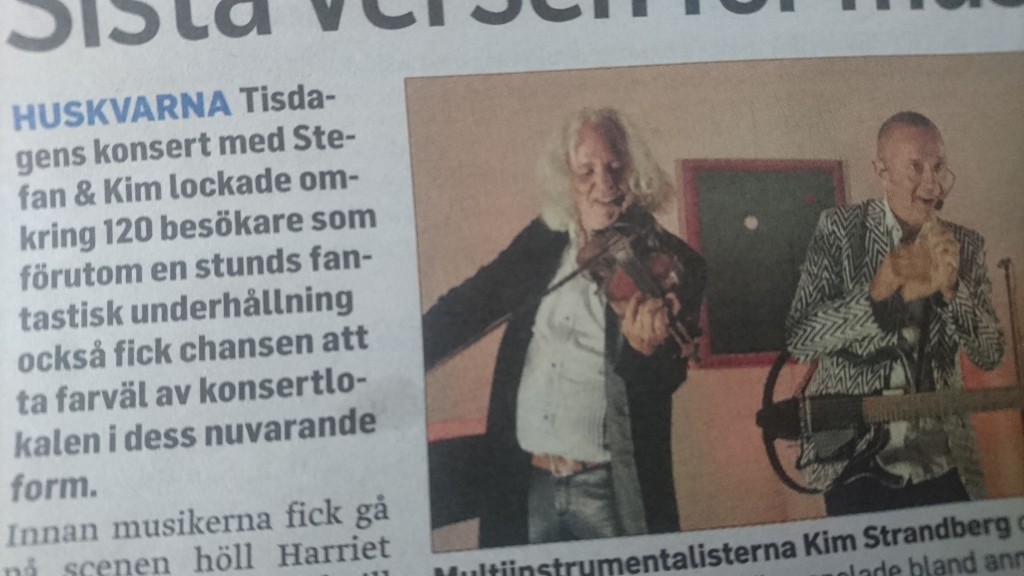 Båstad, Sweden, Riviera Hotel. Cool event! S&K + Stefan Odelberg.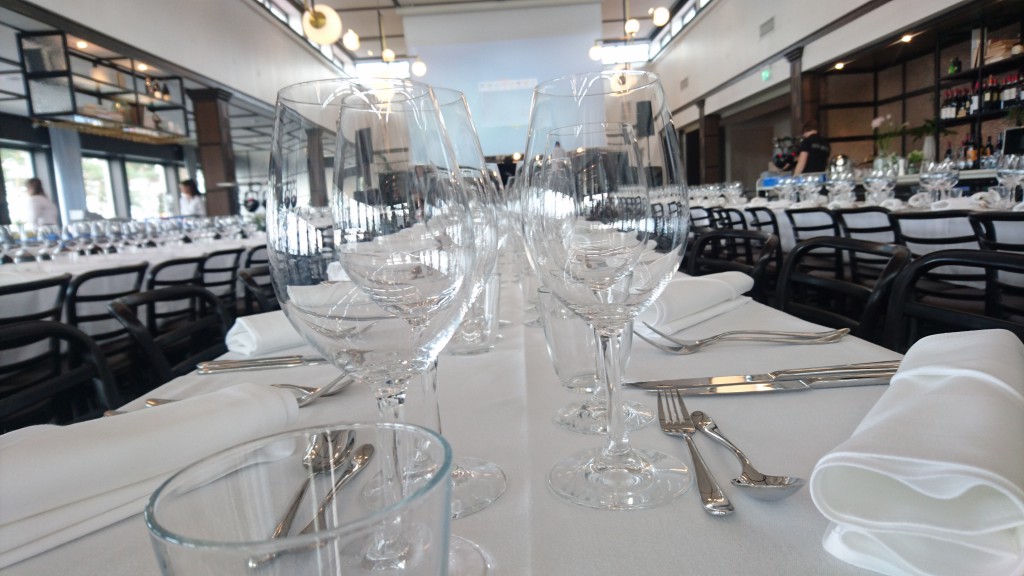 Fully booked Campus Arena in Jönköping!
Runda tables, White cloths, Jönköping University International Gala dinner!
Showtime with Stefan & Kim!

Skåne i den vackra sensommaren! Underbart gig under öppen himmel!
Bild från rigg.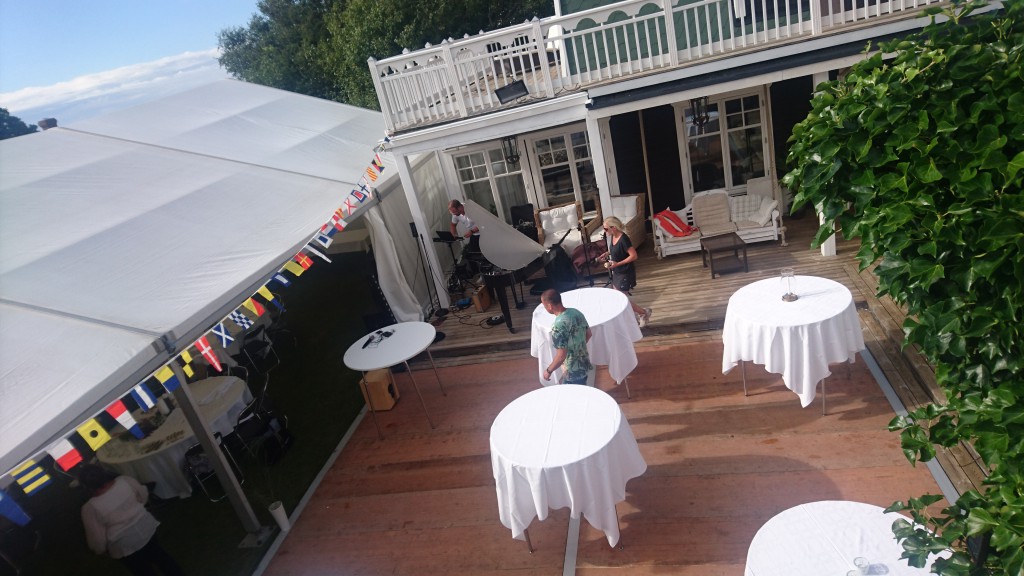 S&K and Symphony Orchestra!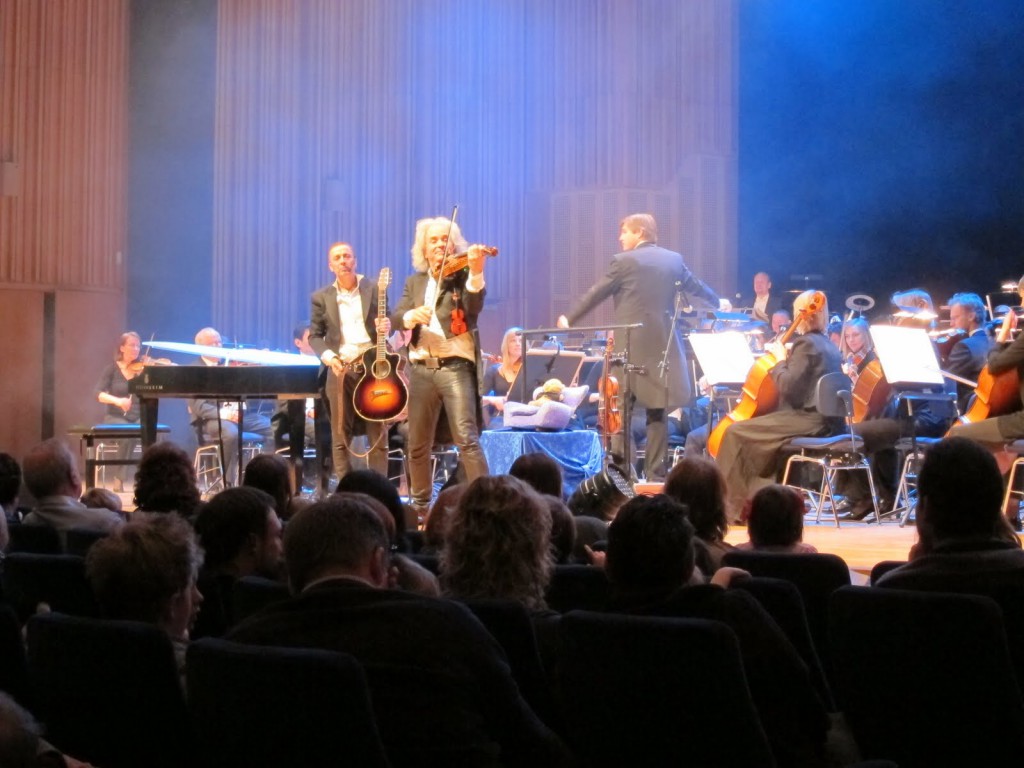 Summer gig in Skåne!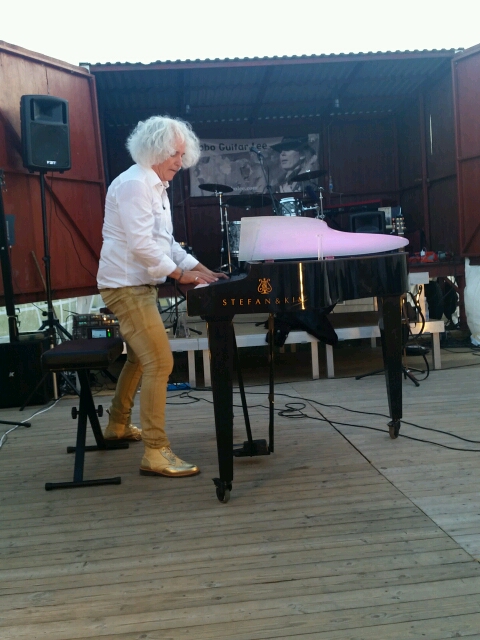 Black/White in the summer time!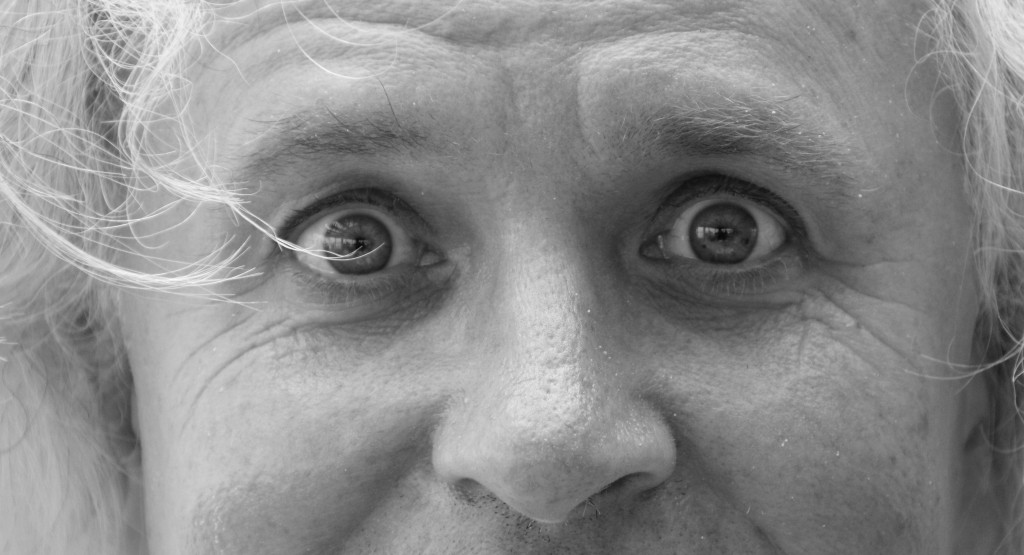 Gränna right in the middle of summer! A great mix of artists! ISA, Backyard Babies, Micke Syd & Ekman…..and of course S&K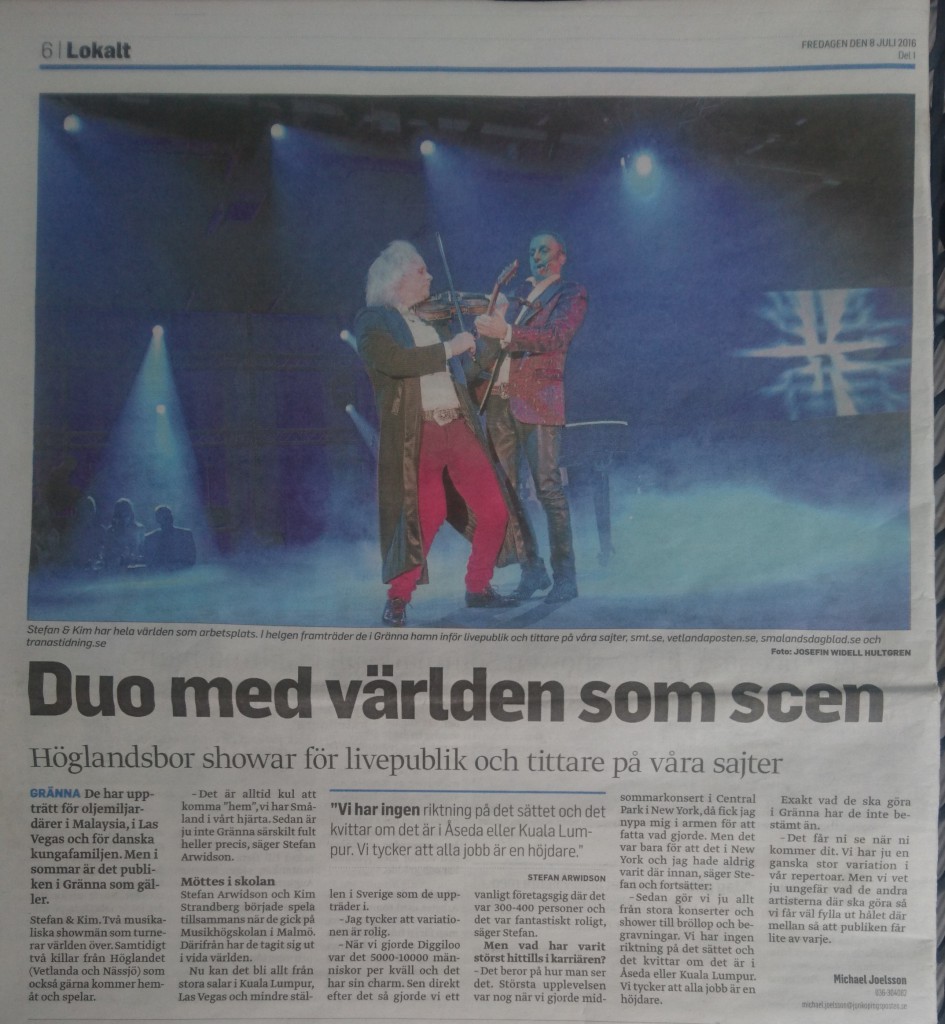 Big international Congress with people from 52 countries! 5 minutes before doors. Once again a wonderful day at work!!!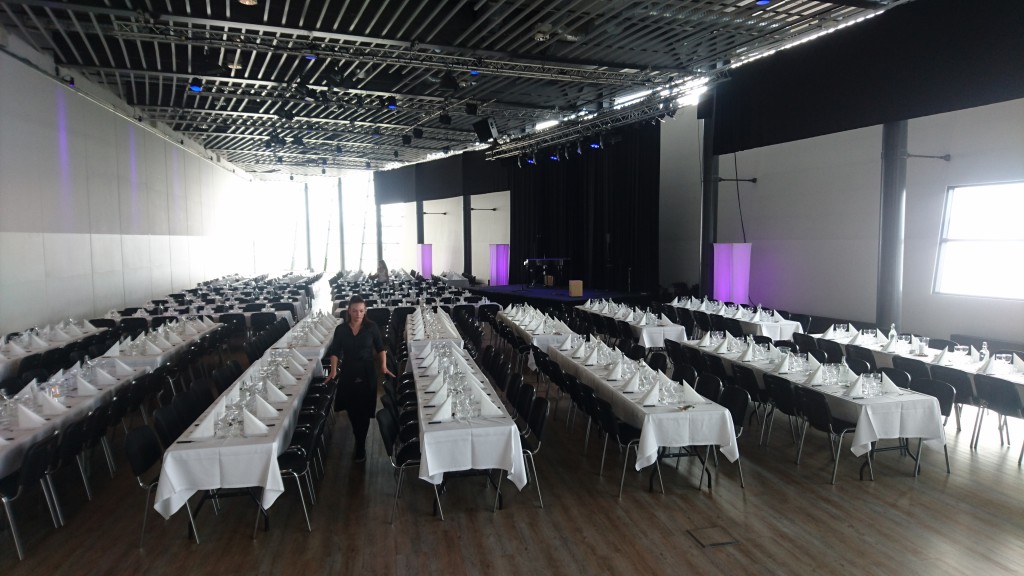 View outside the venue!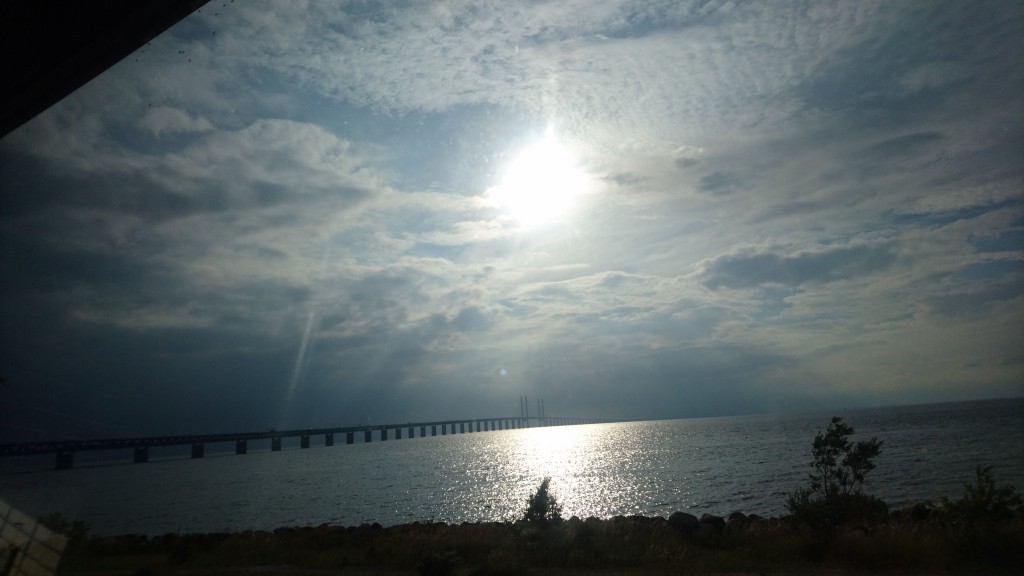 The fool on the hill! Soon in a town near You…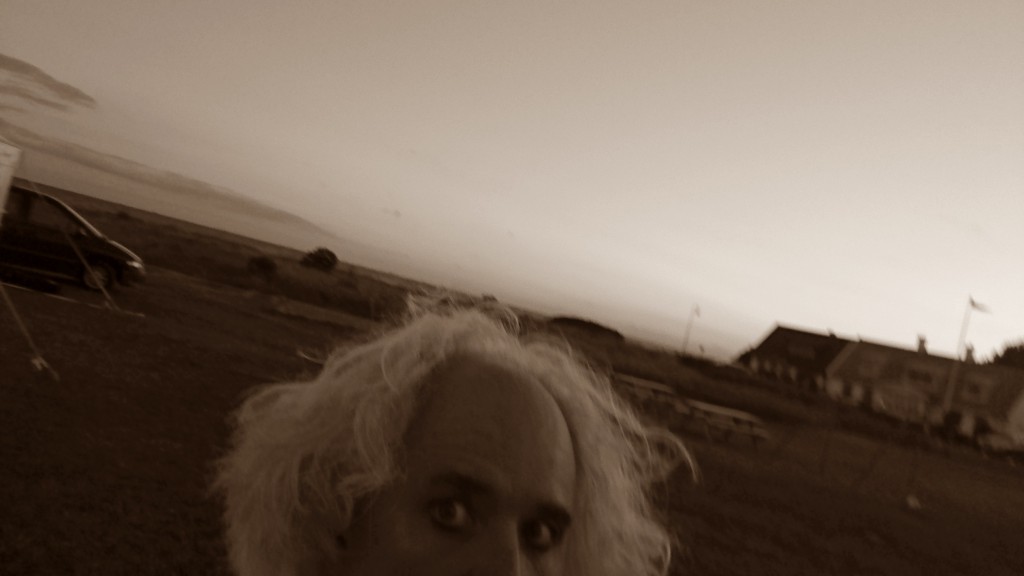 On fire in Helsinki!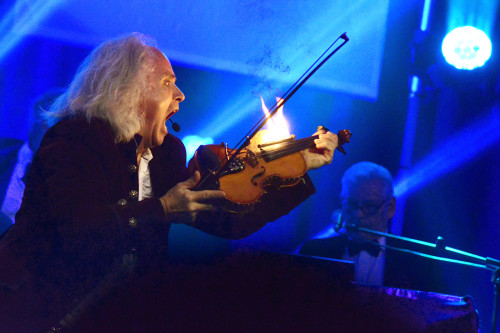 Today´s venue in Löddeköpinge by the sea in Sweden!
View from the stage! Wonderful Sweden in June!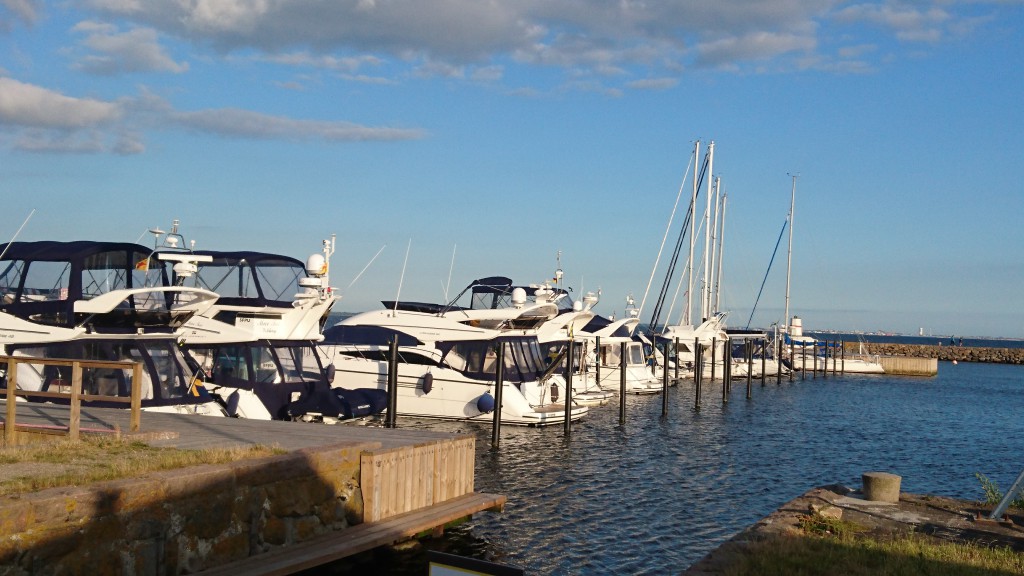 After gig in the moonlight!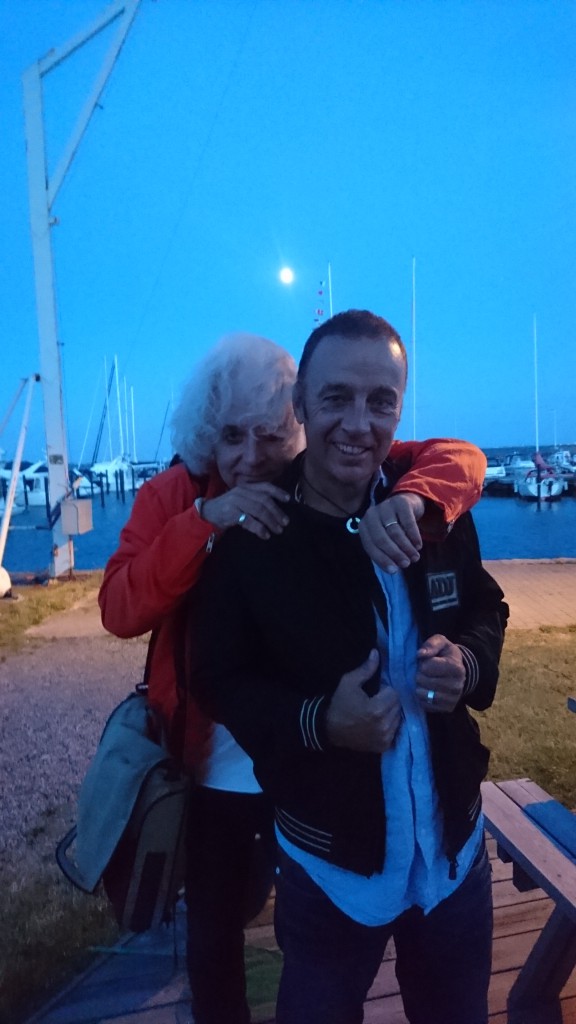 Who?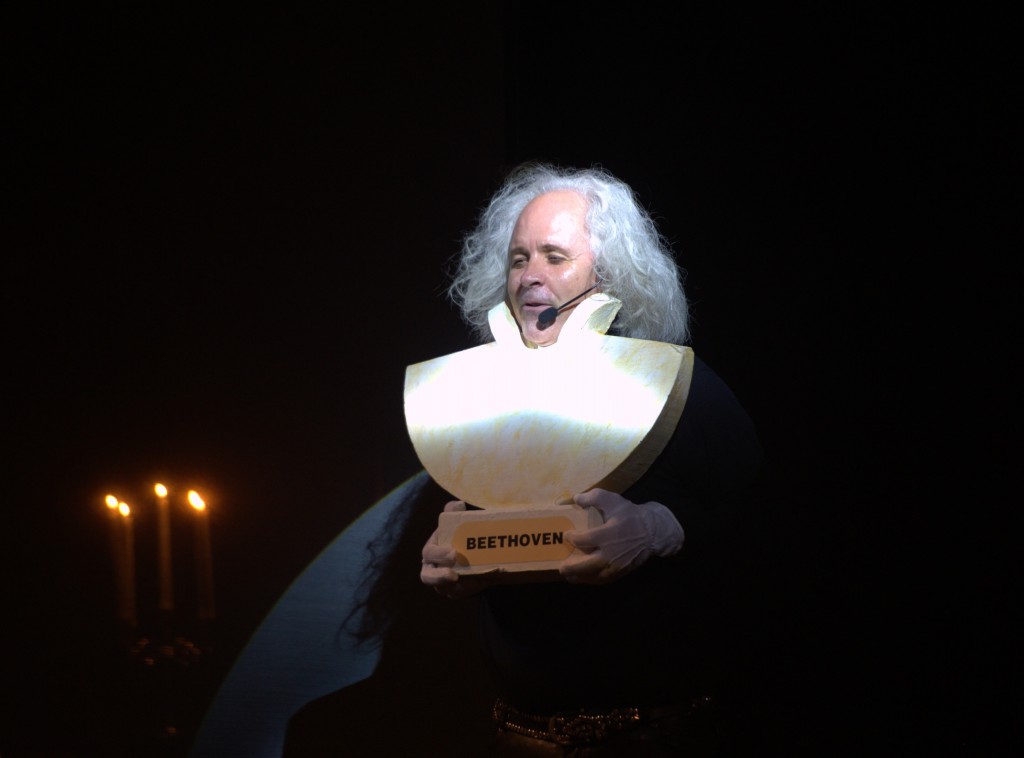 Another strange man on gig!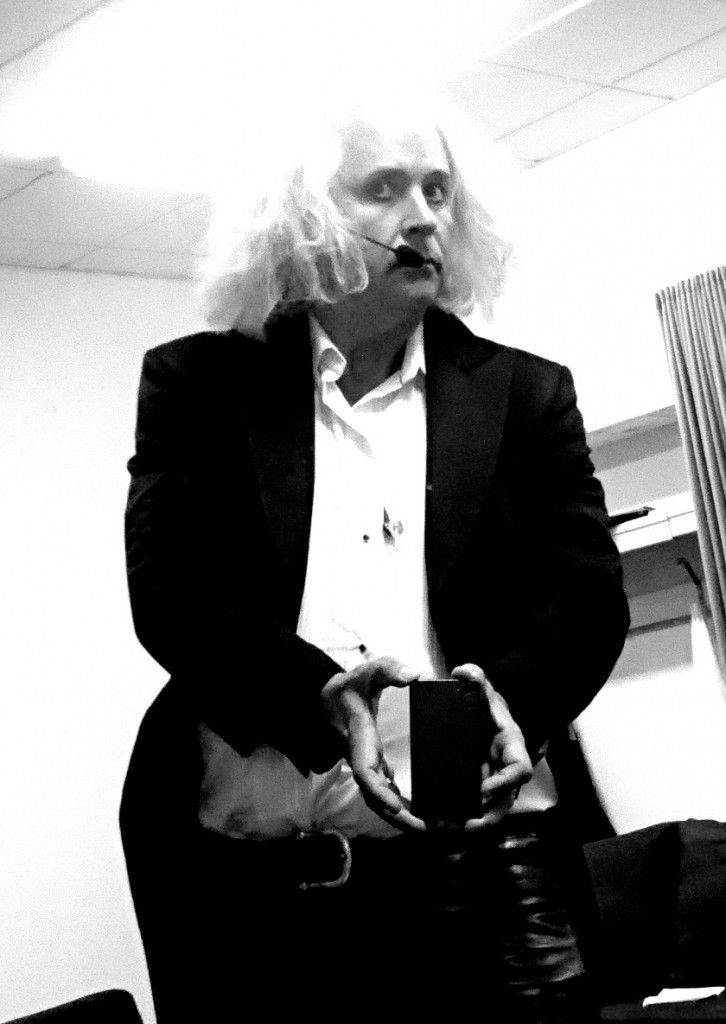 Our wonderful Mr Suchanek & Mr Frisk after soundcheck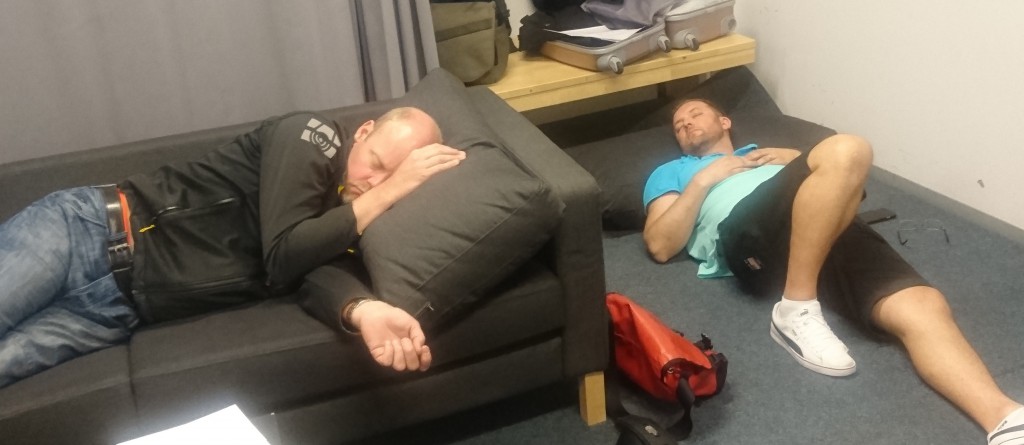 Opening number with Stefan & Kim, the 27th of May, Gala in Malmö!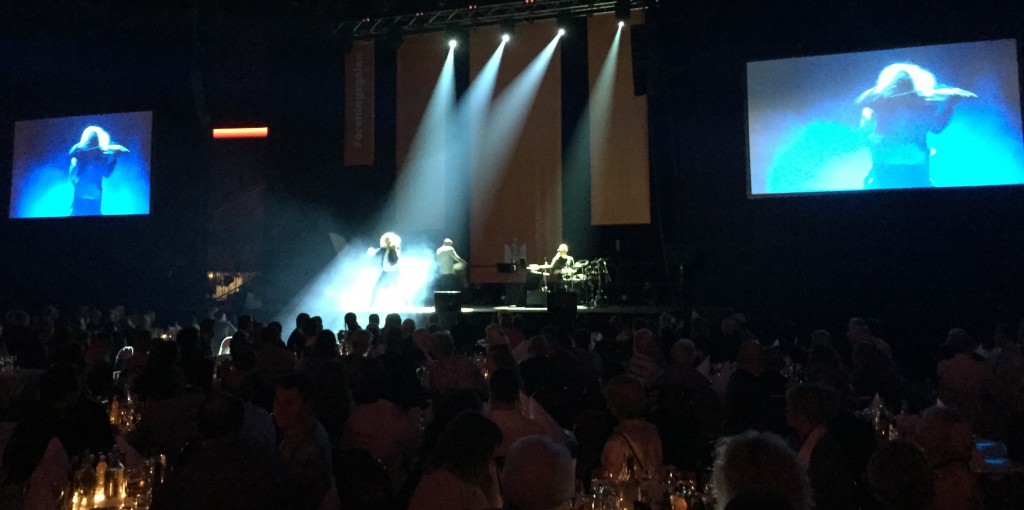 Where it all began…..The school of arts in Malmö! Back again after 25 years with concert and workshop

Nice Picture with me in action! May 25th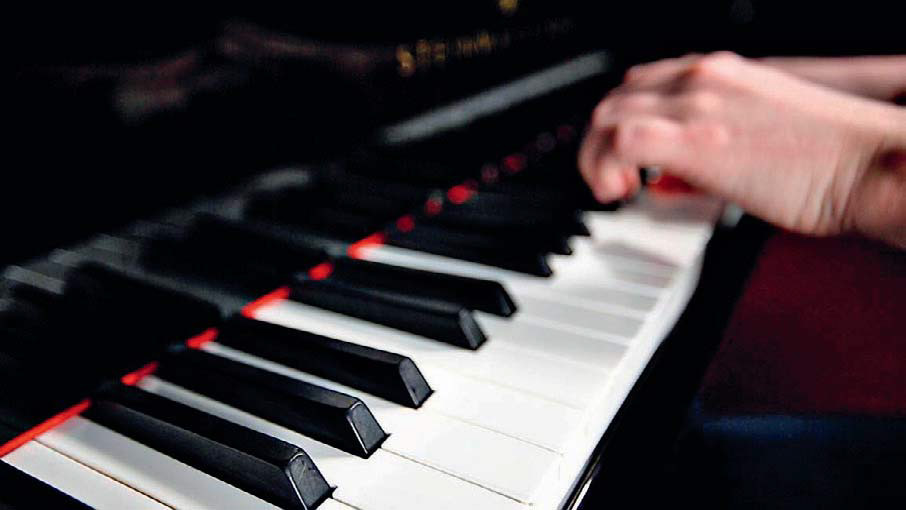 Testing the show light at Sundspärlan, Helsingborg in Sweden the 23rd of May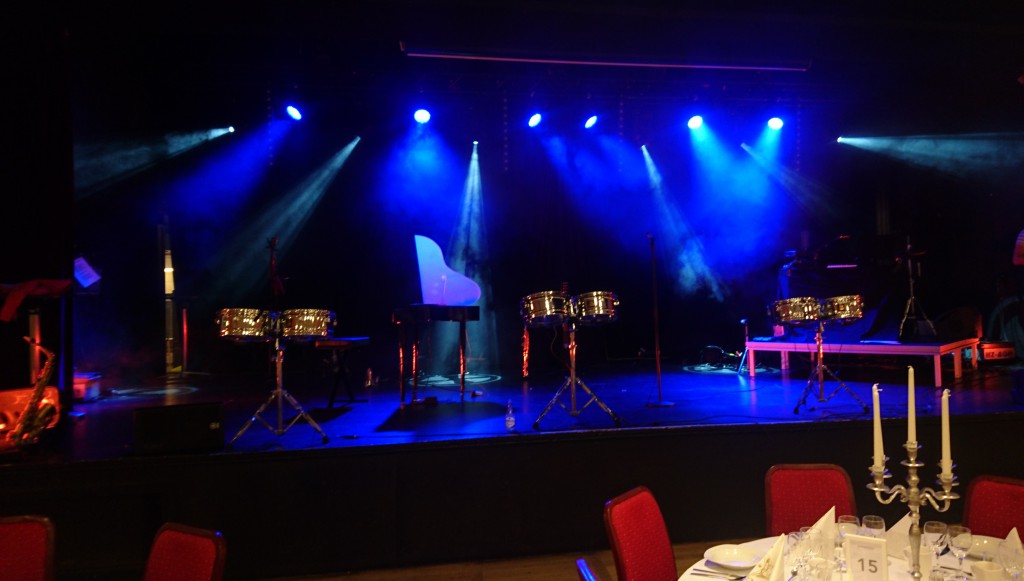 Testing the sound at Sundspärlan, Helsingborg in Sweden the 23rd of May, Before all the candelabra was lit and the 600 people entered the room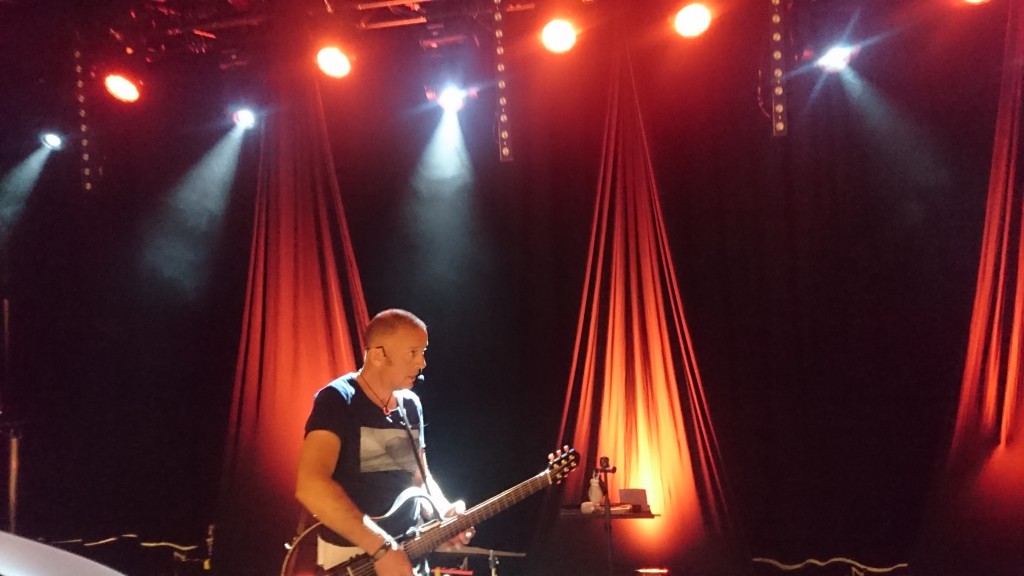 How beutiful isn´t it at spring time at Falsterbo Golf Club……..gig May 21st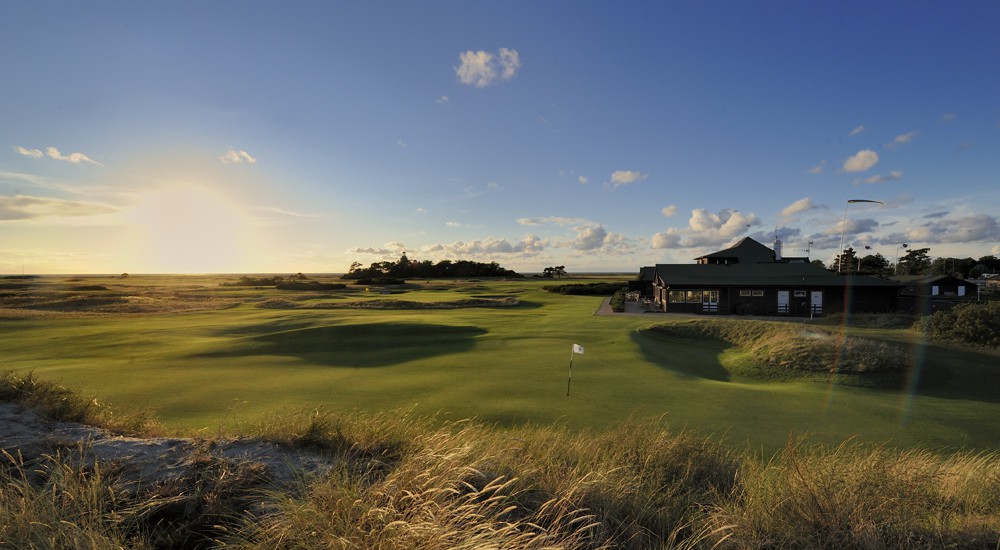 Back in Sweden, in Småland, in Jönköping, the 18th of Maj! Nice stage right in the middle of the venue and the audience sitting all around.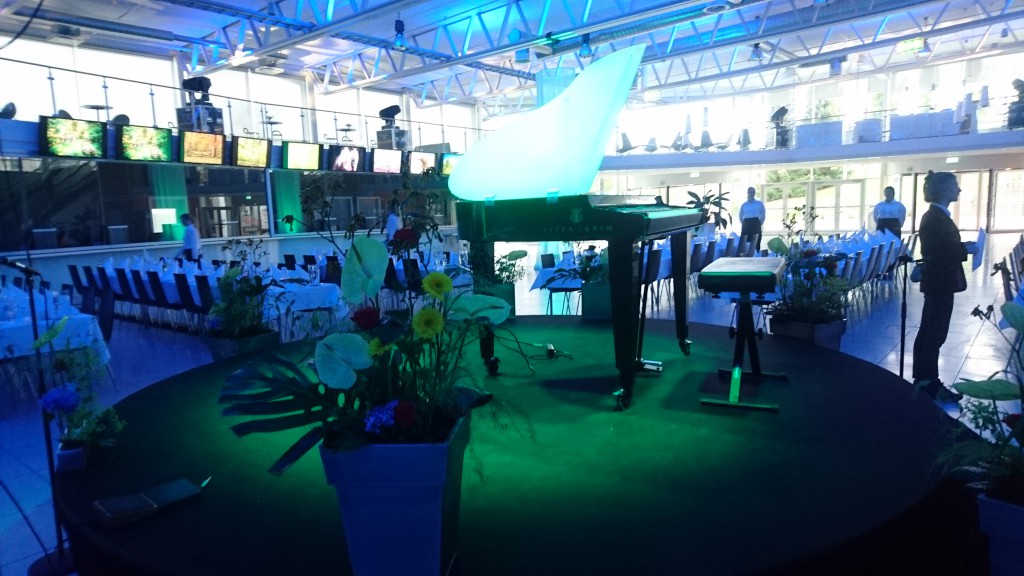 What a Gala Show, 15th of May in Vietnam. 5 minutes before doors.
What a bunch of wonderful people right after show.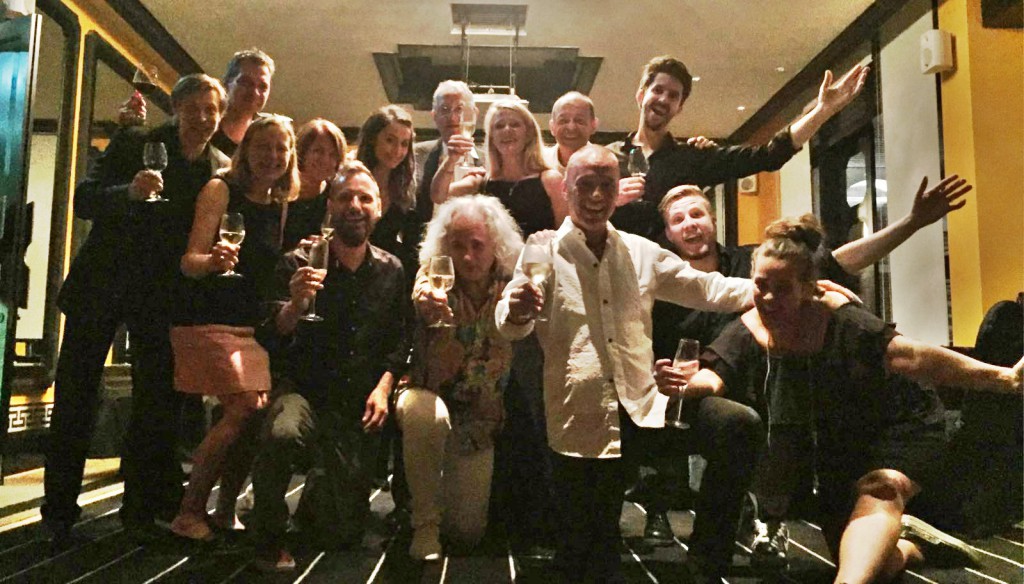 Doc Kim Brown in Vietnam!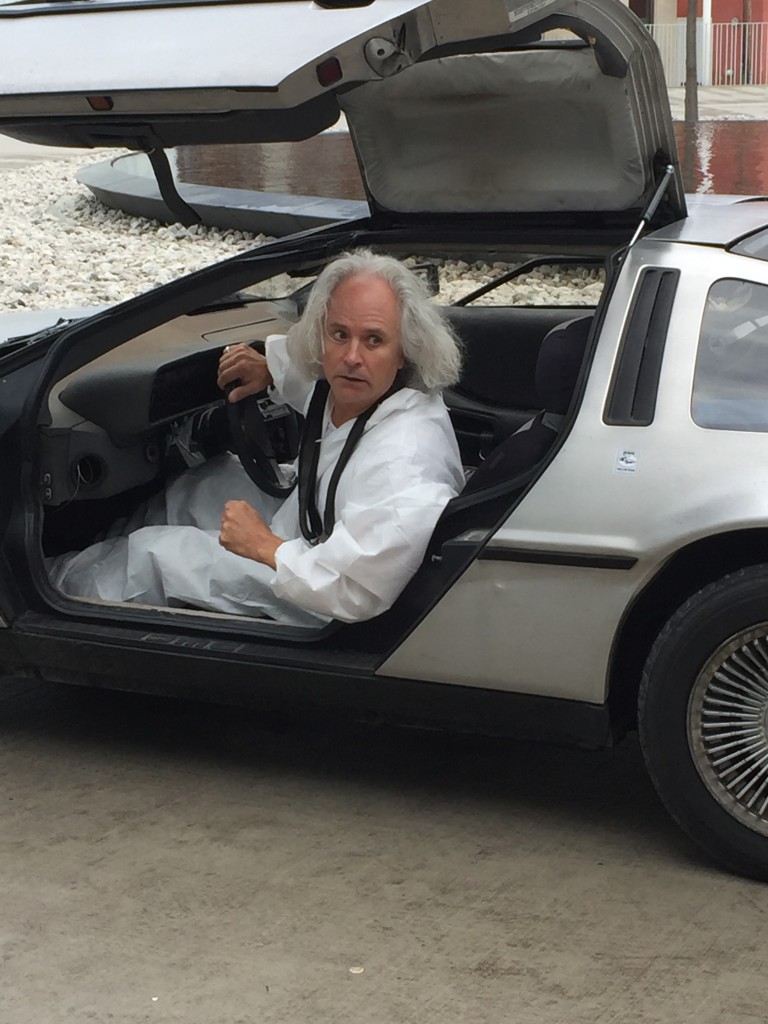 After show in Dublin, in da elevator!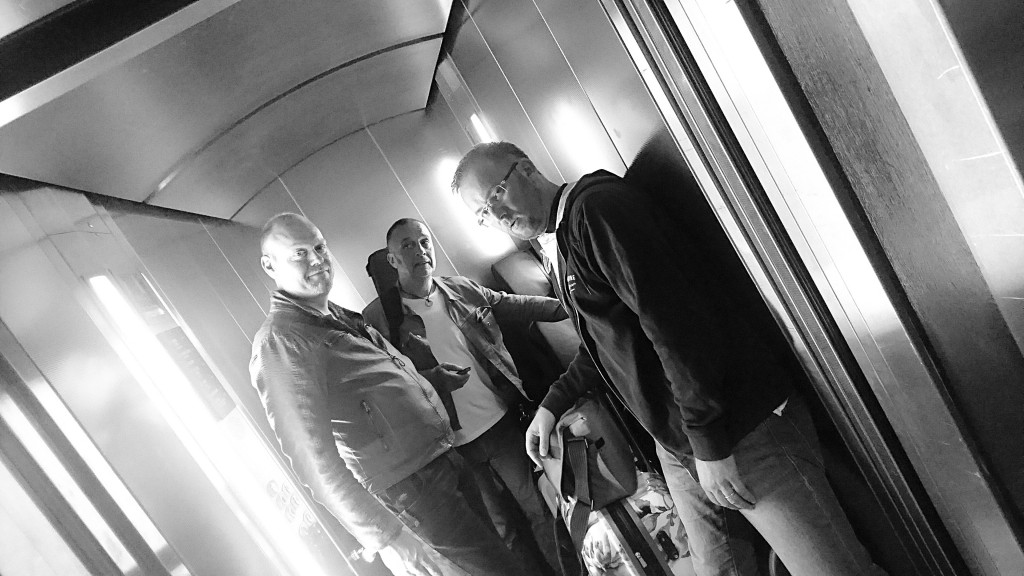 Preparing for tonights show, May 9th in Dublin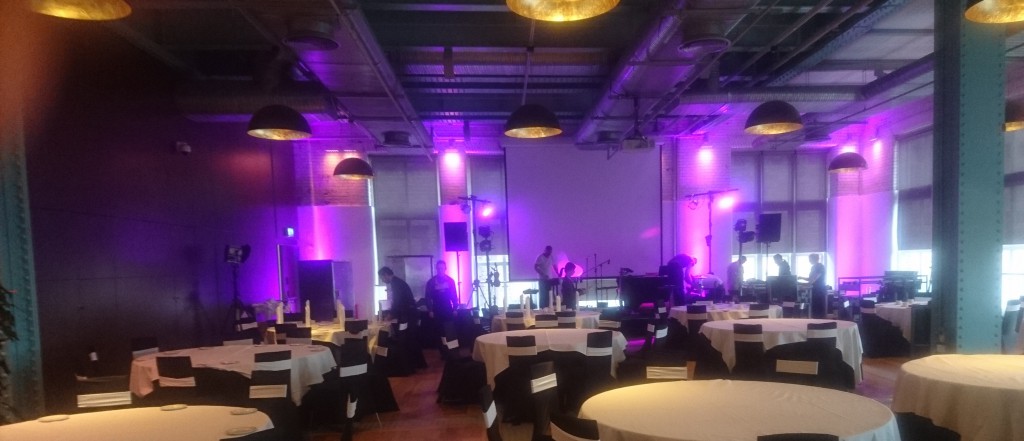 Guiness brewery is thev place for today! Just outside the venue..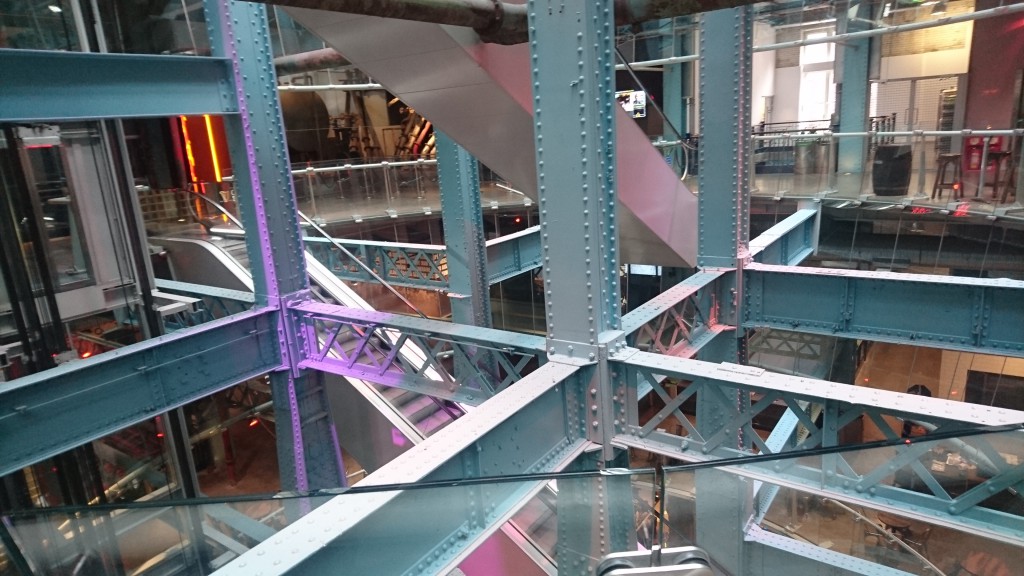 Happy taxi ride in Dublin together with Mr frisk, Mr Suchanek, Mr Stefan and the wonderful crew from the event planner Ciceron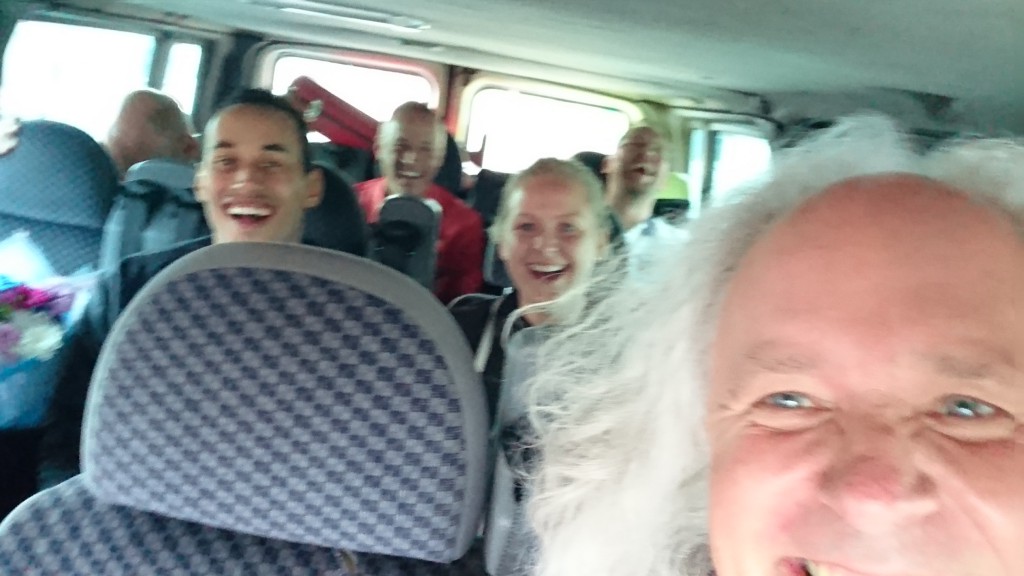 The end is near in Dublin!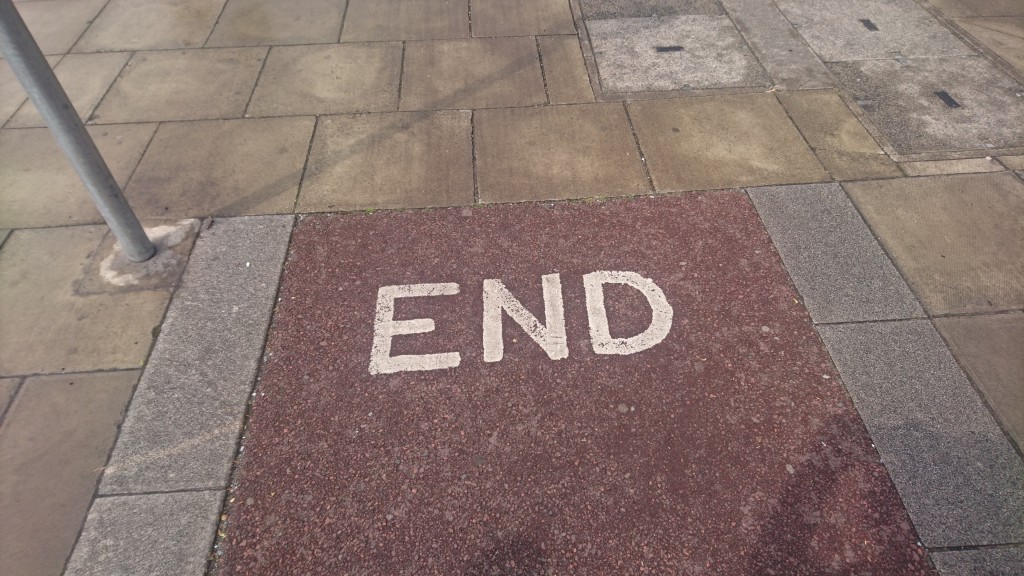 First outdoor gig for the season! Rain & Snow and +2 degrees Celsius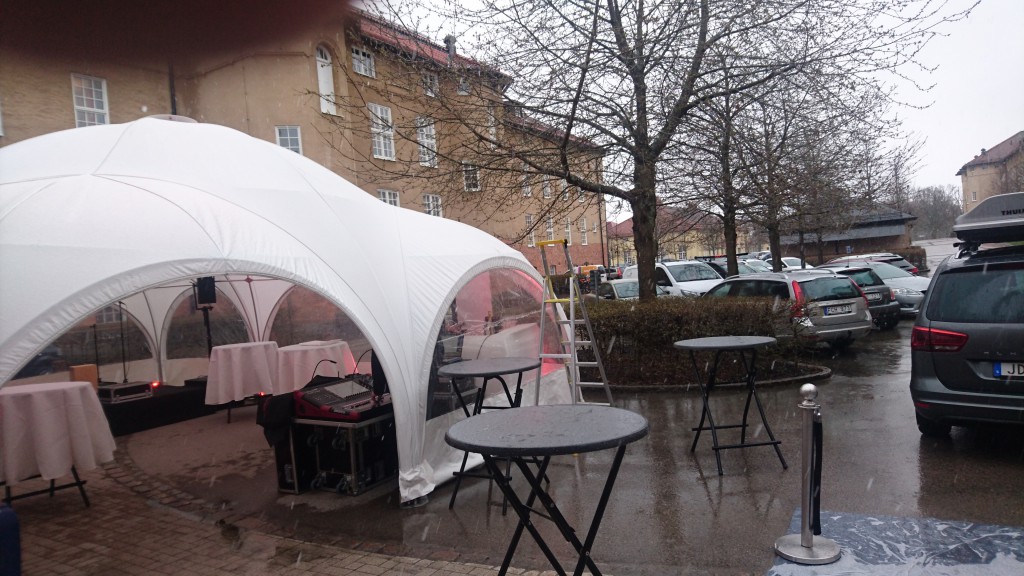 Pre Gig! Mirror, mirror on the wall…….
Norrvikens Trädgårdar! Outside Ängelholm, daytime job for 25 people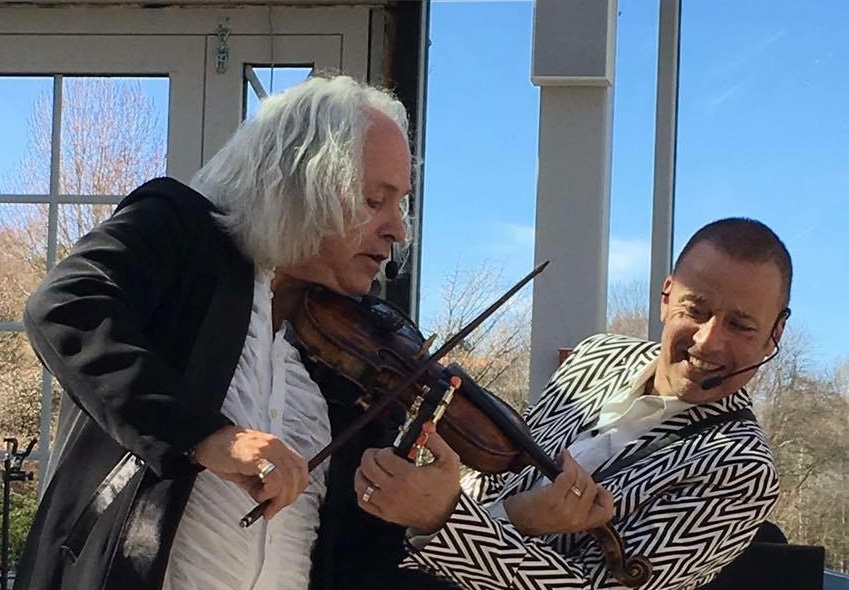 You get a bit tired after 2 Days of business meetings. On our way to Ängelholm.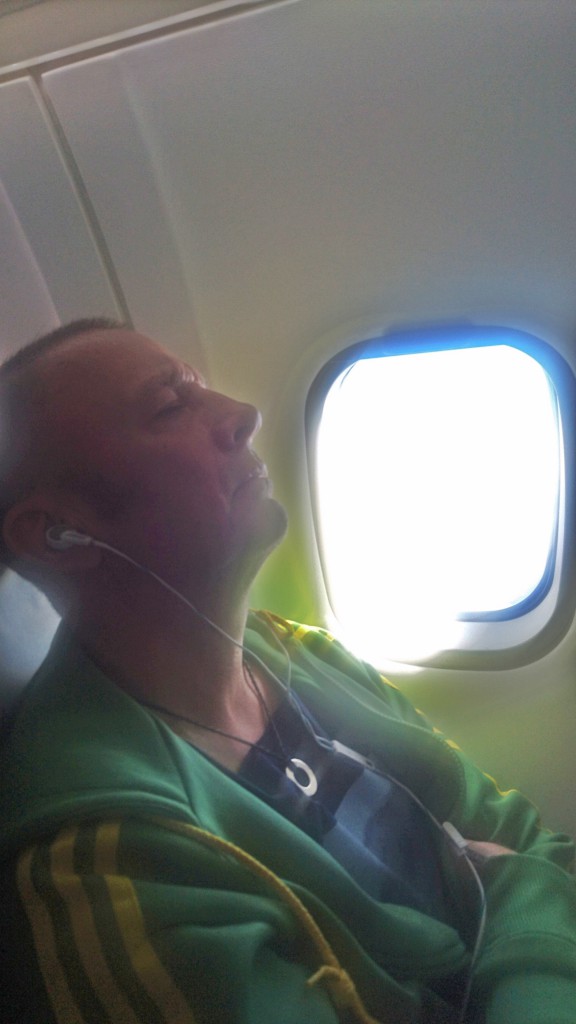 April the 17th, rehearsal together with Roshy!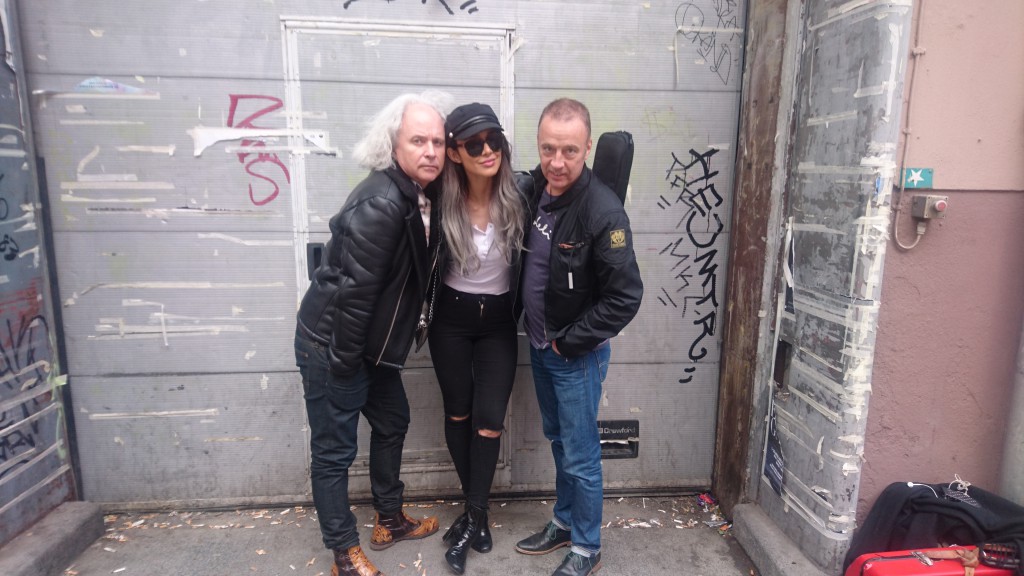 Same day! A fully booked Gala Concert together with a bunch of Swedish singers, dancers and other famous artists. 4 great pictures captured by Camilla Käller!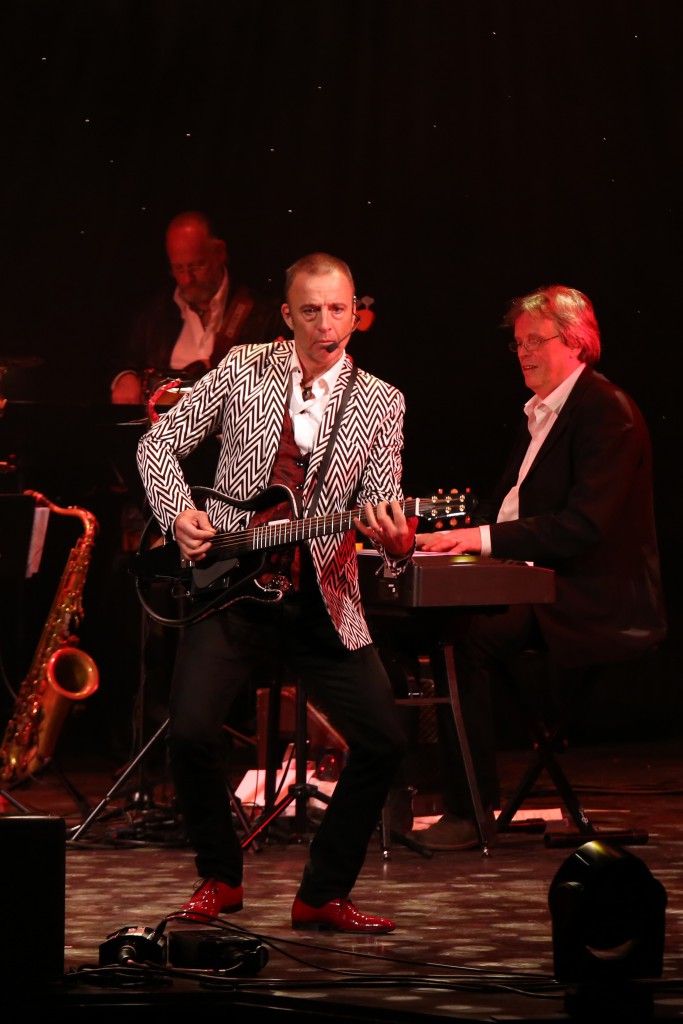 The 16th of April in Cph
Backstage, Copenhagen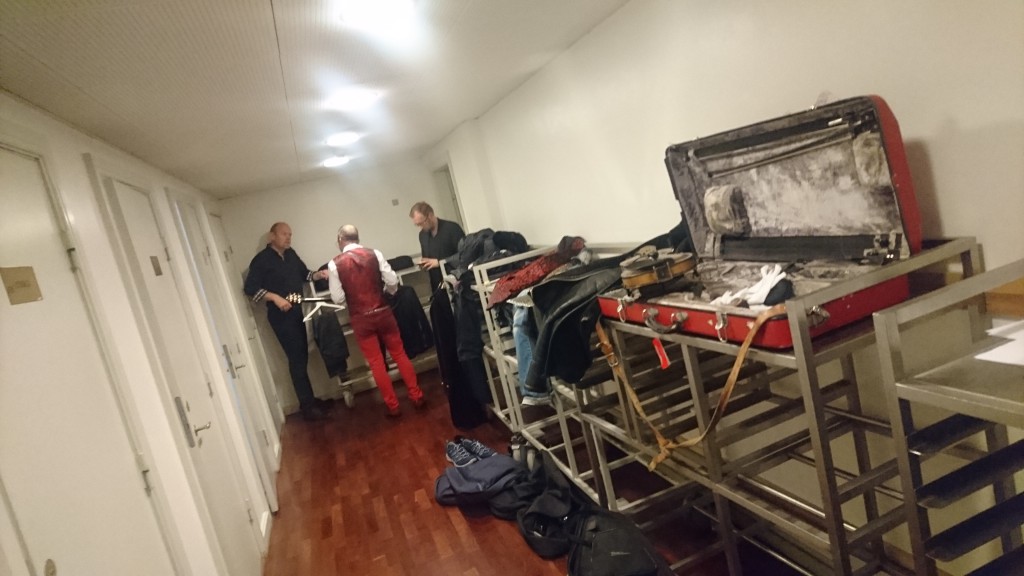 Concert for 12 Brazilian people in the Mirror room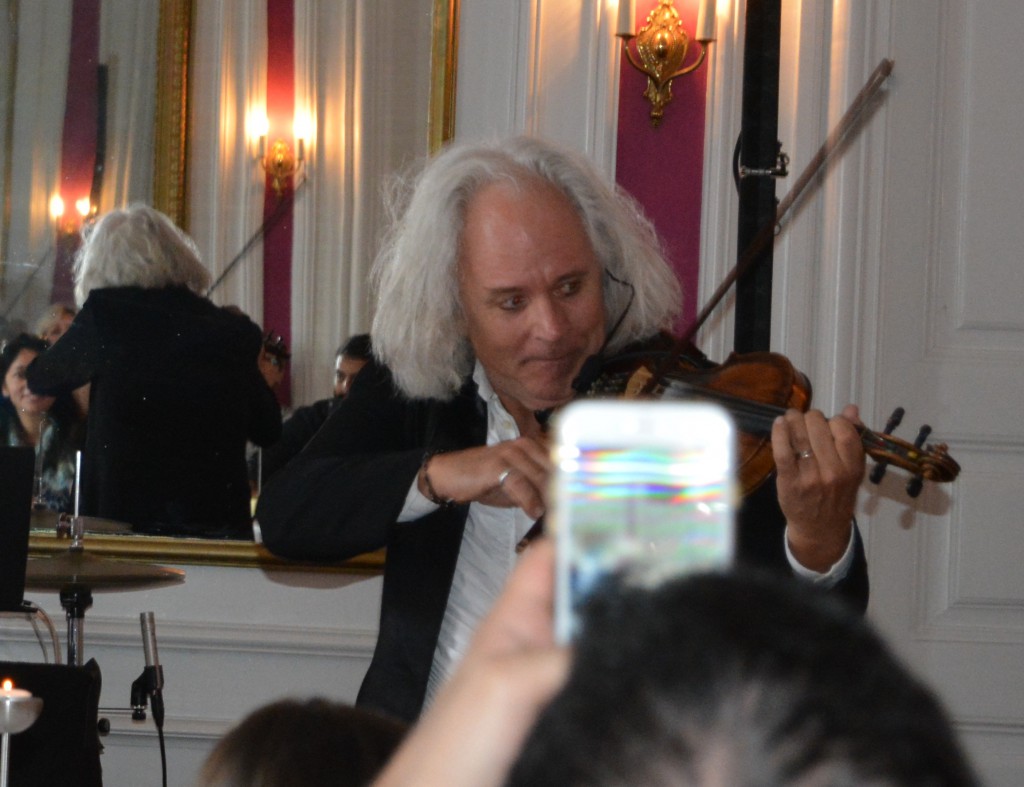 Sollentuna, April the 6th
Saturday 2nd of April, on the Island Öland, in Sweden!!!
Lamp!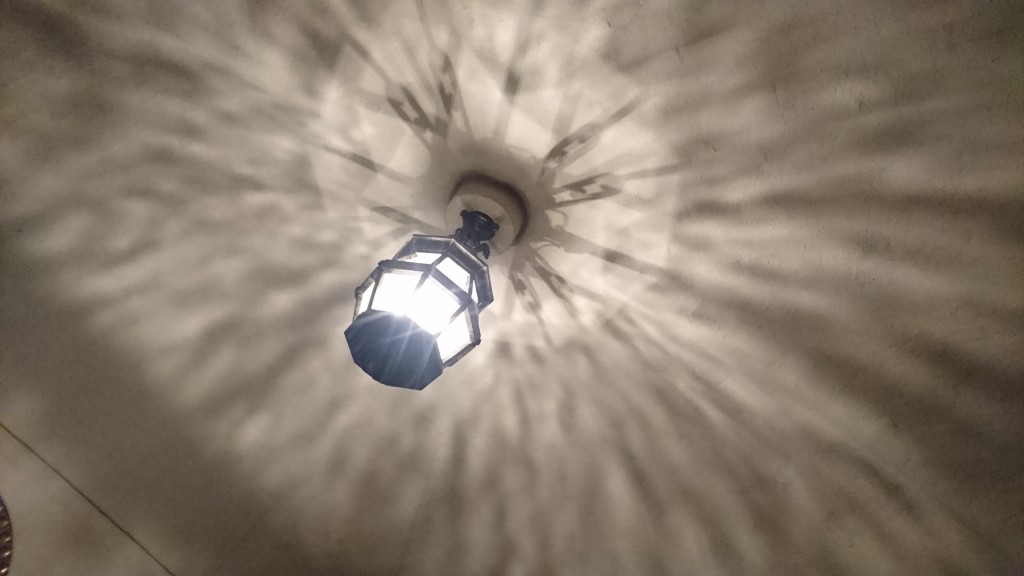 Soundcheck!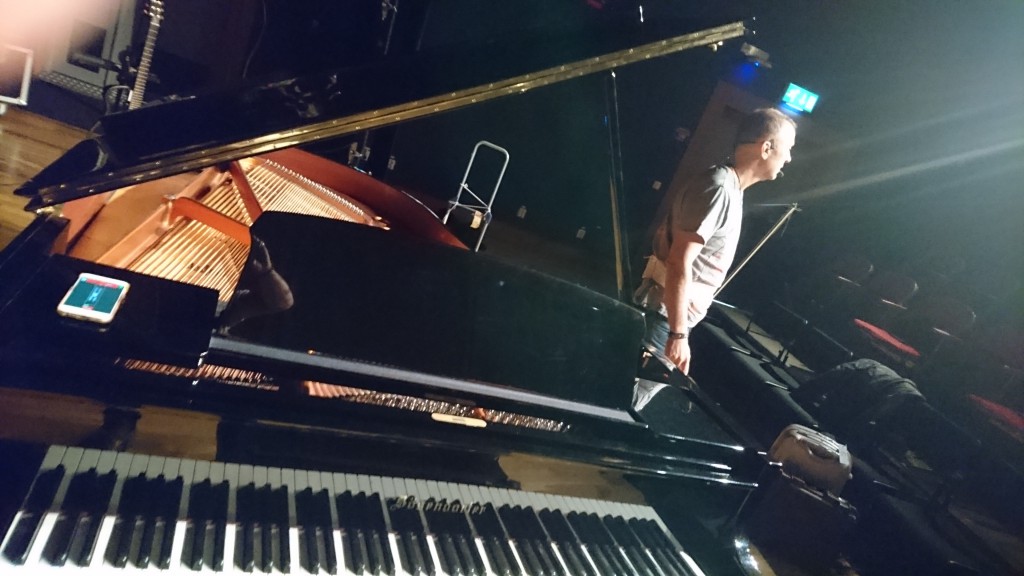 Before show!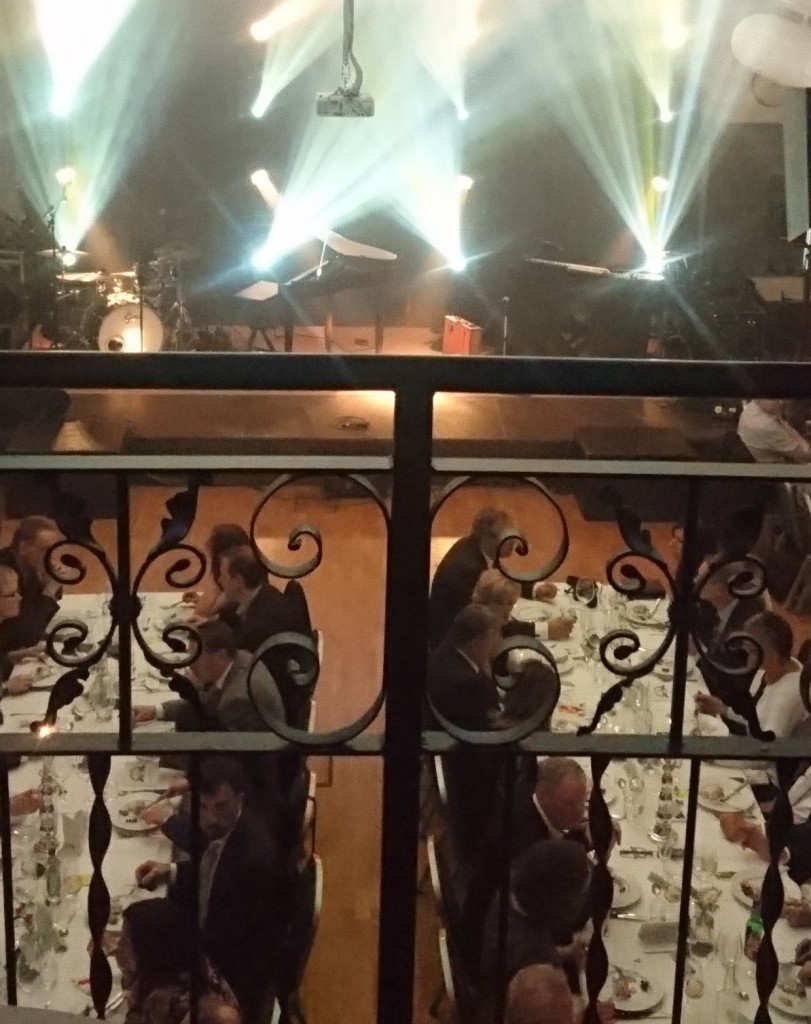 Show!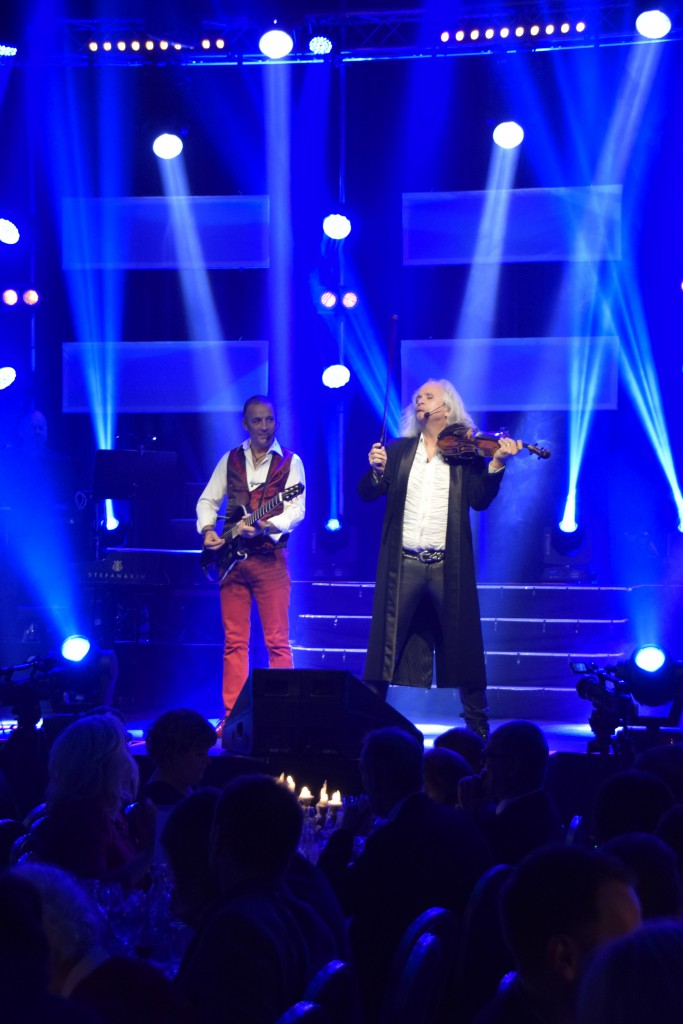 ———————–
Wonderfulgig for 51 pax at the High Court in malmoe! Stefan is waiting to go up on stage!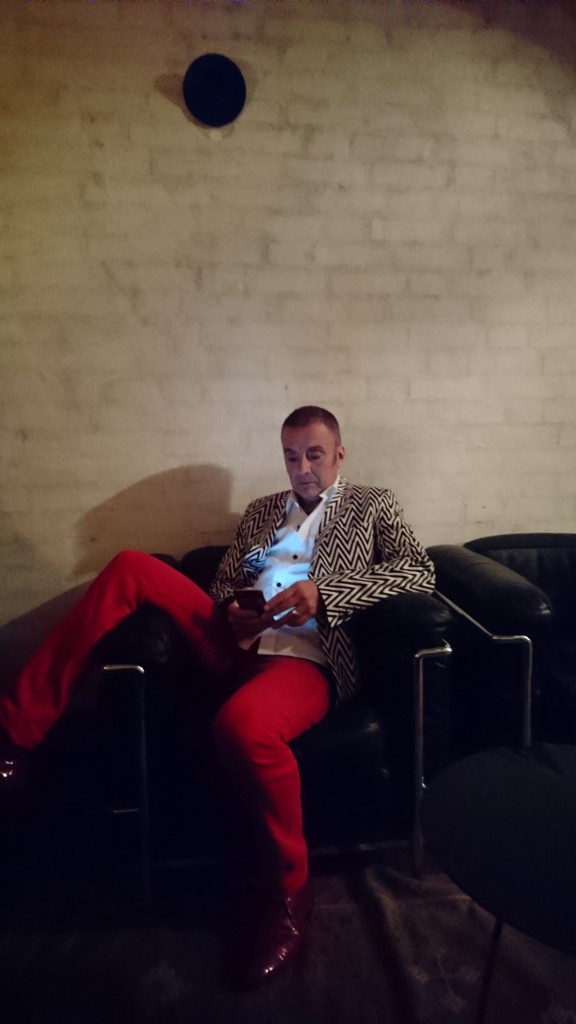 Saturday at 9.45(Photo by Lovisa Fey)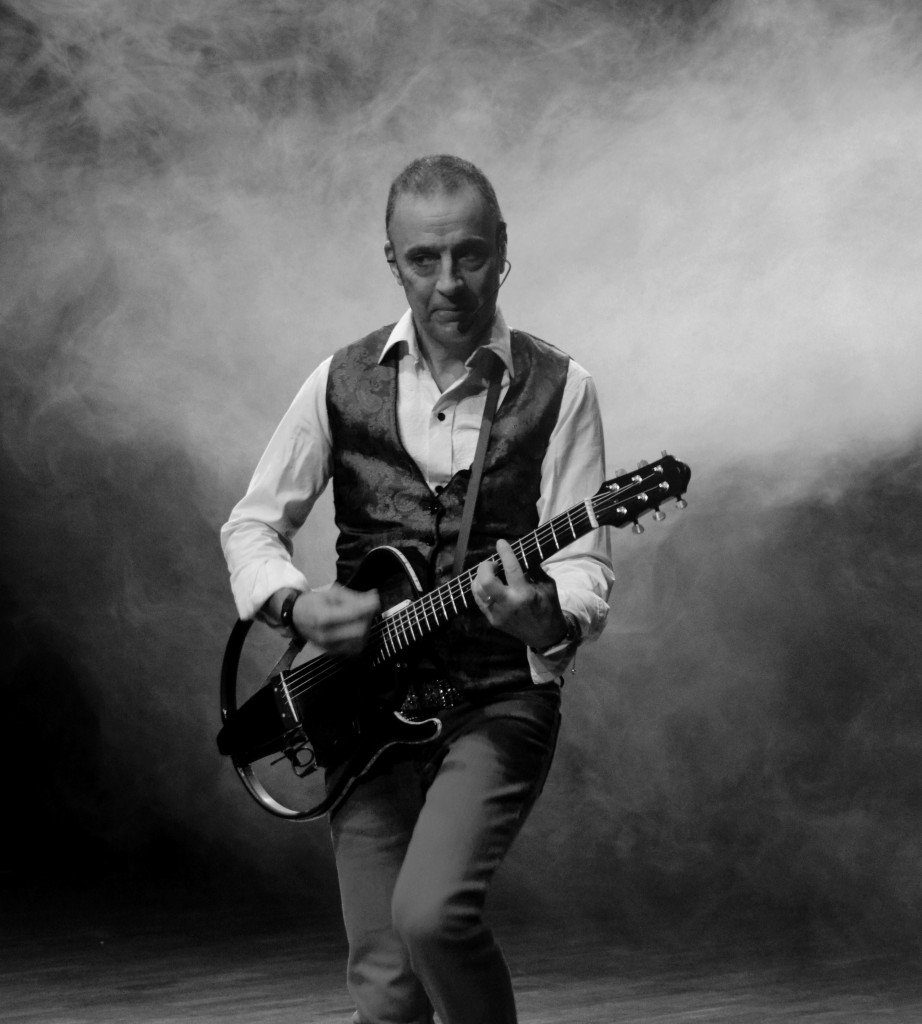 Saturday at 9.47Photo Lovisa Fey)

Saturday at 11.05! A stage with with cleaning light, the audience is gone, only Stefan is there in the left corner.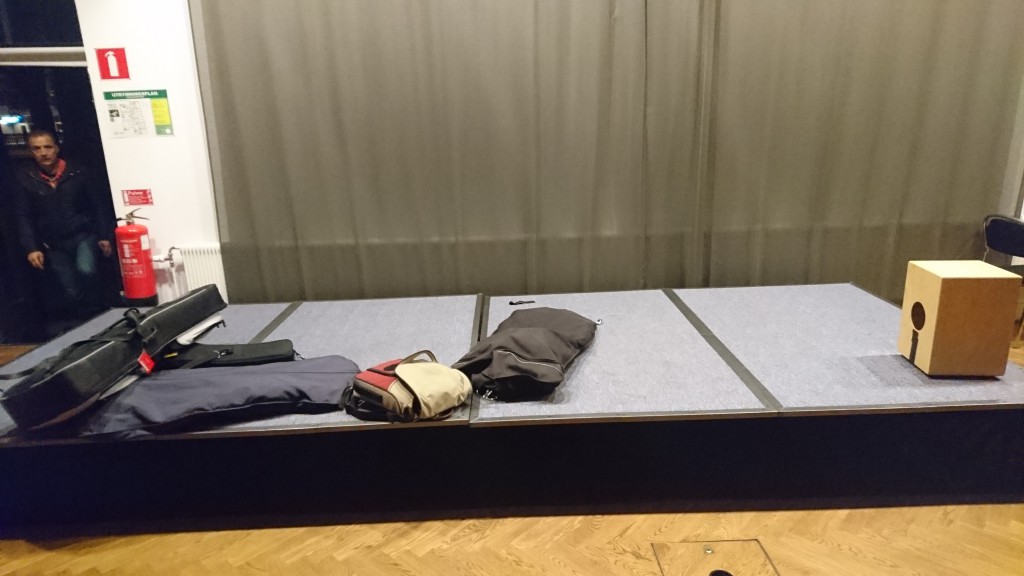 —————————–
The driver is a sleep!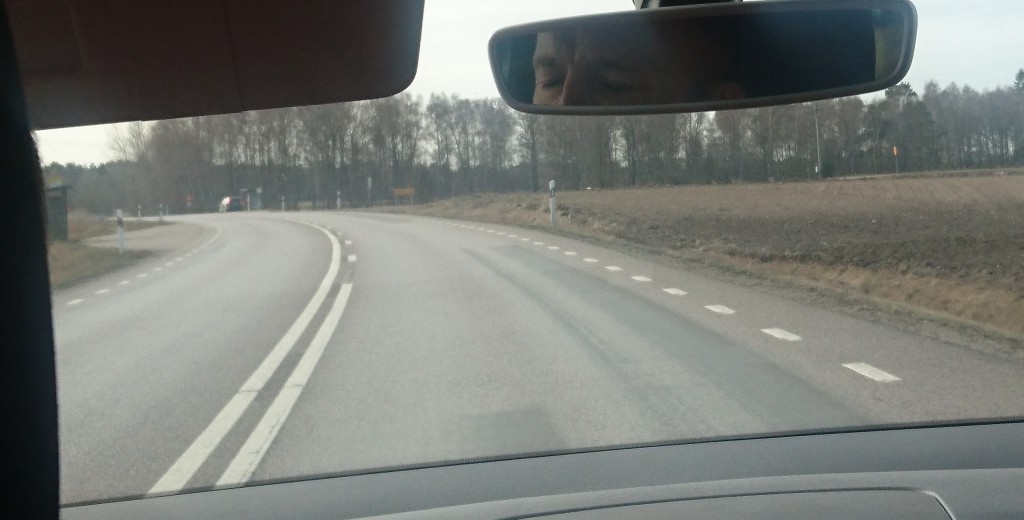 —————————————-
Kalmar in Sweden, Friday afternoon, soundcheck with a view!

——————————————–
Stefan, the only Toreador!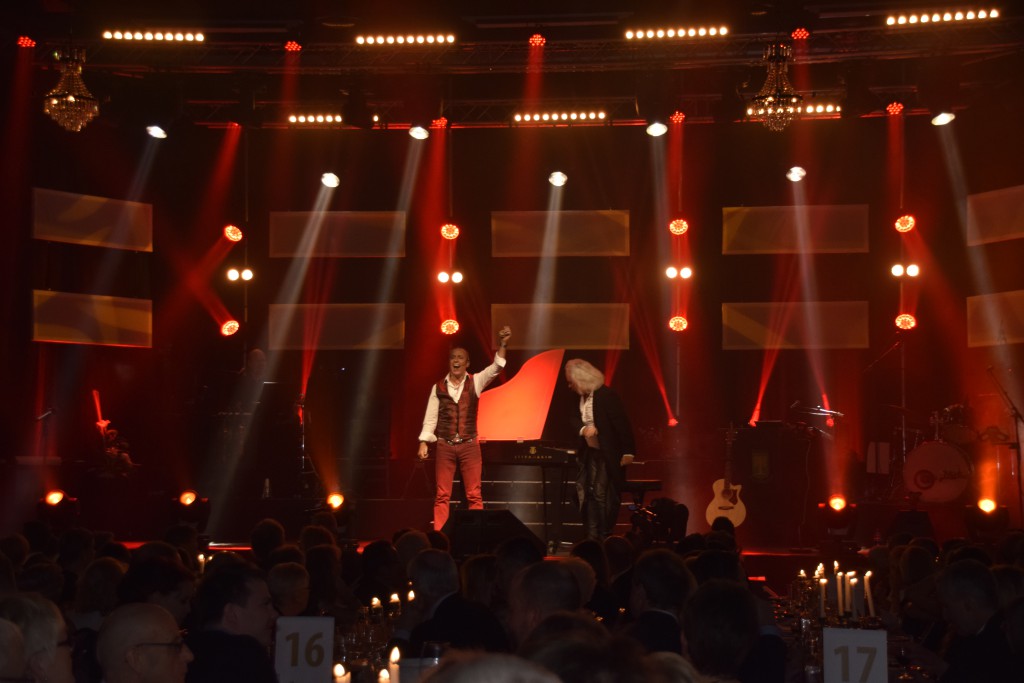 In the middle of the audience in the middle of March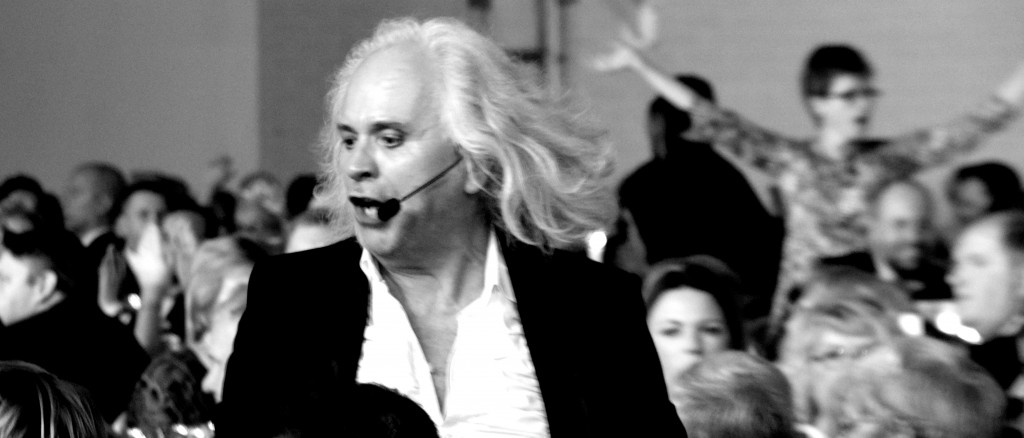 Close-up magic!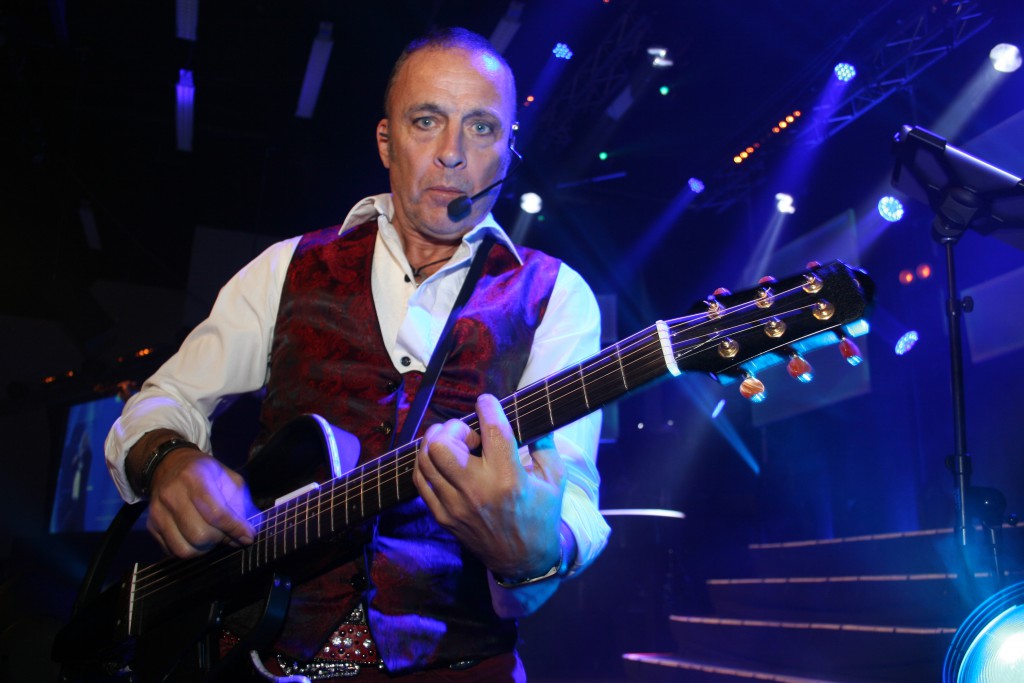 ————————————
Last check before doors at The Palladium March the 9th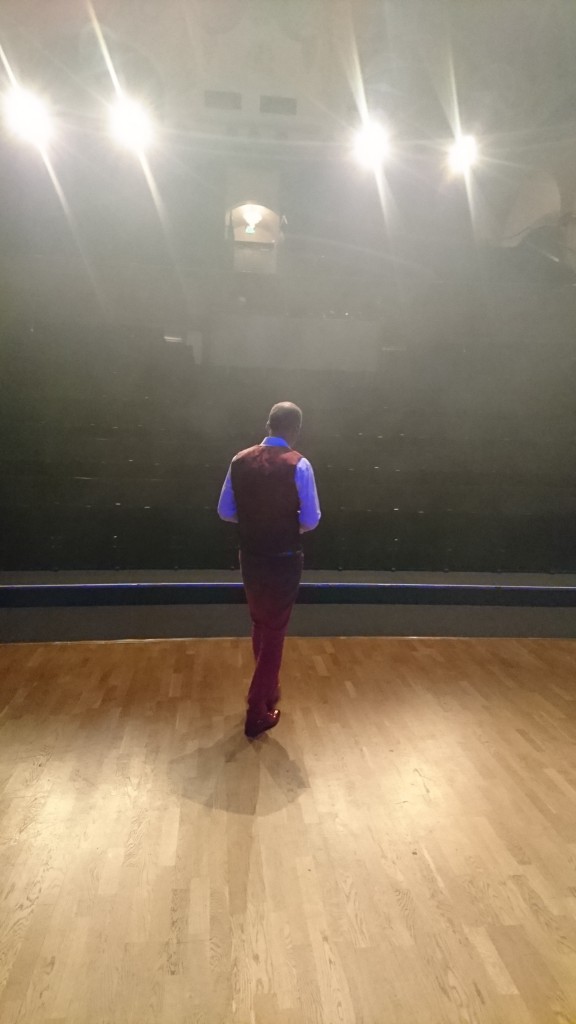 Concert(2 pix by Lovisa Fey)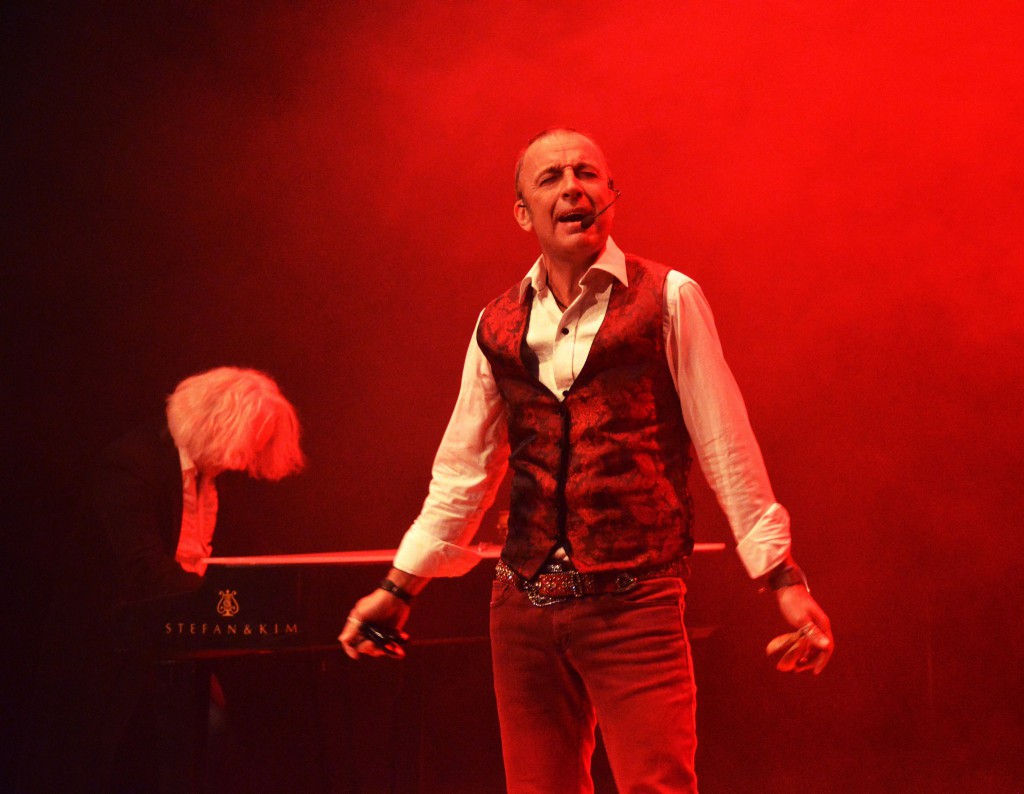 "With an eclectic blend of guitar, keyboard and saxophone we were introduced to completely new renditions of classic pop songs, from 'Smooth Criminal' to 'All By Myself', ending with the audience singing along in unison – what better way to demonstrate the hall's unique acoustic abilities."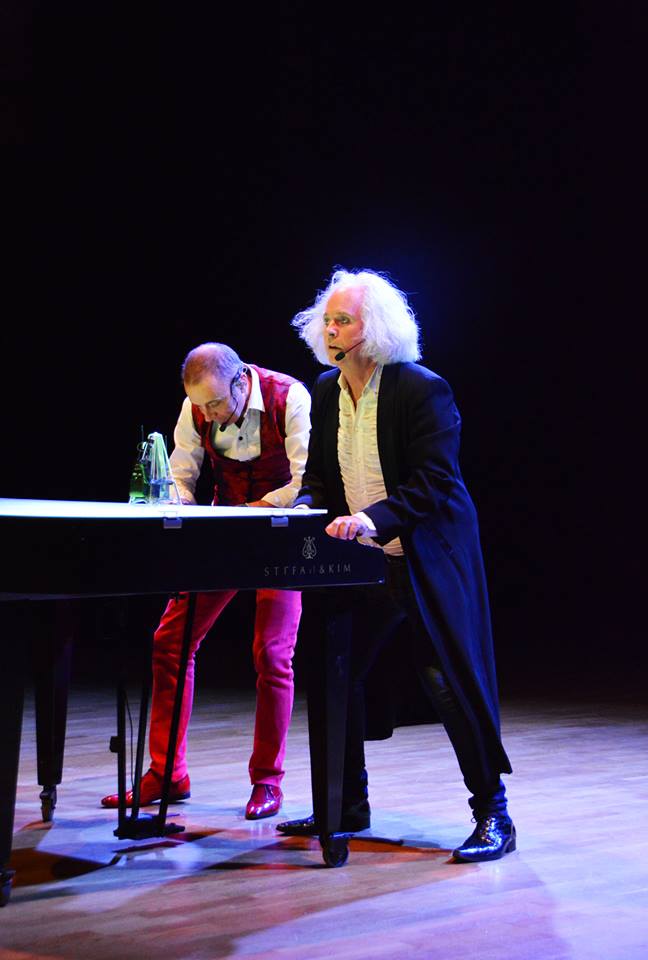 —————————-
Show in Karlshamn, Sweden! Before doors.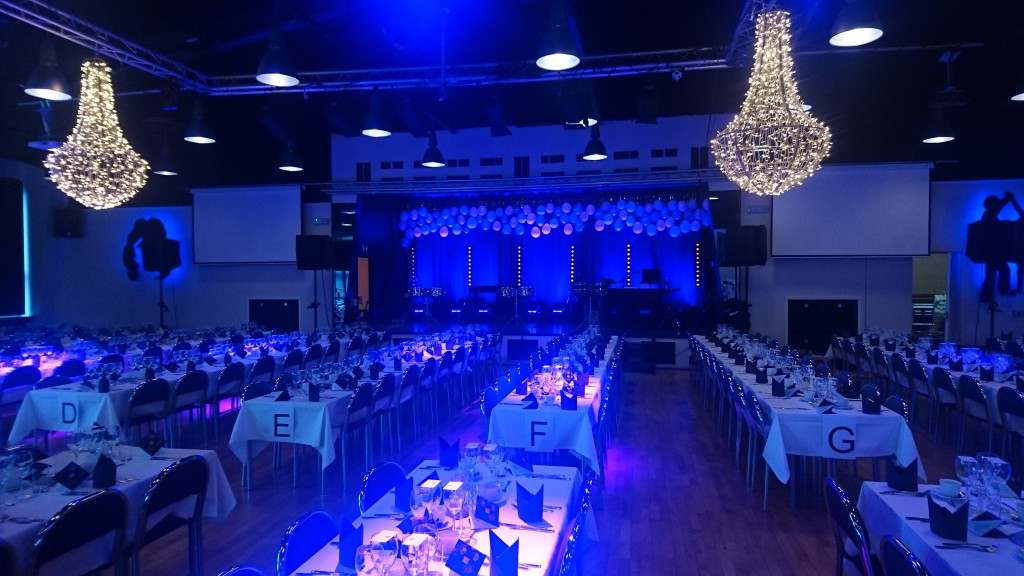 And then directly for Concert in Malmoe! Soundcheck with a lot of trouble …..but great show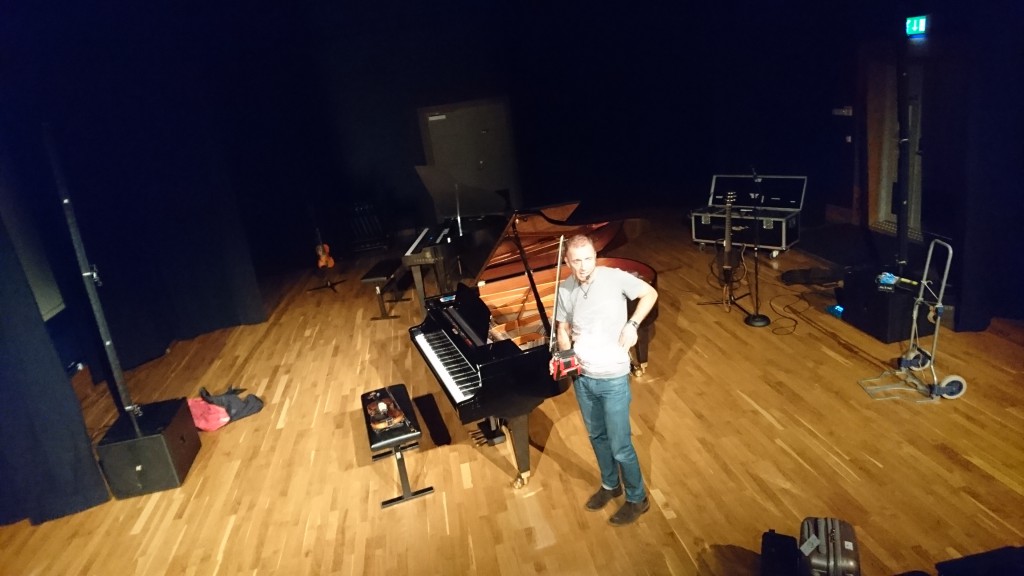 ——————————————-
Concert in the Concert House in Kristianstad!!!!!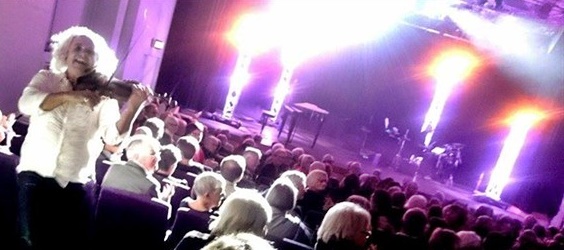 ———————————————–
Kim in Black/White in Cph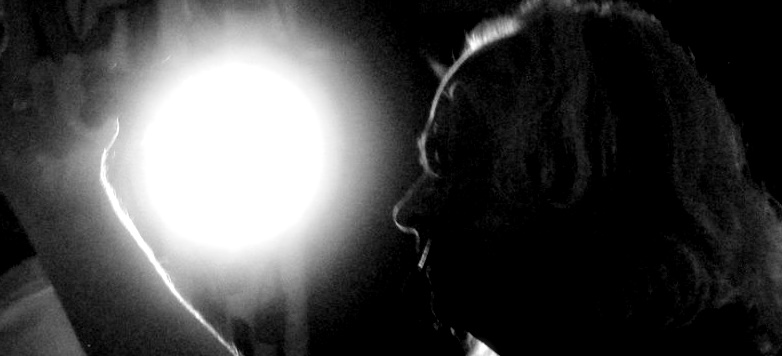 ————
Almost Black/White Saturday morning on our way to next event in…..Nässjö!!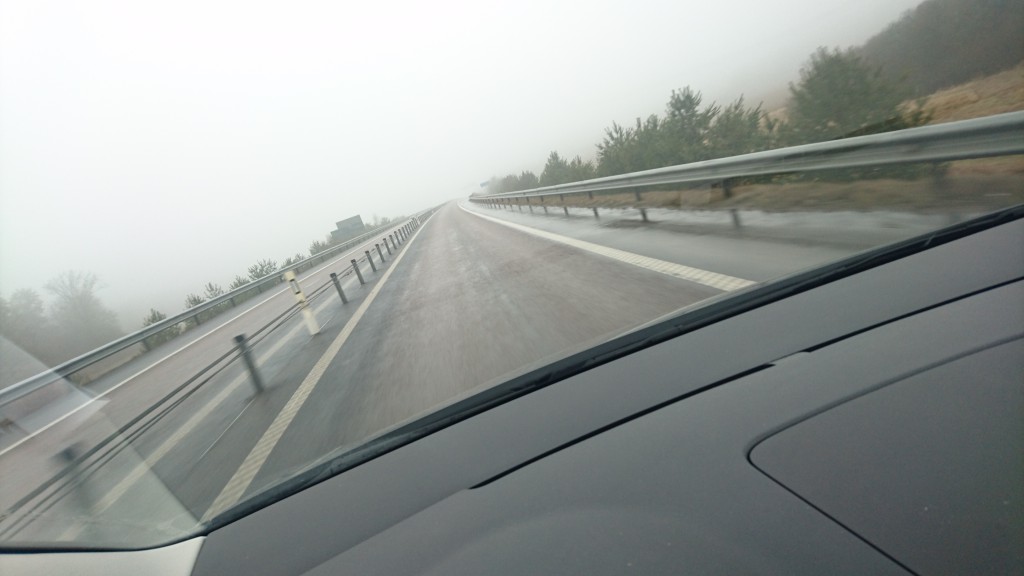 An incredible night in Nässjö where we were secret gusts at a private 50th-birthday party. The roof lifted!!!

………………………………………………….
Long day in Ronneby!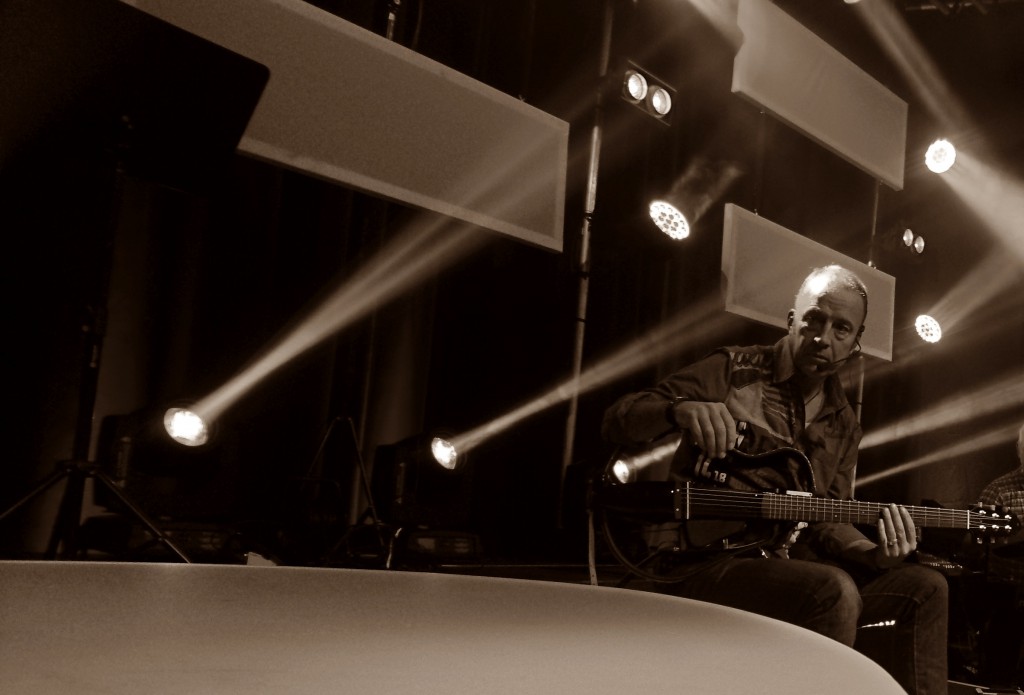 Great venue!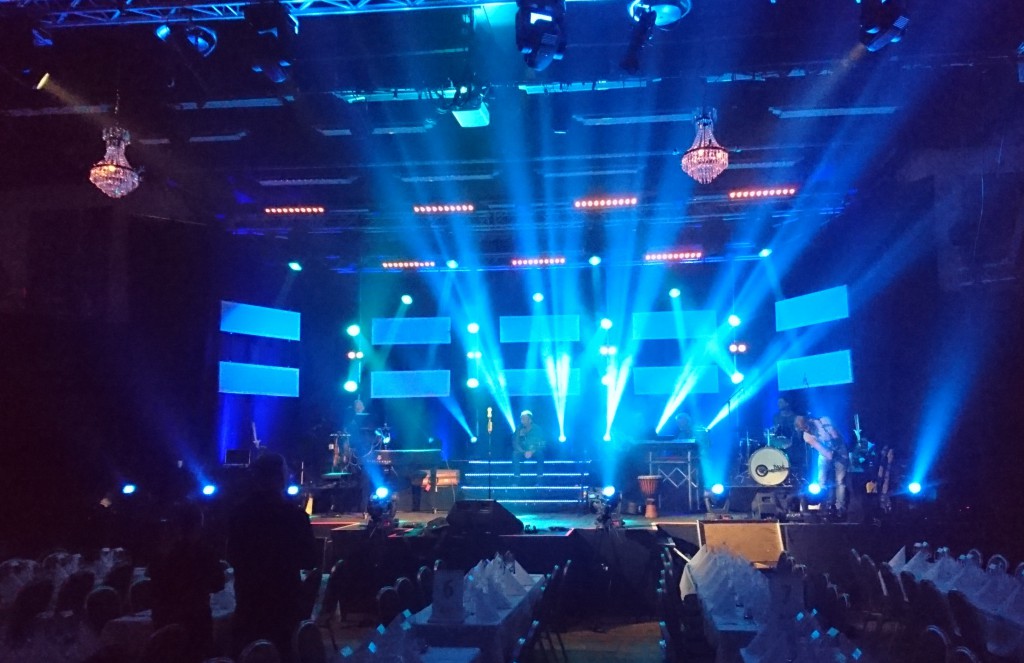 Good artists!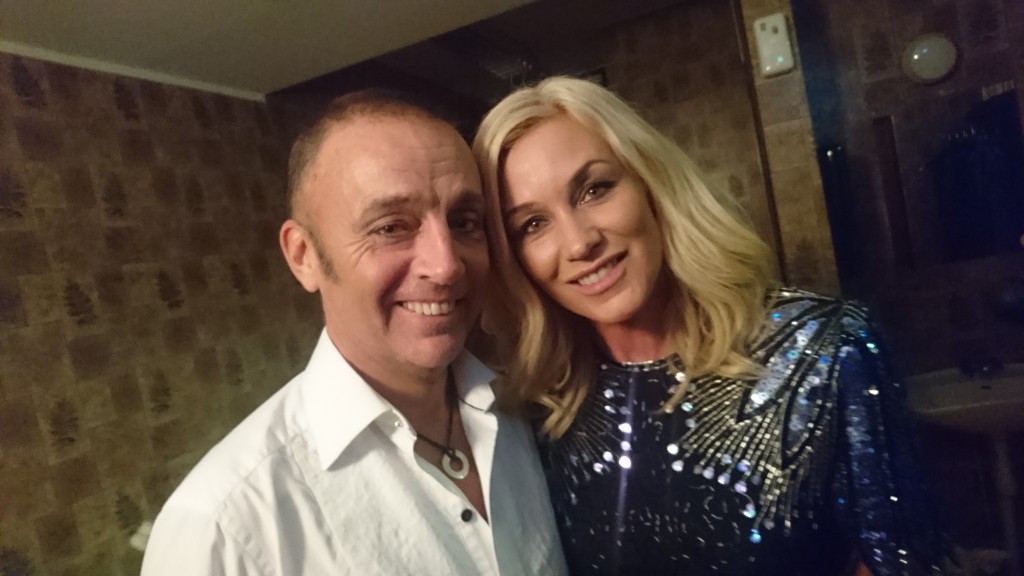 Happy ending!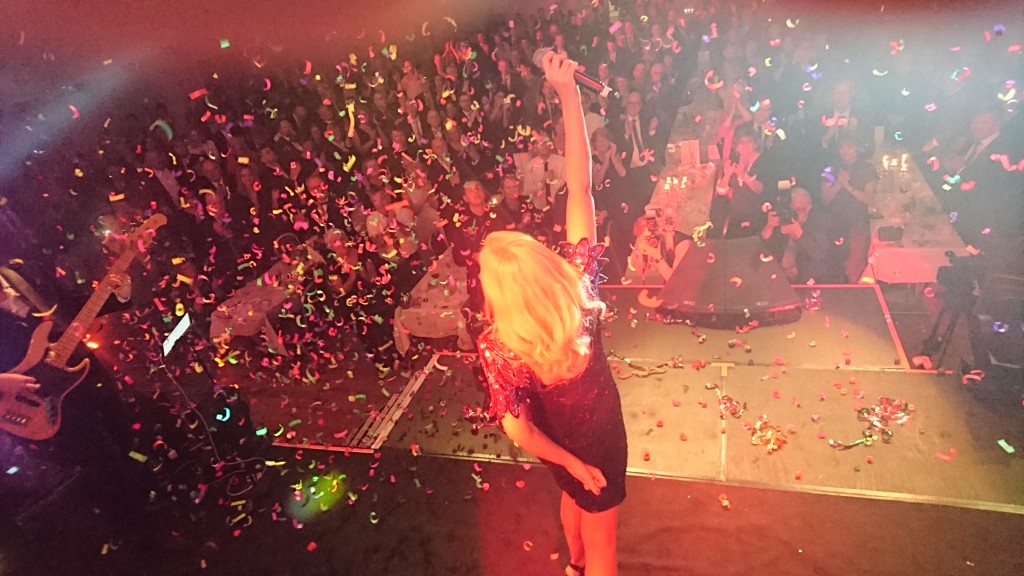 A Lovely gala show together with Hasse Bronten, Jessica Andersson, Lasse Kroner and S&K
—————————————————————–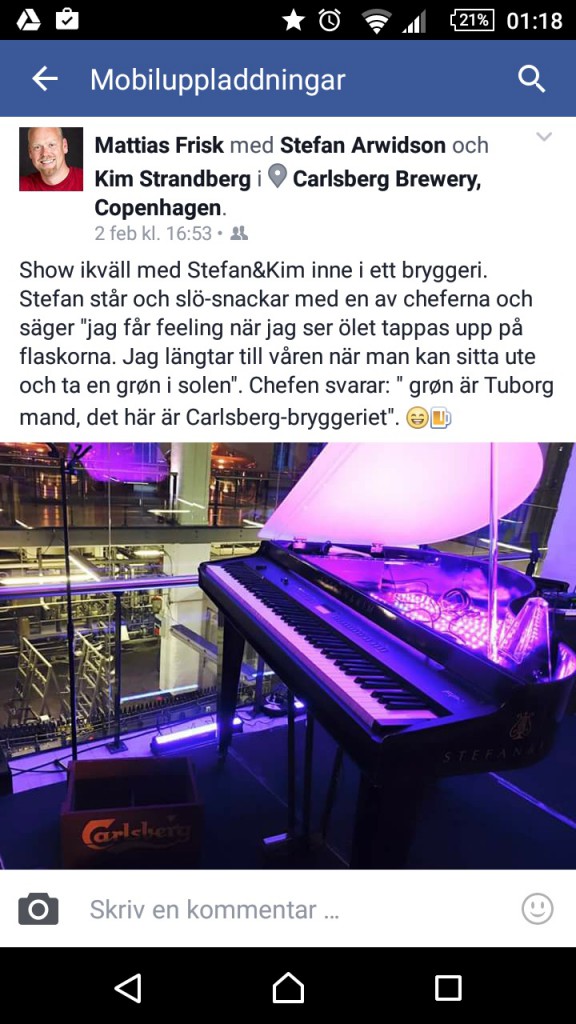 —————————————————————–
Gig at the Carlsberg brewery in Cph, February 2nd for Toyota!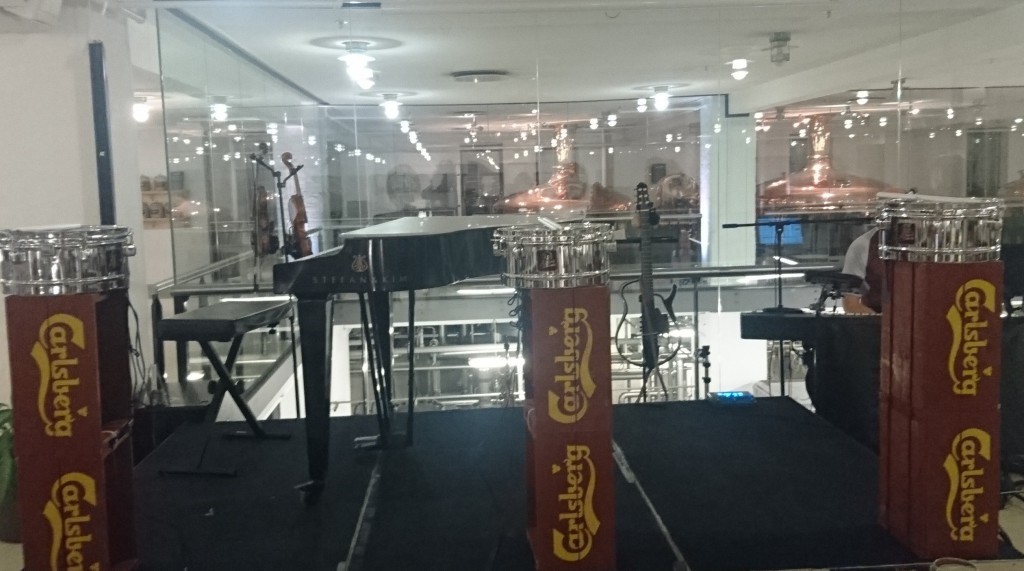 —————————————————————–
It´s a long way to Värmland!
But it was all Worth it! Great gig with Contrast in Selma SPA January 29th
Before doors in Sunne, Värmland!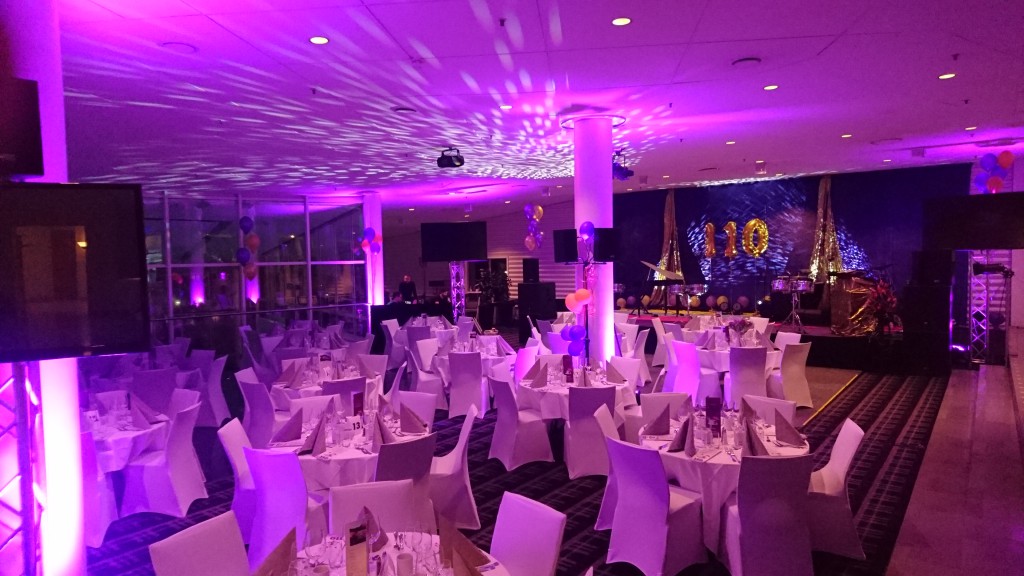 ——————————————————–
Before gig in Lund!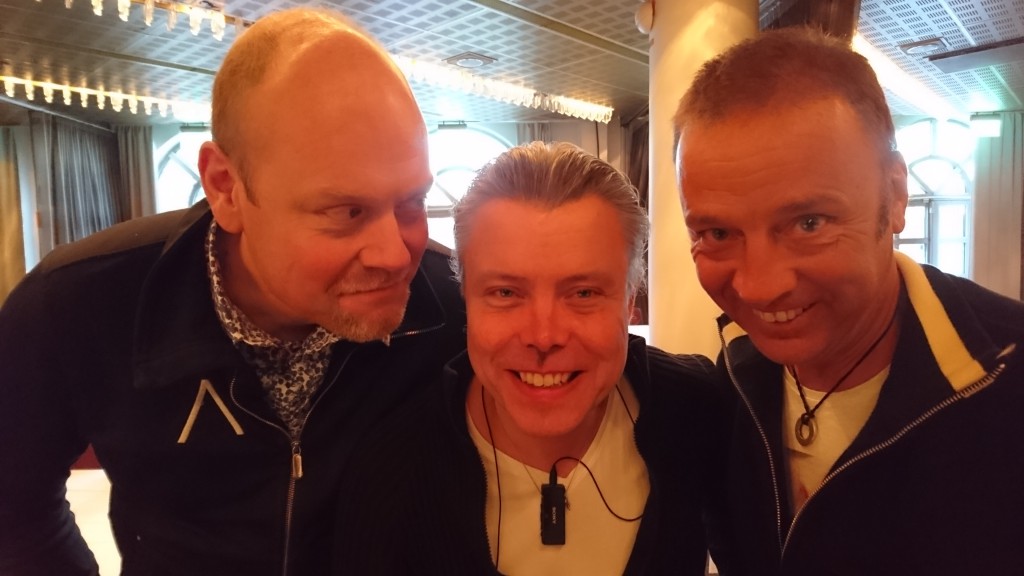 Check out when we are doing "Drums" together with The Amazing Drummers.
———————————————–
——————————————————–
Soundcheck in Sollentuna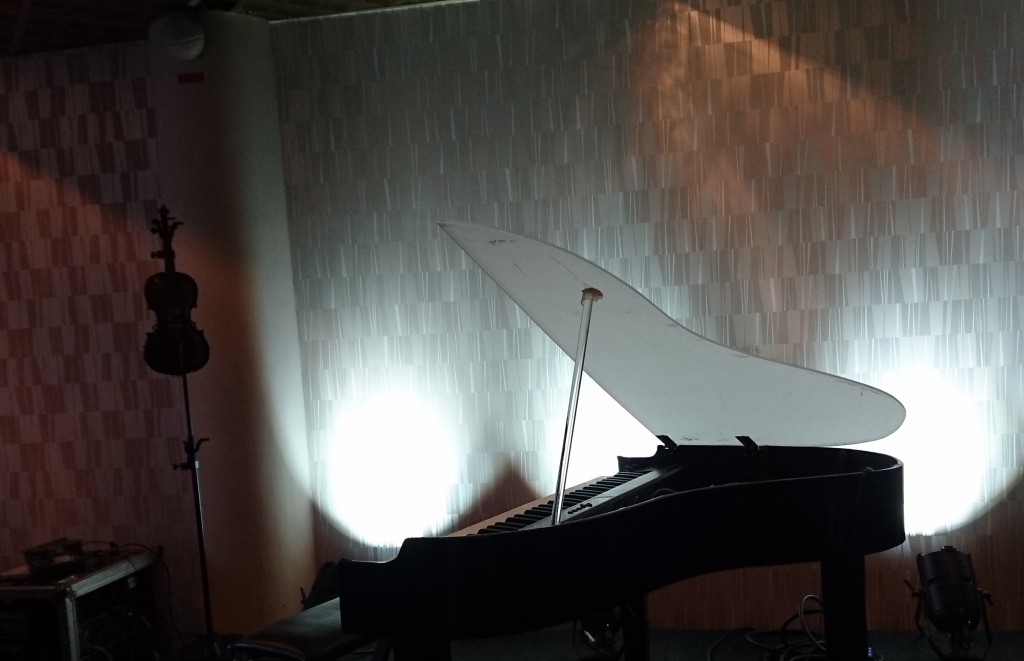 On the road again!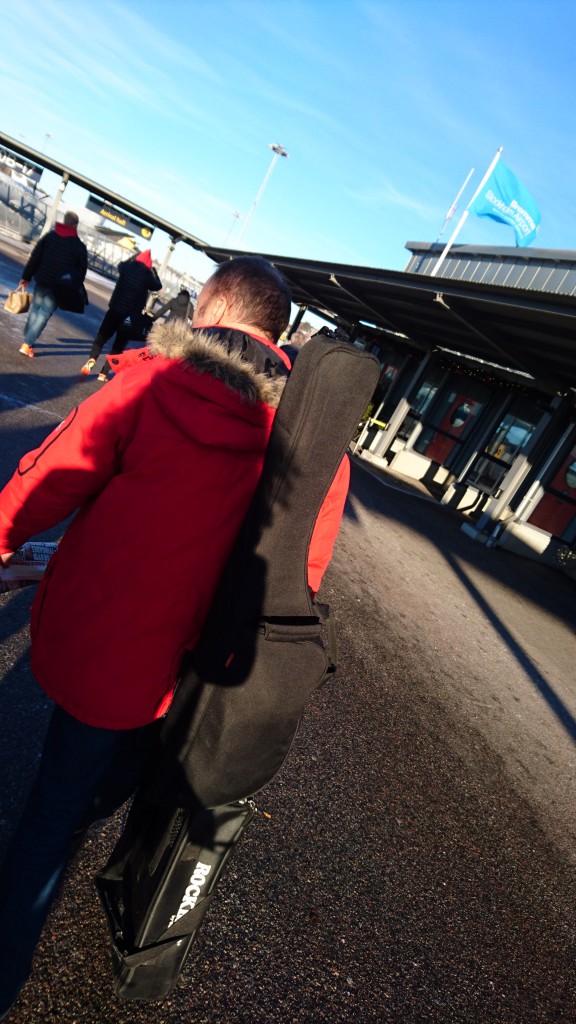 ————————————–
Ok with this messy studio?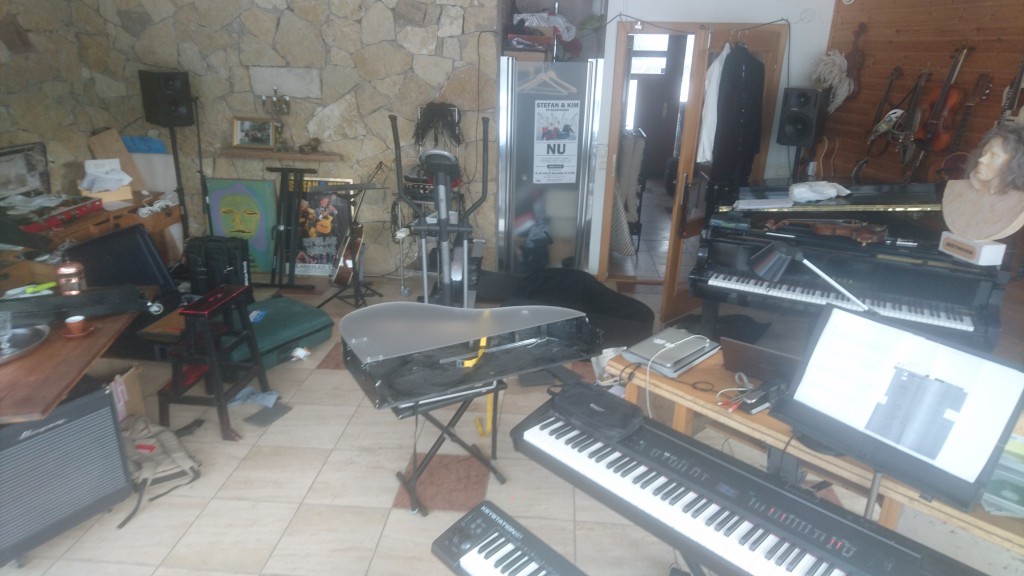 ————————————
Merry Christmas!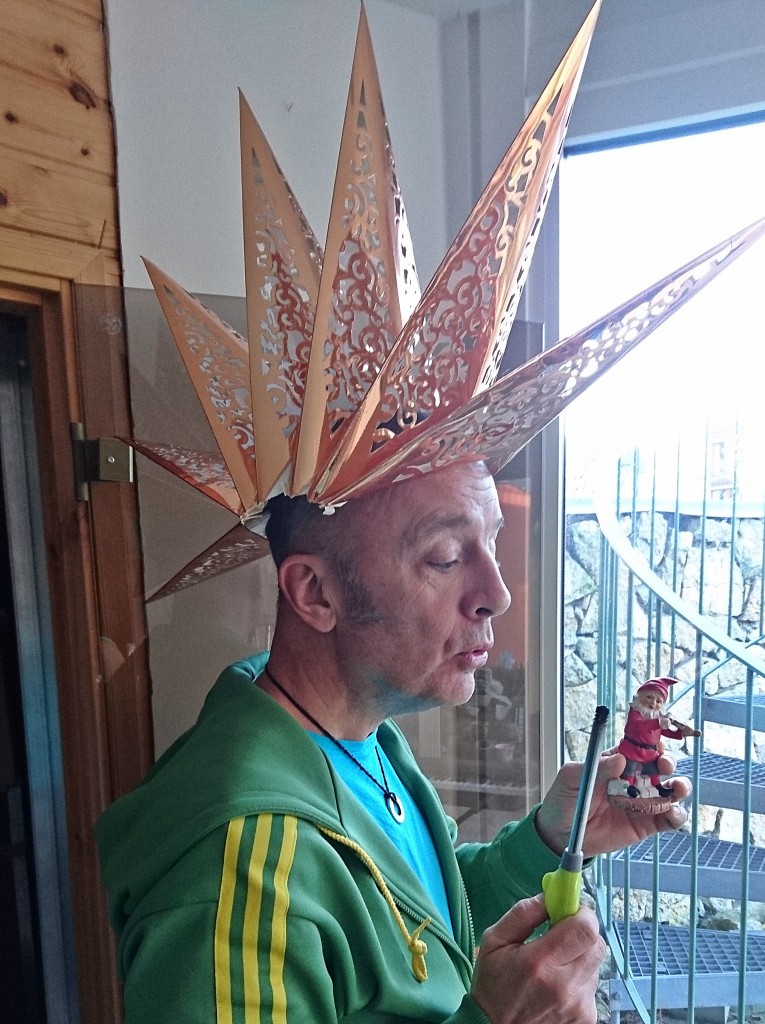 ————————————————————————-
This looks pretty good for tonight´s show I Think!?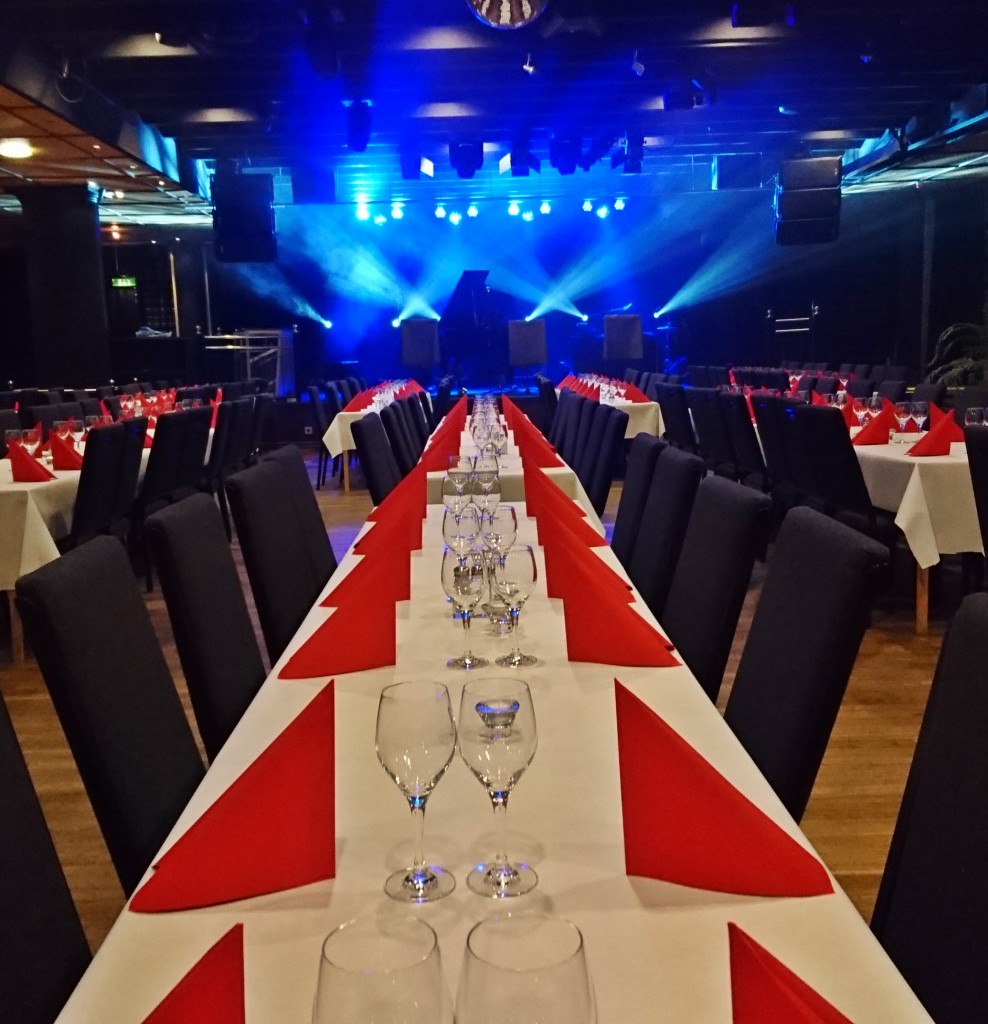 ———————————————————————————————–
MrFrisk just before first spot in Sundsvall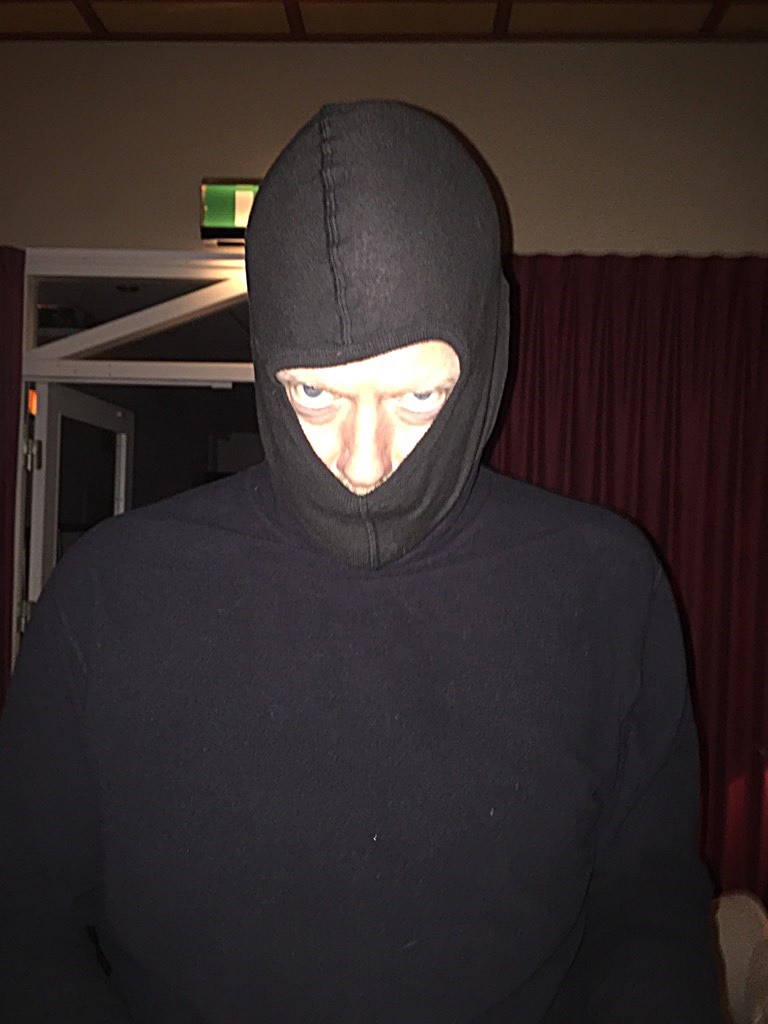 On our way home again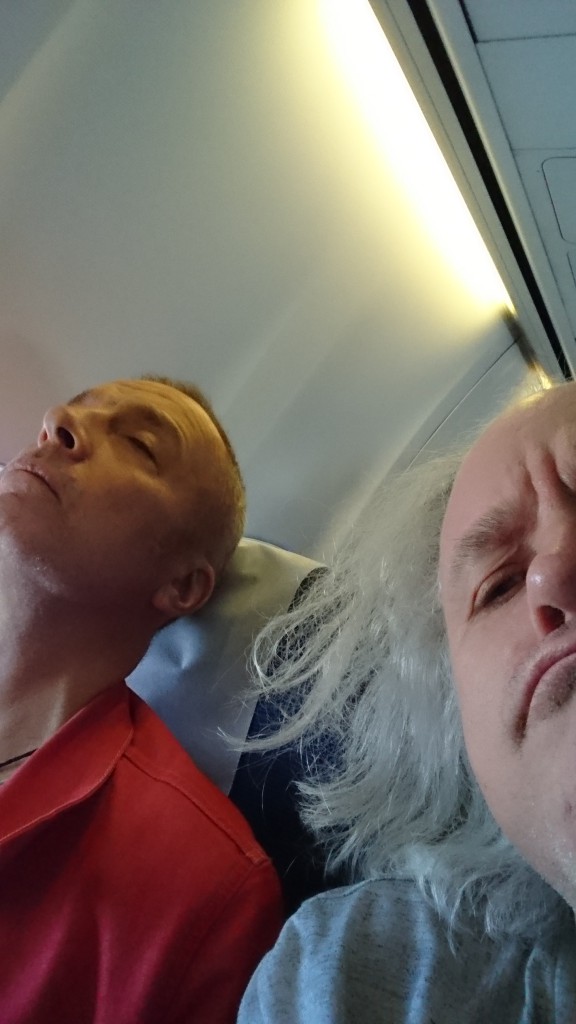 ——————————————————–
Breakfast meeting at my house together with DJ-Linsan, Paul our sound engineer/musician/inspirer and MrFrisk our incredible musician/bandleader/arranger. A lot of exciting ideas for collaboration over borders.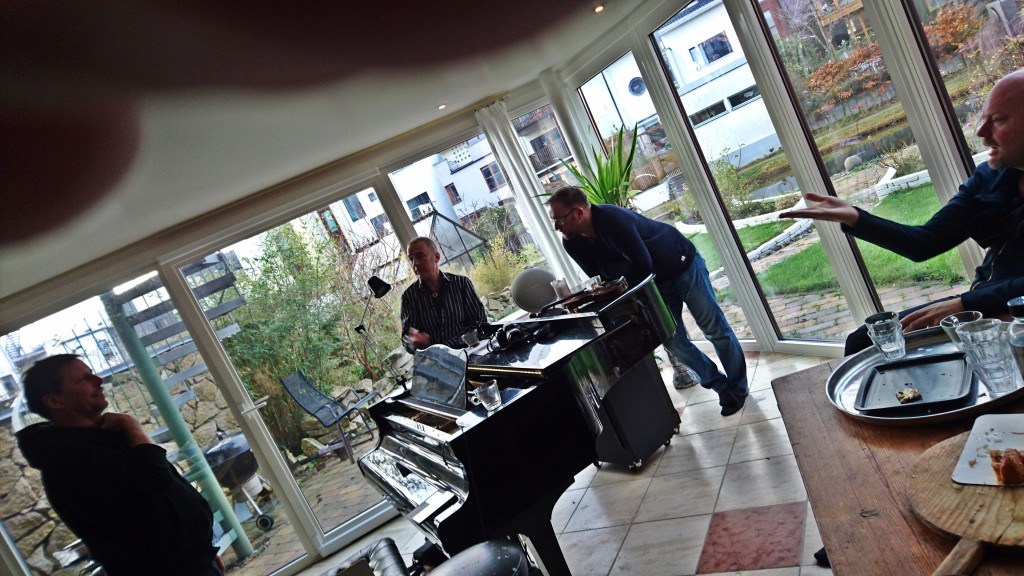 And then directly to the snow in Sundsvall, once again for a new event.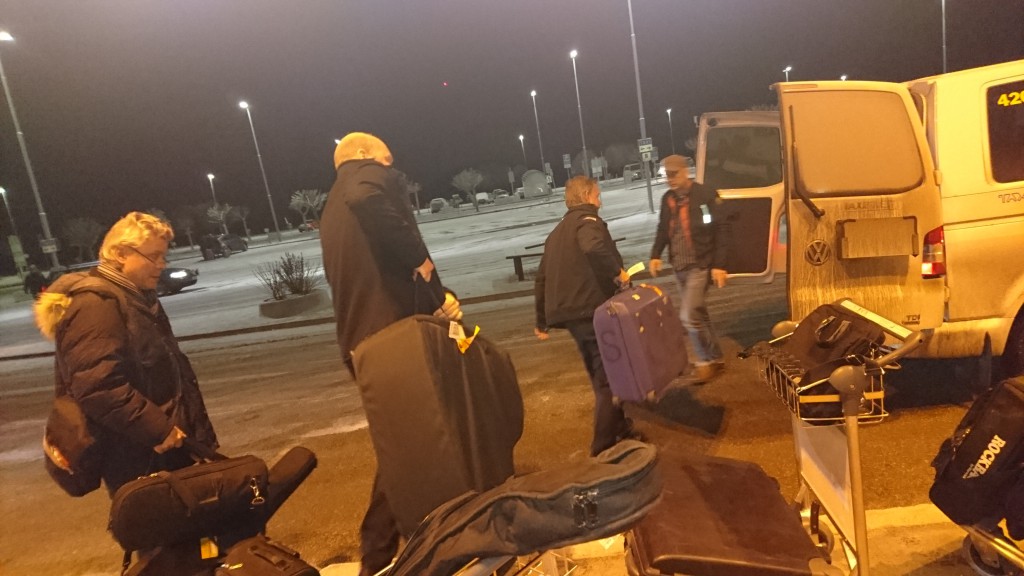 ———————–
December 11th at the Museum of art in Malmoe.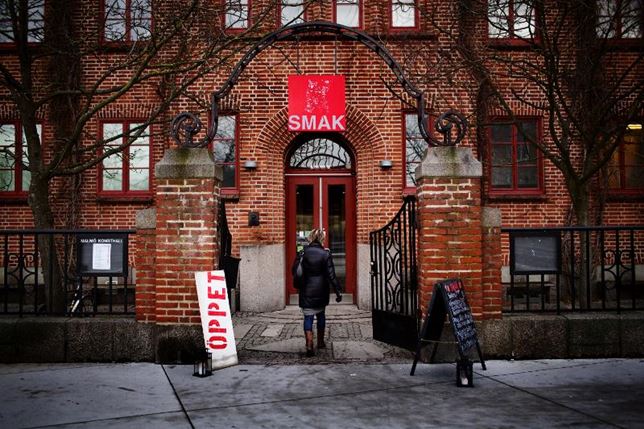 One deserving project for diabetes. 10 years anniversary. Scientists, nurses and doctors. We got the honorable mission to entertain these people who is doing this great effort. Read more at www.med.lu.se/teddy.
—————————————————————
Kristianstad again! One of a hell of a nice corporate event that was organized by Kraftkällan!
—————————————————
Week 48
Pipeline i Stockholm, Sweden!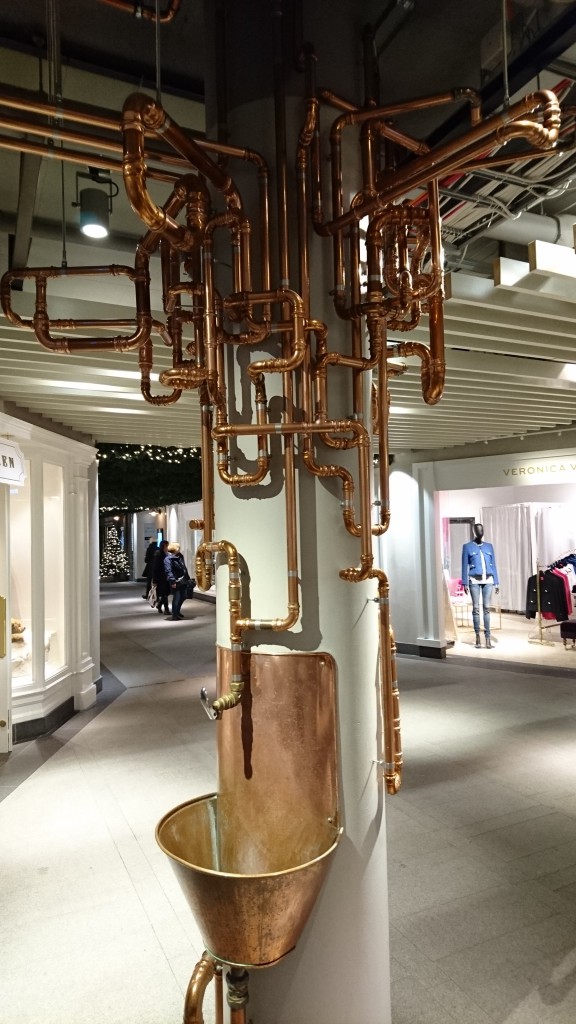 …….a delightfull ending of this week, performing at a Doctor Graduation at the University of Växjö in Sweden.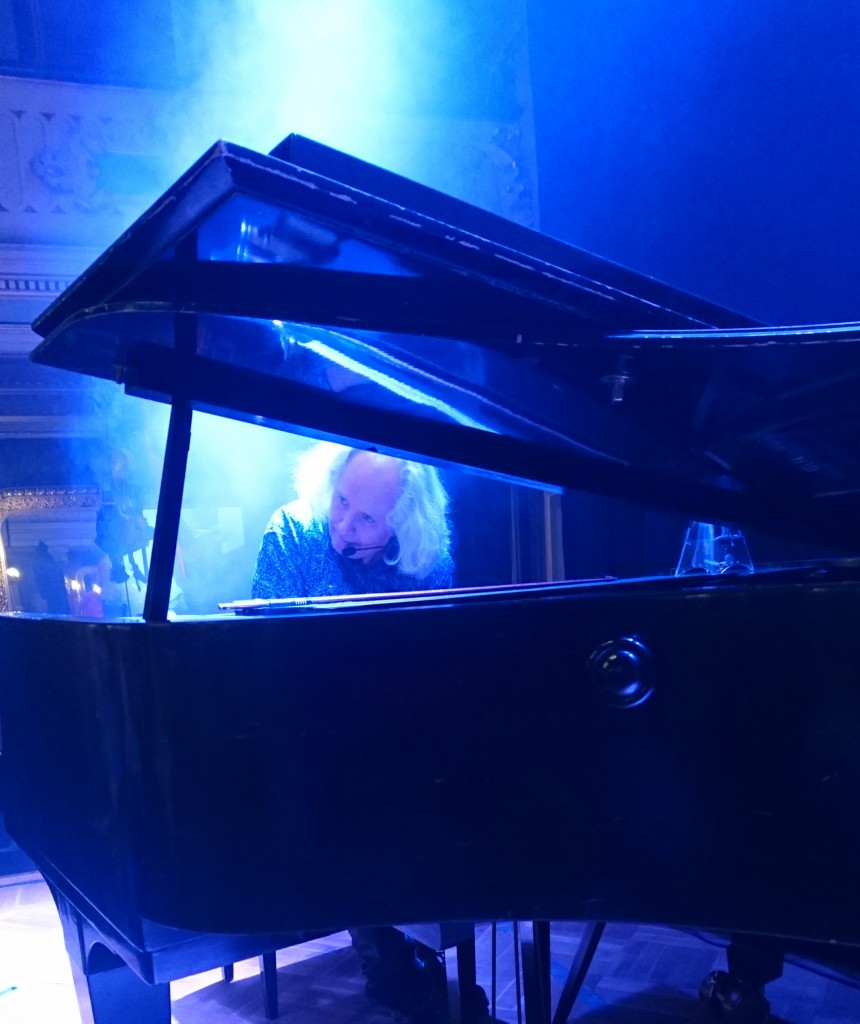 ——————————————————————–
Sunday: Fully booked Sunday show with S&K at The Slagthus in Malmö.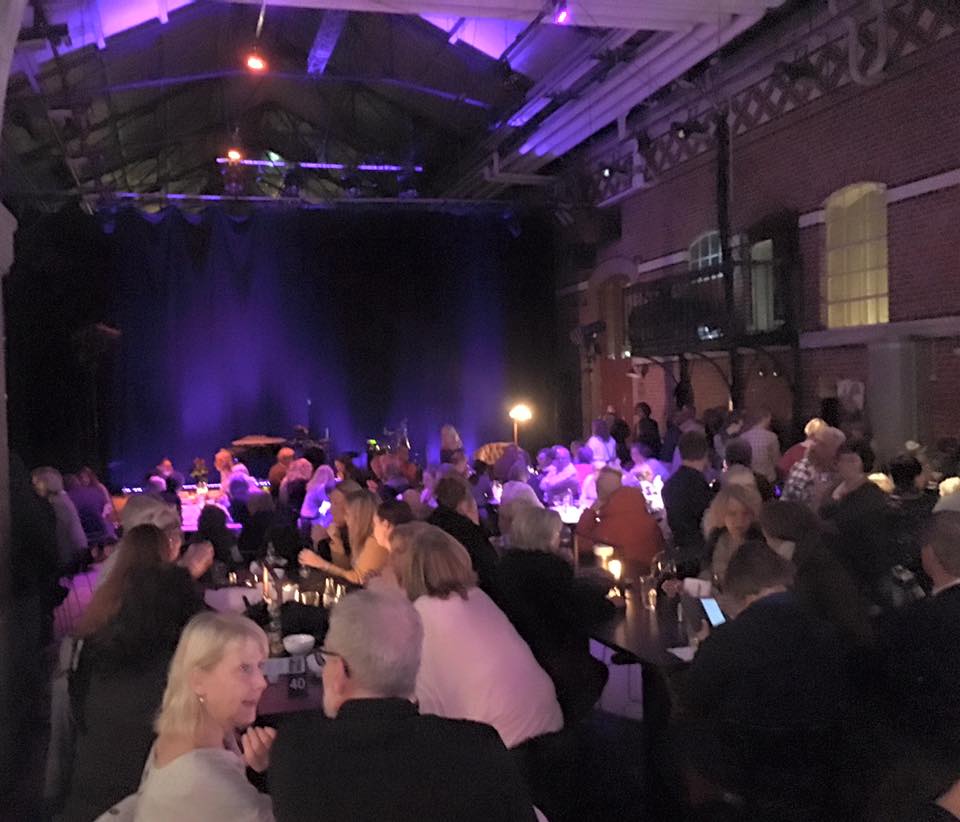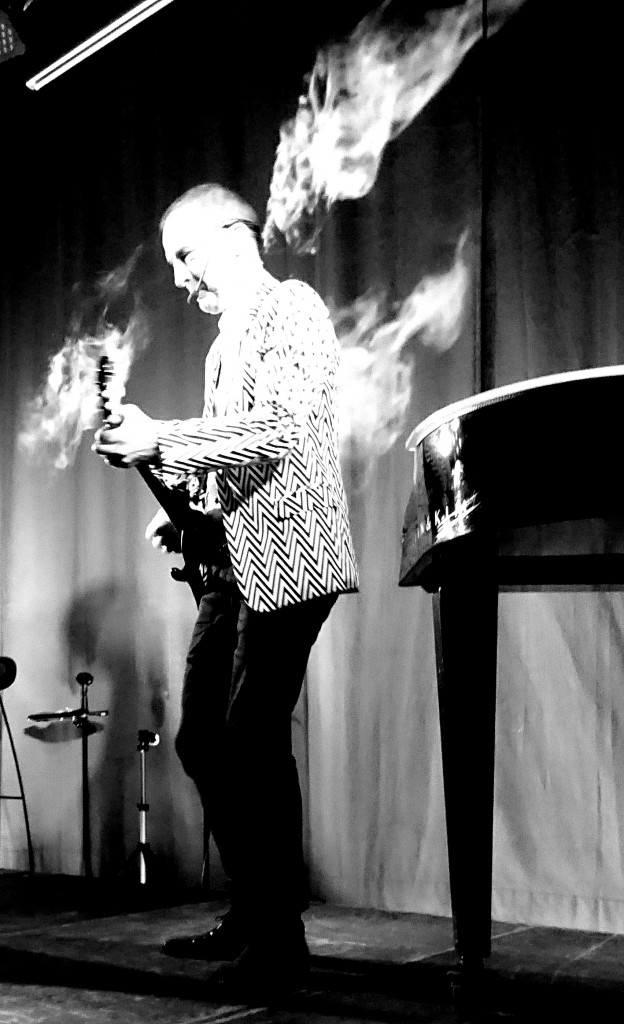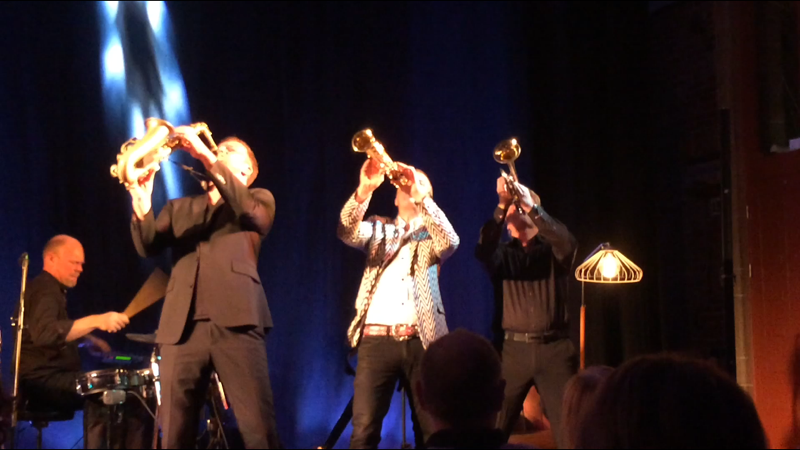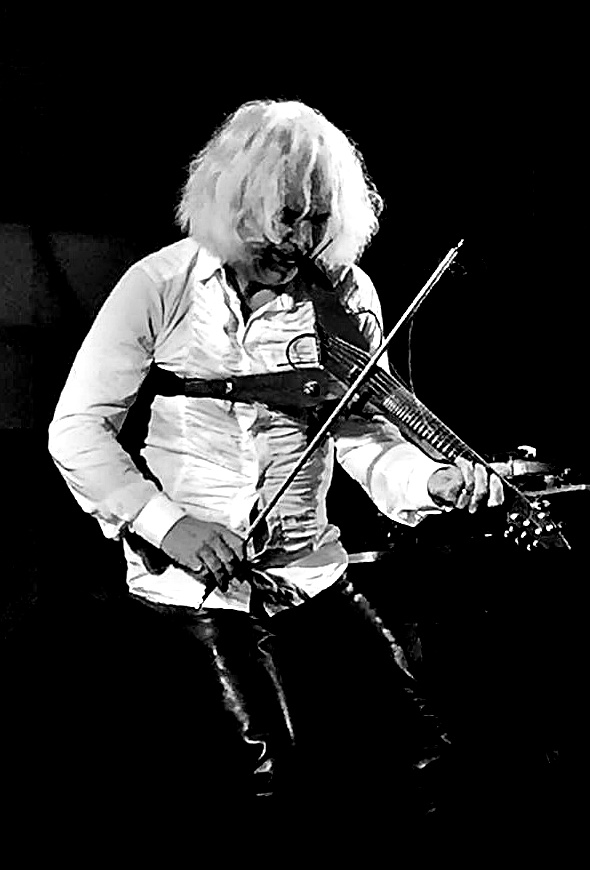 Thursday + Friday in Gothenborg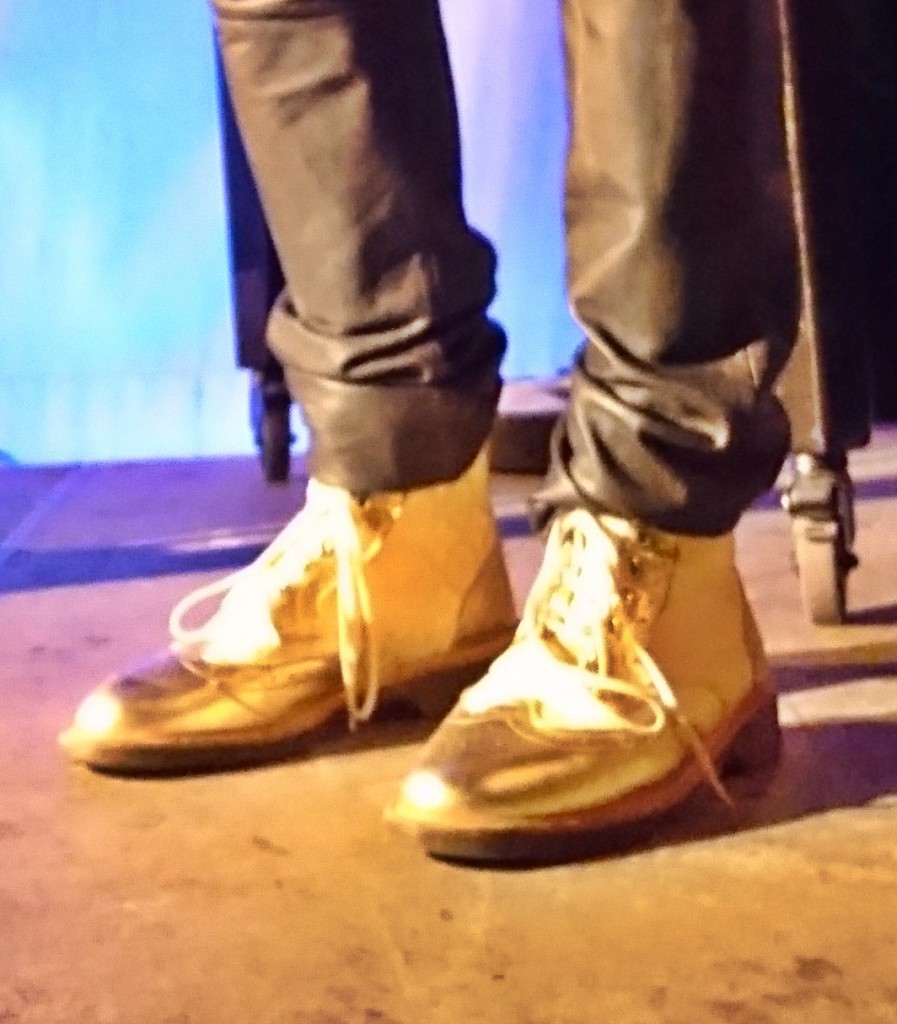 Wednesday! Early morning flight to next stop.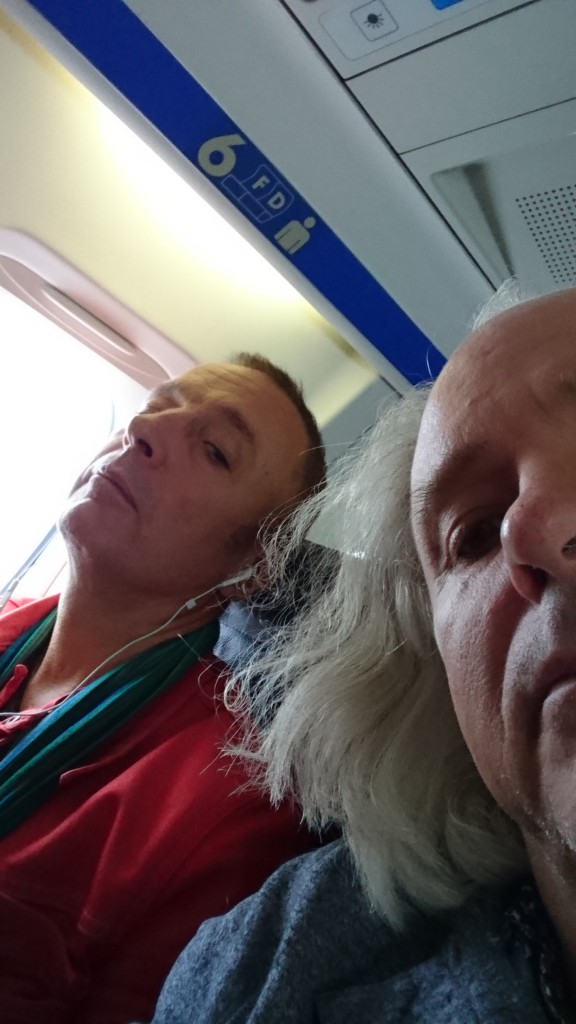 What a happy positive gang on a meeting for a new event ahead. Andreas at Ciceron took the Picture.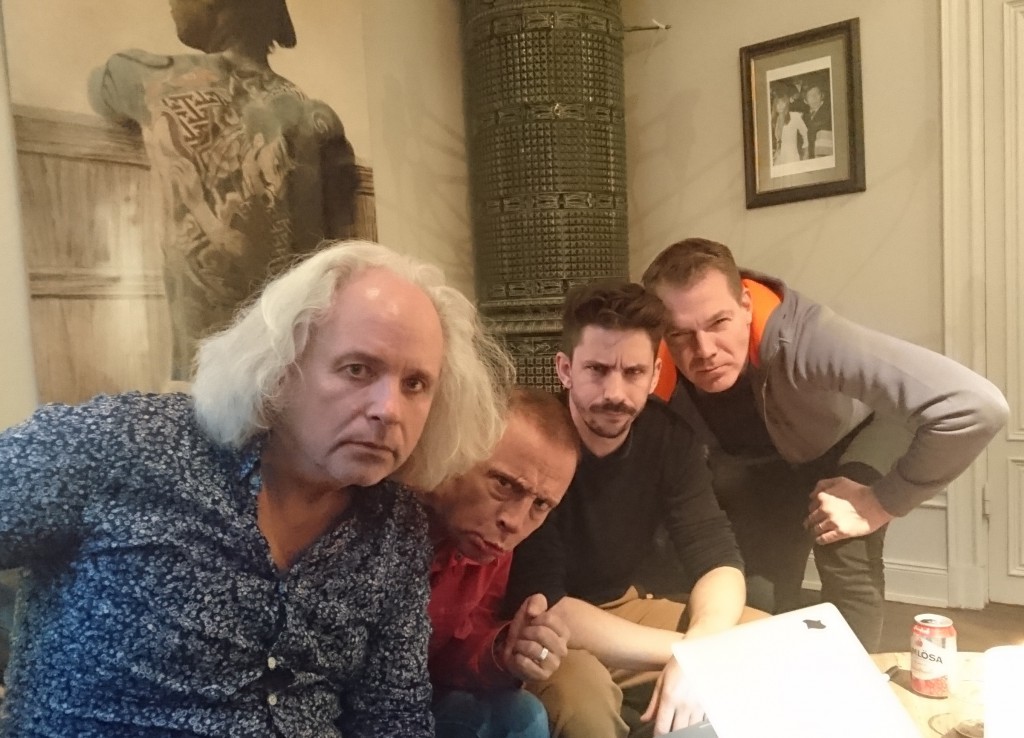 Tuesday!
First stop this week! International show for SCA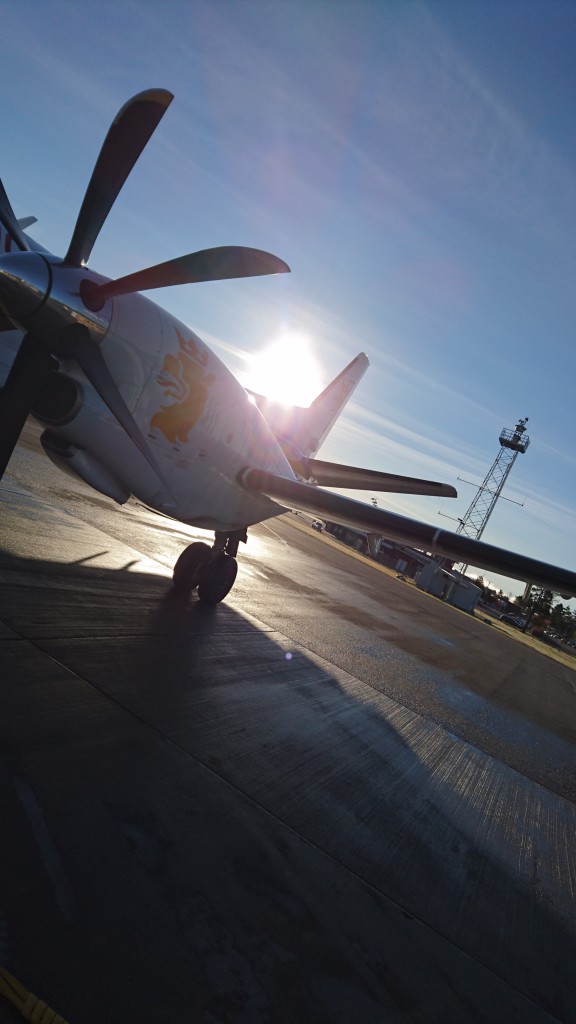 Soundcheck in Black & White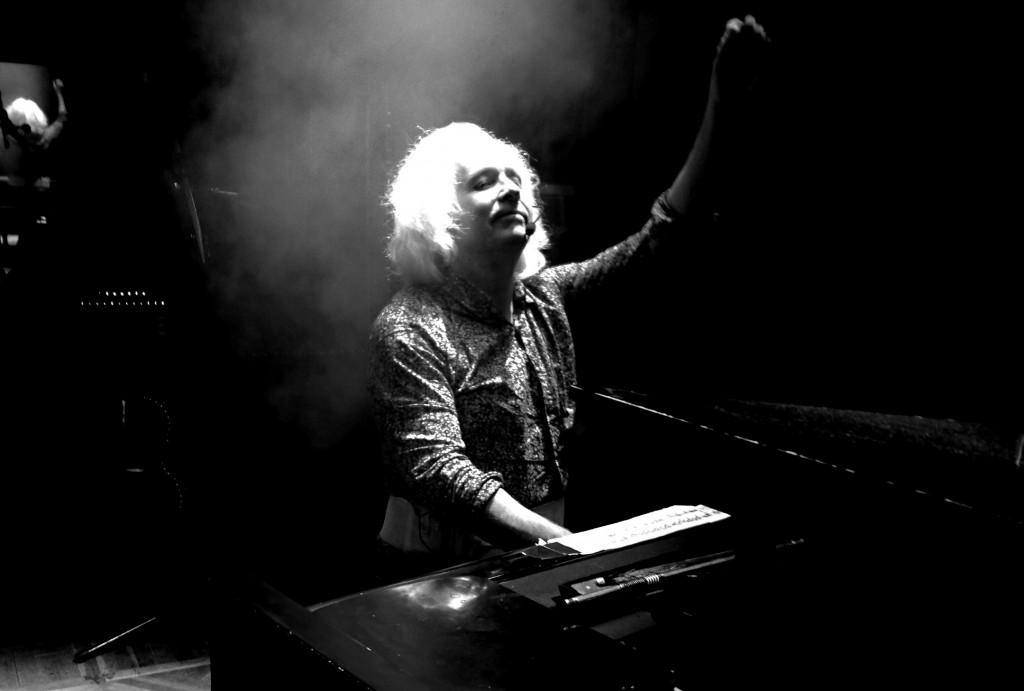 The venue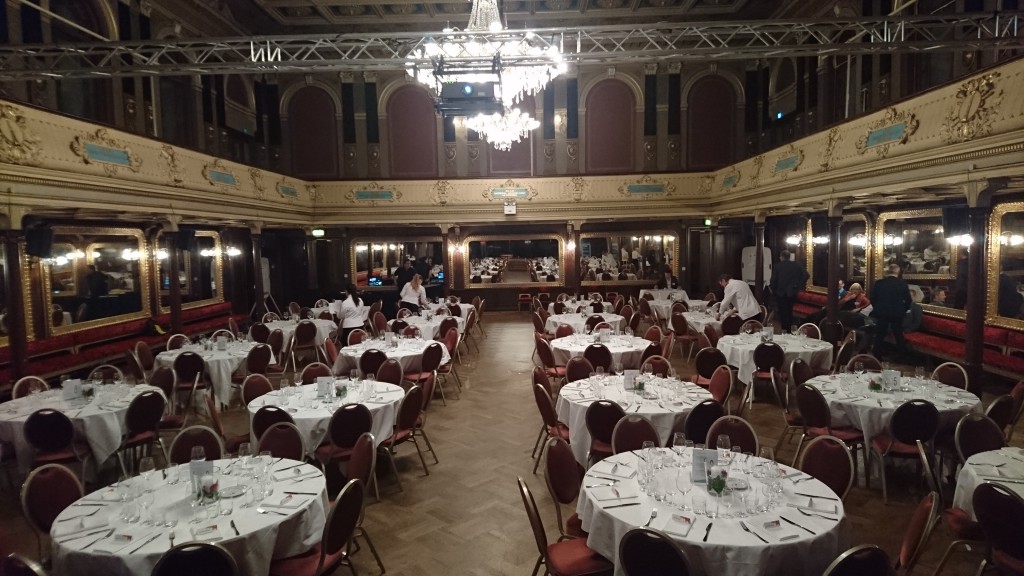 MrFrisk is tall & tired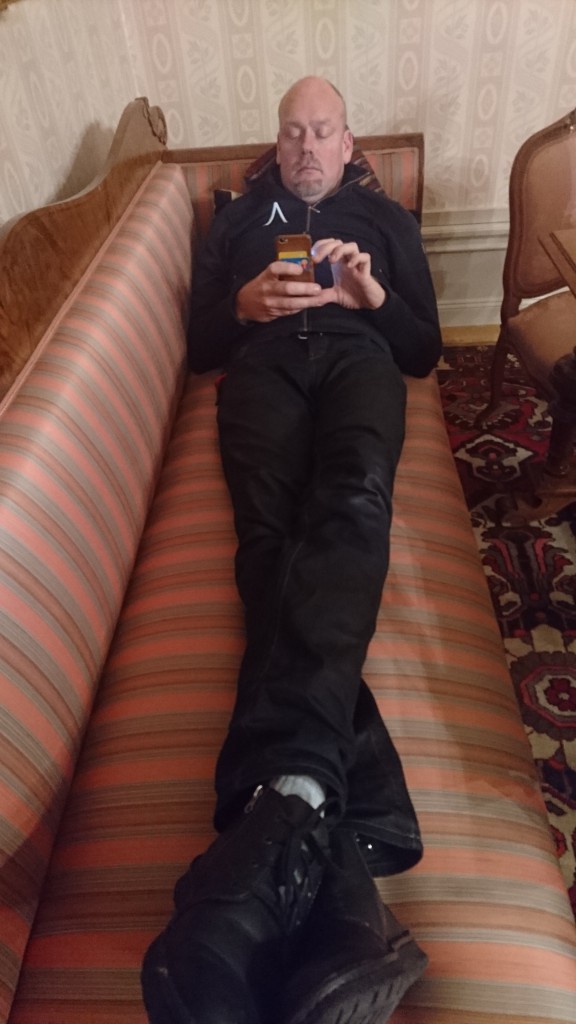 ———————————————————————————————
Måndag!
Underbar kul repa med Mattias, Janne o Paul o naturligtvis Stefan inför veckans shower som kommer.

Stefan brister

———
———————————————————————————————-
Another wonderful Sunday at work! November 15th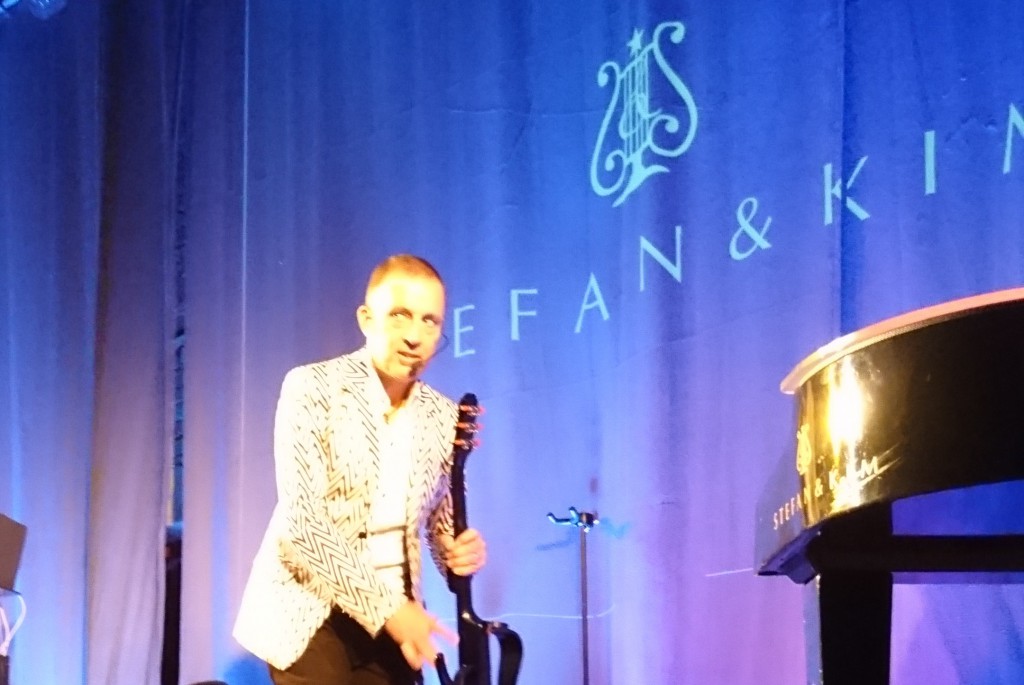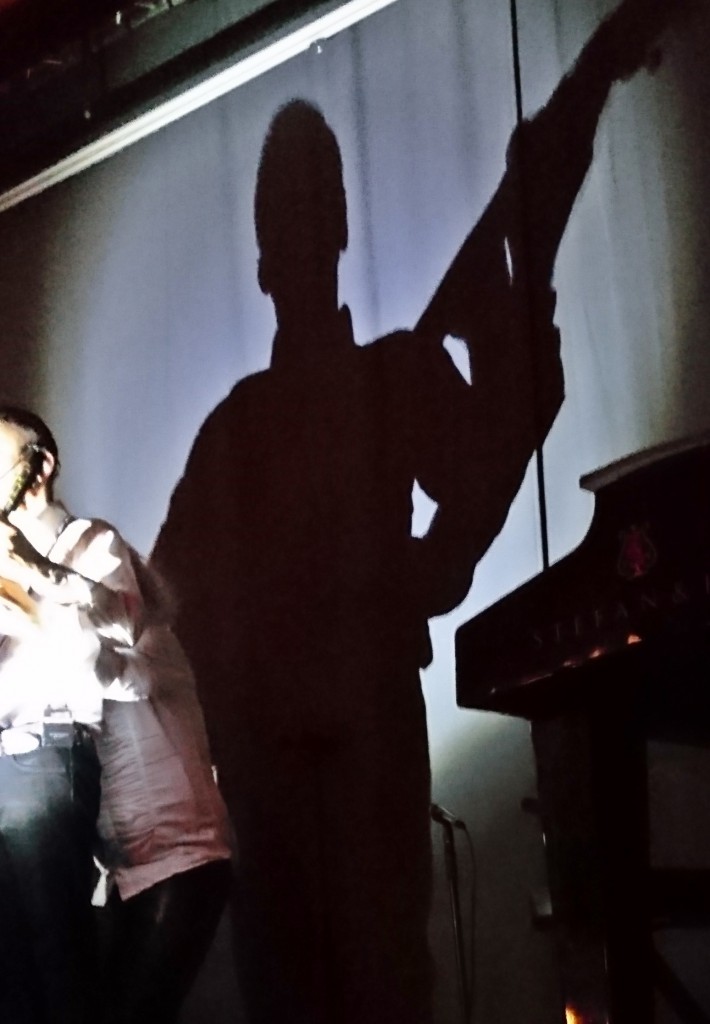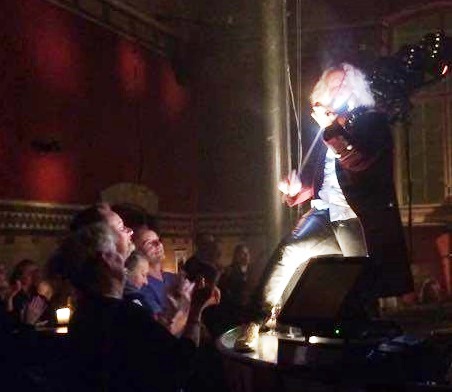 ———————————————————–
Opening night for "NOW" at Slagthuset Mamö Sweden!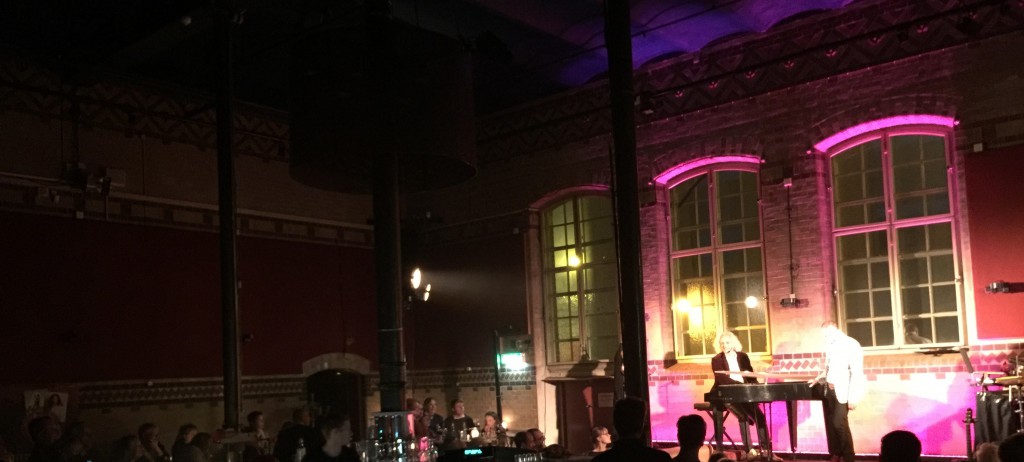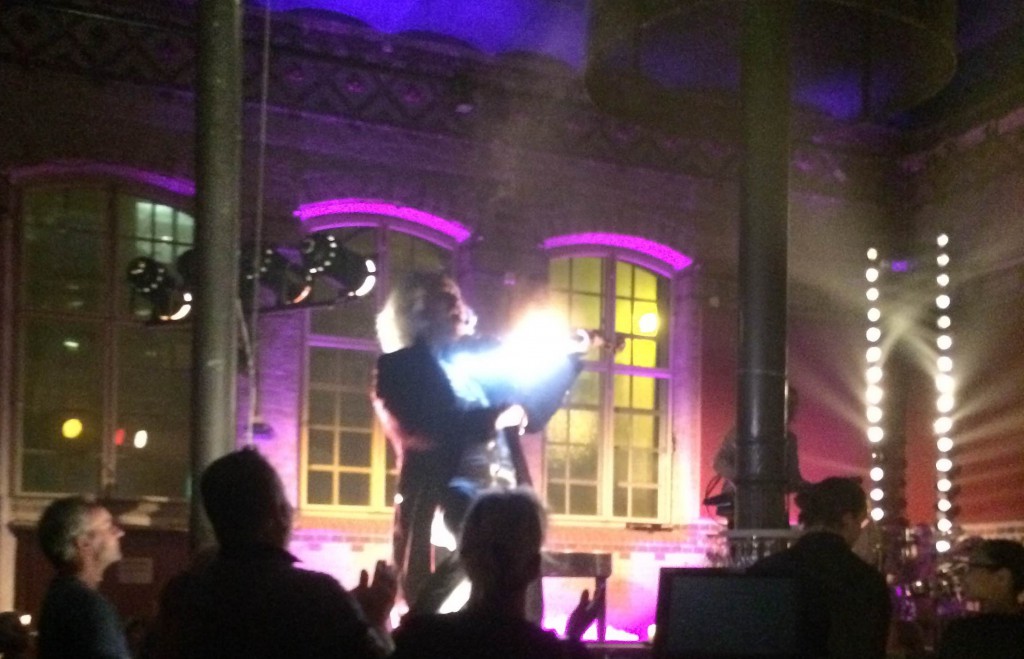 ———————————————————————
Great nite organized by the Great event planner, Contrast at Hasseludden near Stockholm
Checking all the lights, just before doors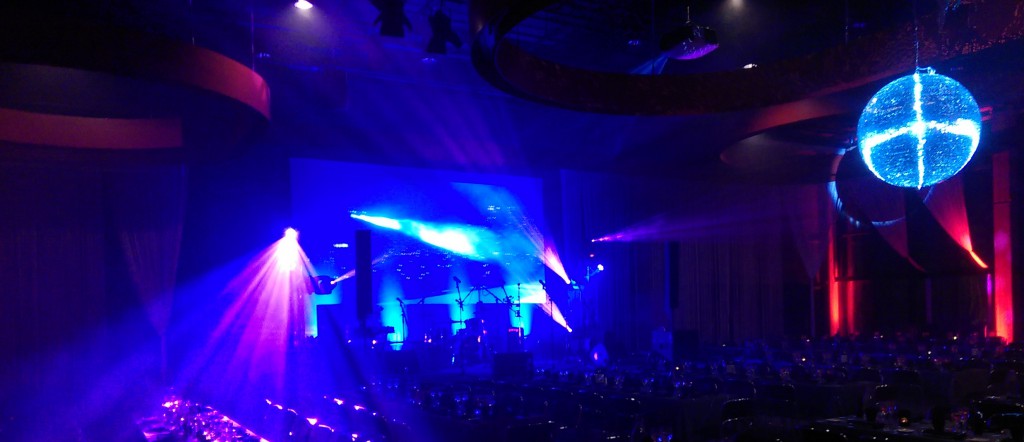 ——————————————————–
Fully booked Concert house in Kristianstad i Sweden!
Just before we entered the stage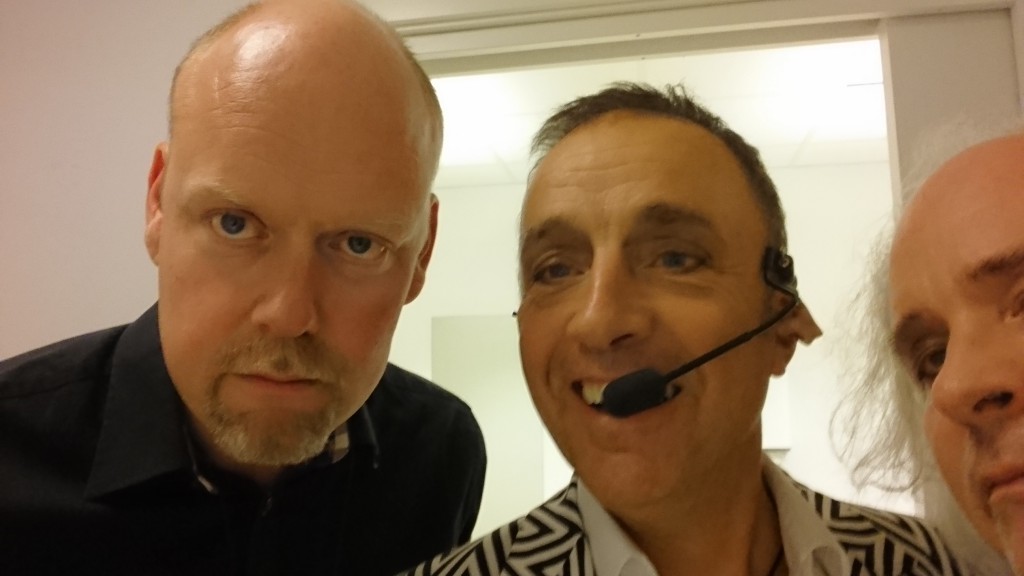 ————————————————————————————
Very early morning on our way to Sundsvall, in Sweden!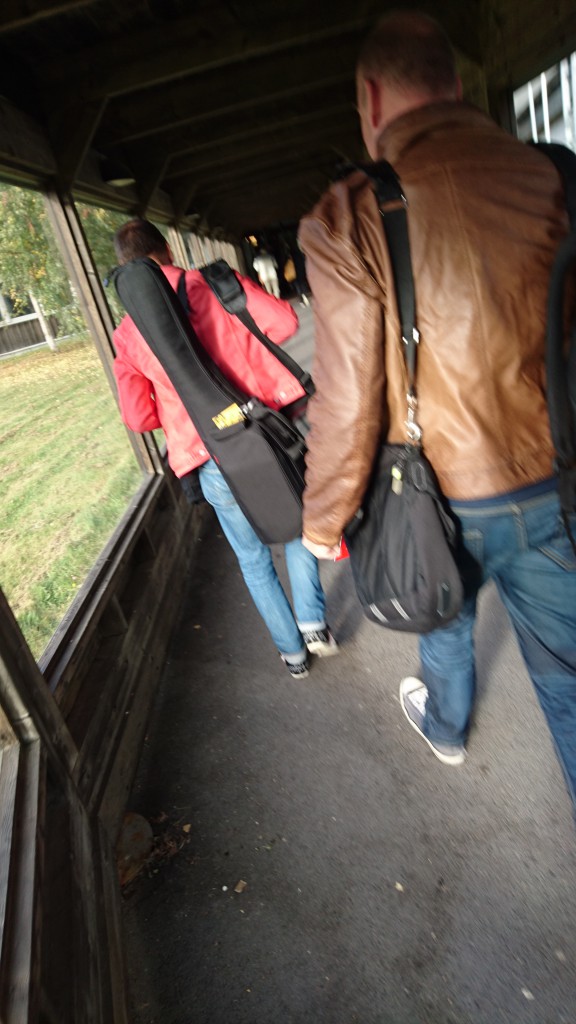 But when we came there, we were blown away of the venue, the table setting, the stage and everything! And the crowd were great and Ronny and Kenneth from Programbolaget did a great job! We´ll be back!!!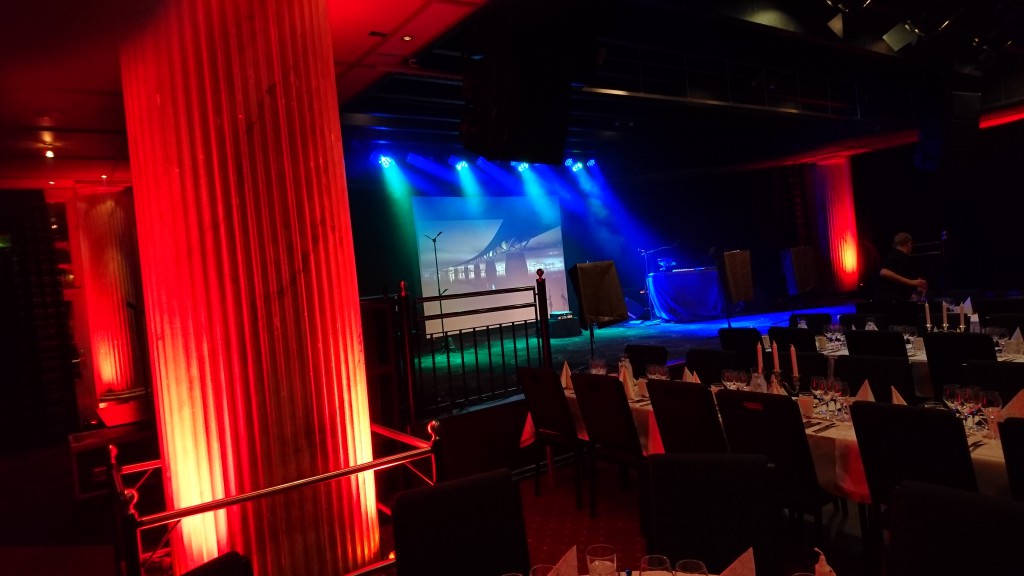 ——————————————————————————————————
3 fully booked shows in Eksjö, Sweden!
The table setting is ready, about six o´Clock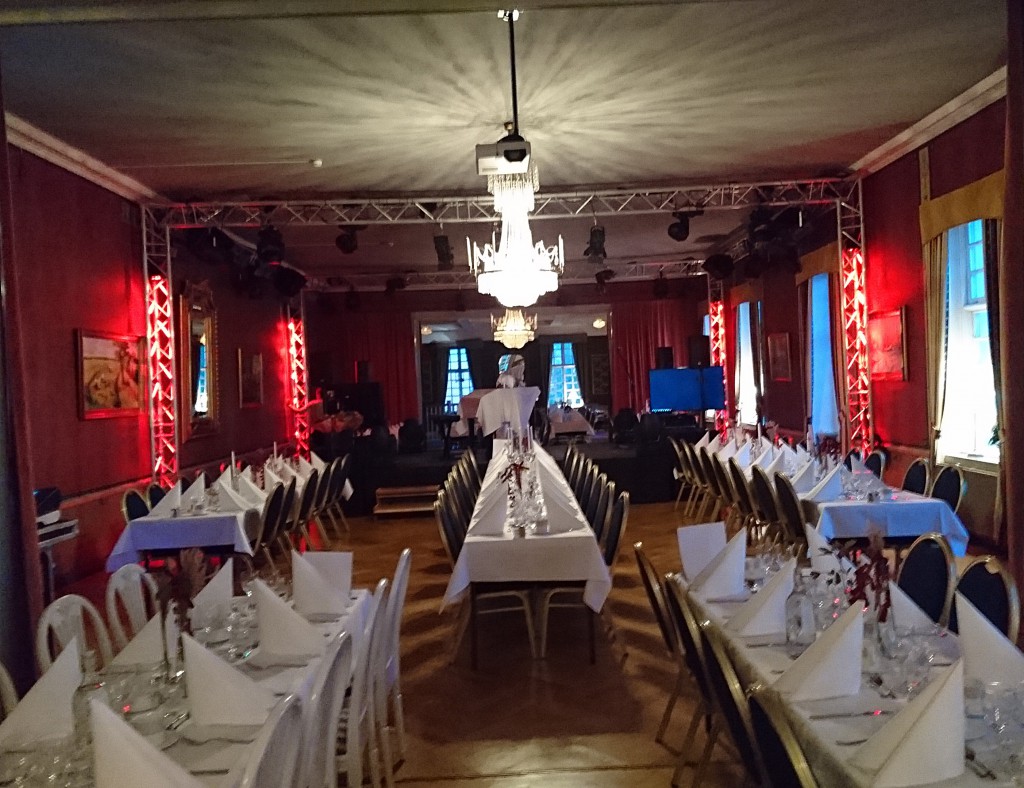 The stage, right in the middle. People, everywhere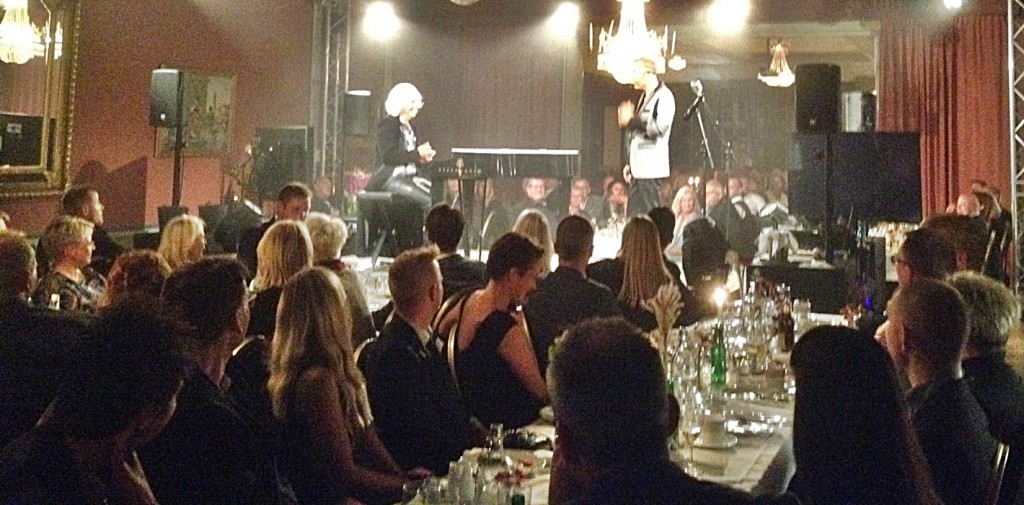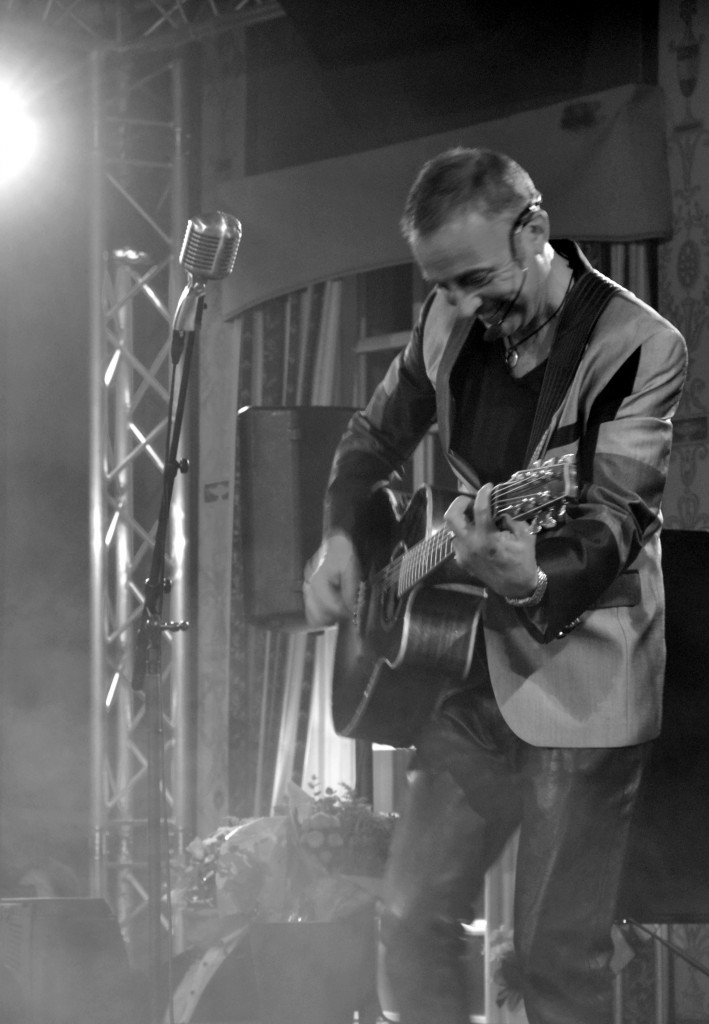 ———————————————–
3 Okt
Öksnehallen, right in the middle of Copenhagen, Denmark!
1300 people, 200 round tables
This event was organized by by the people at Welcome Meetings & Events.

A lot of danish famous danish musicians and artist were performing + S&K from Sweden
Soundcheck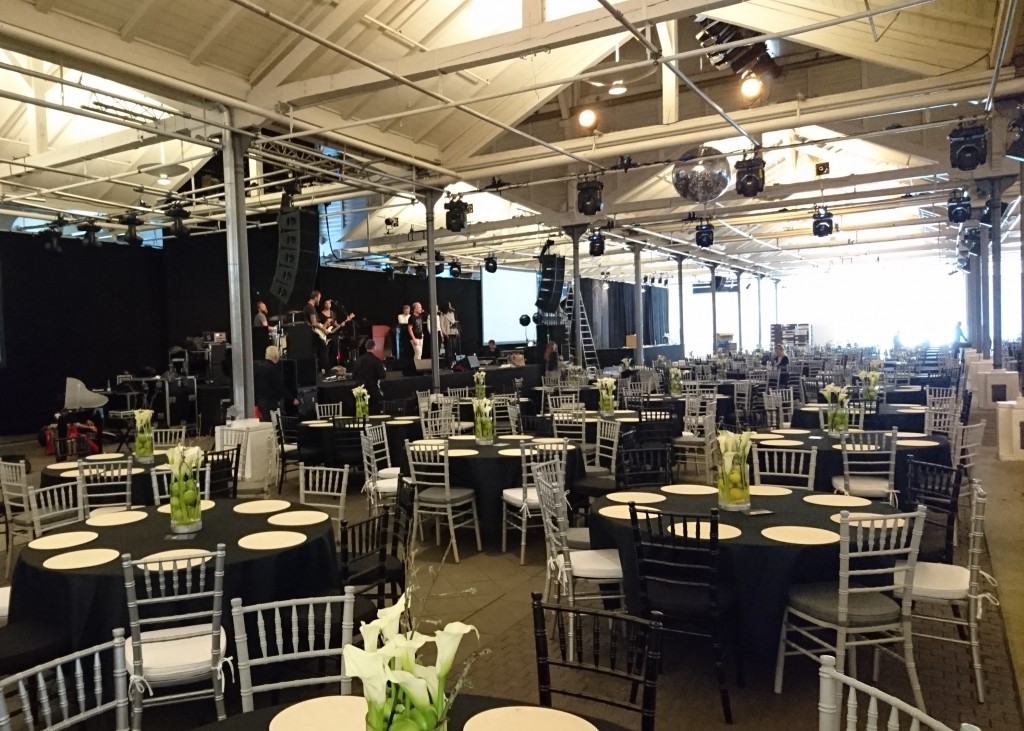 Just before "doors"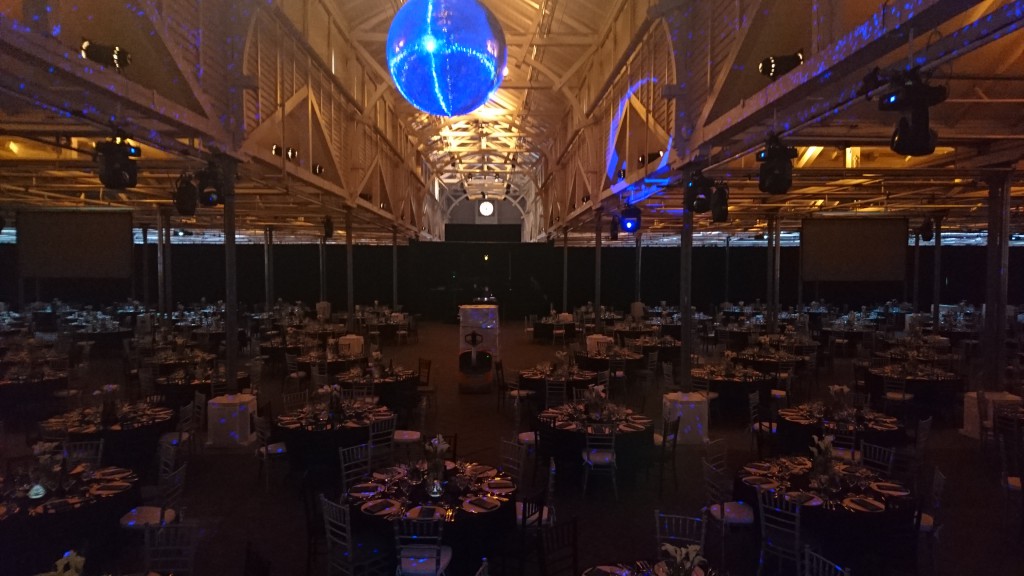 Show!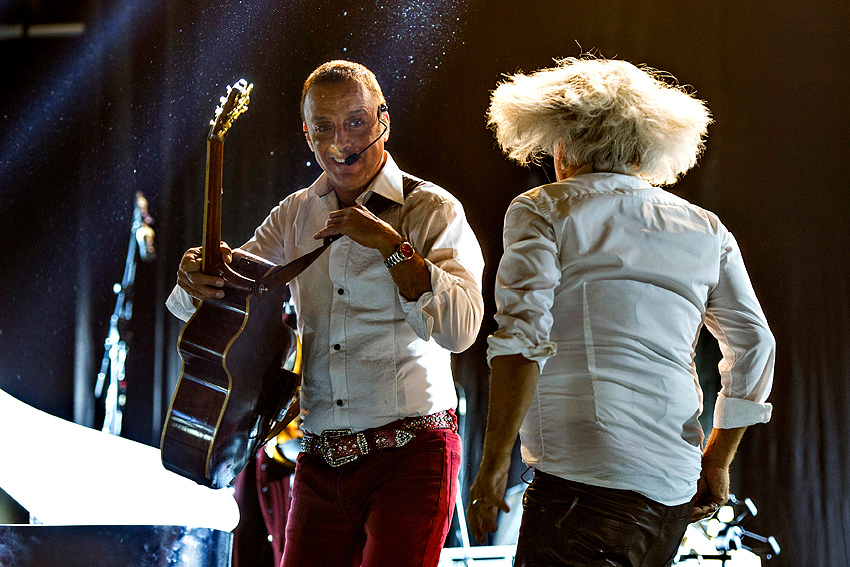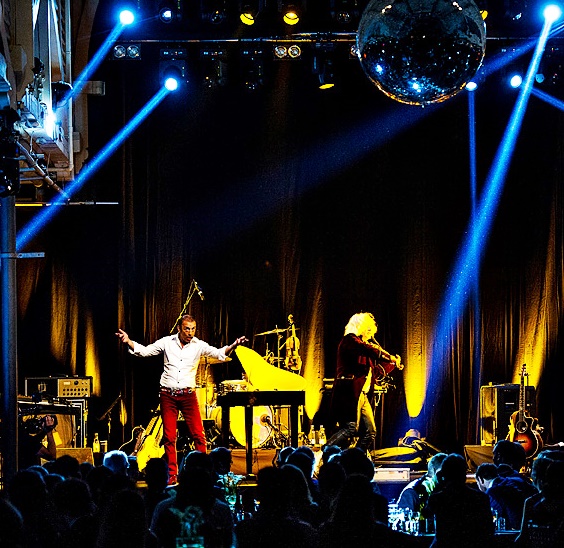 ———————————————————
1st of Oct
Back at Glasklart in Malmoe Sweden. Direct from Finland, about 800 people to Glasklart, about 55.They were all invited to "Cook along". Lovely evening at a Lovely Place!
—————————–
Monday morning!
Travelling lite!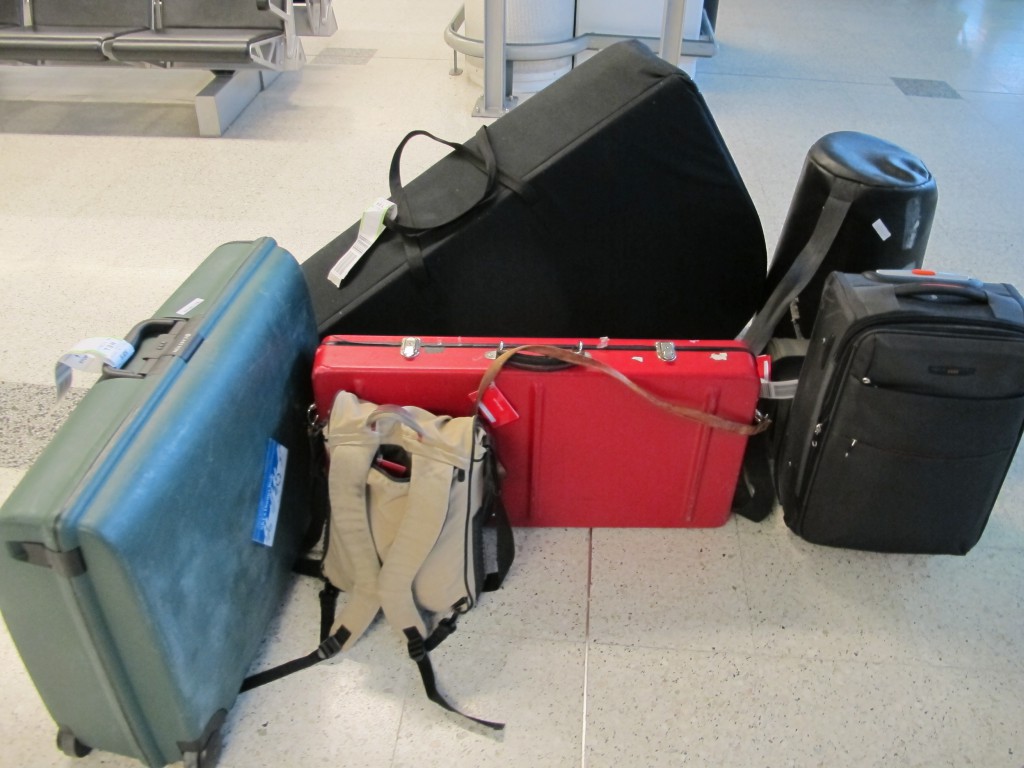 To Finland!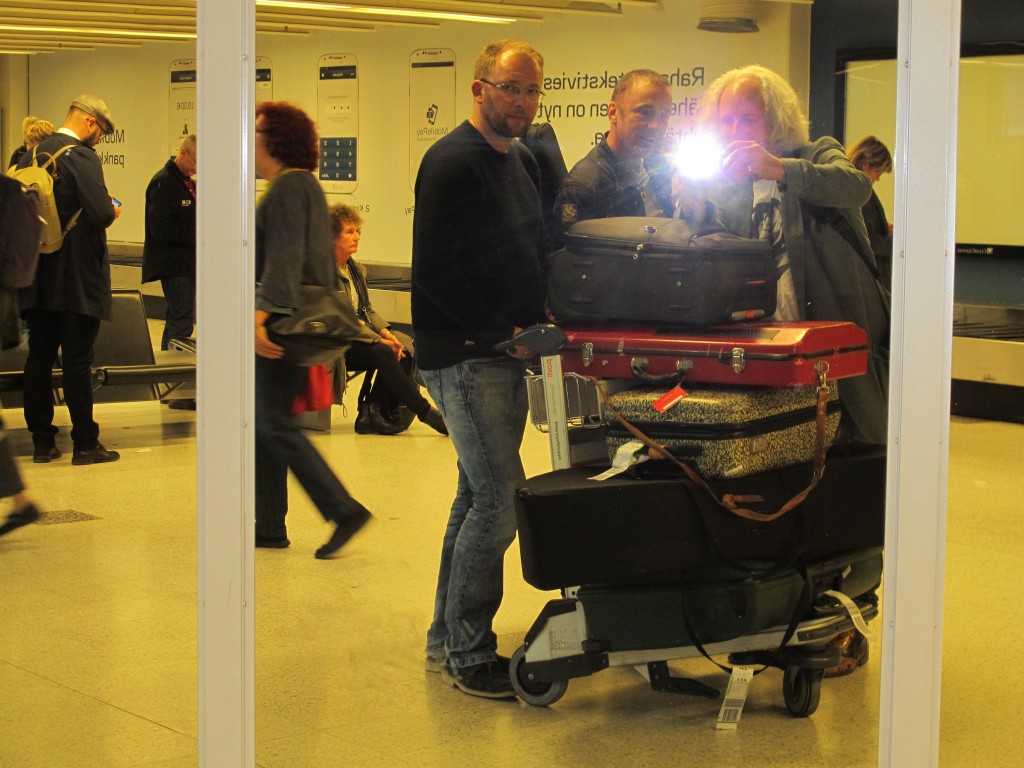 29 Sep
Optio Fashion gala in Helsinki!
40 fashion models and Stefan & Kim
—————-
The 17th of September.
Todays workplace!.
Grand opening of a thrilling design house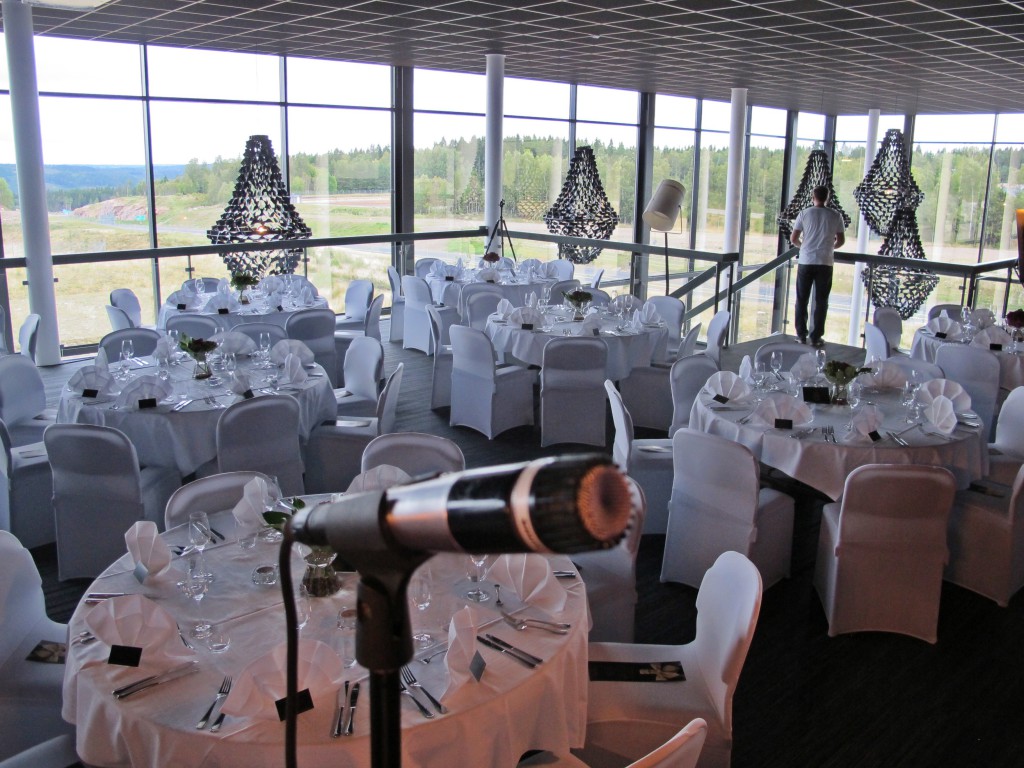 —————————
Back in the castle in Denmark! This time show for 15 people in the audience. What a venue, perfect for S&K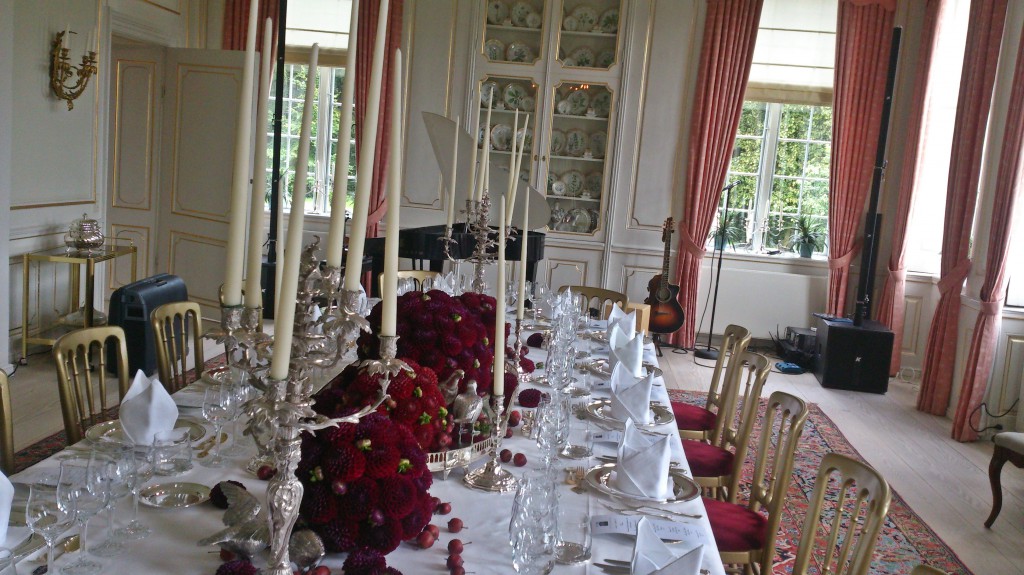 ——————————–
Once again we did The Race! A wonderfuol number to do! Next time in Helsinki!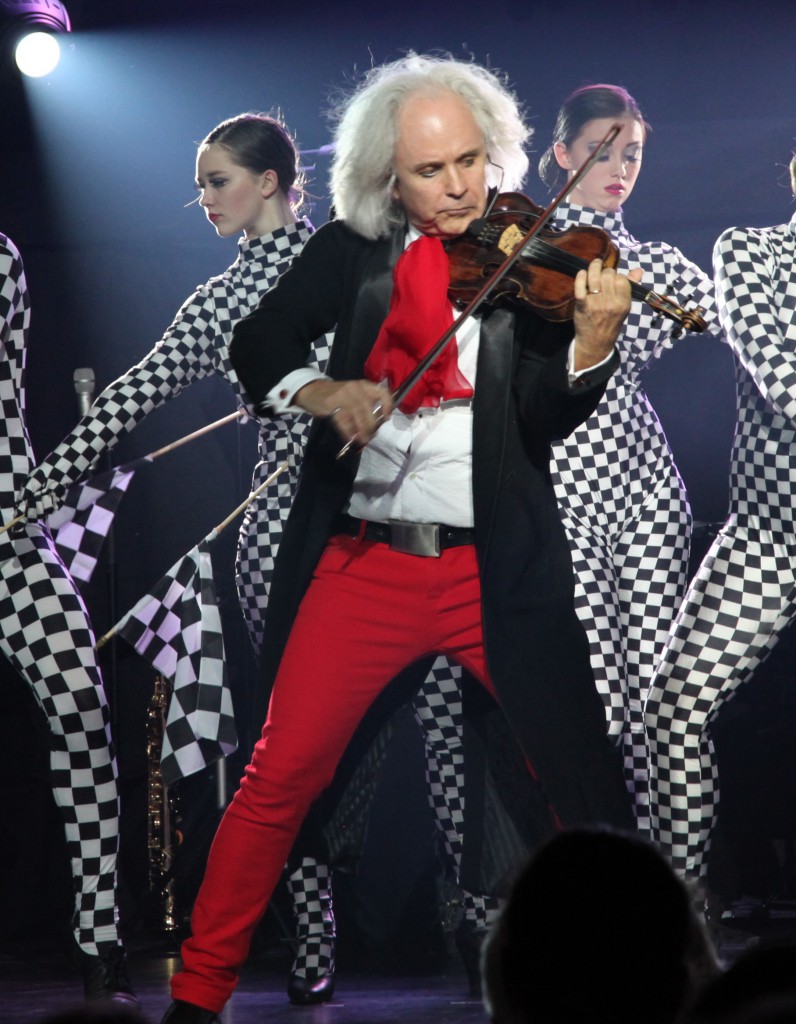 ——————–
Thursday morning.Rehearsal.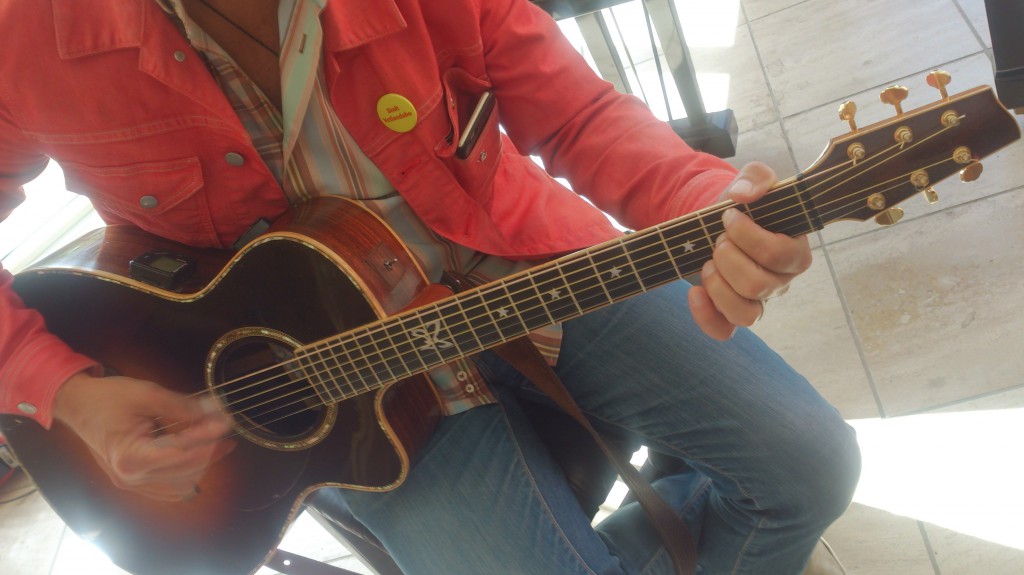 ———————–
S&K standing in the moonshine right after the show in a castle in Klampenborg Denmark.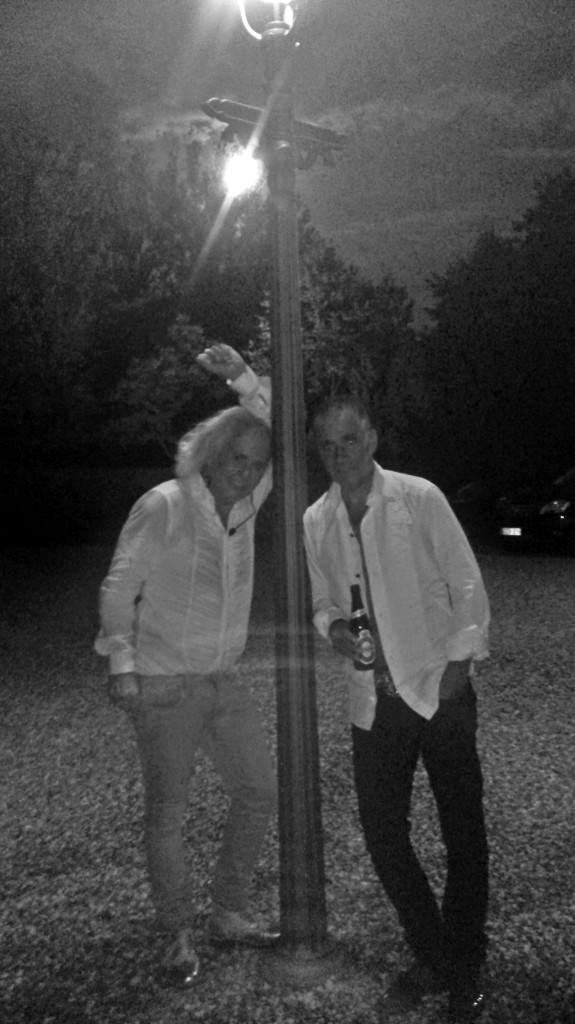 ——————————–
Friday The 28th. Long rehersal and then coffee in the wonderful garden at Stefan´s house.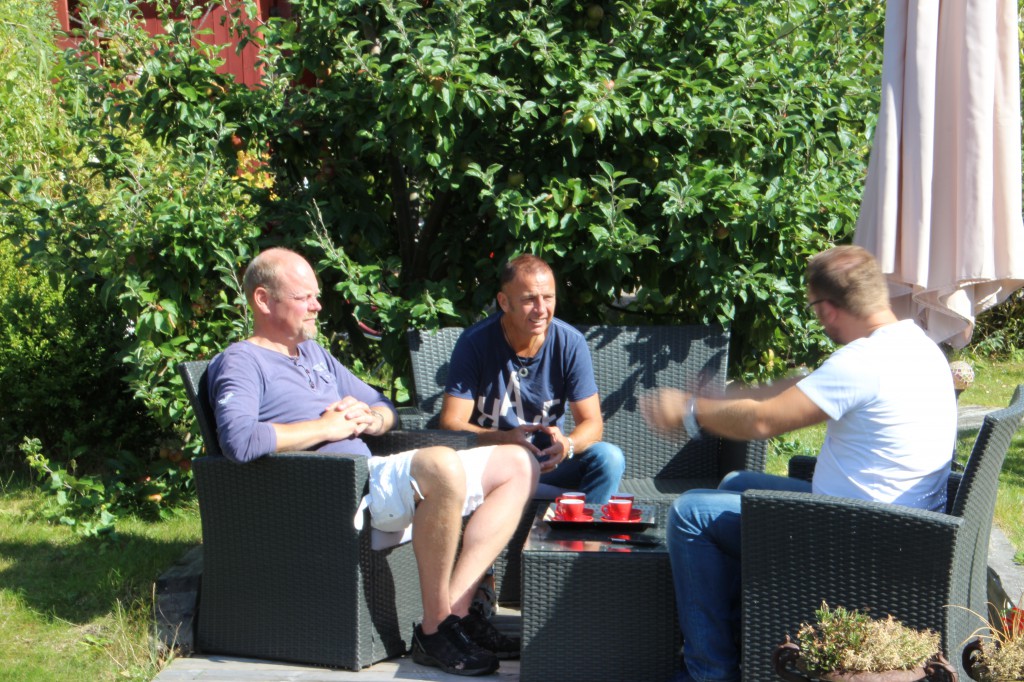 Soundcheck and rigging, doesn´t look fun at all! Stefan in the phone, Mattias with headphones in his own world, and Paul is doing all the patching and trimming with the PA system.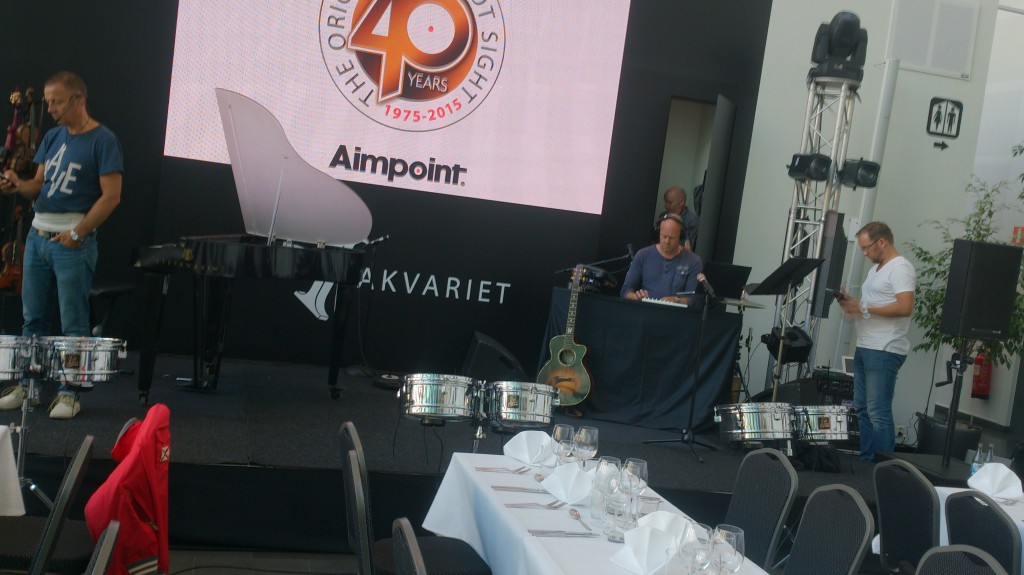 But then its showtime and everything changes! 40 years anniversary, and we did a journey through time with music and a lot of products. A damn good Stefan & Kim show!! Kreativa Kvadratmeter and Informationsteknik were responsible for the event. Max and Jörgen did a very good job!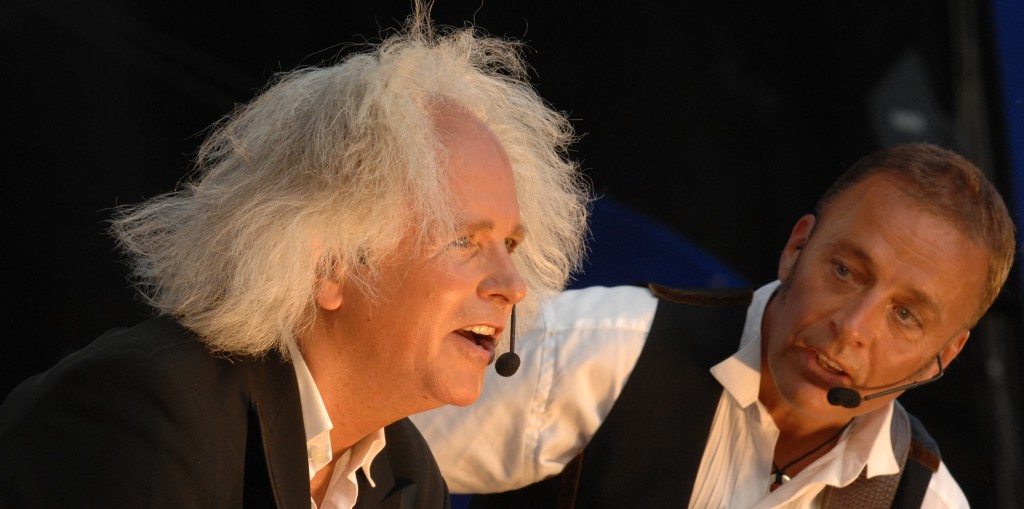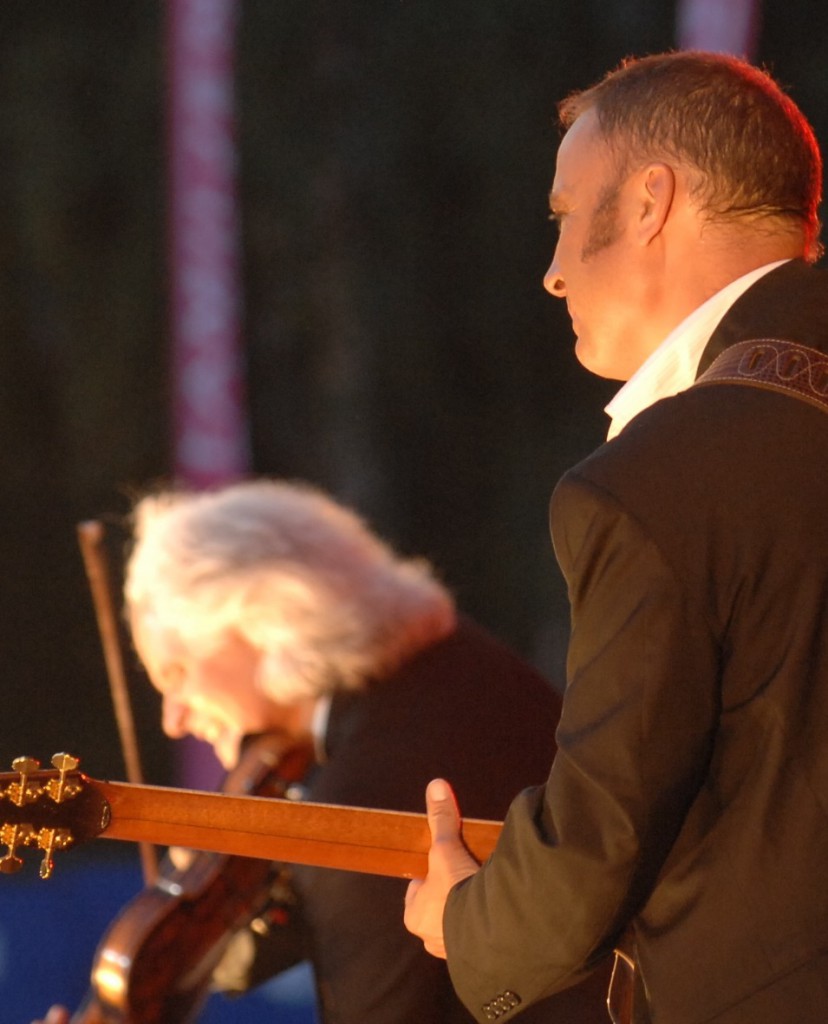 What a view from my house, when I came home! Turning Torso & The Moon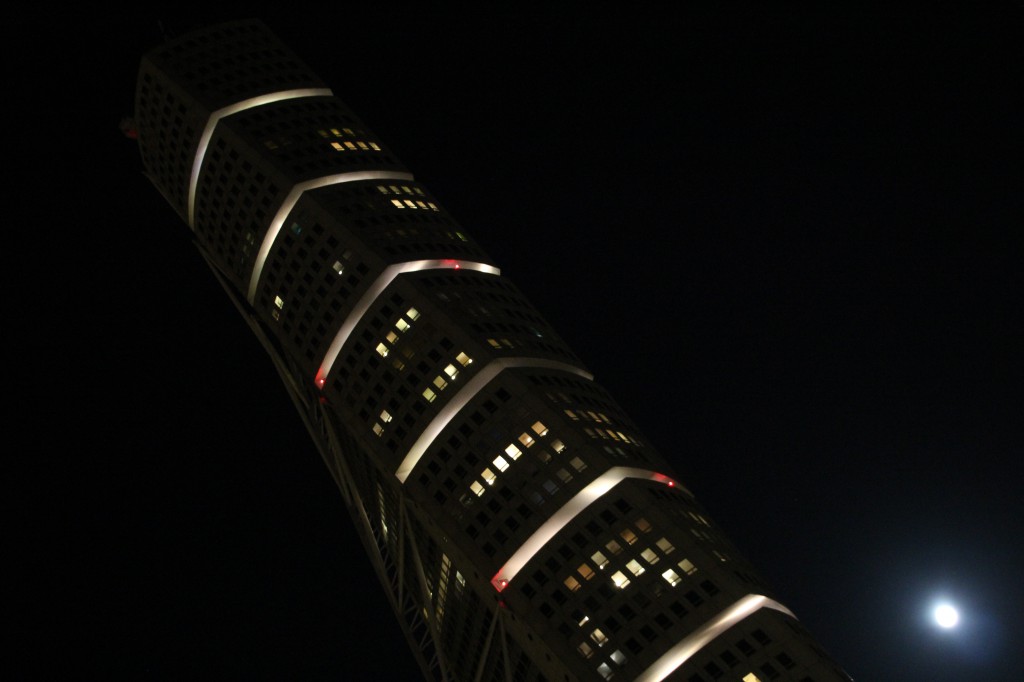 A very good day!!! And tomorrow we are going for Klampenborg DK on an international exclusive event. Tomorrow looks good too, I think…
——————————
A summer on stage!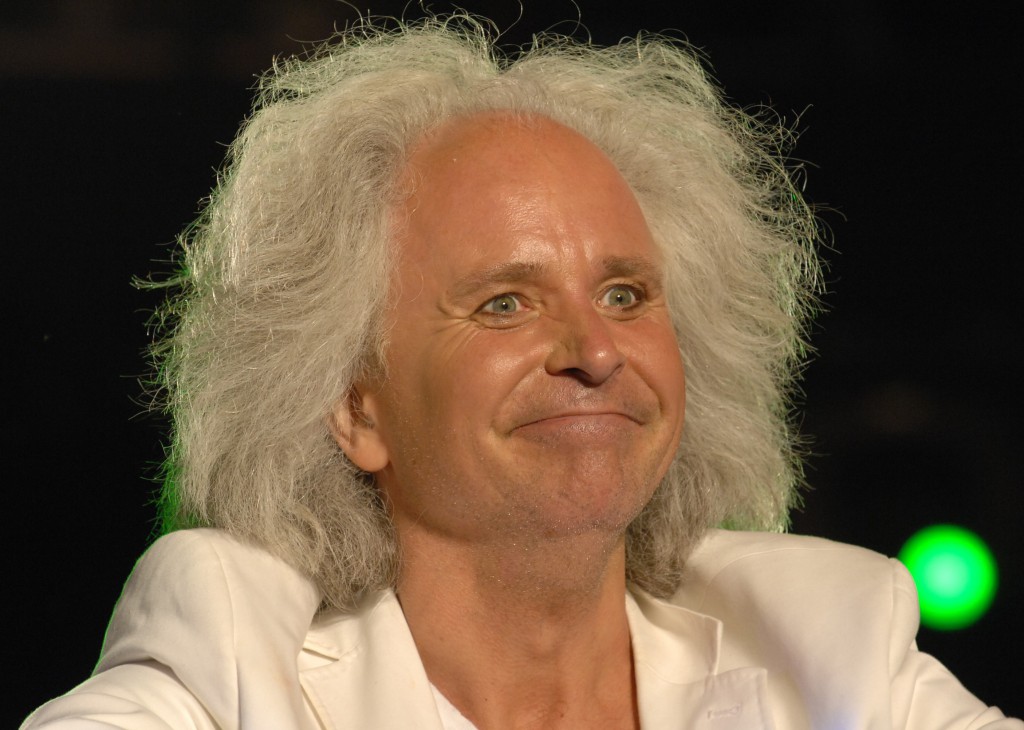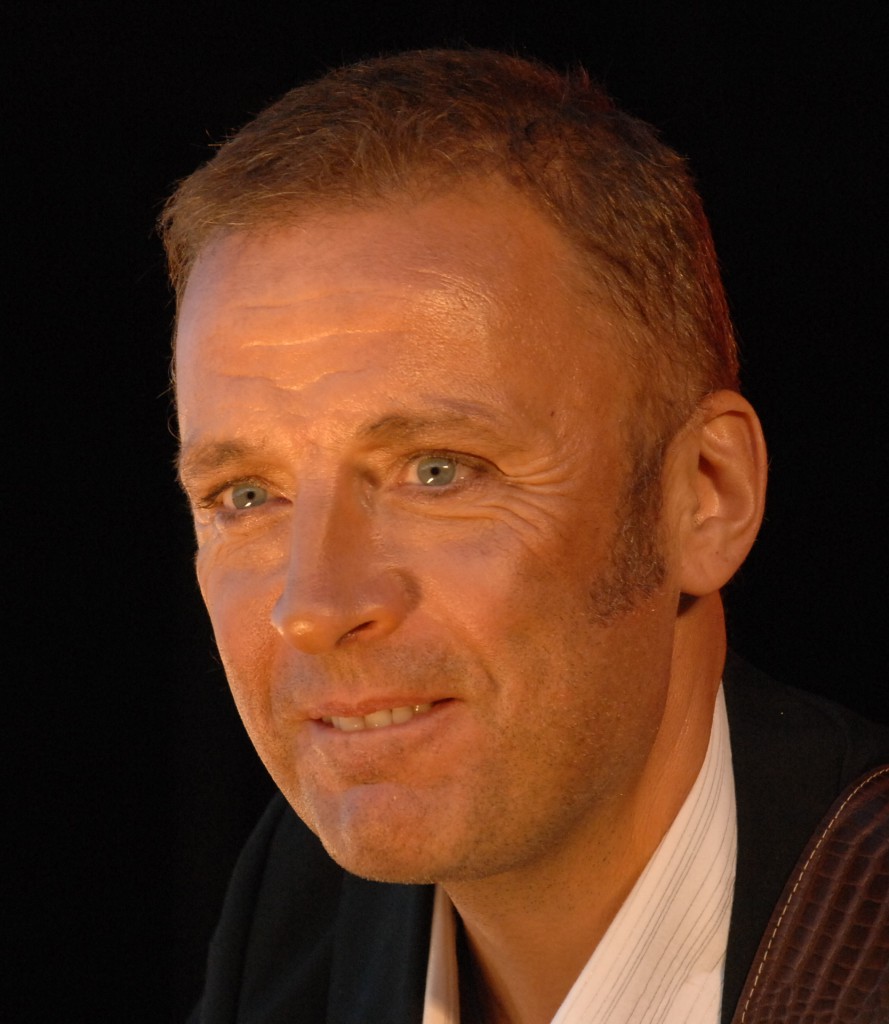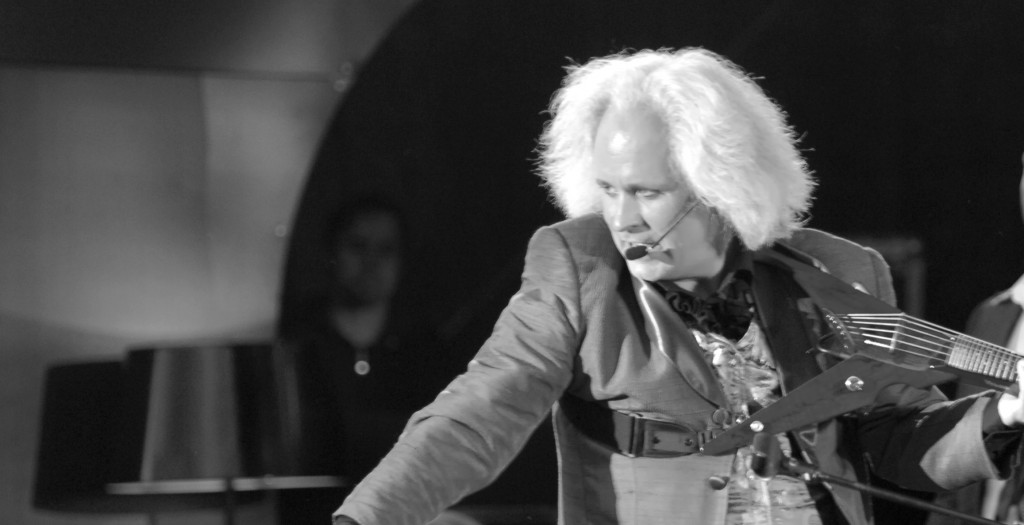 ————————
Stefan had summer holiday!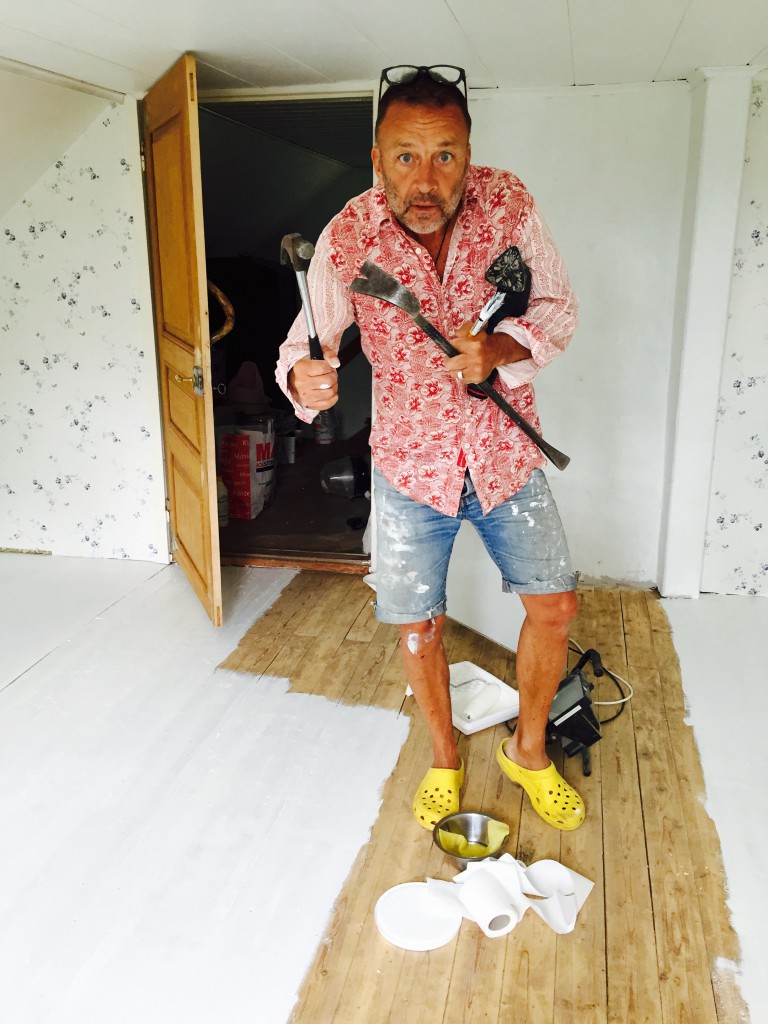 But not now….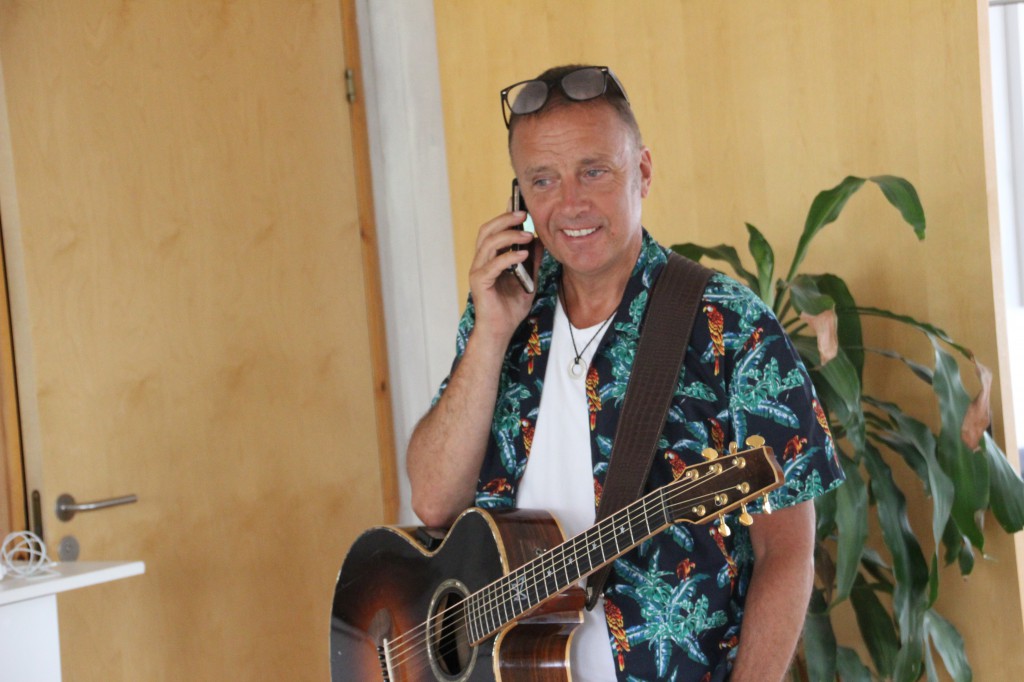 and not now…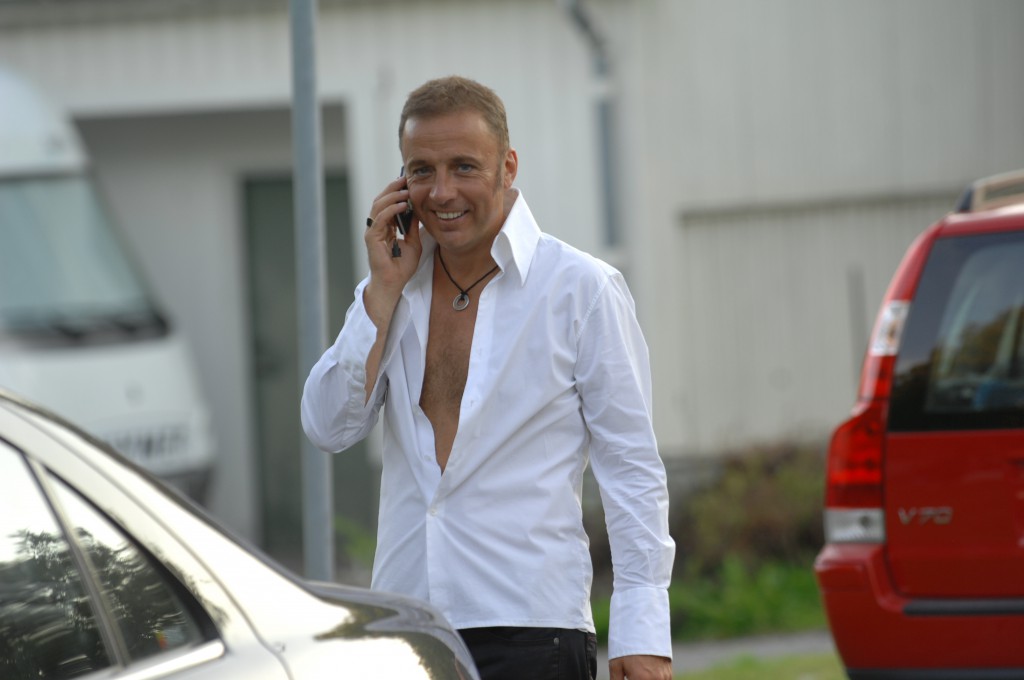 and not now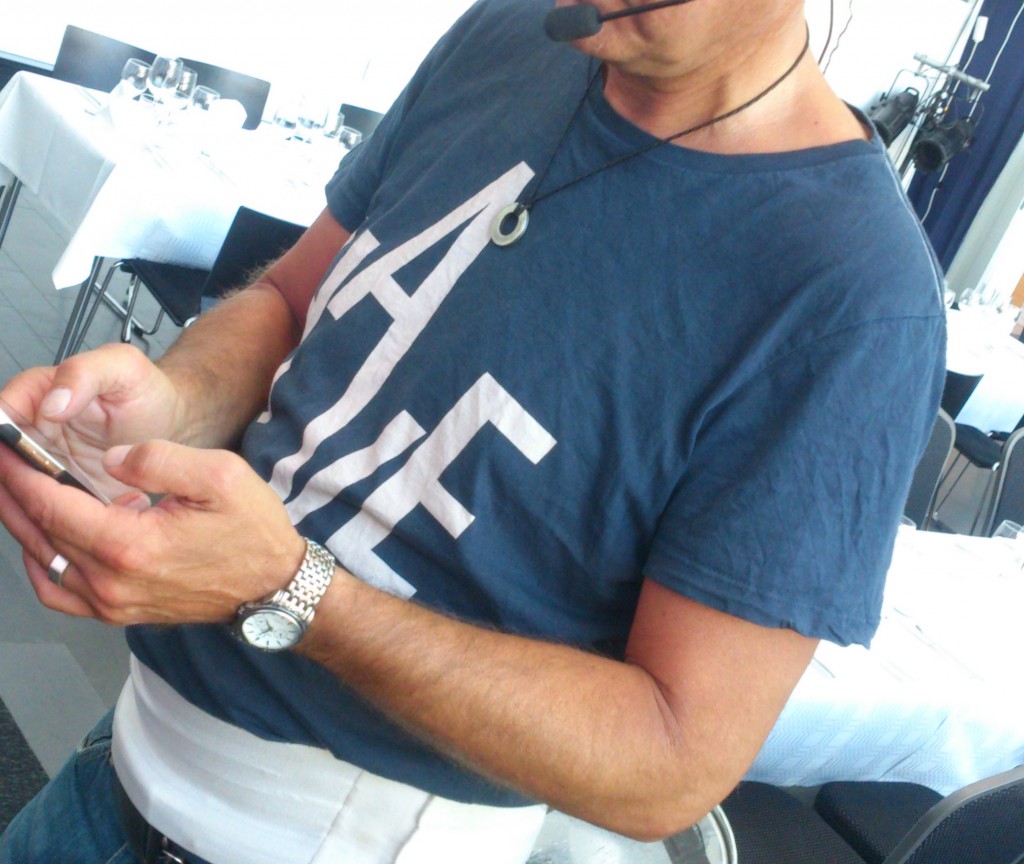 and not now..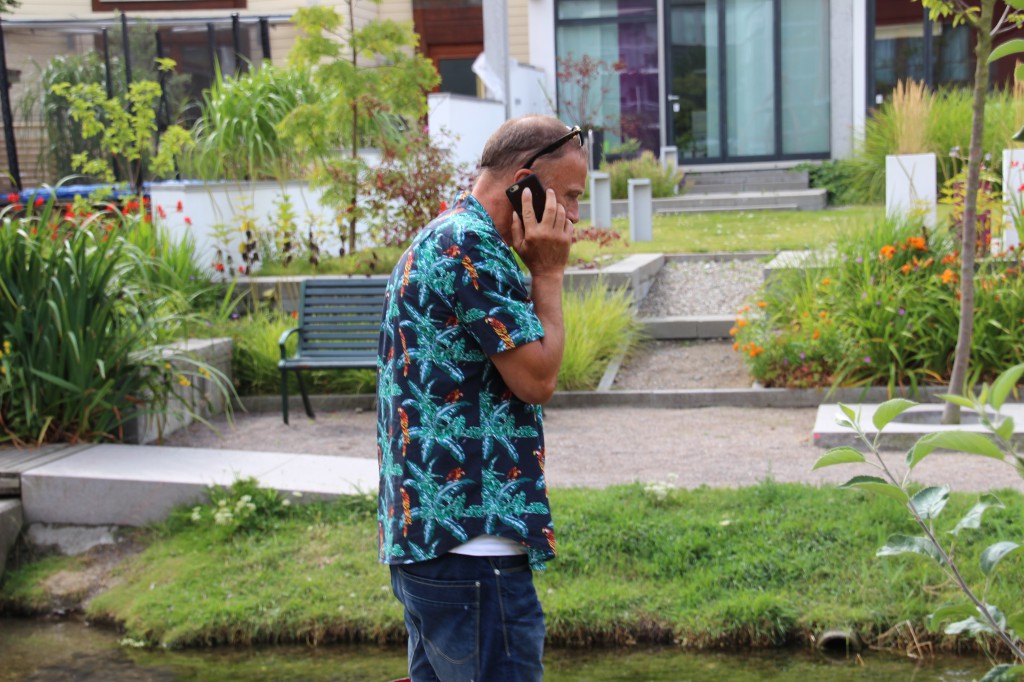 The beauty & the beast?!
————————–
Jimmy & Anna, just in front of us.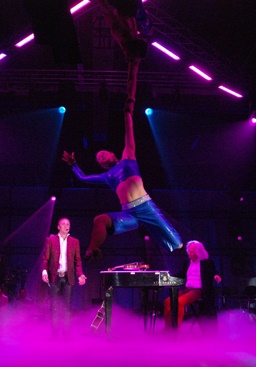 ————————————————-
Right in the middle of Småland!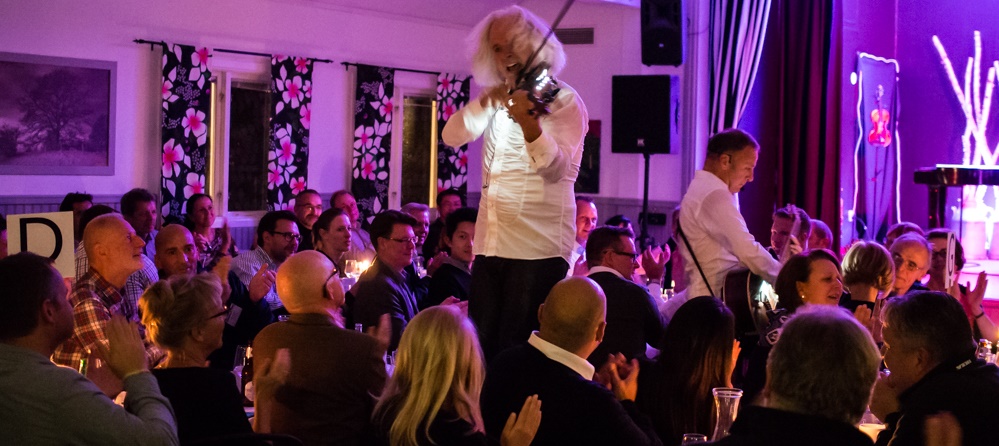 Show ending!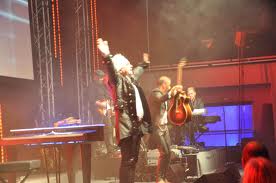 ——————————————
Lovely week!
Gala evening at the Opera Hous in Gothenborg. Lovely bunch of artists!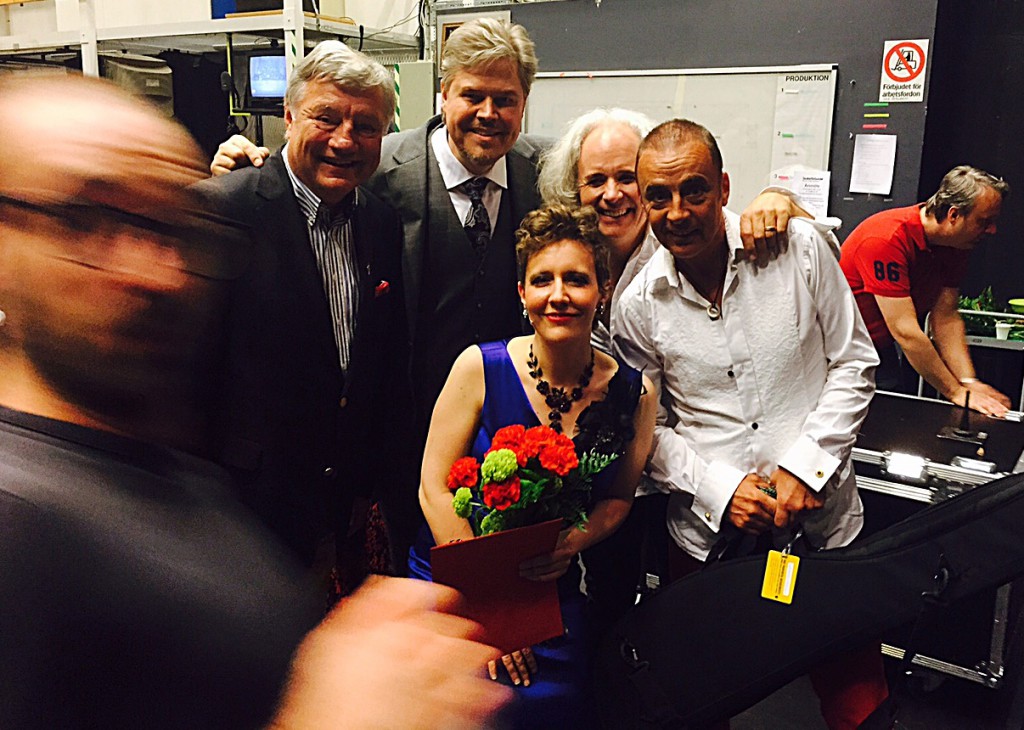 A night at the opera, is the right words for the evening at the opera House in Gothenborg together with John Houdi, Julia Sporsen, Stefan Ljungkvist, Mikael Samuelsson and a lot of others.
Such a nite!
The day after, event at The Waterfront Hotel in Stockholm.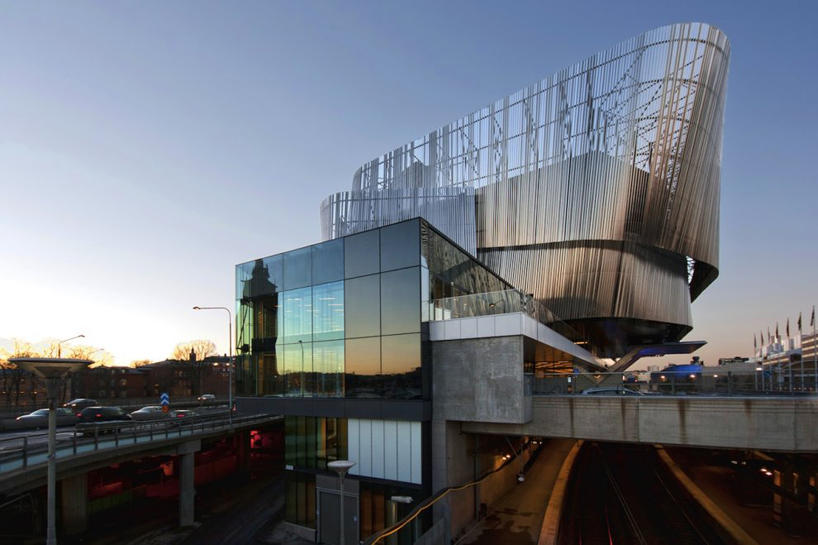 Then down to Malmo, just for changing clothes, and then right back for Stockhlm for the next gig, this time at Villa Källhagen. 100-years anniversary for the Cinema business in Sweden. We did a spot of film music through 100 years.
Beutiful Stockholm at spring time! View from the venue.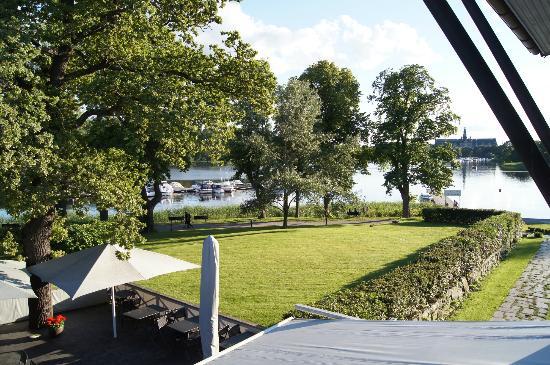 After that we went for Båstad, where we met 260 danish lawyers.We love to perform for danish people!
Skansen Hotel in Båstad.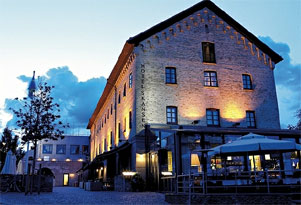 ————————–
28 Maj
Flädie Wine yard, just outside Malmo. Wagenborg, the shipping company invited customers from all of the world. Exclusive event, at exclusive venue, and exclusive show. Look down to see Stefan waiting to go up on stage.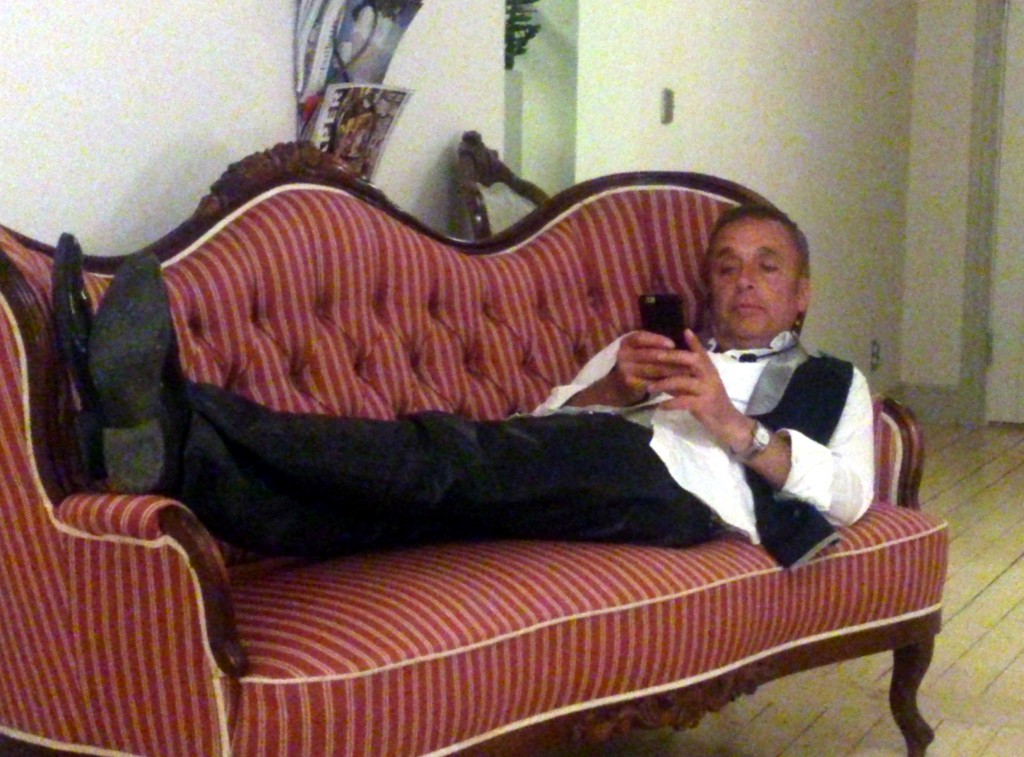 ——————————
Grand Hotewl in Lund! Event for dentists.We have made a lot of shows for dentist all over the world, always fun. This time 269 people at the Ball room at Grand.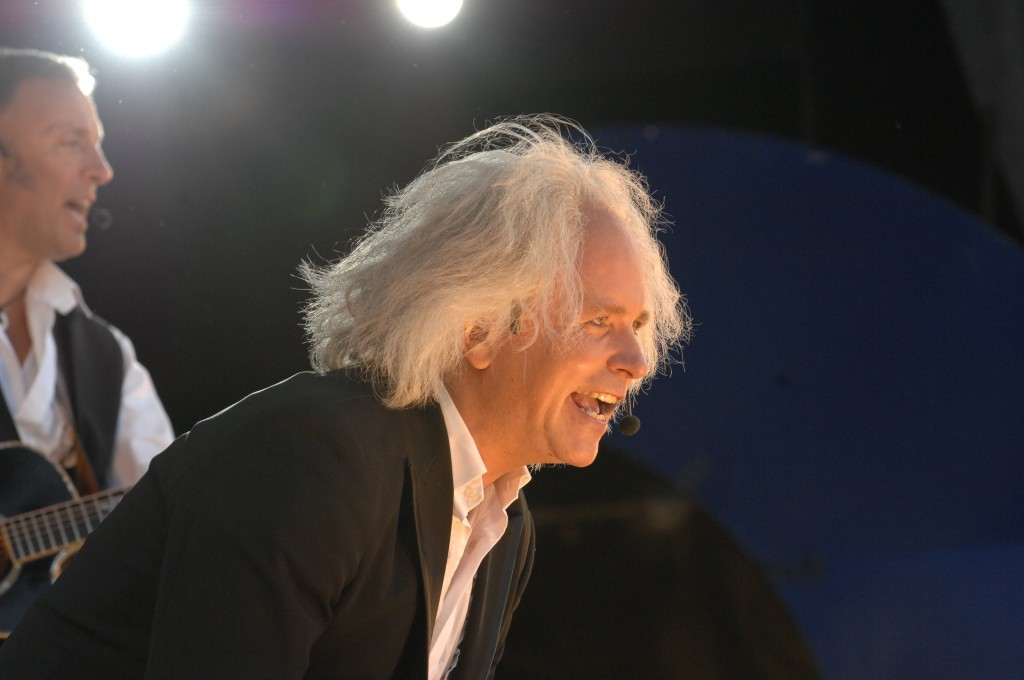 ———————–
The 9th of May! On our way on a windy and rainy Oresund. On a fishingboat! We were supposed to make a show on a little island outside Copenhagen.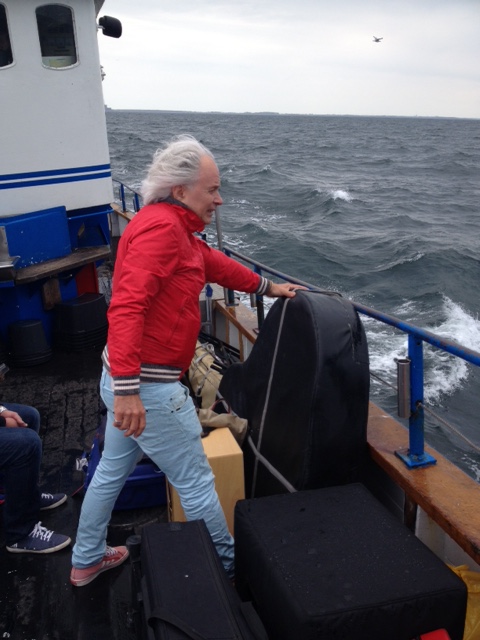 Flakfort! Is it possible to make a show there? Believe it or not, we had a great time! As always!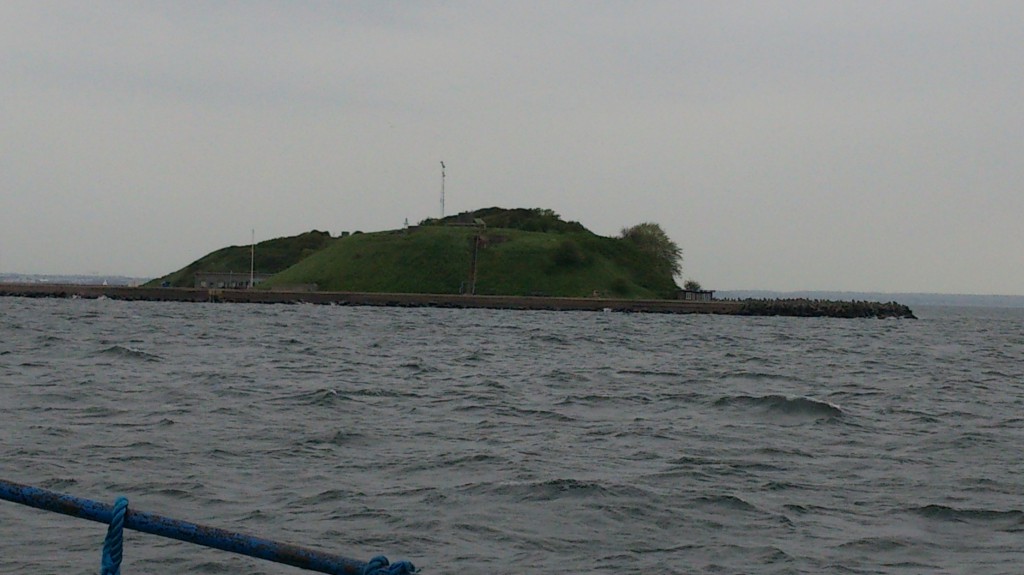 A bit of a difference from the pix down under….taken by our wonderful Paul Suchanek!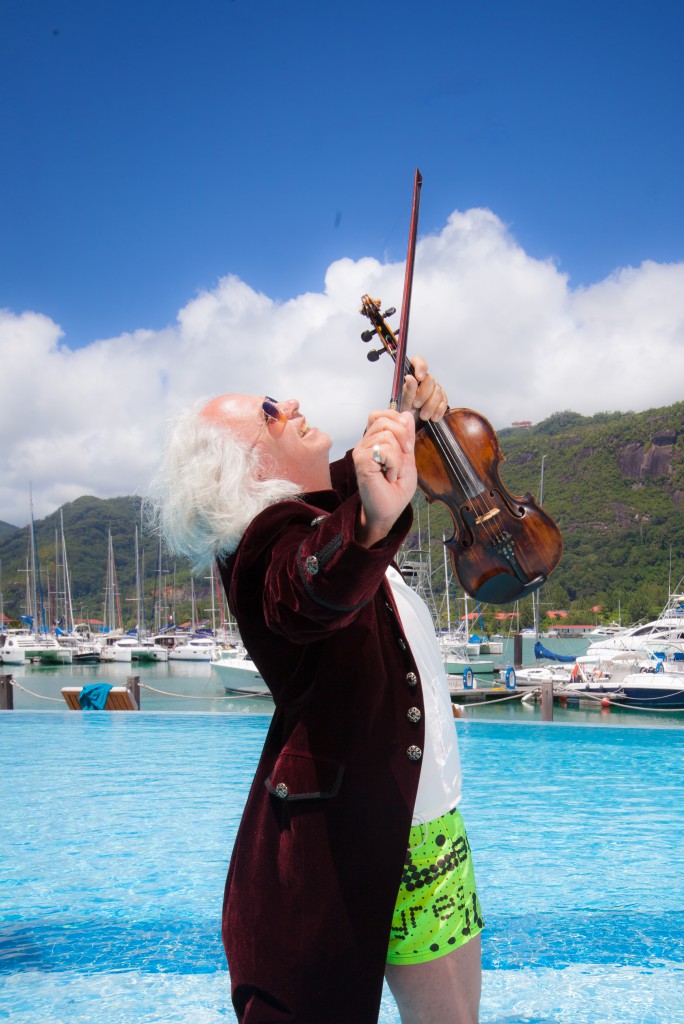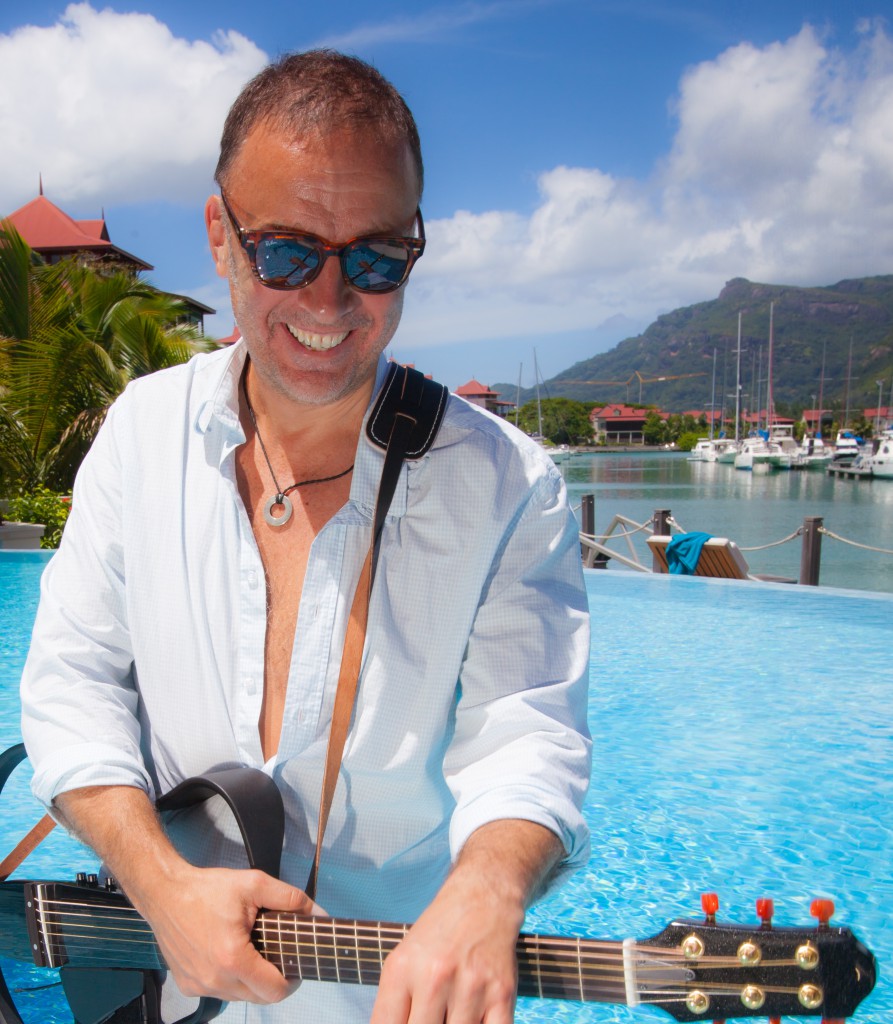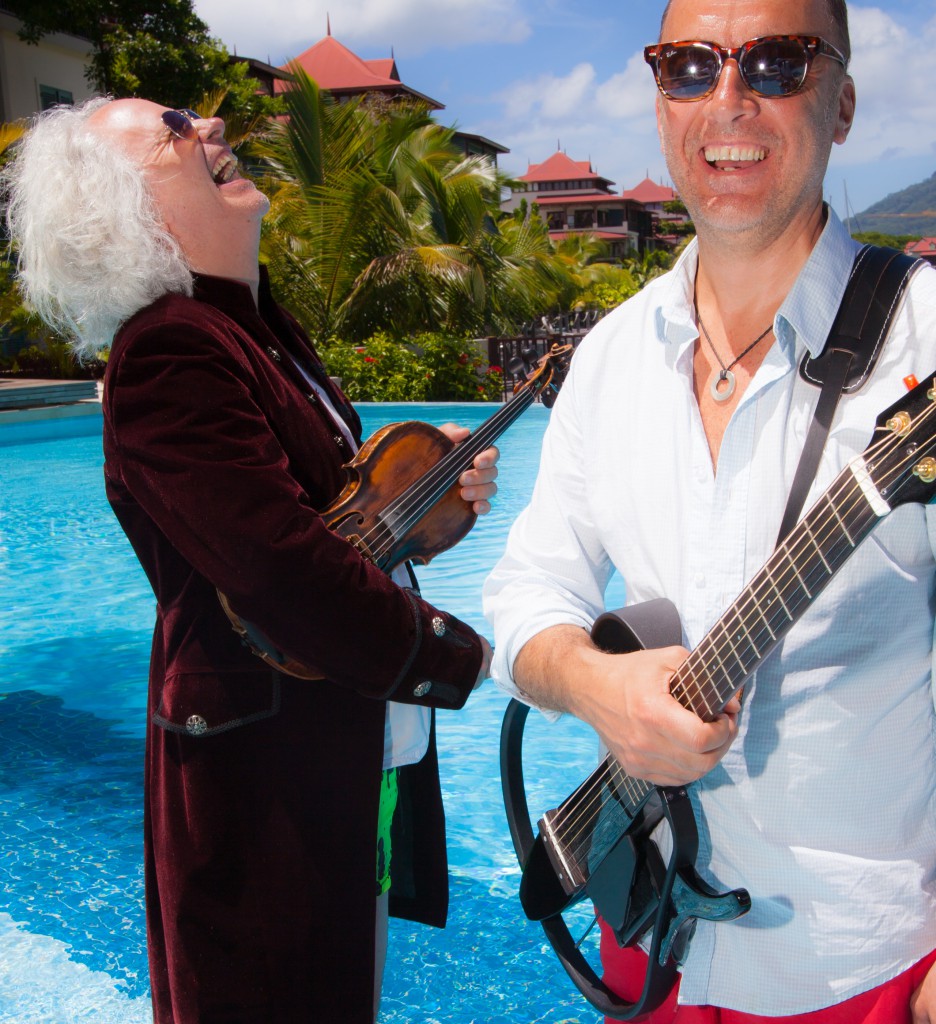 —————————————–
22 April.Copenhagen Airport
On our way to The Seychelles.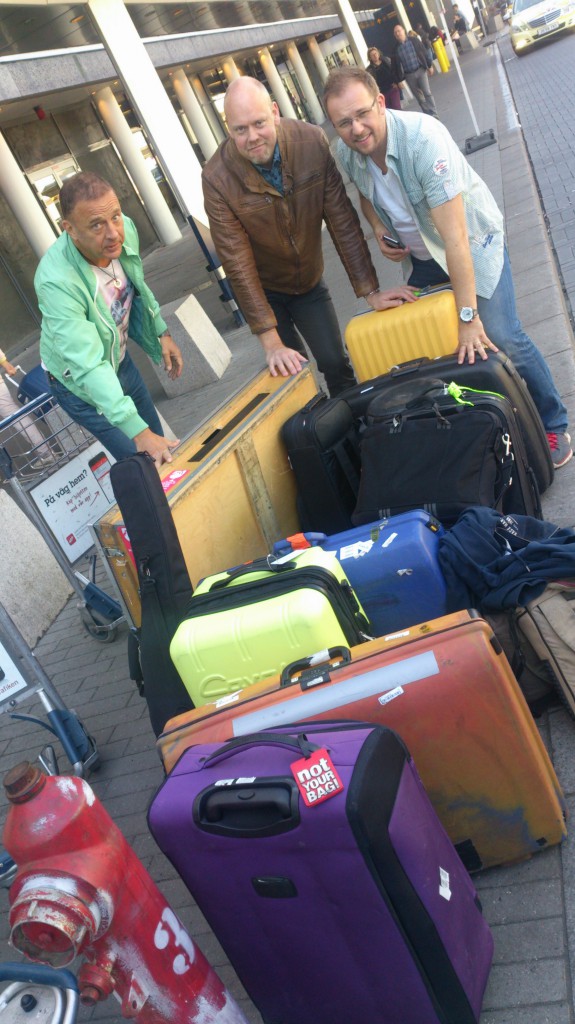 At the Seychelles! 31 kg Grand Piano + 1 Djembe + 8 Suitcases with backline + Paul + Mattias + S&K.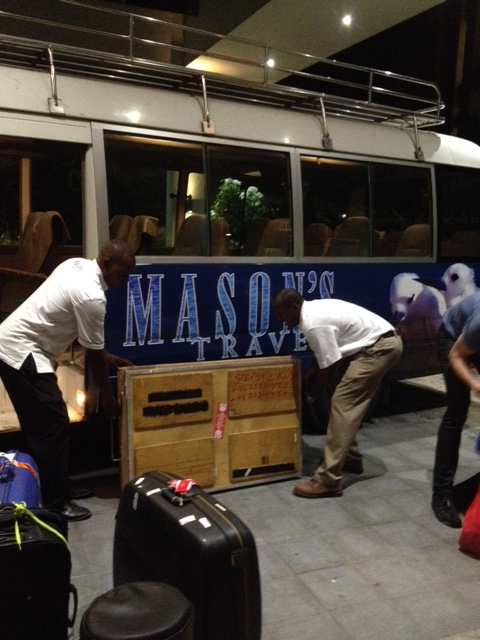 23 April
Rehearsal at the pooooool…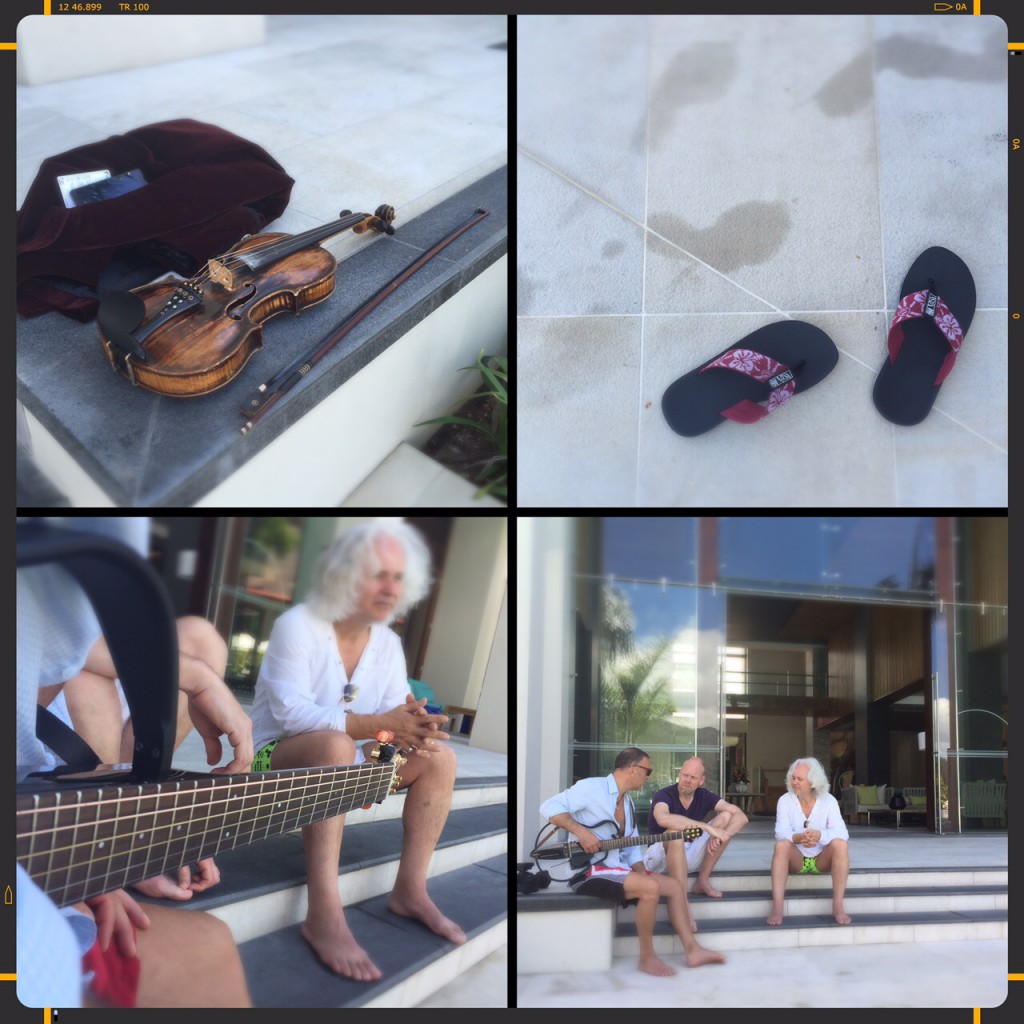 ————————————————–
We are not used to just go 20 km for a gig, but yesterday we went for Lund. Lund Grand Prix, Näringslivsgala as we call it in Sweden. For the first time together with David Persson, what a guy! MrFrisk had the flue, but he came anyway….Thank You…..we really appreciate that! What a great night! What a job we´ve got!!!
—————————-
27 Mars.
Helsinki!
Sisters inc took us once again to Finland! This time to a big company´s 160 years anniversary. The event was as well-planned as it used to be when we are in the hands of Sisters! They wanted us to make a history in a musical way through these 160 years, but in a humorous way, what a challenge!
Here´s the set-list:
Wagner, The ride of the Valkyries, written in 1855
Bizet, The Toreador-aria, 1875
Alebeniz, Asturias, 1892
Rachmaninov, Piano concert, 2nd movement/All by myself, from 1901, and it was stolen in 1970 when it became All by myself
Puccini; Nessun Dorma, 1926
Orange Blosson Special from 1938
Folson prison blues, 1957
Your song by Elton John, 1970
Can You feel the love tonight, 1994
Jai Ho from Slumdog millionar, 2008
And the end we gave the audience a medley over 160 years
Brahms, Ungersk Dance nr 5, 1860
Strauss, An der schönen blauen Donau, 1867
Black eyed peas, I gotta feelng, 2013
Wake me up by Avicii, 2014
Here´s the venue at 18.00, just before they opened the doors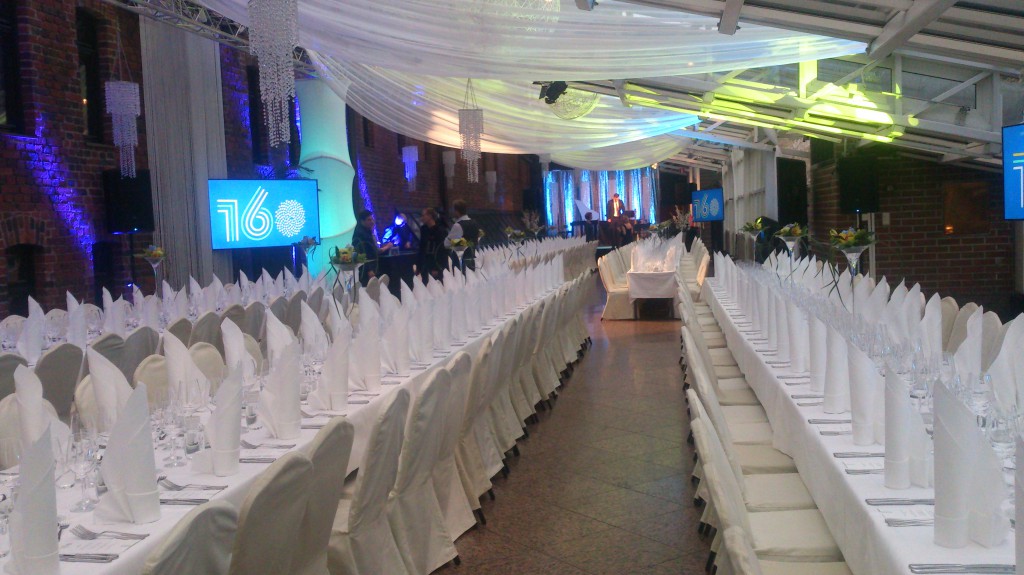 See below, at the airport at 09.00, same day, when we arrived with our Grand piano, backline and all the other stuff.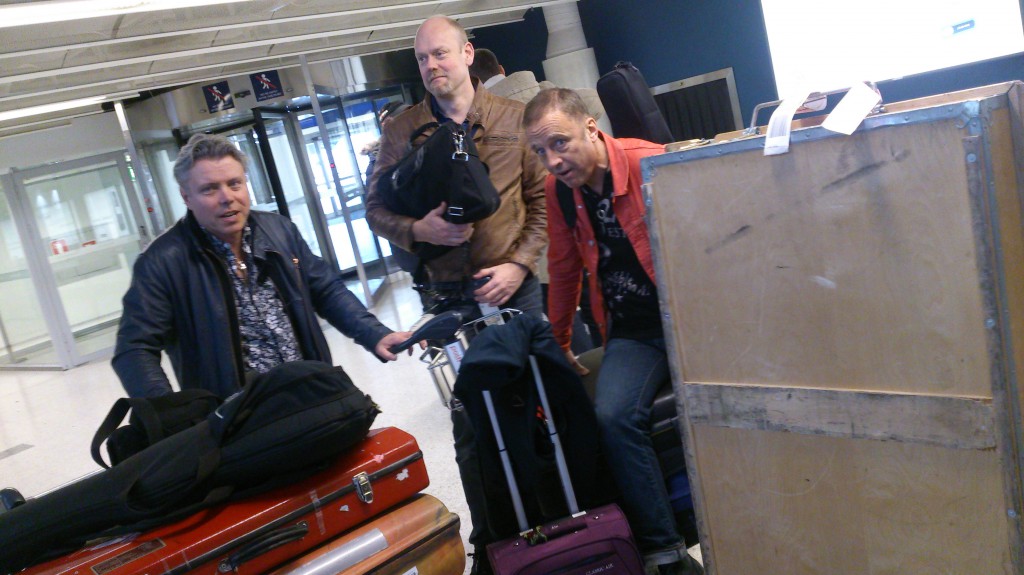 ————————————————————-
————————————————————-
The lightning for the gig in Dublin, The 14th of March
Prepare for gig in Dublin

Laughter in Dublin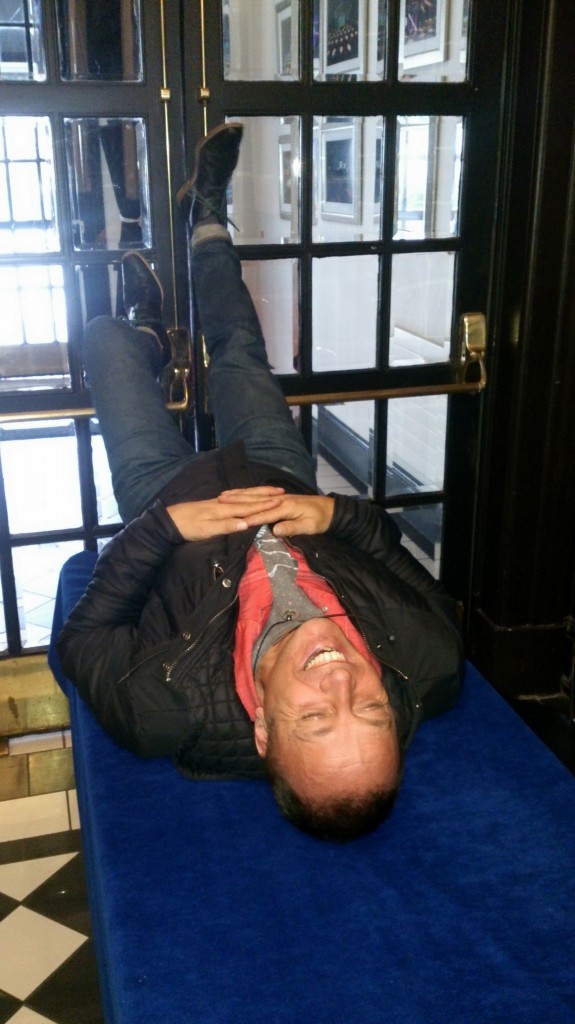 Just before entering the stage!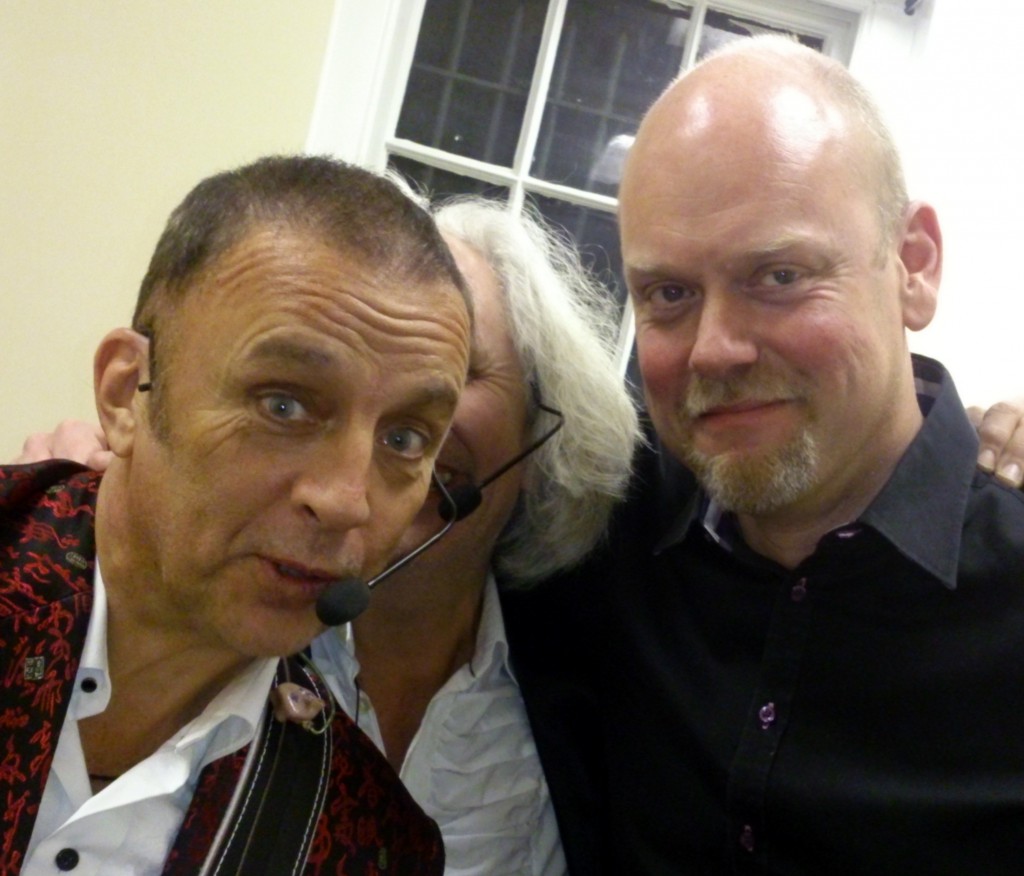 ————————————————————
Soundcheck on Gotland!
——————————————-
Barcelona for a few days, then Stockholm the day after, a show for a lovely audience!
Early flight home from Barcelona…
Nice tree!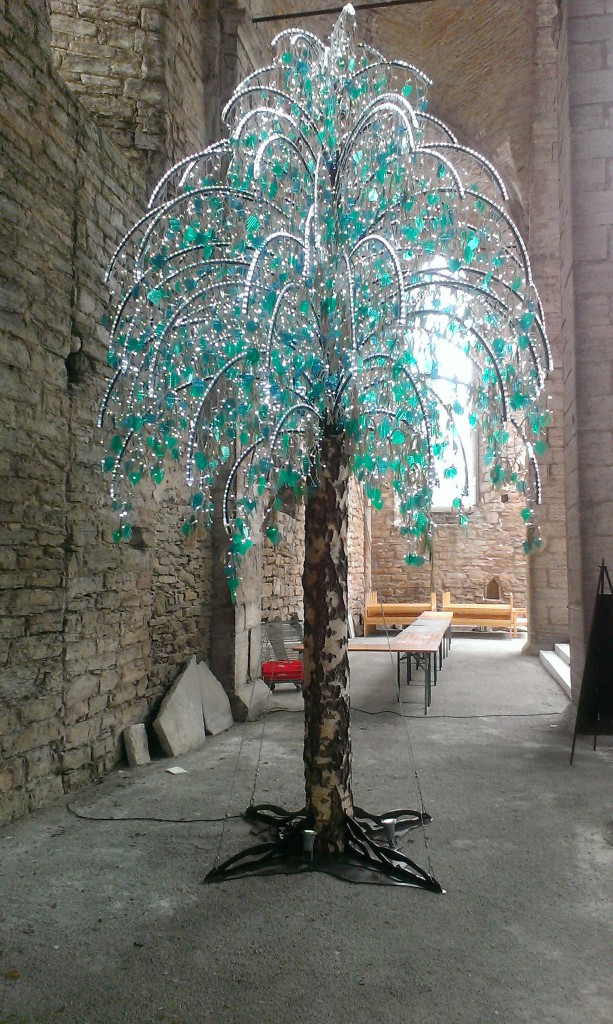 Gig in Barcelona på Mobile World Congress. We went for rehearsal tonite, and tomorrow the big event for Ericsson.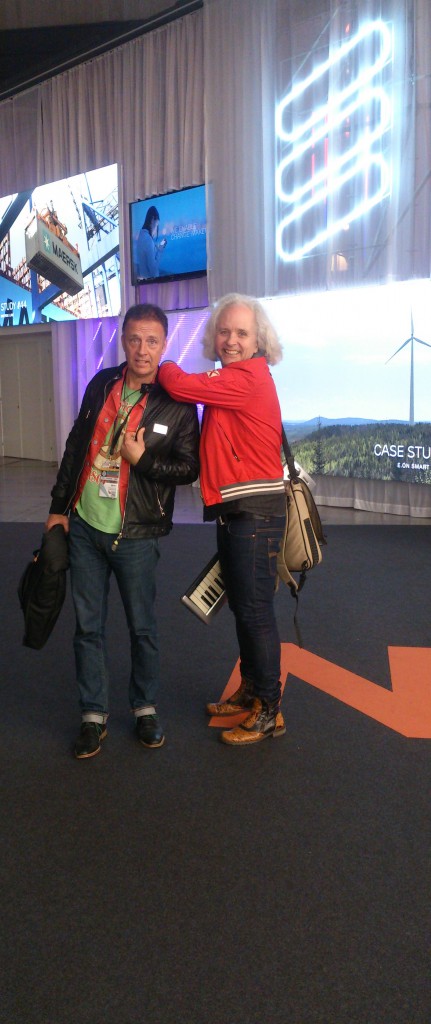 ———————————
Only the shadows from Stefan & Kim can be seen, on Gotheburg´s most stylish roof!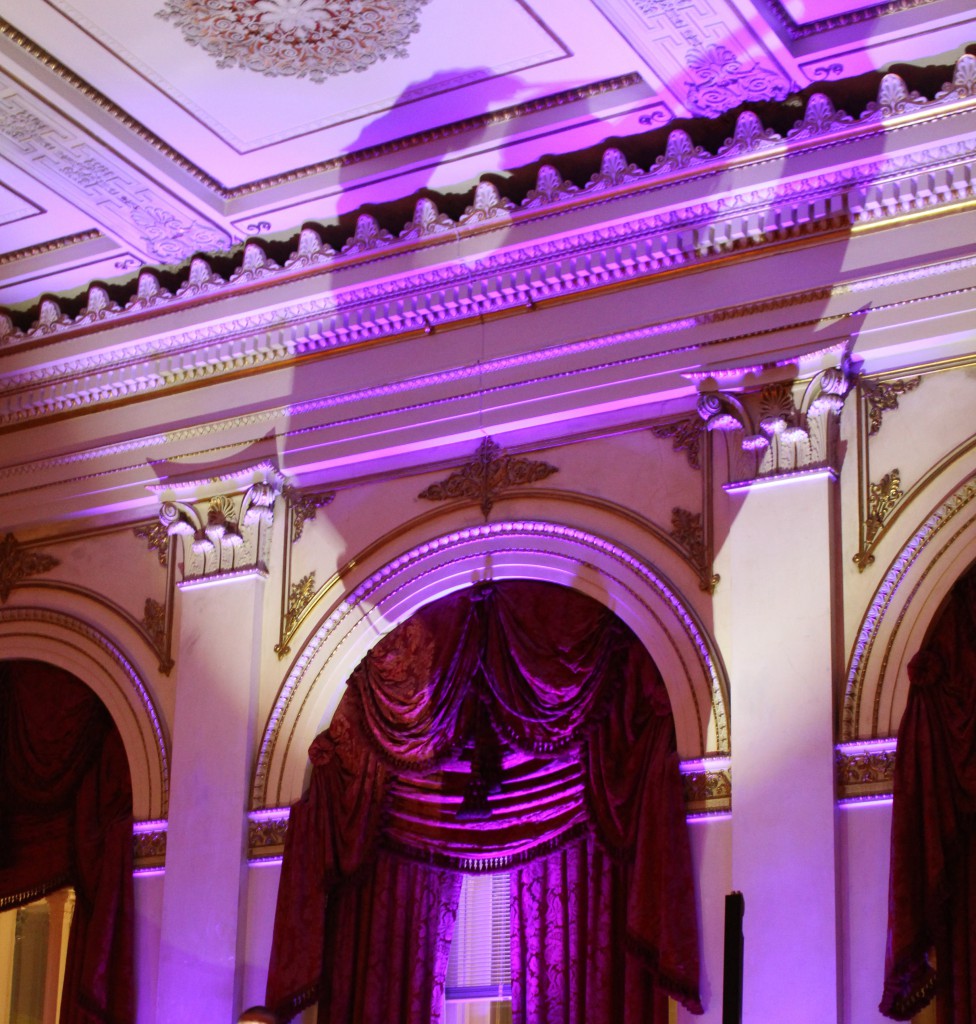 ———————————————————–
The 20th of February. Show in Varberg in black & white!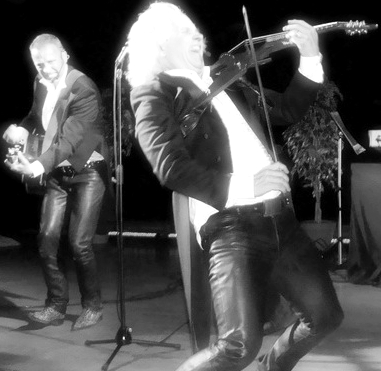 ————————————————
Friday morning!
Thursday night in Eslöv, what a lovely place to be! A gala evening where Eslövs sporting and cultural figures were honored.
Wednesday night in Hässleholm, just a few kilometers from Eslöv. New facilities inaugurated in the Bergendahl Group
S&K did a concert/show for employees and politicians, and as we use to say, another lucky day at work!!
———————
The 24th of January!
So much fun to be back in Denmark! Big event for Wurth in Kolding. 50 years in DK! Thanx for bringing us back!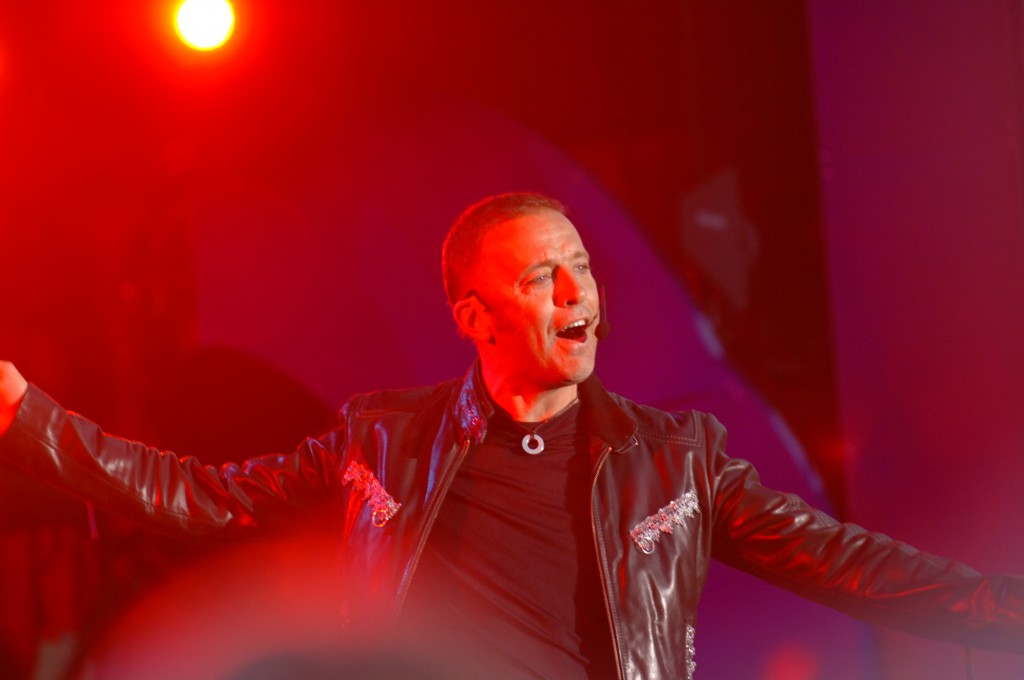 ————————————————
Gig at the Malmö Convention Center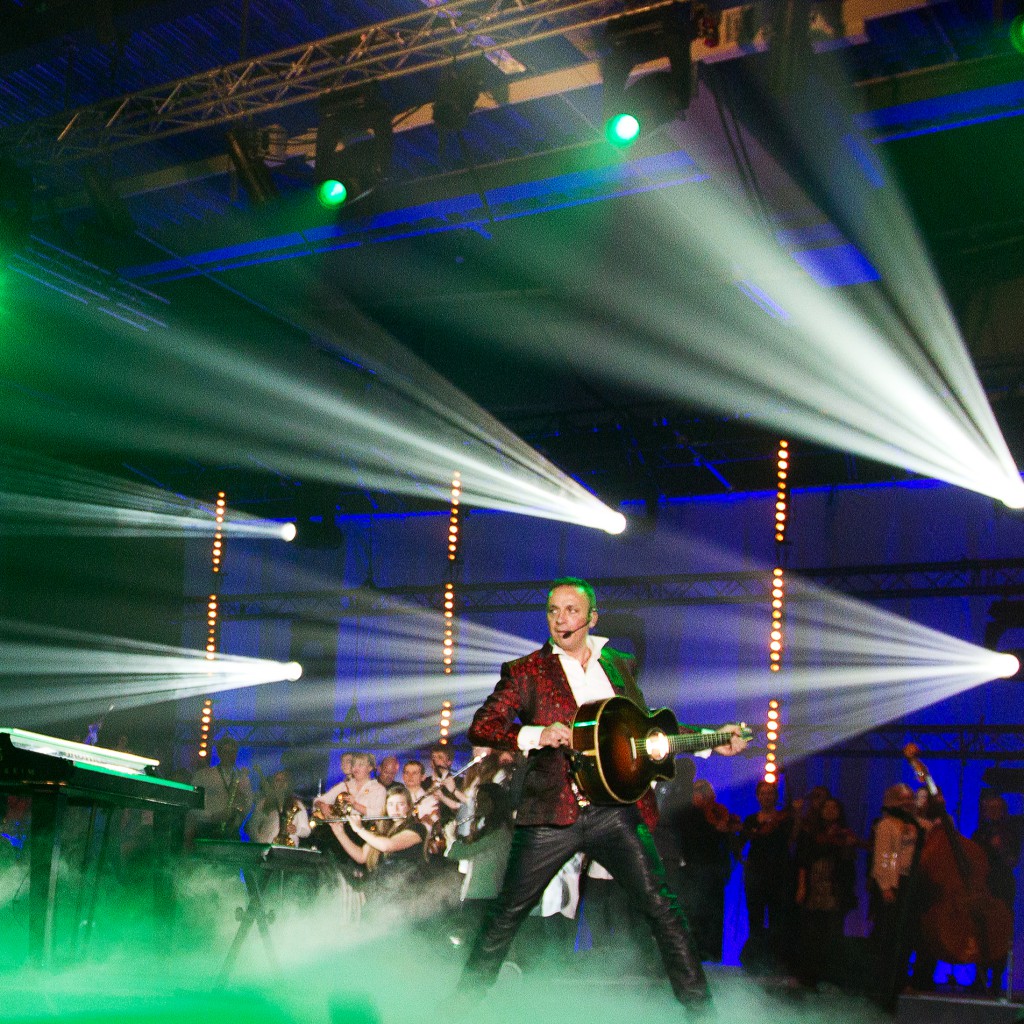 —————————————————————————–
Down under You´ll see me in the middle of "The Planet March", by Holst, in a concert together with The Malmoe Symphony Orchestra.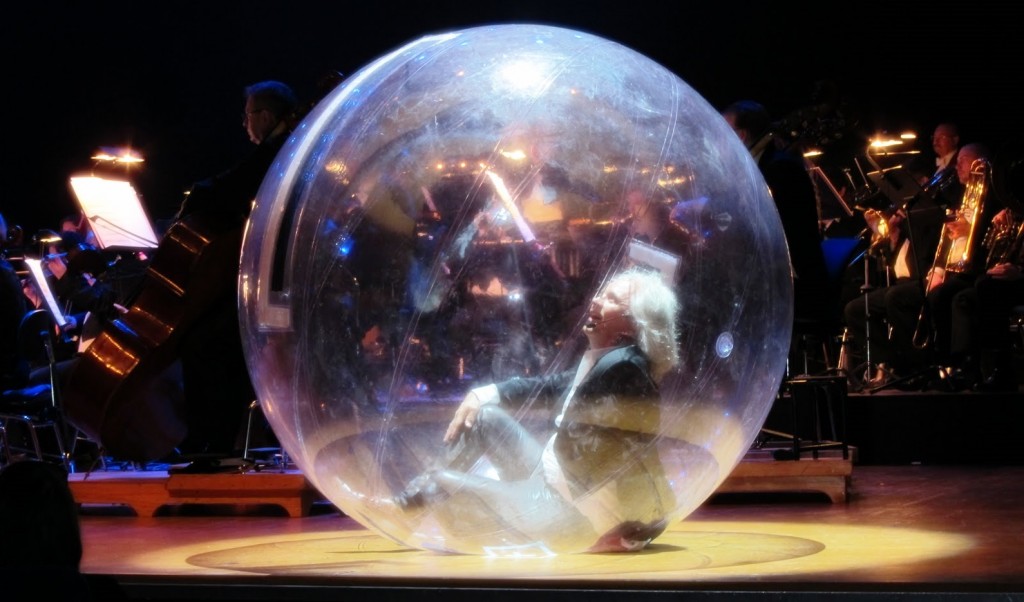 ——————————————————————————-
We´re on our way!
Stefan and our sound and light engineer AND musician, Paul Suchanek, on our way to Munich. Gig to nite for Mercedes.